With stunning waterfalls, gorgeous beaches, and the famous Chocolate Hills, Bohol is one of the top tourist attractions in the Philippines. We've spent a few days there before heading to Siquijor and one of my favorite experiences was the island hopping tour.
The tour will take you to two beautiful islands. On Balicasag Island you'll have the chance to swim with the turtles. It's a truly unique experience.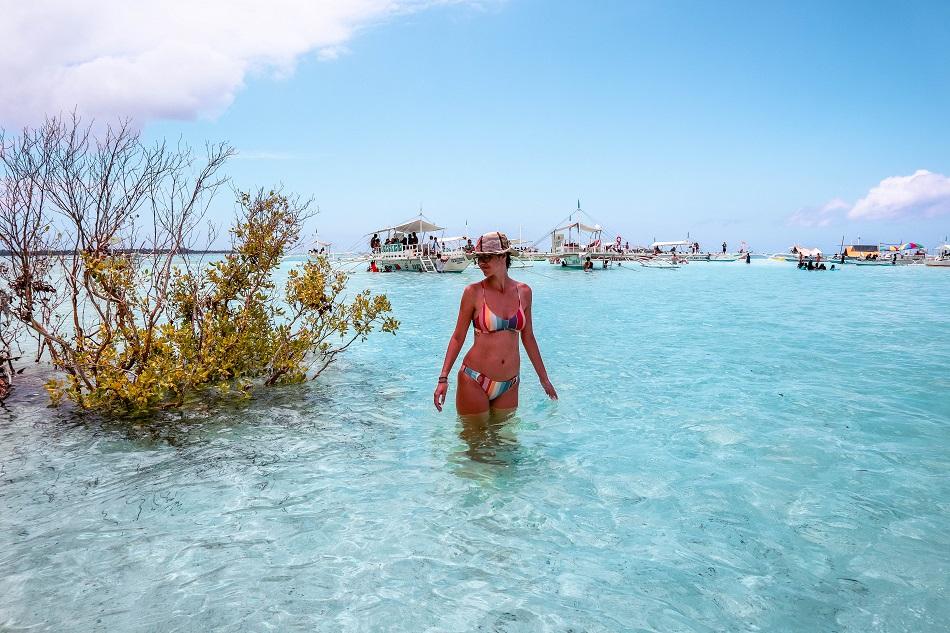 The Virgin Island, Panglao is a small strip of white sand with no vegetation on it, surrounded by the clearest water I've ever seen. In this guide, I'll share with you everything you need to know if you're planning to visit the beautiful Virgin Island.
Good to know – Panglao and Bohol are two nearby islands, connected through two bridges. To get to the Virgin Island you'll have to take a guided tour from Panglao. However, people refer to this island as both Virgin Island Bohol and Virgin Island Panglao.
1. My experience
I woke up early in the morning and got ready for what was going to be an epic island hopping tour. I went to Alona Beach, the starting point for all the tours and hopped on a Banca Boat together with some other enthusiastic tourists.
We were all pretty excited about this day. The first stop of the island hopping tour was to see the dolphins. There were so many of them!
We then headed to Balicasag Island where we had the chance to swim with the turtles. It's an amazing experience to have the chance to see these majestic creatures in their natural habitat.
No time to read now? Pin it for later!
Another awesome place where you can swim with the wild turtles is Apo Island. You can get there from Siquijor or Dumaguete. I've written everything about it in this post.
The last stop was at the Virgin Island. When we arrived, a couple of other boats were already parked around the island. The area surrounding the island was pretty busy.
Some of the boats were transformed into floating restaurants where you can go and grab something to eat. There were also small stalls selling refreshments. Don't be surprised if you'll see locals selling jewelry and souvenirs. The Virgin Island looks like the exotic alternative of a shopping mall.
-> Find out which are the top tourist attractions in Bohol
However, I couldn't help but notice how beautiful the Virgin Island was. The white sand, with no vegetation on it makes this island unique. The water surrounding the island is pretty shallow and you can head further from the chaos and enjoy some privacy.
I have to say that the water here is incredibly clear. If you're lucky, you'll even see a few starfish. There is not much to do on the Virgin Island but I enjoyed my experience here.
We took some photos with a group of Filipinos, swam, and admired the beauty of this place.
If you want to find out more about the island hopping tour in Bohol, make sure to check out my guide. I've included important information and valuable tips and tricks.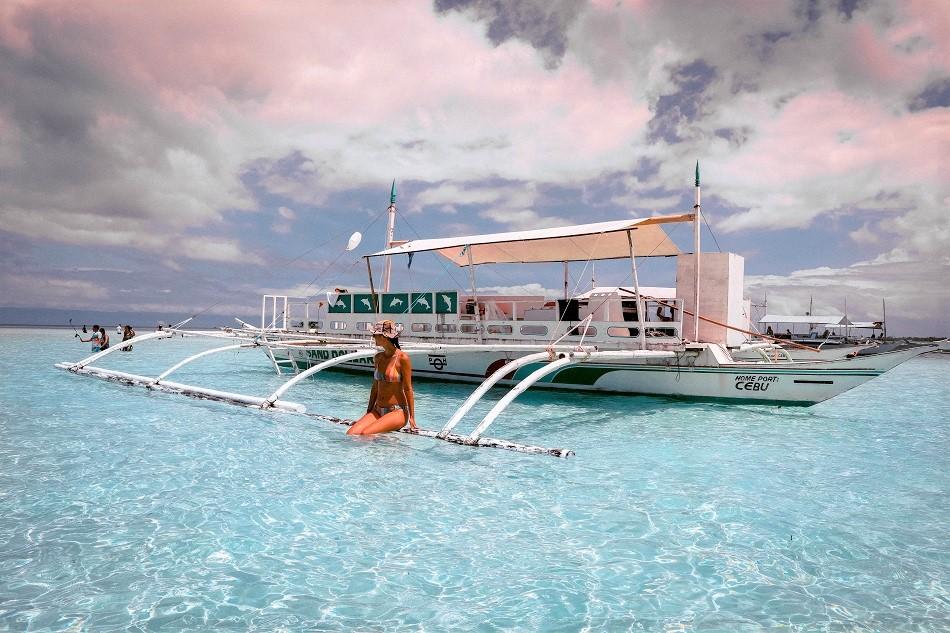 2. Things to know before visiting the Virgin Island
There are a few things you should know before deciding to visit the Virgin Island in Bohol. I will list them down below.
3. How to get to there
There is only one way to get to the Virgin Island. You'll have to go to Alona Beach on Panglao Island (Panglao Island and Bohol Island are connected through two bridges) and book your tour from one of the tour agencies there.
As an alternative, you can book your island hopping tour online. Make sure to book your tour at least one day in advance.
4. Other awesome places to visit on Bohol Island
There are many awesome places you should visit on both Panglao and Bohol Islands. I know that most tourists come here to see the Chocolate Hills but don't be afraid to step off the beaten path and explore everything these islands have to offer.
I recommend checking out my Bohol itinerary. I've included the top tourist attractions on the island.
Here are some cool things to do on Panglao Island: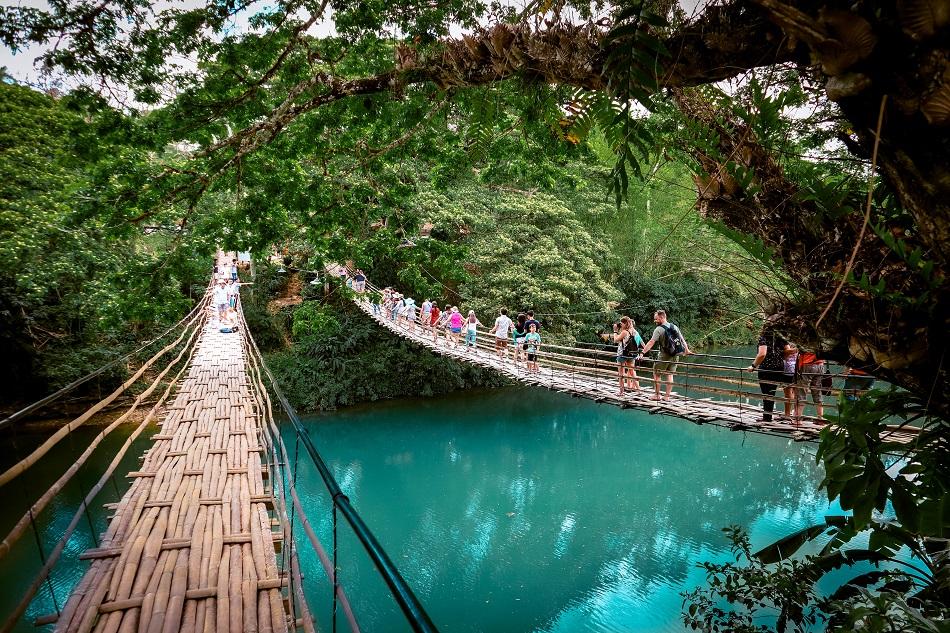 Here are some awesome places you should visit on Bohol Island: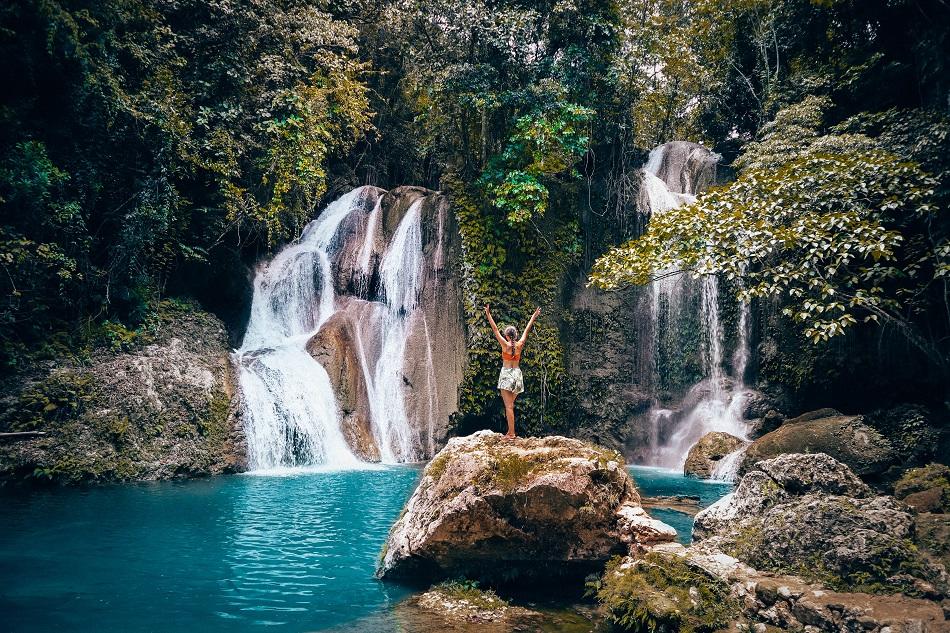 5. Where to stay on Bohol Island
I've been looking for the best accommodation on Bohol Island. Choose a hotel that is close to the tourist attractions you want to visit to make your life easier. Below are the best hotels, for every budget.
I'm sure you'll have a great time visiting the Virgin Island, Panglao. This exotic piece of land will steal your heart! Let me know if you have any questions in the comments section below.
May the travel bug bite you!
Disclosure: Please note that this post may contain affiliate links. If you make a purchase through these links, I will earn a small commission at no extra cost to you. I only recommend companies and products that I trust and the income goes to keeping this website running. Thanks!