As we were getting close to the end of our one month in the Philippines, there was one activity left on my bucket list – swimming with the turtles at Apo Island. Observing these fascinating creatures from up close was a dream of mine for a long time.
I'm always very cautious when it comes to animal encounters. I've read many horror stories about how the animals are exploited for tourism purposes and I definitely didn't want to be a part of that.
I did my research and I was happy to find out that at Apo Island I'll get the chance to swim with happy, wild turtles. Seeing these creatures in their natural habitat was one of the best experiences of my life and I'd recommend it to everyone.
I'll share with you everything you need to know when visiting the beautiful Apo Island. This guide is full of valuable information and tips & tricks to make your life easier.
1. About Apo Island
This beautiful volcanic island is home to a community of a little over 700 people. The island itself is quite small too and is covered with rocky formations (the highest point is 120 meters).
On the eastern part of the island, there are two lakes but the city itself is located on the western part of Apo Island. When we arrived, I couldn't stop thinking about the people of Apo Island. They live in such a beautiful place, in the arms of mother nature.
No time to read now? Pin it for later!
Every day they get to experience views that others only dream of. They can swim with the turtles and explore the marine life whenever they want but I am sure that living on Apo Island can be challenging too.
Living on such a remote island, away from big cities, makes everything more difficult. The people on Apo Island mostly rely on fishing.
There are no paved roads on Apo Island and given the size of the island, nobody needs cars. Although I haven't seen any motorbikes, some of the locals who live in the small communities in the northern part of the island might own some.
Apo Island is the definition of "exotic island" and is world-famous due to the surrounding reefs that can be explored and its residing turtles. There are currently around 60 turtles living near Apo Island in the wild. Also, here you can find over 650 species of fish and 450 species of corals.
The turtles are protected and whoever touches them can get a fine. Whenever I go snorkeling I try not to touch the marine life (the fish, turtles, or the corals). I try to be as responsible as I can because I want future generations to be able to enjoy these beauties.
2. Things to know before planning your trip
How long to stay on Apo Island?
If you have limited time, you can visit Apo Island as a day trip. We chose this option because we took a tour to Apo Island on our last day on Siquijor Island. Most of the people visit Apo Island from Dumaguete but you can also visit it from Siquijor (more details about this below).
However, you can definitely spend a few days on this beautiful island, especially if you want to take your PADI Certification. There are several hotels and resorts on the island, offering great facilities for tourists.
When is the best time to visit Apo Island?
If you plan to visit Apo Island for snorkeling and diving, I recommend the months of October and May. Try and avoid June to September at all costs – this is the monsoon season when the waves and currents can be pretty strong.
Another thing to take into consideration is that at Full Moon the currents are very strong, no matter the season. Make sure to check out the current before going in.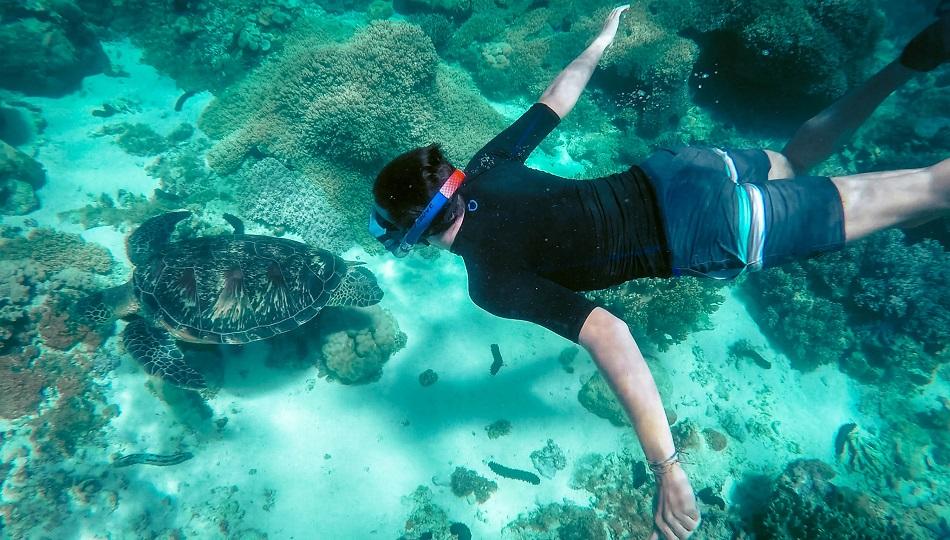 Internet & electricity
Internet on Apo Island is limited. If you're one of those people who can't live without internet connectivity, maybe planning an overnight stay on Apo Island is not a good idea. The best place to connect to the internet is at the beachfront. There are parts of the island with no internet connection.
It has been reported that Apo Island has electricity only from 6 pm until 6 am. In case you're considering visiting this beautiful island for a few days, bring some portable power banks.
ATMs and prices
There are no ATMs on Apo Island. Bring all the cash you need with you.
Being a remote island with just a few hundred people living here, prices on Apo Island are higher than in big cities in the Philippines. If you can, bring some food and snacks with you. If not, put aside a little more money for food and other expenses.
Apo Island fees
There is a fee of 100 PHP for every tourist that enters the island. Also, the fee for snorkeling is 50 PHP while the fee for diving is 300 PHP.
When we visited, all these fees were included in the price of our tour. If you plan to book a guided tour, make sure to ask if these fees are included.
3. Things to do on Apo Island
Yes, I know that Apo Island is a hot spot for snorkeling and scuba diving but there are a few other things you can do on this island. I will talk more about snorkeling and diving in the section below but here I want to share with you some other activities you can enjoy on the Island.
Explore the beaches
When you'll arrive on the island, you'll see the main beach, in front of the city. This is the most popular beach and the starting point for all snorkeling and diving tours.
North of this island there are a few big rocks, with a small passage between them. If you pass that passage, you'll get to Apo Island Beach Resort and one of the most beautiful beaches on Apo Island. Not many people know about this place.
There are also other beaches on the island but they are accessible only by boat.
Good to know – it is prohibited to take shells, coral pieces or stones from Apo Island.
Take a walk to the Lighthouse
Follow the trail to the Apo Island lighthouse and admire the views. The trek to the lighthouse will take around half an hour and you'll pass by a few local homes. Bring plenty of water with you. You'll need it.
Walk to Cogon
If you have plenty of time, walk to Cogon on the other side of the island. A small community of people lives here and the walk takes only half an hour. You will have to walk over two rocky hills but the good news is that there are concrete stairs. The views are pretty awesome and there are no tourists!
4. Marine life – what you can find here
The Apo Island Marine Sanctuary was established in 1982, after many years of destructive fishing. Fishing is an important part of Apo Island's economy and it's still practiced today. However, the local community protects the sanctuary.
The Apo Island marine life includes over 450 species of corals that act as a nursery for many threatened reef species. There are also over 650 species of fish here. You can find sea snakes, parrot fish, trevallies, jacks, moorish idols, puffer fish, trigger fish, and many more.
However, the main attraction of the island are the sea turtles. They are a very important part of the ecosystem. The turtles feed on harmful macroalgae that can affect the reefs. They also eat seagrass, keeping it in check.
Please, don't forget that all the marine life shouldn't be touched! Don't touch the corals, the fish, and especially don't touch the turtles. They are wild animals and they surely don't want to be harassed by the hundreds of tourists that visit Apo Island daily. Be respectful to the marine life so that future generations can enjoy it too.
5. Snorkeling
Snorkeling at Apo Island was the highlight of my trip to the Philippines. Swimming with the turtles at Apo Island is one of the few ethical animal encounters you can have in Asia. You can get as close as you want to the turtles as long as you don't touch them.
When the snorkeling tour starts, you'll be assigned a guide that will look after you and other few tourists. The guide will take you to the places where you have the highest chance of seeing turtles so make sure to follow him!
Snorkeling at Apo Island is perfect for beginners. The water is very salty and you'll float without struggling too much. You can see turtles pretty close to the shore but you can also swim where the water is deeper. It's up to you and your guide.
You'll notice that the turtles at Apo Island don't seem to mind the tourists. They'll do their thing, eating seagrass and swimming, while they're surrounded by people. It's fascinating to see them so relaxed in the presence of humans.
6. Scuba Diving
Apo Island is one of the top diving locations in the world. There are many diving sites at Apo Island and tourists from all around the world come here to explore the marine sanctuaries. Seeing the marine life at Apo Island is an unforgettable experience.
If you want to take your PADI Certification at Apo Island, it's possible! There are a few diving centers on the island that offer this option at an affordable price. Here are some options:
The different diving sites around the island are perfect for both beginning and advanced divers. Here are the most famous ones: Coconut, Olo, Cogon, Mamsa Point, Kan-Uran, Marine Sanctuary, Rock Point East, Rock Point West, Katipanan, Chapel, Beluarte, and Largahan. To read more about these places, click here.
7. How to get to Apo Island
There are several possibilities of transport. You can either get to this piece of paradise by yourself or you can choose a tour to Apo Island.
If you're planning a day trip to Apo Island, I highly recommend taking a guided tour. There are several tours starting from Siquijor and Dumaguete that include transport, lunch, and snorkeling or diving, all at an affordable price. Below are more details.
Siquijor to Apo Island guided tour
There is only one guided tour from Siquijor to Apo Island each day and it's organized by Coco Grove Resort. To book your tickets, I recommend going directly to the resort's reception a few days in advance. Usually, the tickets sell out pretty quickly.
The tickets from Siquijor to Apo Island includes transport to Apo Island, lunch, snacks on the boat, snorkeling equipment, island fees, and snorkeling or diving guides.
We took this tour and I can't recommend it enough. The staff from Coco Grove Resort is super friendly and the tour was incredible. You'll leave early in the morning from Tubod Beach and return in the afternoon.
PRICES
snorkeling – 1950 PHP
diving – 3500 PHP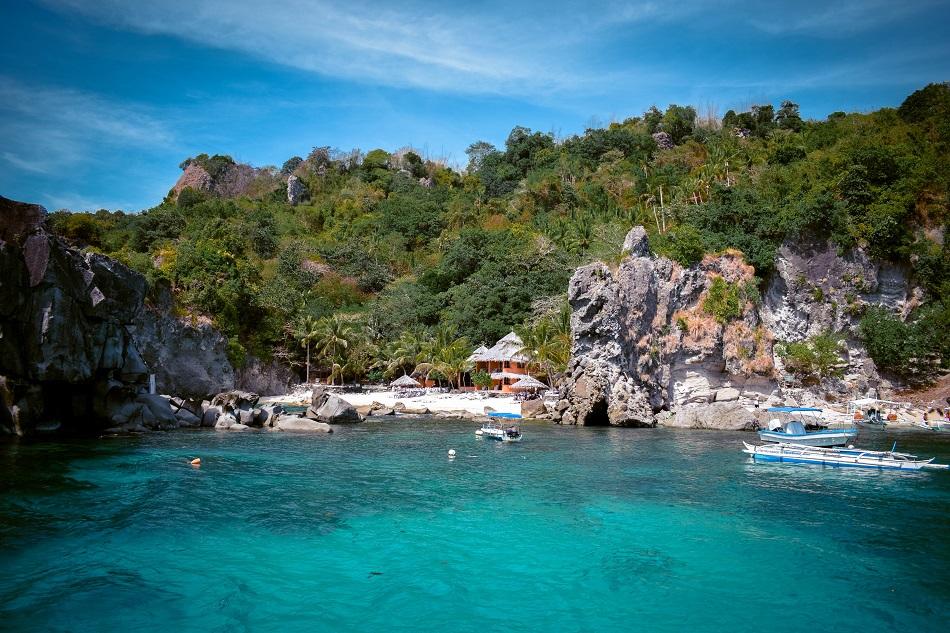 Dumaguete to Apo Island guided tour
If you want a hustle-free experience, I recommend booking your tour through Atlantis Dive Resort. The resort is located in Dauin, just 20 minutes away from Dumaguete.
Atlantis Resort organizes tours daily, starting at 8 am. Included in the price are breakfast at the resort, transport, diving gear, lunch, and park fees.
PRICES
snorkeling – 4095 PHP
diving – 2300 PHP (without transport)
Dumaguete to Apo Island on your own
If you'd like to spend a few days on Apo Island, you can arrange your own transport. From Dumaguete, take a jeepney to Malatapay and then take a boat to Apo Island.
PRICES
jeepney from Dumaguete to Malatapay – 20 PHP
boat from Malatapay to Apo Island – 2500 PHP
Apo Island is accessible from both Siquijor and Dumaguete. However, most tourists visit it from Dumaguete. Both options are great if you want to explore this exotic island and swim with the turtles.
8. Best hotels on Apo Island
Apo Island is a small island and there are just a few guesthouses there. Unfortunately, no guest house is listed on booking.com but you can book your accommodation here. One option would be Liberty Lodge. It has nice rooms, it's clean, and it's situated right on the beach.
Another option is Mario homestay. The owner is super friendly and the rooms look nice. One thing is sure – don't expect too much luxury on Apo Island. The guesthouses are basic but you'll get to experience the island life first-hand.
Don't forget! The internet on Apo Island is limited and electricity is available only from 6 pm until 6 am.
If you want a more luxurious experience, I recommend staying in Dauin. Here are the best hotels in Dauin:
Mid – Budget – Liquid Dive Resort – good location, beautiful garden and pool, clean rooms
Luxury – Sea Dream Resort – beautiful pool, good location, huge & luxurious rooms, very clean, excellent amenities
Apo Island is one of the most beautiful places in the Philippines. With exotic beaches, an incredible marine life, and some of the best places for snorkeling and diving, this island is a true paradise.
If you're planning a trip to Apo Island, you're gonna have a lot of fun! I hope that this article helped you and if you have any questions, don't hesitate to ask me in the comments section below.
May the travel bug bite you!
Disclosure: Please note that this post may contain affiliate links. If you make a purchase through these links, I will earn a small commission at no extra cost to you. I only recommend companies and products that I trust and the income goes to keeping this website running. Thanks!