This Balinese Hindu Temple is one of the most popular and sacred temples on the island. Located on Mount Lempuyang, Pura Lempuyang Temple has recently become famous due to countless photos posted on Instagram.
Although taking the perfect photo might be difficult as the temple is quite popular among tourists, I am here to help you. If you want to take a photo at the Bali Gateway to Heaven, you just need to follow a few simple rules.
Read more about the story behind this temple and photography tips & tricks below.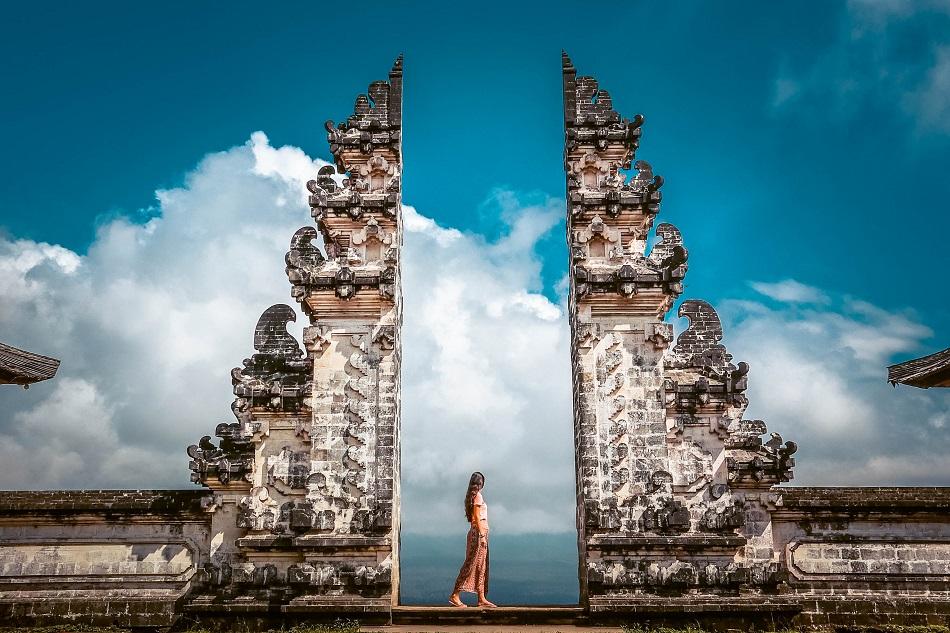 1. About Pura Lempuyang Temple Bali
The temple is actually made up of seven different sanctuaries and visiting all of them takes about 4 hours. The temples of Mount Lempuyang are considered to be one of the "six sanctuaries of the world" or the six holiest worship places on Bali.
The good news is that in order to get to the Bali Heaven Gate or Pura Penantaran Agung Temple you only have to climb a few stairs. Before entering the temple, you will meet a local man who will sprinkle some water over your forehead as a blessing. You cannot enter the temple without the blessing.
Facing the famous Bali gate is another temple with lots of stairs. Beware that tourists are forbidden from entering this temple. I loved the hand-carved sculptures and the details framing the stairs.
Even though not many people take photos at this part of the temple, it's worth taking your time to admire it! After all, not everything should be about taking photos.
The Pura Lempuyang Temple is situated quite far from the touristy areas of Bali. However, this doesn't stop the tourists from visiting it. The reason why most of the people visit this temple is to take a photo with the Bali Gate of Heaven and Mount Agung in the background.
If taking that perfect photo is really important to you, make sure to check the weather forecast before. If it's a cloudy day, you won't be able to see Mount Agung. We were among the unfortunate ones and all we saw was clouds.
Before visiting the temple, there are a few things you should know:
You have to wear a sarong or a scarf to cover your knees – you can bring your own scarf from home and tie it around your waist or rent one at the base of the temple for 10,000 IDR.
Cover your shoulders – make sure to have your shoulders covered while visiting the temple.
No kissing – You might be tempted to kiss your partner while taking the perfect shot at Heaven Gate but don't. Pura Lempuyang is a sacred place and kissing is strictly forbidden.
No drones are allowed at the temple – even though it might be tempting to shoot some aerial videos of the temples, drones are not allowed here.
Bring comfortable shoes – if you plan to visit the entire temple complex, make sure to bring some comfortable shoes as the trip might take around 4 hours and the climb is steep.
Toilets – there are some toilets at the base of the temple.
Shops – you can find some small shops selling refreshments and souvenirs at the base of the temple.
Parking – there is a small parking for cars and motorbikes right near the entrance.
Entrance fee
There is no entrance fee to Pura Lempuyang Temple Bali although donations are welcome. We donated 10,000 IDR per person but feel free to donate any sum of money you want.
Just remember that renting a sarong costs 10,000 IDR. I recommend bringing a scarf with you to tie it around your waist and cover your feet.
Also, if you're on a scooter, you'll have to pay 5,000 IDR for parking.
More about Bali:
2. How to avoid the crowds
This temple is pretty popular and sometimes the queue for taking photos at Bali's Heaven Gate is 2 hours long. Standing in the Bali's harsh sun while waiting to take a photo is not pleasant. This is why you'll have to be there early.
Plan to arrive at the temple at 8 am. Apart from having the temple all to yourself, the light will also be great for photos. It's a win-win. If you can't make it early in the morning, visit Pura Lempuyang at sunset when most of the tourists are already heading home.
3. Photography tips & tricks
Before telling you more about the truth behind the photos at Pura Lempuyang Bali, my advice is this – try and enjoy this beautiful temple as much as you can. You've probably traveled half the world to be here so enjoy this place and admire it.
Check out the weather – sometimes Mount Agung is covered by clouds so make sure to check the weather conditions in advance.
Bring a tripod – if you are traveling solo, make sure to bring a tripod with you.
Plan your pose in advance – before getting to the temple, think about how you'd like your photo to look. It will save you a lot of time.
Position – when taking you photo, make sure to place the camera as far as possible from the gate. This way, the volcano will appear bigger.
Photography mirror trick – heads up!
Well, you've probably noticed that it appears if there is a lake at Pura Lempuyang Bali. I don't want you to be disappointed so I'll share the truth with you – there is no lake!
All those photos with the Heaven Gates reflecting into what appears to be water are taken with a mirror. There is a friendly Balinese man who takes photos of tourists using a mirror. While he never asks for money, I'm sure he'll appreciate a tip.
If you want to create that perfect photo by yourself, bring a mirror or use the surface of a phone and create the reflexion!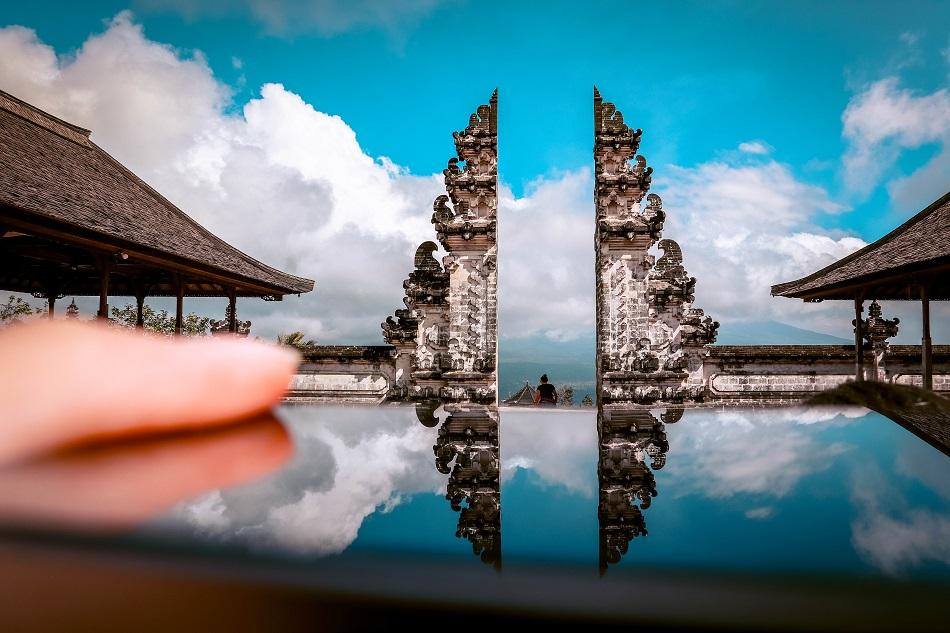 4. How to get to Pura Lempuyang Temple Bali
The easiest way to get to this temple is from Ubud which is about 75 kilometers away, depending on the route. However, the temple can also be visited as a day trip from Canggu or Seminyak.
Here are the transportation options to get to Pura Lempuyang Temple
Guided tour
For a hustle-free experience, you can book online a guided tour which includes hotel pick up and drop off. Here are some of the best tours available on the market:
Rent a motorbike
Another way to get to Pura Lempuyang Temple is by motorbike. Usually, you can rent one straight from your hotel or guest house for about 75,000 IDR per day. From Ubud the road should take around two hours while the trip from Canggu or Seminyak takes about three hours.
5. Lempuyang Temple – final thoughts
If you hate crowds, maybe visiting the Lempuyang Temple is not a good idea. There are many other beautiful temples in Bali with almost no tourists. One of them is Brahmavihara – Arama. It even has a beautiful Balinese gate!
However, if crowds don't bother you, visiting Pura Lempuyang can be an unforgettable experience. The temple itself is a beautiful example of Balinese architecture and the views are quite stunning.
I would personally go back if I had the chance. I plan to go back to Bali in less than a year and I'll visit Bali's Heaven Gates again, hoping that this time I'll get the chance to see Mount Agung.
6. Where to stay in Bali
Choosing the perfect accommodation in Bali can be stressful but I am here to help you! After spending more than 6 months in Bali, I've discovered the best hotels across the island. Please find below my recommendations.
If you want to be close to most of the Bali tourist attractions, I recommend staying in Ubud. If you want to be close to the beach and the most popular restaurants, I recommend Seminyak. If you want avoid the crowds and stay in a peaceful place, I recommend Canggu.
Hotels in Ubud
Budget – Pondok Massas – beautiful pool, good location, friendly staff, good breakfast
Mid-budget – Ulun Resort – view towards the rice fields, beautiful view, good location, excellent breakfast
Luxury – Alena Resort – incredible pool, excellent service & breakfast, comfortable rooms
Hotels in Seminyak
Budget – Sleepwell – excellent facilities, good location, breakfast included
Mid Budget – Seminyak Oasis – beautiful pool, Balinese design, breakfast included, spacious & modern rooms
Luxury – I-Villa – luxurious private villa with pool, modern design, free airport transfer, excellent staff
Hotels in Canggu
Budget – Kubu Betel Homestay – excellent location, modern rooms, friendly staff
Mid Budget – Double View Mansion – rice terraces view, incredible pool, fitness facilities
Luxury – The Haven Suites – amazing pool, excellent staff & service, excellent location, luxurious rooms, breakfast included
I hope that you've found my Pura Lempuyang Temple guide useful. This temple is definitely one of the must see attractions when in Bali and it offers some of the best views on the entire island. If you have any questions, don't hesitate to ask me in the comments section below.
May the travel bug bite you!
More about Bali:
Pin it for later!
Disclosure: Please note that this post may contain affiliate links. If you make a purchase through these links, I will earn a small commission at no extra cost to you. I only recommend companies and products that I trust and the income goes to keeping this website running. Thanks!