I've traveled around the Philippines for a month and I've been to dozens of beaches. However, only a few of them really stuck to my heart and Tubod Beach in Siquijor is one of them.
I know that there are a few other famous beaches on this island but most of them are overrun by tourists. Sometimes I like touristy beaches because you can find restaurants and hotels near them but at other times I like to stay away from all the hustle & bustle.
If you're planning to travel to Siquijor, plan at least three days for this awesome island. We initially booked 3 nights and loved it so much that we booked another 3. We visited some incredible places such as Salagdoong Beach and Cambugahay Falls.
Compared to other islands in the Philippines, Siquijor is a hidden gem. It's still underdeveloped, there are only a few hotels to choose from and the nature is INCREDIBLE!
In this article you'll find all the information you need when visiting the stunning Tubod Beach. White sand, crystal-clear water, incredible marine life – you can find all these at Tubod Beach.
1. Things to do at Tubod Beach
Go snorkeling and explore the marine life!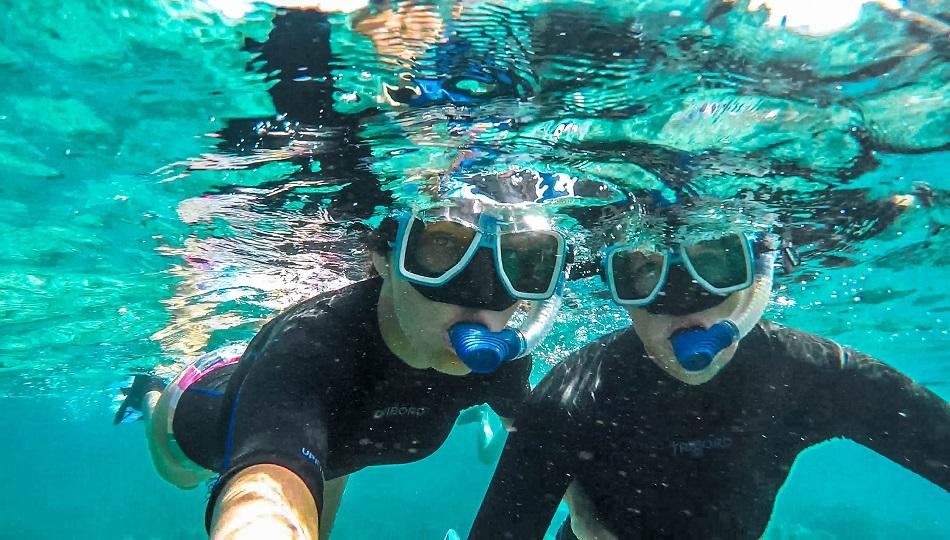 Tubod Marine Sanctuary is the best place for scuba diving and snorkeling on Siquijor Island. The protected reef is situated on the beachfront of Coco Grove Resort.
When we first got to Tubod Beach we had no idea that this place is perfect for snorkeling. We just wanted to go swimming and enjoy the views. However, we saw a local lady renting snorkeling gear and said "Why not?".
No time to read now? Pin it for later!
We rented snorkeling masks and headed directly into water. There were hardly any people on the beach so we left our backpacks hoping that we will find them in the same place after our snorkeling adventure.
Good to know – You can also rent snorkeling gear directly from Coco Grove Resort. They also offer scuba diving lessons.
After swimming over the seagrass for a few meters, the coral reefs started to appear in front of our eyes. I was simply amazed. We started to see all kinds of colorful fish, including Nemo.
As we swam further, the water got deeper and the corals were even more impressive. Some of them had over one meter. I managed to get quite close to the fish and watched how they swam slowly, not even bothered by my presence.
You're only allowed to snorkel in the designated area at Tubod Marine Sanctuary and if you go towards the edge, you can relax on a floating platform. After snorkeling for about half an hour, we were happy to catch our breath on the platform and admire Tubod Beach from another perspective.
Things you need to know before snorkeling at Tubod Beach:
there are plenty of sea urchins – I recommend renting some rubber shoes to avoid being stung by sea urchins. We didn't have shoes and we had to be extra-careful.
the water is very salty – This is a good thing because it means that you can float on the surface without any effort. Tubod Beach is perfect if you are a beginner at snorkeling.
bring snacks and water – The only restaurant you'll find on the beach is the one from Coco Grove Resort and the prices are a bit spicy. I recommend bringing some snacks and refreshments.
Enjoy the sun and go for a swim!
If snorkeling is not your thing, you can simply sit on the beach and get tanned. If the sun seems too harsh, you can hide in the shadow of the tall coconut trees or go for a swim to refresh yourself.
One of the things that I loved about Tubod Beach was that there were almost no tourists in sight. We previously visited El Nido and Bohol and we were used with tourists at every step. It was a relief to arrive at Tubod Beach and see that there was almost nobody there.
Take a trip to Apo Island
This was my favorite part of my trip to Siquijor. I dreamed about swimming with the turtles for a long time and I finally had the chance to do it at Apo Island. Coco Grove Resort organizes daily trips to Apo Island (it's the only place on Siquijor that organizes such trips).
You'll have to buy your tickets at least one day in advance from the resort's reception. You can find more details about tickets here.
The day trip to Apo Island starts early in the morning and finishes late in the afternoon. Once you get to Apo Island, you will be assigned a guide and you'll be able to snorkel with the turtles. You can read more about swimming with the turtles in my Apo Island travel guide.
It's an incredible experience to be this close to such beautiful creatures. There are lots of them at Apo Island but remember, for the turtles' safety you're not allowed to touch them!
After snorkeling with the turtles, we had lunch on an awesome private beach and then returned to Siquijor. I know that this day trip might be a little expensive compared with other tours in the Philippines but it's worth it!
Enjoy a magical sunset
After exploring Siquijor, head to Tubod Beach for one of the most magical sunsets. See how the sky turns into pink and orange hues and how it reflects into the water. It's a spectacular view!
We watched the sunset at Tubod after a few hours of snorkeling and it was the perfect ending for our day. We sat on the beach, relaxed and thought about our future travel plans. After Siquijor we decided to head to Siargao.
Another popular sunset spot on the island is Paliton Beach.
2. Tubod Beach entrance fee
There is no entrance fee to Tubod Beach if you plan to only sit on the beach and relax. If you want to go snorkeling or scuba diving, you'll have to pay a fee (different from the one for renting gear). Here are the prices:
Scuba Diving – 100 PHP per diver
Snorkeling – 50 PHP per diver
Swimming – 20 PHP per swimmer
3. How to get to Tubod Beach, Siquijor
-> Are you traveling from Bohol to Siquijor? Book your ferry ticket here.
The best thing you can do when in Siquijor is to rent a motorbike for around 500 PHP per day. It's affordable and it allows you to be the master of your schedule. We rented ours from our guest house and used it to explore the entire island, even the less touristy places.
If you're not comfortable driving a motorbike, you can take a tricycle or arrange a transfer at your hotel/ guest house. Keep in mind that these options are a bit more expensive.
To get to Tubod Beach, head to Coco Grove Resort. If you're driving from Lazi Town, park your motorbike or get off the tricycle right after the resort. You'll see a small parking between the trees on the left side of the road.
Follow the path to the sea and you're now at Tubod Beach!
4. Where to stay in Siquijor
Compared to other islands in the Philippines, Siquijor is still underdeveloped and when it comes to accommodation, there are not too many options. I've been searching for the best accommodation for each budget. Below are my recommendations.
Budget – Miki's Guest House – cozy house, good facilities (including scooter rental), AC, WiFi
Mid Budget – Tropical Fun Ta Sea – excellent location, sea view, clean and spacious rooms, excellent amenities
Luxury – Infinity Heights Resort – incredible private villa with sea view, luxurious design, very spacious, friendly staff
I'm sure that you'll fall in love with Tubod Beach. For me, it's in the top 5 beaches I've ever been to. I loved snorkeling there and honestly, if I ever go back to the Philippines, I'll make sure to return at Tubod Beach.
If you have any questions about this incredible place, don't hesitate to ask me in the comments section below.
May the travel bug bite you!
Disclosure: Please note that this post may contain affiliate links. If you make a purchase through these links, I will earn a small commission at no extra cost to you. I only recommend companies and products that I trust and the income goes to keeping this website running. Thanks!