Siquijor Island is full of incredible exotic beaches. Some beaches are great for snorkeling, others are great for swimming, while others are perfect for cliff jumping.
Salagdoong Beach has it all! This beach is a hot tourist attraction, perfect for those who seek adventure and for those who just want to relax alike. Save at least a few hours to explore this beach and I guarantee you'll have a great time!
Salagdoong Beach is home to the most famous cliff jumping point in Siquijor. Both locals and tourists come here in search of adrenaline. However, if cliff jumping is not your thing, you can simply relax on the beach like I did. The turquoise water and the sand look extremely inviting.
In this article, I'll share with you everything you need to know about Salagdoong Beach Siquijor. Add it to your itinerary, together with Cambugahay Falls and Paliton Beach.
1. About Salagdoong Beach, Siuijor
Salagdoong Beach is a public beach but you'll first have to pay the entrance fee before heading down the driveway. On the way down, you'll pass by a big resort called Hotel Agripino that offers accommodation right next to Salagdoong Beach.
As you'll get to the parking area, you'll notice that Salagdoong is not one of those remote, unspoiled places. Right near the beach, there are small villas that can be rented, restaurants and lots of locals selling refreshments.
A concrete pathway is built right behind the beach and you can even find a few benches with umbrellas. Of course, you have to be extremely lucky to find an empty one.
Salagdoong Beach is one of the most beautiful beaches on the island so don't be surprised if you'll find many people here. If you'd like to avoid the crowds, arrive early in the morning and definitely avoid the weekends.
-> Other awesome things to do in Siquijor:
The beach itself is not sandy but rather rocky. The sand is made of small rocky formations that a long time ago used to be corals and shells. But don't worry, the beach is very inviting and the water is perfect for swimming and snorkeling.
The main attraction at Salagdoon Beach is the big rock separating the beach in two. Actually, not the rock itself is the most important but the jumping points. People from all around the world come here for a bit of adrenaline. I'll talk more about cliff jumping below.
No time to read now? Pin it for later!
Things to know before visiting Salagdoong Beach:
if you can, bring water and snacks with you – even though you can find refreshments and food on the beach, the prices are a bit higher than in supermarkets
use sunscreen – the sun can be very harsh
2. Things to do at Salagdoong Beach
If you plan to spend a few hours at Salagdoong Beach, you can choose between a wide range of activities. You can simply relax or try cliff jumping – it's all up to you. Here are all the things you can do at Salagdoong Beach, Siquijor.
Go snorkeling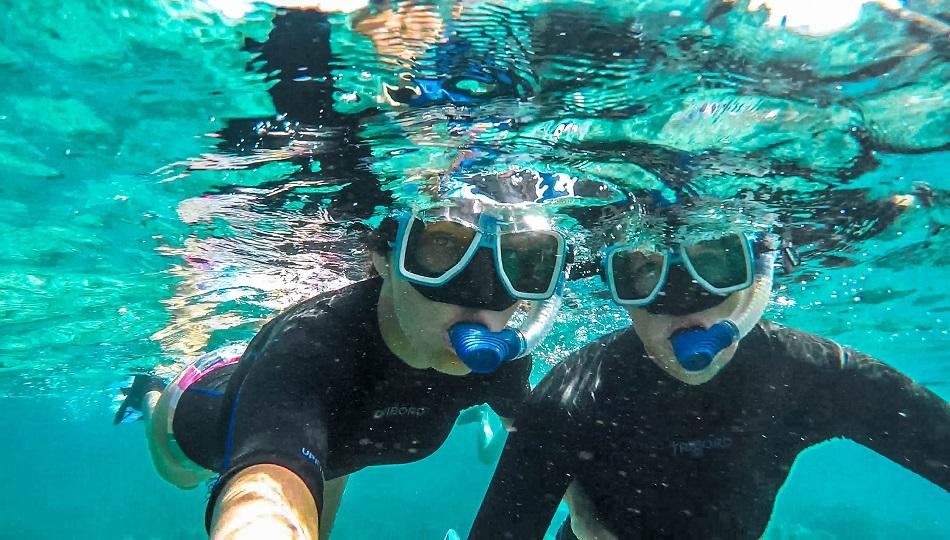 There are many awesome snorkeling places in Siquijor and Salagdoong beach is one of them. If cliff jumping is too much for you, bring your snorkeling gear and admire the marine life. Other awesome places for snorkeling in Siquijor are Tubod Beach and Paliton Beach.
Try the Salagdoong jumping point
If jumping from a 10-meter high platform isn't scary for you, then you have to try cliff jumping at Salagdoong Beach. There are actually two platforms – one with a height of 10 meters and another one with a height of around 7 meters.
Jumping from these platforms straight into the turquoise water is a once-in-a-lifetime experience. I have to admit, I was too afraid to do it but at least I mustered the courage to stand on the edge of the platform and take a photo.
Good to know – cliff jumping is allowed only during high tide. If you plan to visit Salagdoong Beach and are eager to try cliff jumping, make sure to check the tide forecast.
-> Are you traveling from Bohol to Siquijor? Book your ferry ticket here.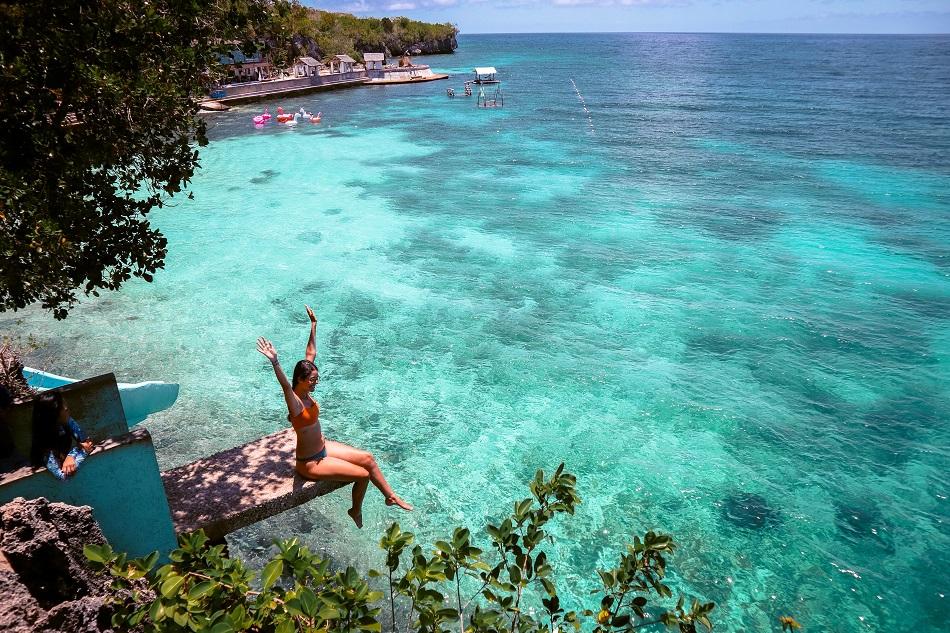 Go swimming
For those of you who just want to relax, I recommend swimming. There are almost no waves at Salagdoong Beach which means that this place is perfect for swimming. The water is incredibly clear and warm.
Relax on the beach
Lay your towel on the beach and relax. We chose to stay in the shadow of a tree and admire the views. There were many Filipino tourists on the beach with children and entire families. It was fun watching them play in the water.
3. Entrance fee and opening hours
The entrance fee to Salagdoong Beach is 30 PHP per person and an additional 20 PHP for parking you motorbike or scooter. If you'd like to rent a beach hut, it will cost you 200 PHP per day.
4. How to get there
Salagdoong Beach is located on the eastern side of Siquijor. The best way to get to this beach and other tourist attractions on Siquijor Island is by scooter or motorbike.
You can rent a scooter directly from your accommodation, just ask at the reception. The price is around 500 PHP per day. I love exploring the places I visit on scooter because it gives me the freedom to be the master of my schedule.
You can also rent a tricycle to get to Salagdoong Beach but it will probably cost you more. Just make sure to negotiate the price!
-> Are you planning to visit more places in the Philippines? Read all my travel guides here.
5. Where to stay on Siquijor Island
Finding the perfect accommodation on Siquijor Island can be challenging. There are 2 main touristy areas on the island – Lazi Town and Larena. I've been searching for the best hotels on the island, for every budget and these are my recommendations:
Budget – Miki's Guest House – cozy house, good facilities (including scooter rental), AC, WiFi
Mid Budget – Tropical Fun Ta Sea – excellent location, sea view, clean and spacious rooms, excellent amenities
Luxury – Infinity Heights Resort – incredible private villa with sea view, luxurious design, very spacious, friendly staff
Some people love Salagdoong Beach, others don't. It all depends on whether you're looking for remote beaches or more touristy ones. Salagdoong Beach is constantly full of tourists but its beauty can't pass unnoticed either.
I'd say it's worth visiting if you're spending a few days on Siquijor. Include it on your itinerary, together with Cambugahay Falls, Tubod Beach, Paliton Beach, and Guiwanon Spring Park.
If you have any questions, don't hesitate to ask me in the comments section below.
May the travel bug bite you!
Disclosure: Please note that this post may contain affiliate links. If you make a purchase through these links, I will earn a small commission at no extra cost to you. I only recommend companies and products that I trust and the income goes to keeping this website running. Thanks!