There are many beautiful beaches on Siquijor Island and Paliton Beach is one of them. With white sand, crystal-clear water, and tall palm trees guarding the seashore, this beach is the perfect place to relax.
After a day of exploring the island on our motorbike, we decided to stop at Paliton Beach to refresh ourselves and catch our breath. It was pretty hot outside so we looked for a place in the shadow and laid down on the sand.
We fell in love with Paliton Beach and I want to share with you everything you need to know before visiting this awesome place.
1. About this beach
As you will enter Paliton Beach, you will first get to a small sand gulf with wooden villas. This small beach is great if you're looking for some privacy. We loved this place and decided to stay here but Paliton Beach is much bigger.
Walk along the shoreline, pass by some big rocks, and you'll get to a big opening. With oceanside cafes and beach bars, Paliton Beach is a true exotic paradise. Grab a coconut and enjoy the views.
There are also a few tree swings, in case you're up for a dose of adrenaline.
The beach is usually crowded, especially at sunset but we were very lucky. When we visited, there were only another two couples on the beach. If you're looking for a beach away from the crowds, try Tubod Beach.
-> Other incredible places to visit in Siquijor
On our way to Paliton Beach, we found another 2 beautiful beaches. One of them is called Pontod Beach.
Pontod Beach is more remote and when we visited there were no tourists there. If you're looking for a secluded beach, make a short stop here and admire the views.
No time to read now? Pin it for later!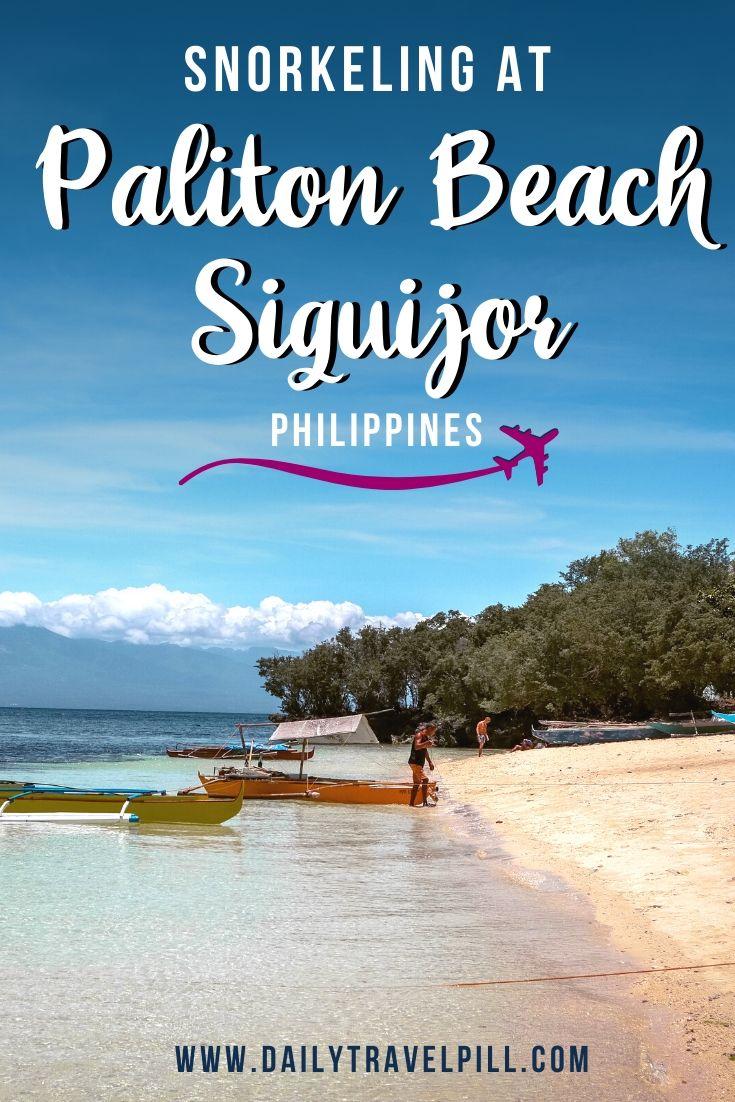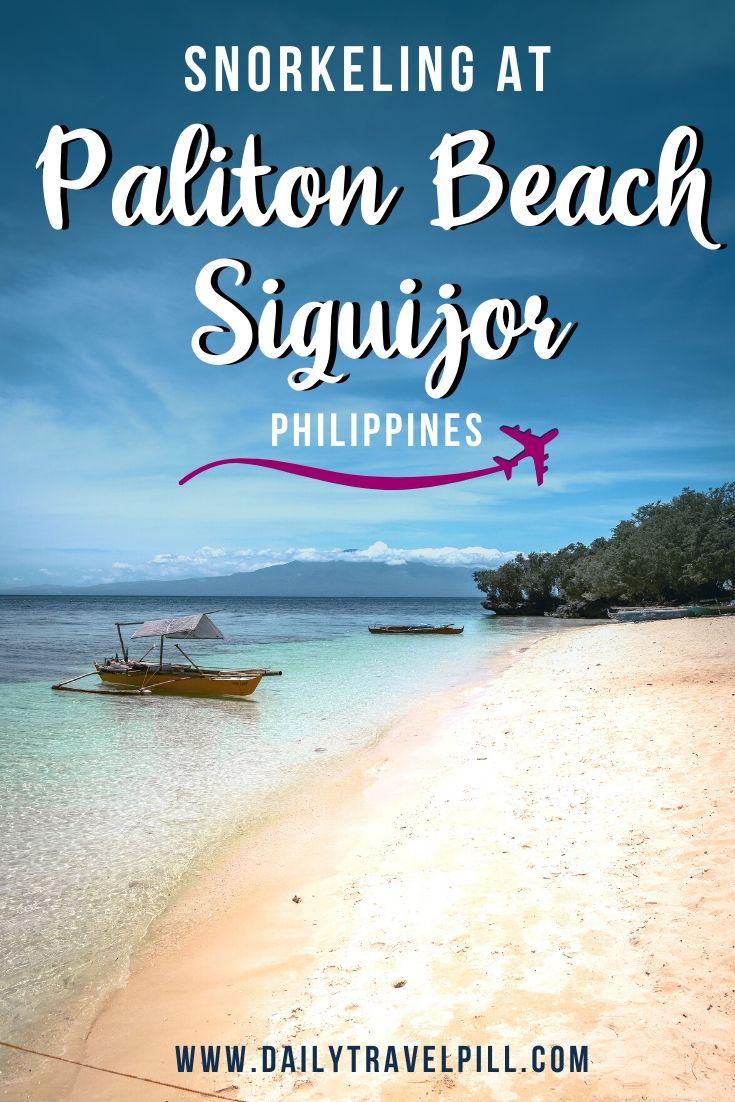 The second beach is right after Pontod Beach, before Paliton Beach. We stopped here to take a few photos but the sun scared us away and we headed to Paliton Beach in search of shade. Unfortunately, I couldn't find the name of this beach on Google Maps but it's pretty easy to find.
2. Things to do at Paliton Beach
Paliton Beach has something to offer to everyone. If you're adventurous, go snorkeling. If you just want to relax, go to one of the beach bars. Plan at least 2 hours to explore it and you'll have a great time! This is definitely one of the most spectacular beaches in Siquijor.
Paliton Beach entrance fee – FREE
Go snorkeling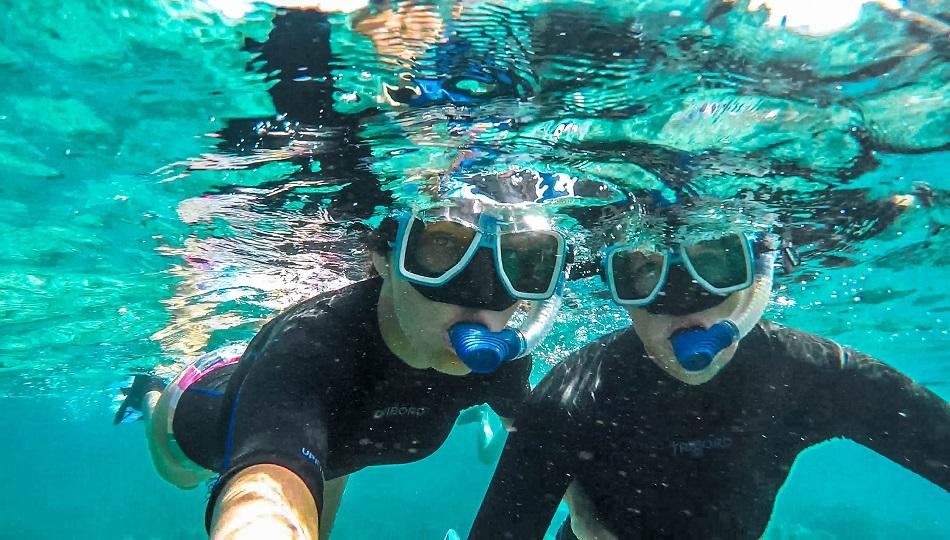 Siquijor is well known as one of the top spots for snorkeling in the Philippines. Grab your snorkeling gear and head to Paliton Marine Sanctuary. Here you'll find beautiful reefs and colorful fish. Who knows, maybe you'll even find Nemo. Another awesome place where you can snorkel in Siquijor is Tubod Beach.
If you'd like to snorkel or dive with the turtles, you can take a day trip from Siquijor to Apo Island. It was one of the best experiences of my life and I've written everything about it in this guide.
Swim in the crystal-clear water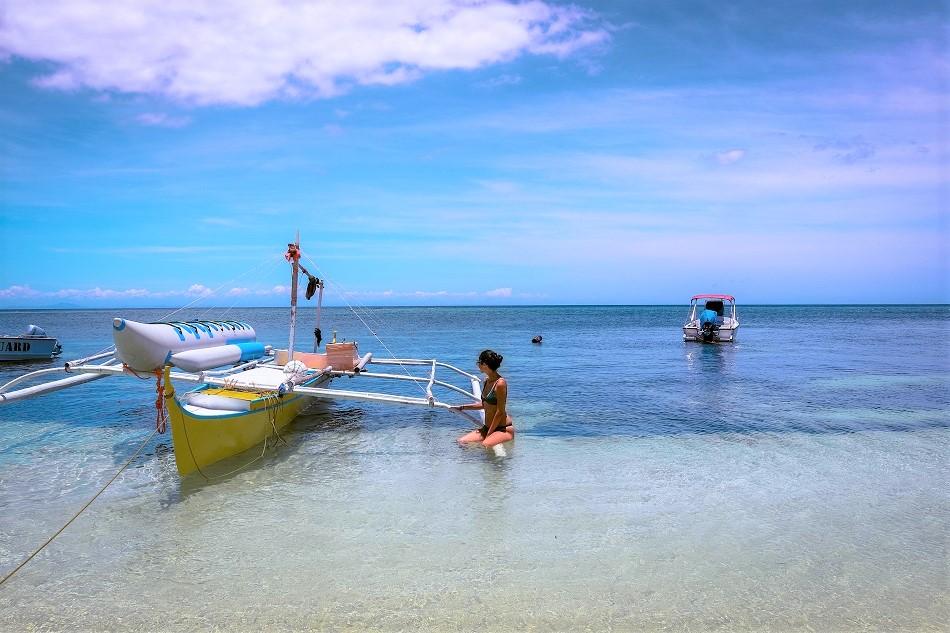 Even though the water isn't very deep close to the seashore, you can still go for a swim. Usually, there are almost no waves at Paliton Beach which makes it the perfect place to go for a swim.
Get a tan
If you simply want to relax, lay your towel on the beach and let the sun kiss your skin. Be careful, as the sun can be harsh – always use sunscreen! There are also a few spots on Paliton Beach where you can find shadow.
Watch the sunset
Paliton Beach is situated on the western side of Siquijor, making it the perfect place to watch the sunset. If you're looking for a romantic place to watch the sun fade behind the mountains, go to this awesome beach.
3. How to get to Paliton Beach
-> Are you traveling from Bohol to Siquijor? Book your ferry ticket here.
Situated near the San Juan area on Siquijor Island, Paliton Beach is easy to reach from any part of the island. I recommend renting a scooter.
You can rent one directly from your accommodation for about 500 PHP per day. It's affordable and you can be the master of your schedule. We drove scooters all around Asia and loved the freedom it gave us.
I only recommend renting a scooter if you're feeling confident driving one. Sometimes the traffic can be challenging.
If scooters are not an option for you, you can rent a tricycle. The cost depends on the length of the journey and your negotiation skills. Make sure to ask the driver to wait for you. It will be pretty hard to find a tricycle from Paliton Beach to any other part of the island.
Larena to Paliton Beach – 40 minutes
Lazi Town to Paliton Beach – 45 minutes
4. Where to stay in Siquijor
Compared to other islands in the Philippines, Siquijor is still underdeveloped. Finding the perfect accommodation can be difficult but I am here to help you. I've been searching for the best hotels on the island, for every budget. Here are my recommendations.
Budget – Miki's Guest House – cozy house, good facilities (including scooter rental), AC, WiFi
Mid Budget – Tropical Fun Ta Sea – excellent location, sea view, clean and spacious rooms, excellent amenities
Luxury – Infinity Heights Resort – incredible private villa with sea view, luxurious design, very spacious, friendly staff
I'm sure that you'll have a great time at Paliton Beach. While you're in Siquijor, make sure to also visit Tubod Beach and the incredible Cambugahay Falls. If you have any questions, don't hesitate to ask me in the comments section below.
May the travel bug bite you!
Disclosure: Please note that this post may contain affiliate links. If you make a purchase through these links, I will earn a small commission at no extra cost to you. I only recommend companies and products that I trust and the income goes to keeping this website running. Thanks!