After exploring Siquijor for a few days, we finally decided that it was time to visit the most beautiful waterfall on the island – Cambugahay Falls. We saw tons of pictures with this waterfall and we had high expectations.
We woke up early in the morning and arrived at the entrance to the falls half an hour before opening. We were pretty determined to take some epic photos and we wanted to avoid the crowds.
Luckily, we were allowed to enter and we were stunned by what we saw. Cambugahay Falls is one of the most beautiful waterfalls in Asia. A true gem, hidden in the jungle!
In this article, I'll share with you everything you need to know when visiting this incredible waterfall. Bring your camera with you – you'll be tempted to take photos at every step!
1. About Cambugahay Falls
Once you get to the parking area, you'll have to climb down a few stairs to get to the falls. It shouldn't take more than 3 minutes.
The first thing I saw was the bottom part of Cambugahay Falls. The natural pool formed here is the largest one. The crystal-clear water and the dense jungle surrounding the falls were incredibly beautiful.
On the water there was a bamboo raft. We decided to rent it and admire the waterfall from a different angle. If you're an adventure junkie, you can try the swing ropes. The locals seem to love them!
After exploring and swimming in the bottom waterfall, we decided to follow the path through the jungle and discover the top part of Cambugahay Falls. The waterfall actually has 3 tiers.
When we arrived at the next pool, it was already starting to get busy. Tourists started to flood the place and locals shops started to open. You'll find locals selling snacks and refreshments. Some of them are even renting swimming vests for children.
Cambugahay Falls is a great place to visit with your family and children. You'll have a lot of fun here!
We spent a few hours swimming and taking photos. I have to say that I was very impressed by this waterfall – its beauty is undeniable.
Things you need to know before visiting Cambugahay Falls:
Rope swing price – 50 PHP for unlimited swings
Bamboo raft rental – 50 PHP
Don't visit it if it rained the previous day – if you want to swim in the milky blue water, make sure that you're not visiting Cambugahay Waterfall after rain. I've seen some photos and after the rain the water is very muddy.
Bring a GoPro or a waterproof camera – if you want to take lots of photos, make sure you have a waterproof camera
Don't forget your swimming suit home – there are changing cabins at the waterfall
Bring cash with you – you'll need it for the entrance fee. Also, if you plan to rent a bamboo raft, you'll need cash
If you want to have the place to yourself, arrive early
Cambugahay Falls is a playground for any adventurer. You can easily lose track of time and spend hours here. We had a lot of fun and even though the falls were pretty busy towards the end of our visit, we still enjoyed it.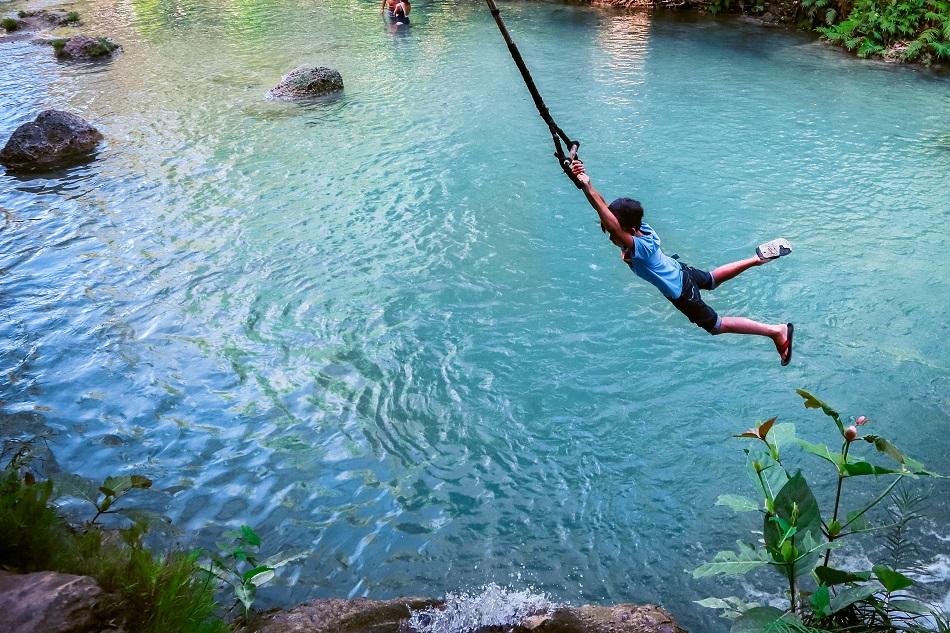 2. Cambugahay Falls entrance fee and opening hours
The entrance fee at Cambugahay Falls is 20 PHP per person and officially, the waterfall opens at 7 am. However, you can enter about half an hour earlier if you want.
Parking at Cambugahay Falls is free but donations are accepted.
3. How to get to Cambugahay Falls
Cambugahay Falls is located north of Lazi town. The easiest way to get to Cambugahay Falls and pretty much any attraction on Siquijor Island is by motorbike.
You can rent a motorbike from your guesthouse or hotel. It costs around 500 PHP per day to rent one. We rented a motorbike for all 5 days that we spent in Siquijor and we loved exploring this island at our own pace.
If you don't feel comfortable driving a motorbike, you can take a tricycle. Just make sure to negotiate the price.
Cambugahay Falls from Dumaguete
If you're located in Dumaguete, I recommend booking a guided tour. This tour includes round-trip ferry tickets and a few stops at other tourist attractions in Siquijor such as the Old Balete Tree and Triad Cafe.
4. Where to stay in Siquijor
I've been searching for the best accommodation on the island, for every budget. Here are my recommendations.
Budget – Miki's Guest House – cozy house, good facilities (including scooter rental), AC, WiFi
Mid Budget – Tropical Fun Ta Sea – excellent location, sea view, clean and spacious rooms, excellent amenities
Luxury – Infinity Heights Resort – incredible private villa with sea view, luxurious design, very spacious, friendly staff
I'm sure that you'll have a great time at Cambugahay Falls. Honestly, this is one of the most beautiful waterfalls I've ever seen. Although I've traveled for one month around the Philippines, Siquijor was my favorite island. I hope you'll enjoy it too!
If you have any questions, don't hesitate to ask me in the comments section below.
May the travel bug bite you!
Pin it for later!