If you want to see the best of Bohol, this travel guide is for you! During my one-month backpacking trip in the Philippines, I spent almost one week on this beautiful island and I fell in love with its diversity.
From amazing beaches, to incredible waterfalls and stunning hills, Bohol has it all! You'll find something different at every corner so be prepared for a bit of everything.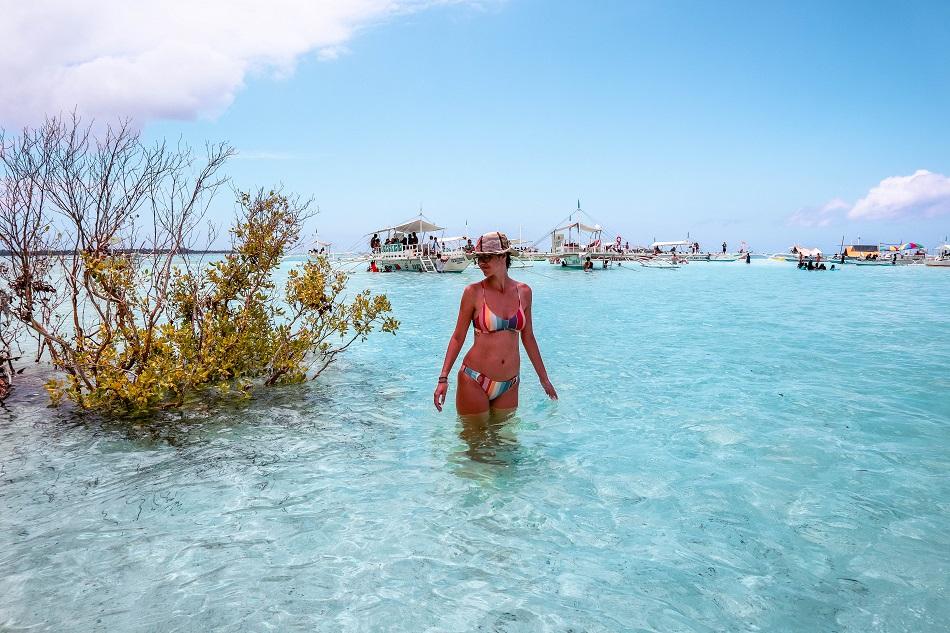 There are so many tourist spots in Bohol that it's hard to decide which one to see first. In my opinion, spending at least three days on this exotic island is necessary to see all it has to offer.
Without further ado, these are the top things to do in Bohol. Get ready for incredible sights mixed with a lot of adrenaline!
Good to know – Bohol has another smaller brother – Panglao Island. These two islands are connected through two bridges. This guide includes tourist attractions on both islands.
Things to know when visiting Bohol
Here are a few things you need to keep in mind when visiting Bohol. These tips & tricks will make your life easier and your trip more enjoyable.
rent a motorbike – If you want to explore the island at your own pace, rent a motorbike. We rented ours from our guesthouse.
entrance fees – Most of the tourist attractions in Bohol (including waterfalls) have entrance fees. Make sure to always have some cash on you at all times.
always negotiate – If you plan on buying souvenirs, you can always negotiate the price.
No time to read now? Pin it for later!
1. Bamboo Hanging Bridge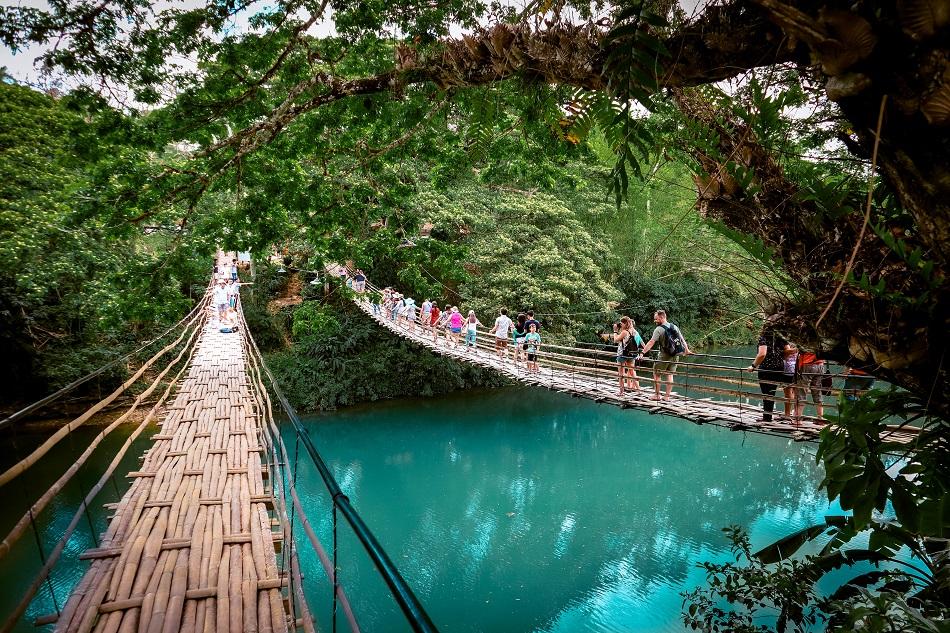 One of the places you have to visit in Bohol is the Bamboo Hanging Bridge. There are actually two suspended bamboo bridges that you can visit. You'll cross one bridge and come back on the other.
Both bridges are hanging over the Sipatan River. The area is surrounded by lush vegetation and the views are pretty spectacular. However, keep in mind that this is one of the most visited tourist attractions in Bohol so expect to find lots of tourists there.
To read my full guide about the Bamboo Hanging Bridge, click here.
Bamboo Hanging Bridge entrance fee – 35 PHP per person
2. Dimiao Falls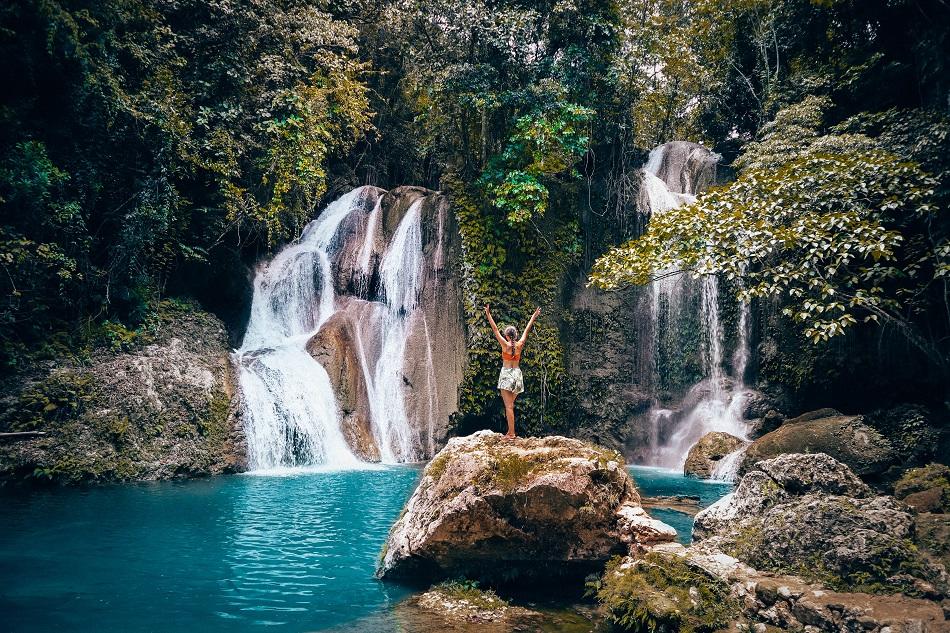 I've visited many waterfalls during my one-and-a-half trip in Asia but Dimiao Falls is one of my favorites. To get to it you'll need a motorbike. Unfortunately, this waterfall is not included in any of the guided tours available.
However, driving to Dimiao Falls is totally worth it. This waterfall is well hidden inside the dense jungle and fortunately, there are only a few tourists who know about it. This is one of the Bohol hidden gems.
Don't forget to bring your swimming suit!
When we visited there were only a few of locals at the waterfall. Some of them were cliff jumping. If you want to try it too, make sure that the water is deep enough! Otherwise, you can simply enjoy the view, walk on the suspended bamboo bridges or swim in the natural pool formed at the base of the falls.
To read my complete guide about Dimiao Falls, click here.
Dimiao Falls entrance fee – 20 PHP per person
3. Corella Tarsier Sanctuary
Tarsiers are some of the cutest animals and they can be found on Bohol Island. It's extremely important to visit a responsible sanctuary because when stressed, Tarsiers commit suicide. I strongly recommend visiting the Corella Tarsier Sanctuary where these cute animals are kept safe.
Don't visit places where Tarsiers are kept in cages or where tourists are allowed to get extremely close to them. These are the smallest primates and what makes them really special is the fact that they can rotate their head 180 degrees each direction. It will be a unique experience to see them!
Entrance fee to Corella Tarsier Sanctuary – 50 PHP per person
4. Alona Beach
Alona Beach is a must see in Bohol. This is the starting point for all the island hopping tours but it's also a great place to spend a few hours relaxing, eating something delicious, or swimming.
This is the most popular beach in Bohol and for good reason. The white sand combined with the turquoise water creates a spectacular sight. The only downside to this place is the fact that there are many tourists.
If you're looking for a hidden beach that you can enjoy by yourself, Alona Beach is not the one! However, I still think it's a great beach and it's definitely worth visiting.
To read my complete guide about Alona Beach, click here.
5. Anda Cave Pools
Far away from the touristy area is the beautiful town of Anda. The Cave Pools near this town are some pretty fascinating places that are worth visiting. The most popular one is called Cabagnow Cave Pool.
Some of these caves have stairs leading to the pools. If you're feeling adventurous, you can swim there.
6. Chocolate Hills
What else to visit in Bohol? Well, you can't leave the island without seeing the famous Chocolate Hills. There are many viewpoints around the island but I chose to go to the "Chocolate Hills View Point" and I wasn't disappointed.
After climbing a few stairs, I reached the top of the viewing platform and I was rewarded with some awesome views towards the Chocolate Hills. Too bad the rain was coming and we had to leave after just a few minutes.
The Chocolate Hills are round-shaped hills, covered in grass. During the summer, the grass changes its color and turns into brown – hence the name Chocolate Hills. It is estimated that there are over 1800 of such dome-shaped hills on Bohol Island.
-> To book your guided tour to the Chocolate Hills, click here
7. Man-Made Forest
One of the Bohol activities included in most of the guided tours is a stop at the Man-Made Forest. But what makes this forest unique, you might ask.
Well, it's a 2-kilometer long man-made mahogany forest. It's great for photos (you'll see lots of tourists taking photos here) and perfect to relax for a few minutes. The tall trees create a natural tunnel, covering the sky. It's a unique sight but not a must see. If you don't have enough time, you can skip it :).
To read my full guide about the Bohol Man-Made Forest, click here.
8. Kinahugan Falls
There are plenty of tourist attractions in Bohol and Kinahugan Falls is one of them. Although this waterfall is not as impressive as Dimiao Falls or Can-Umantad Falls, it's worth visiting if you have the time.
Kinahugan Falls is great for a quick swim. The waterfall is not very big but most probably you won't find any tourists here which is a big plus.
9. Loboc River Cruise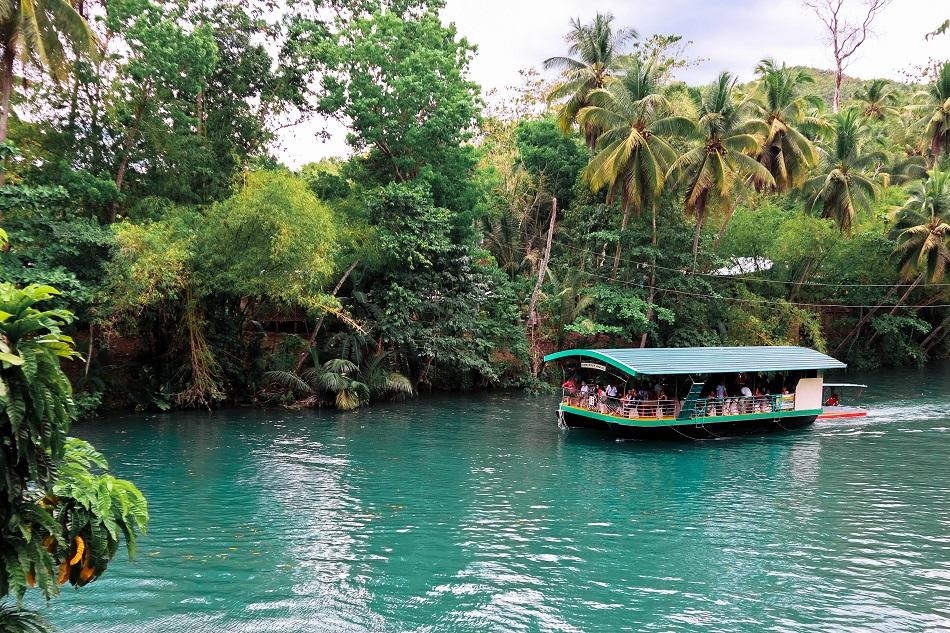 The next on my list of things to do in Bohol is the Loboc River Cruise. This is one of the most popular tourist attractions on the island and it involves some great views and a lot of delicious food.
Hop on the river cruise on the Sipatan River and admire the villages you'll pass by and the lush greenery all while enjoying lunch. It doesn't get better than this, trust me.
If you're visiting Bohol during the high season, I recommend booking your tickets at least one day in advance.
10. Pangas Falls
One of the Bohol attractions you have to visit is Pangas Falls. What I loved about this waterfall was that there were no tourists in sight. I love off-the-beaten-path places where I can sit and enjoy the views.
Pangas Falls is situated close to the Chocolate Hills View Point and it's the perfect place to go for a swim. The fresh water gathers in a natural pool at the base of the waterfall. Don't forget your swimming suit home!
Entrance fee to Pangas Falls – 30 PHP per person
11. Baclayon Church
If you don't already know, most of the Filipinos are Catholic. Baclayon Church is considered to be one of the oldest churches in the country. Its construction was finished in 1727.
12. Go island hopping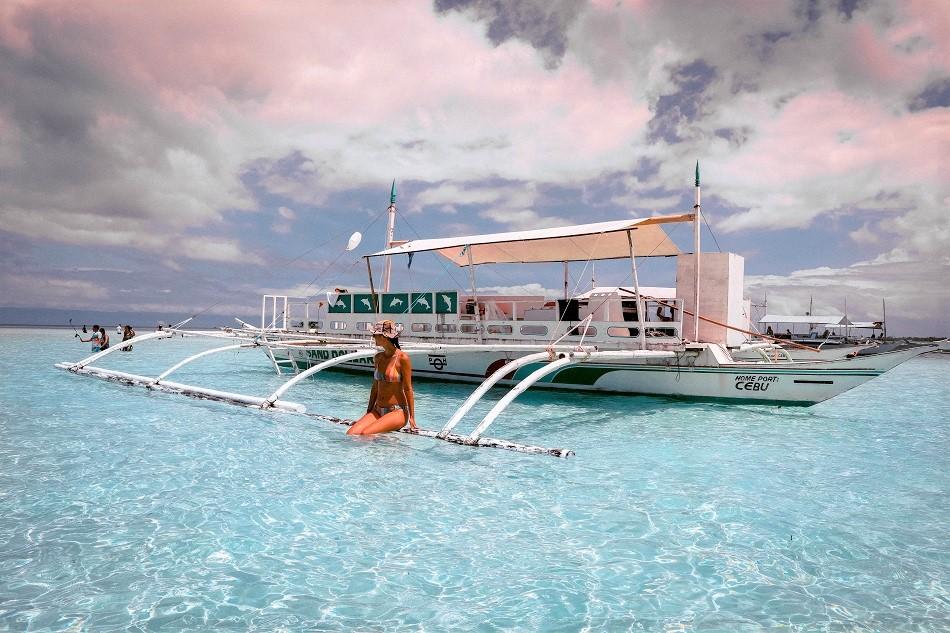 My favorite activity in Bohol was the island hopping tour. All tours start from Alona Beach (you can buy your tickets there or online) and they cover two incredible islands – Balicasag Island and Virgin Island.
You'll have the chance to see the dolphins and swim with the turtles at Balicasag Island. My favorite place was the Virgin Island. This stretch of sand with no vegetation is surrounded by the clearest water I've ever seen.
If you're feeling hungry, now is the time to grab something to eat. At the Virgin Island you'll find lots of boats selling delicious local food. You can even find fresh coconuts. Is this paradise?
To read my complete guide about island hopping in Bohol, click here.
13. White Beach
If you're looking for a more laid-back beach, White Beach is for you. This beach is mostly visited by locals and I loved watching the children playing in the sand.
Unlike Alona Beach, you won't find many restaurants here but the views are pretty incredible. The water is great for swimming as there are almost no waves at all. Enjoy this hidden paradise!
14. Try some local food
Trying some local dishes is a must when in Bohol. Here are some of the things you have to try:
Calamay – a coconut shell full of glutinous rice, sugar, coconut milk and peanuts
Torta – a kind of bread cake
Peanut kisses – you'll find these dome-shaped (just like the Chocolate Hills) cookies in supermarkets
15. Hinagdanan Cave
Hinagdanan Cave is one of the things to see in Bohol. This unique cave is actually situated on Panglao Island (just across the bridge from Bohol) and is one of the most touristy attractions on the island.
Most guided tours include a stop at the Hingagdanan Cave. Once you climb down the narrow stairs, you'll enter the cave that hides a large pool of fresh water. If you want, you can go swimming.
Honestly, I was pretty afraid to swim there since the cave was quite dark. Swimming in deep, dark water is one of my fears.
16. Ingkumhan Falls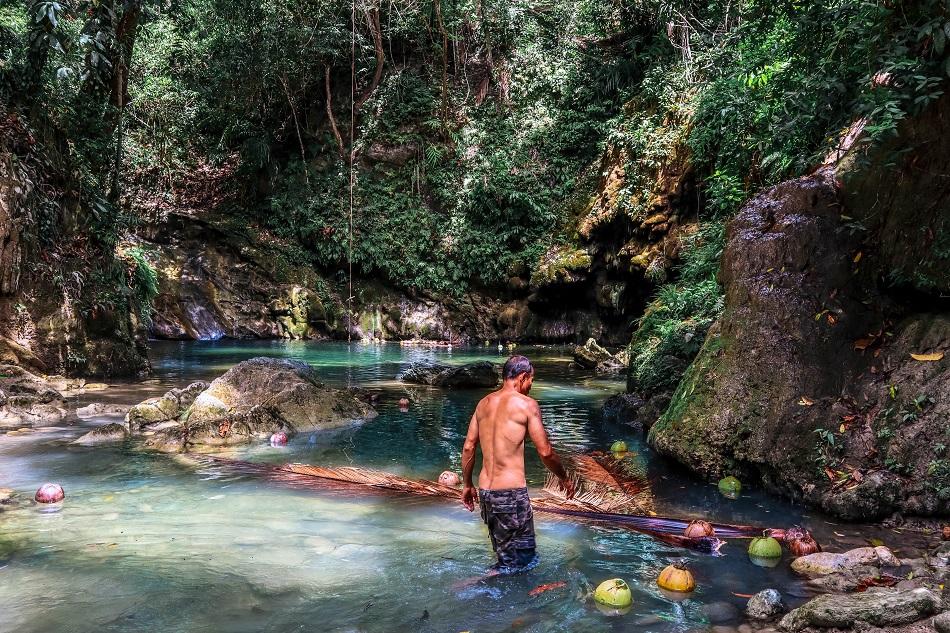 What else to see in Bohol? Take your motorbike and head to the beautiful Ingkumhan Falls. This small waterfall is perfect for adventure seekers.
You can try cliff jumping and there is even a rope to swing above the natural pool formed at the base of the waterfall. You won't find many tourists here. Relax and enjoy the nature!
17. Cadapdapan Rice Terraces
Located in the eastern part of the island, Cadapdanan Rice Terraces are proof of Bohol's diversity. I never miss a chance to see some rice terraces.
There is something about their natural beauty that relaxes me. I could watch them for hours. If you have the time, add these rice terraces on your itinerary. If you don't want to drive all the way to the rice terraces, book this guided tour.
18. Can-Umantad Falls
This is one of the tallest waterfalls on Bohol Island. The beauty of Can-Umantad Falls is impressive. There are several pools where you can swim and refresh yourself from the heat.
One unique thing about this waterfall is the incredibly blue water. If you feel like the sun is too harsh, you can hide in the shade of the trees. You can easily spend a few hours here.
It's a long drive to Can-Umantad Falls and I recommend booking a guided tour. This tour includes other awesome stops at Anda Beach and Cadapdapan Rice Terraces.
19. Doljo Beach
One of the must see places in Bohol is Doljo Beach. If you're searching for a place to watch the sunset, choose Doljo Beach. You'll find many resorts on this exotic paradise but this beach is low-key compared to Alona Beach.
There are also a few restaurants, in case you get hungry. The atmosphere here is relaxed and the people are friendly towards tourists. Doljo Beach is also a great place for snorkeling.
20. Momo Beach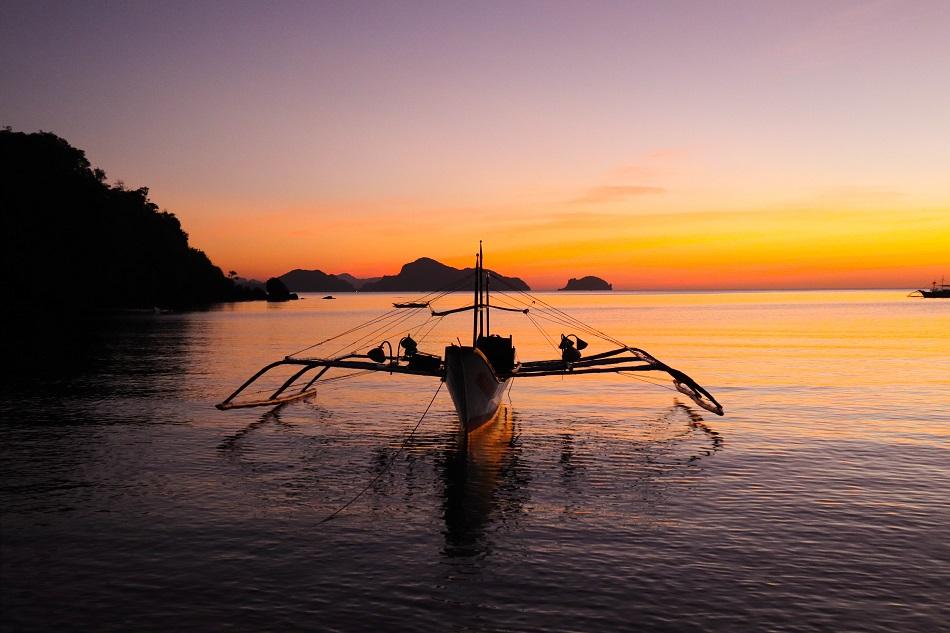 I'm ending this list of things to do in Bohol with Momo Beach. Situated on Panglao Island, this awesome beach is a great choice if you want to escape from all the chaos surrounding the popular tourist attractions.
Grab some snacks and something to drink and head to Momo Beach to enjoy a magical sunset. This beach is perfect if you're looking for a romantic place to spend the evening with your loved one.
Where to stay in Bohol
Finding the perfect accommodation on this big island might be challenging. I've been searching for the best hotels for each budget. Please find my recommendations below.
Budget – Homaja Beach Resort – great location, excellent view, very clean, friendly staff, breakfast included
Mid Budget – Mario Dive Resort – great location, clean & spacious rooms, great facilities
Luxury – Henann Resort – huge pool facing the sea, very spacious rooms, modern amenities, great for couples
If you were wondering what to do in Bohol, I hope that this post helped you. I'm sure that you'll love this island since there are so many awesome places to explore. If you have any questions, don't hesitate to ask me in the comments section below.
May the travel bug bite you!
Disclosure: Please note that this post may contain affiliate links. If you make a purchase through these links, I will earn a small commission at no extra cost to you. I only recommend companies and products that I trust and the income goes to keeping this website running. Thanks!