Bruges is one of those cities where I'll always want to come back. I've visited it twice and I'm already making plans to visit it again. The cobbled street, the winding canals, and the cute houses made me feel like a princess in a fairy tale.
If spending a few days in this incredible city is not an option for you, I'm here to help you plan your day trip to Bruges. You're lucky because Bruges is a small city and it can be explored on foot. One day is enough to visit the main tourist attractions and overdose on chocolate.
This Bruges itinerary is perfect for those who want to feel the city's vibe and experience all it has to offer in a short amount of time. Are you ready to explore this picturesque city?
1. How to get to Bruges
Depending on where you're located, there are several ways to get to Bruges. The public transport works great in Belgium and I recommend using it.
Brussels to Bruges
The good news is that you can visit Bruges in one day from Brussels. The easiest and cheapest way to get from Brussels to Bruges is by guided tour. The tour includes transport and an English-speaking guide.
Another option would be to take the train. The ride costs around $20-$30 each way and it takes around one hour. However, if you plan to visit Bruges in one day, I recommend choosing a guided tour. It's more convenient and affordable.
If you're landing at Charleroi Airport, there are some direct buses to Bruges. I chose Flibco as a bus operator and I was really satisfied with their services. They stop at the train station in Bruges which is very convenient since you can walk to the city center easily.
Ghent to Bruges
If you're located in Ghent, you have to spend one day in Bruges. The two cities are really close to one another. I recommend taking the train for about half an hour. The ticket costs around $10-$20 each way.
I've been to both cities and loved them. If you're not really sure about which of these cities to visit, read my comparison between Ghent and Bruges.
No time to read now? Pin it for later!
Amsterdam to Bruges
Yes, I know. Amsterdam is in the Netherlands and Bruges is in Belgium but guess what? You can take a day trip from Amsterdam to Bruges if you wake up early enough.
To get from Amsterdam to Bruges by train you'll have to change trains and the trip is going to take a little over 4 hours. This is why I recommend choosing a guided tour.
With a guided tour you won't have to worry about transport. Moreover, this guided tour includes an English-speaking guide and a free one-hour canal tour in Bruges. How awesome is that?
2. Things to know before visiting Bruges
Here are a few tips & tricks that will make your Bruges day trip much easier.
be prepared to take lots of photos – Bruges is one of the most photogenic cities I've ever visited. Here are 16 photography locations in Bruges you can't miss.
beware of cyclists – locals in Bruges go everywhere by bike. The city is bike-friendly and there are cyclists almost everywhere. When crossing the street or turning corners, be extra careful.
the local currency is Euro – if you plan to bring cash with you, exchange it in euros. I recommend bringing around 50 euros for one day in Bruges. It should be enough for entrance fees, a meal, and a few chocolate pralines.
tipping is not necessary – most restaurants in Bruges include service taxes in their bill.
souvenirs shops outside the touristy area are more affordable – if you want to shop for souvenirs, make sure to get as far as possible from the touristy area (Central Square).
3. One day in Bruges – the PERFECT itinerary
Are you ready to explore one of the most beautiful cities in Europe? This itinerary is perfect for those who want to visit the most important tourist attractions in the city.
Bruges is small enough to be explored on foot. This itinerary is perfect for those who are looking for a self-guided walking tour of Bruges.
-> Are you also planning to visit Ghent? Read this awesome guide.
Whether you choose to get to Burges by train or bus, you'll start your adventure at the train station. This is the starting point for this itinerary. I recommend arriving in Bruges as early as possible (9 am or 10 am) to have plenty of time for sightseeing.
Take a walk in Minnewaterpark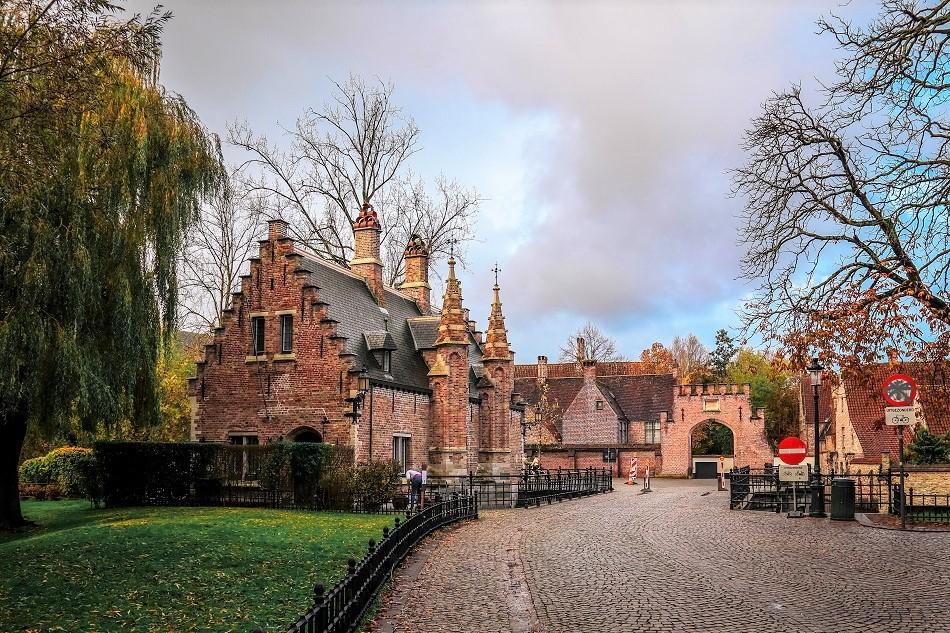 As you'll enter the city from the train station, the Minnewaterpark will be your first stop. Admire the swans, the beautiful architecture of the buildings surrounding the park, and look for the tower of Church of Our Lady.
Walk around Begijnhof
Our next stop is Begijnhof. Founded in 1245, Begijnhof was home to beguines (women that led a pious life). Today, the white houses are inhabited mostly by nuns.
What I loved about this place was its uniqueness. The houses painted in white are unusual compared with the other houses around Bruges.
Visit Sint Janshospitaal
From Begijnhof walk for a few minutes and you'll arrive at one of Europe's oldest hospitals. If you want, you can buy an entrance ticket and visit the Sint Janshospitaal's interior or you can admire it from the outside for free.
Admire the cute Gruuthuse Hof House
I'm pretty sure this cute house is not listed as a tourist attraction anywhere else but I loved it. It's situated right near the Sint Janshospitaal, between two streets leading to the city center.
Gruuthuse Hof House is home to a restaurant. If you're hungry, don't hesitate to try some local dishes!
Visit the Church of Our Lady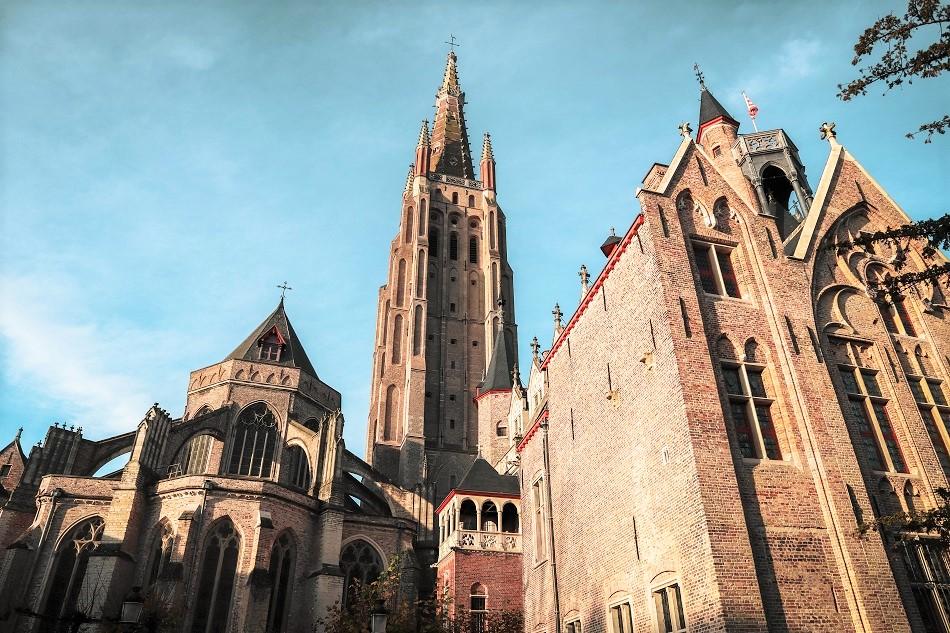 In the same area you'll find the famous Church of Our Lady. This church is a beautiful example of Gothic architecture. However, the centerpiece is the white marble sculpture of the Madonna and the Child by Michelangelo.
Cross the Bonifacius Bridge
This is one of the most famous places in Bruges. Bonifacius Bridge offers one of the best views towards the tower of the Church of Our Lady and it has an incredible legend.
It is said that you'll marry the first person you see after crossing the bridge. It's no wonder why couples come at Bonifacius Bridge. This is definitely one of the most romantic places in Bruges.
Take a boat tour around the city
A day trip to Bruges would never be complete without a boat tour around the city. Head to Rozenhoedkaai and hop on a boat and relax. You'll pass by some beautiful landmarks and your guide will tell you everything about them. Make sure to have your camera ready!
Take a photo at Rozenhoedkaai
If you search on Google for photos of Bruges, you'll notice that the majority of the photos are taken from a certain location – Rozenhoedkaai. This beautiful corner offers an incredible view of the beautiful Bruges buildings and the main canal.
Rozenhoedkaai is considered to be one of the best photography places in Bruges.
Admire Burg Square
From Rozenhoedkaai walk for a few minutes and you'll arrive at Burg Square. There are many architectural styles present in this square but my favorite buildings are the Basilica of the Holy Blood and the Gothic Town Hall.
Explore the Central Market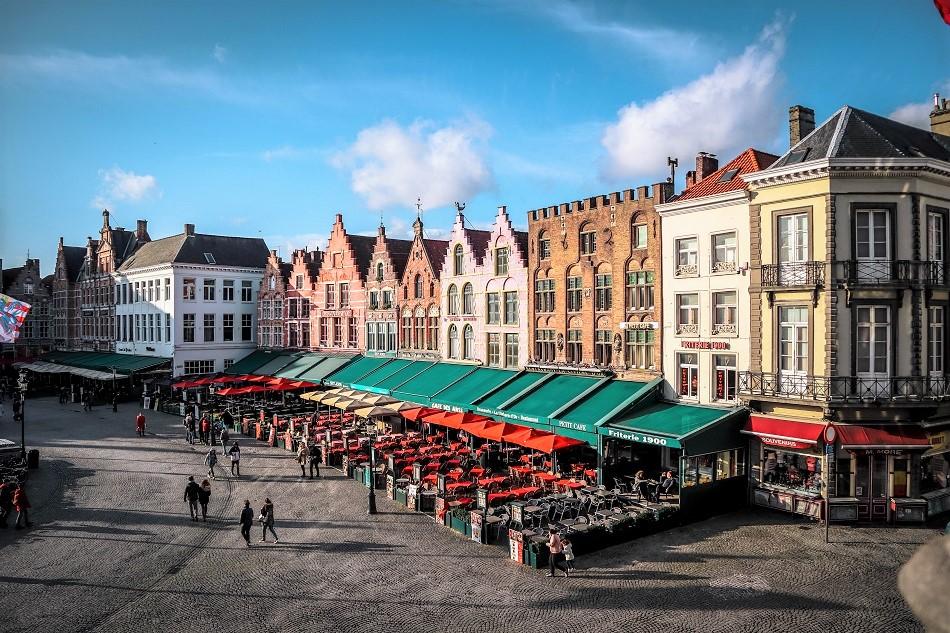 From the Burg Square walk 2 minutes to the Central Market. This is the busiest and most visited place in Burges. Take your time to admire the surrounding buildings and after that head to the Belfry of Bruges.
Climb the Belfry of Bruges
During the summer the queue to the Belfry of Bruges can be pretty long. I recommend visiting it only if the queue is small, especially if you only have one day in Bruges. To get to the top you will have to climb 366 stairs but the view is worth it.
See how lace is made at Kantcentrum
This is one of the off-the-beaten path tourist attractions in Bruges but it's my favorite one. I visited the Kantcentrum twice. You probably know that Bruges is well known for its handmade lace.
At Kantcentrum you find out many interesting things about the history of lace. Moreover, what makes this museum special is the fact that you can see live demonstrations of how lace is made.
4. Where to stay in Bruges
If you plan to spend one or more nights in Bruges, I've got you covered. I've searched for the best accommodation in the city, for every budget. Please find below my recommendations.
Budget – Novotel Centrum – great location, spacious and clean rooms, good facilities, friendly staff
Mid Budget – Hotel Fevery – great location, modern and spacious rooms, breakfast included
Luxury – Relais & Chateaux Hotel – excellent location, luxurious rooms, extra-comfortable beds, historic building
If you were wondering what to do in Bruges in one day, I hope this post helped you. Bruges is a wonderful city and you can see most of it in one day. However, if time is your friend, I recommend spending at least two days here.
If you have any questions about your future day trip to Bruges, let me know in the comments section below.
May the travel bug bite you!

Disclosure: Please note that this post may contain affiliate links. If you make a purchase through these links, I will earn a small commission at no extra cost to you. I only recommend companies and products that I trust and the income goes to keeping this website running. Thanks!