Ghent is a charming city, situated in the Flanders region of Belgium. It's one of Europe's best-kept secrets and a must-see when in Belgium. If you're planning to spend one day in Ghent, you're in the right place. In this guide, I'll share with you everything you need to know when planning a day trip to Ghent.
Even though most people visit its bigger brother – Bruges, Ghent has a lot to offer in terms of tourist attractions. I had the chance to visit Ghent twice and I fell in love with its medieval architecture, cobbled streets, and beautiful canals.
Honestly, I prefer Ghent over Bruges because it's less crowded and it has a fresh vibe. Being a university city, it's full of youth and the contrast between old and new makes this city even more intriguing.
-> Are you also planning to visit Bruges? Read my complete guide!
1. Things to know before visiting Ghent
There are a few things you should know that will make your Ghent day trip more enjoyable.
beware of cyclists – Ghent is a bike-friendly city but the cyclists are not so friendly. Make sure to double check when crossing the street.
try Cuberdon or Ghent Noses – these sweet treats are specific to Belgium. They are made of candy gum and filled with soft flavored filling. The outside is hard whereas the inside is gelatinous. They're delicious and you have to try them!
tipping is not necessary – most restaurants will include the service tax in their bill
buy your souvenirs outside of the city center – souvenir shops located further from the city center are more affordable
No time to read now? Pin it for later!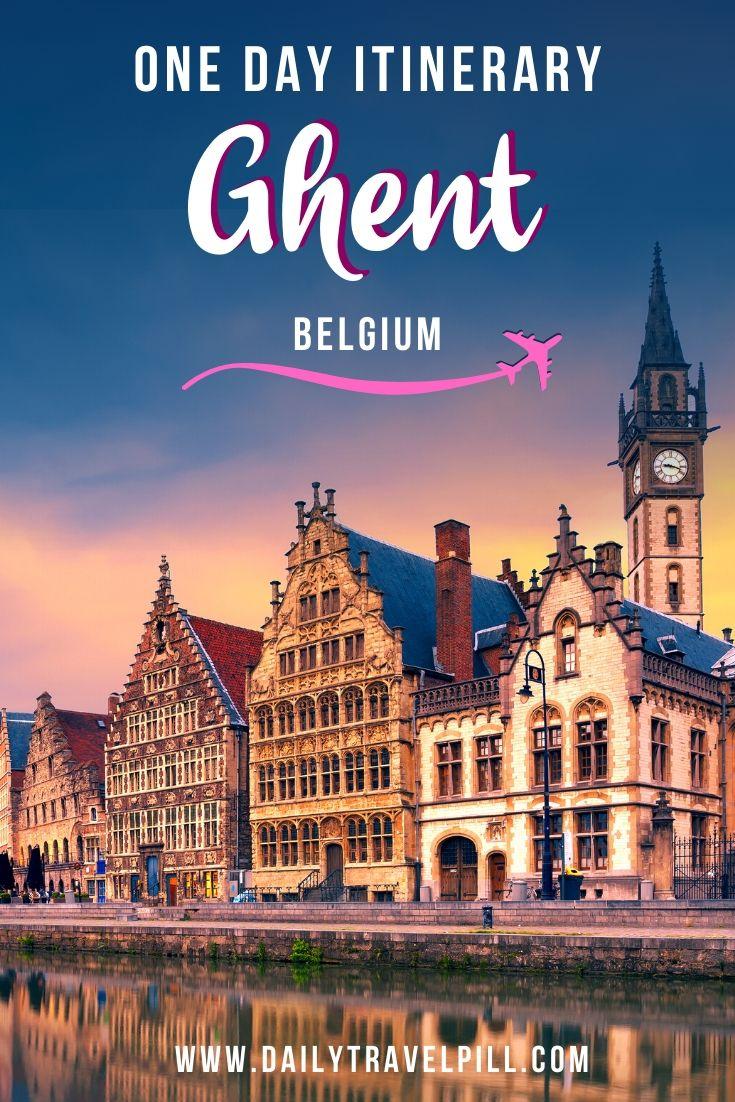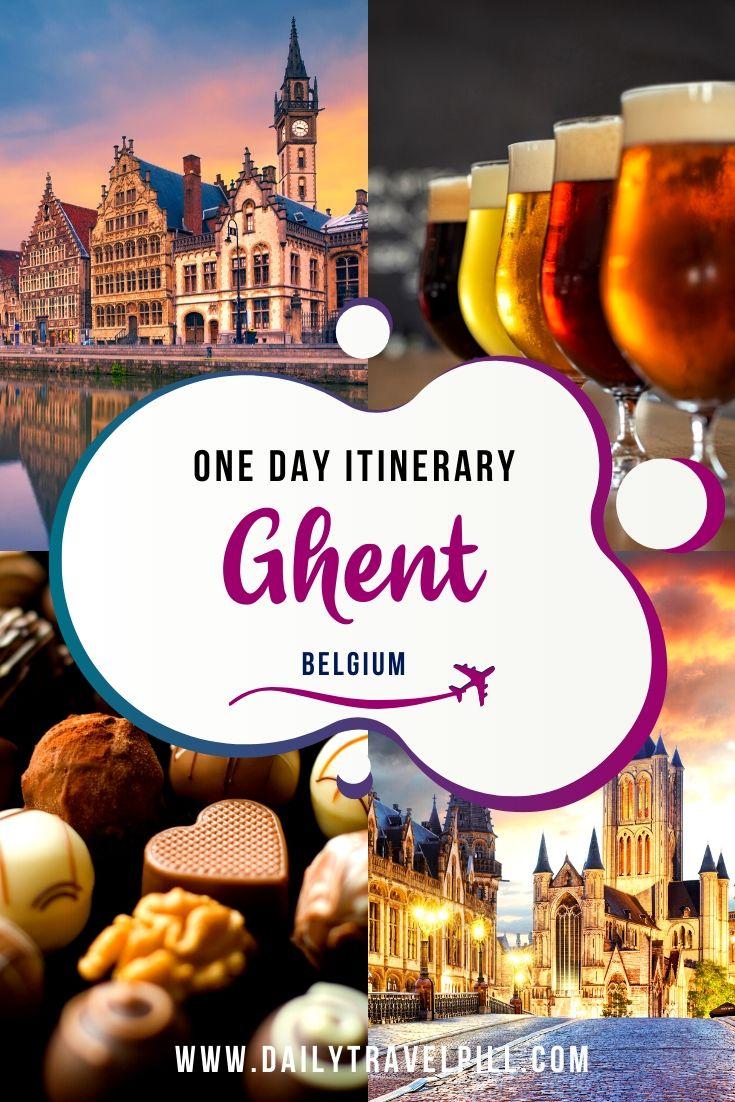 2. One day in Ghent – Itinerary
Are you ready to explore Ghent in one day? The old city of Ghent, the place where most tourist attractions are located, is small enough to be explored on foot.
This one-day itinerary of Ghent will take you to the most beautiful places in the city. Here you'll discover the city's history and secrets. In order to make the most out of your time, I recommend getting to Ghent as early as possible. Aim to be there at 10 am.
Here are the top things to do in Ghent in one day.
-> Bruges or Ghent? Find out which one is more beautiful here.
1. Cross St. Michael's Bridge
If you want to see the best view in Ghent, head to St. Michael's Bridge. From this bridge you'll be able to see all three medieval towers – the towers of St. Nicholas' Church, the Ghent Belfry, and St. Bavo's Cathedral.
While on the bridge, take a few minutes to admire the views and shoot some photos. Also, if you're patient enough you'll see boats full of tourists passing right beneath the bridge, making their way on the canals.
St. Michael's Bridge is one of the most romantic places in Ghent. It offers spectacular views both during the day and night. Wherever you look, there is something spectacular to see.
2. Take a walk on Graslei and Korenlei
These two parallel pedestrian streets are a must-see when in Ghent. The beautiful facades are reflected into the Leie river. The houses' facades hide hidden symbols.
If you look carefully on Korenlei Street, you'll see two swans heading opposite directions on one of the facades. This symbolizes that this house used to be a brothel. When face to face, the swans form a heart but when they are turned away from each other, this is a sign of a House of Pleasure.
Across the street, on Graslei, you'll find the smallest house in Ghent. With a narrow facade and only two windows, this house is very intriguing. I can't imagine somebody living in such a small space.
3. Take a boat tour
If you only have 24 hours in Ghent you have to take a boat tour. Tours start from Grasbrug Bridge. When I visited Ghent there were two kinds of boats available – covered and uncovered.
I recommend choosing the uncovered boat because you'll have a much better view of the city and you can take better photos. If you're visiting Ghent during the winter, the covered boat might be a better option.
The boat tour will offer you a unique view over the city. Just sit back, relax, and admire the views. Make sure to choose an English speaking guide. Read more about boat tours here.
The tour will take you to the Gravensteen Castle and it will end at Rabot. This beautiful fortified gateway was used to flood a big area around the city in times of war.
4. Visit the Gravensteen Castle
This medieval castle dates from 1180. During the years, the building has been re-purposed as a prison, court, and even a cotton factory. Now it's a museum and one of the most important tourist attractions in the city.
One interesting story that captivated me is the one of the student occupation. In 1949 the students of Ghent occupied the castle to protest about the increase of beer taxes. This is the only time when the Gravensteen Castle was occupied. What lengths would you go to protect your favorite beer?
5. Climb the Ghent Belfry Tower
One of the things to see in Ghent in one day is the Belfry Tower. Climb to the top to admire one of the best views over the city. Unfortunately, when I visited Ghent the Belfry was closed.
The Belfry is a UNESCO World Heritage Site and it symbolizes the city's prosperity and independence. The Belfry is the middle tower in the famous row of three.
6. Visit Saint Bavo's Cathedral
This is the oldest parish church in the city of Ghent and a must-see. Take your time to admire the church's exterior and then head inside. You'll be impressed by the architecture.
The Baroque high altar, the black and red marble, and the Gothic chandelier are just a few of the pieces you'll find inside. The most famous art piece inside the cathedral is The Adoration of the Mystic Lamb. It's considered to be Van Eyck's masterpiece and one of the most important pieces of early Northern Renaissance.
7. Admire St. Nicholas' Church
Your day trip to Ghent is getting close to the end. Head to St. Nicholas' Church and step inside to admire it. If you're lucky enough, like I was, you might even catch an organ concert.
If not, just admire the church's architecture. This is the last tourist attraction on my one-day itinerary of Ghent. There are many other places to discover but you'll need more than a day to visit them all.
8. Get lost on the streets
End your one day in Ghent with a short walk on the streets. You'll find beautiful buildings, small souvenir shops, and cute chocolate shops. I highly recommend trying the chocolate when in Belgium. There are so many varieties and it's super delicious.
If you still have time, head to a local bar and try the beer too. There are so many beer brands to choose from in Belgium – literally hundreds of them. I recommend trying Kwak. You won't regret it.
3. How to get to Ghent
If you only plan to spend 1 day in Ghent, it's important to use the fastest mode of transport in order to maximize your time. Depending on where you're located, there are several transport options to Ghent.
Good to know – to get to the old city center of Ghent from the train station you have two options – you can walk or take the tram.
Brussels to Ghent
You have two options to get from Brussels to Ghent – you either take the train or you book a guided tour. For a hustle-free experience, I recommend a guided tour. The tour includes transport from Brussels, stops at the most important tourist attractions in the city, and a discount card for food and museums.
The trains between Brussels and Ghent are scheduled every 20 minutes. Just head to the train station, buy your tickets, and hop on the first train available to Ghent.
Bruges to Ghent
The best option to get from Bruges to Ghent is by train. There are two or three trains per hour so just head to the train station and catch the first train available.
4. Where to stay in Ghent
If you're planning to spend one night in Ghent, I'm here to help you find the best accommodation. I've been searching for the best hotels in the city, for every budget. Here are my recommendations.
Budget – Ibis Centrum – good location, clean rooms, modern design, good facilities
Mid Budget – Hotel Onderbergen – great location, clean & spacious rooms, great facilities, friendly staff
Luxury – Pillows Grand Hotel – excellent location, luxurious and spacious rooms, great restaurant
One day in Ghent is enough to explore the main tourist attractions. I'm sure that you'll fall in love with this city. Even though I visited it twice, I would gladly return to Ghent. If you have any questions, don't hesitate to ask me in the comments section below.
May the travel bug bite you!
Disclosure: Please note that this post may contain affiliate links. If you make a purchase through these links, I will earn a small commission at no extra cost to you. I only recommend companies and products that I trust and the income goes to keeping this website running. Thanks!