After traveling for one and a half years in Asia, it was time to go back home. Since we had a layover in Athens, we decided to book a hotel for a few nights and explore the city. I ended up loving Athens and one of my favorite activities was the day cruise to Poros, Aegina, and Hydra.
These three islands are beautiful and I only wish I could stay longer and explore each one of them for a few more hours. If you're planning to visit the capital city of Greece, you have to take a day cruise from Athens. You can sit back and relax while you sail to some of the most incredible islands.
In this article, you'll find out everything you need to know if you're considering a 3-island cruise from Athens.
1. How to prepare for a one day cruise from Athens
Greece is a country with more than 6000 islands and you'll have the chance to visit three of them in just one day. All Athens cruises start early in the morning from Flisvos Marina (book your tour now).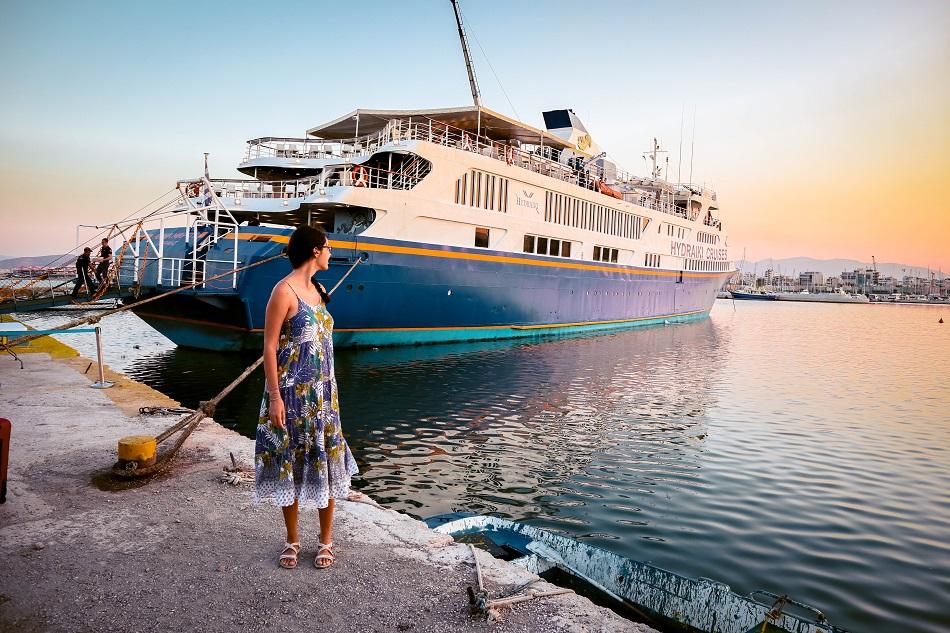 To get there you can use public transport (we took a bus from our hotel) or a taxi. Honestly, I recommend taking a taxi since buses in Athens are not very reliable.
Once you get to your ship, make sure to present your reservation (some of the cruise companies require a printed reservation) and then you'll be ready to board a massive ship that will take you to the beautiful islands of Poros, Hydra, and Aegina.
No time to read now? Pin it for later!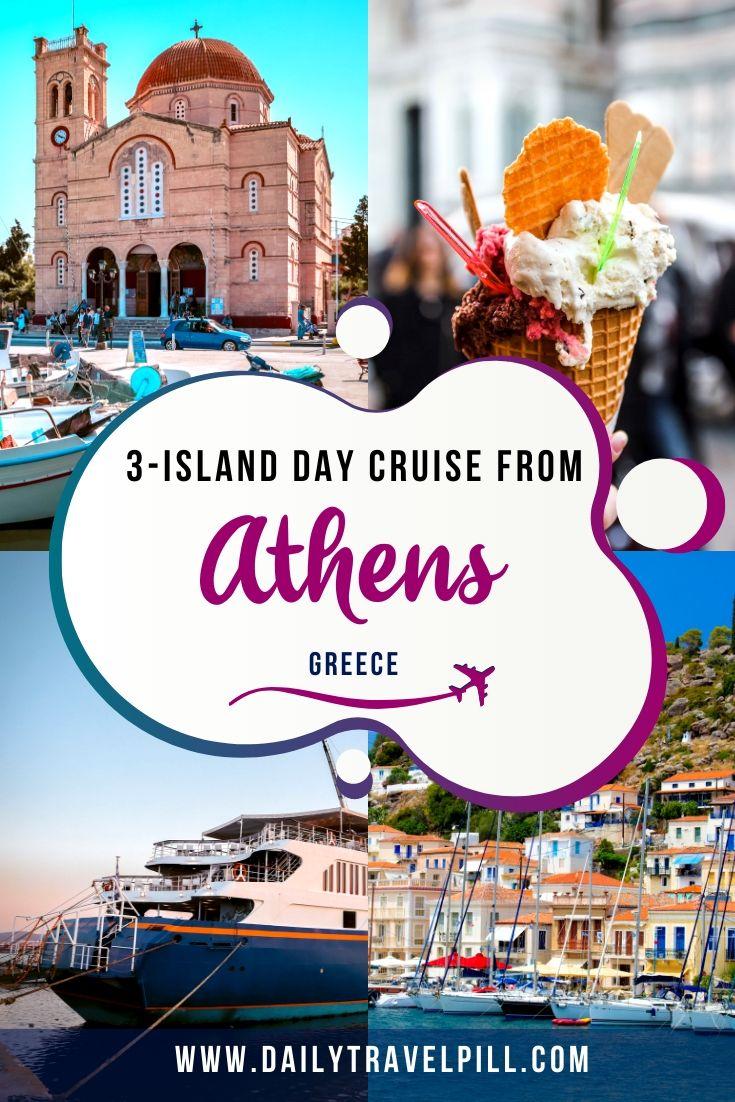 The ships are very comfortable and all day cruises from Athens include a delicious buffet lunch, Greek performances, and live Greek music. I had a lot of fun and I loved listening to traditional Greek music while sailing the sea.
Other AWESOME things to do in Athens:
If you want extra food or drinks, you can always buy whatever you need from the bar. Keep in mind that the prices are a bit higher than in supermarkets. I recommend bringing a bottle of water and some snacks with you.
While getting ready for this 3 island tour from Athens, don't forget to bring the following cruise essentials:
sunscreen – trust me, you'll need it especially if you're visiting Athens during the summer
a hat – the sun can be very harsh during the summer
comfortable shoes – if you want to explore as much as possible of these three islands, make sure to bring some comfortable shoes
camera – these three islands are incredibly beautiful and you'll want to take lots of photos
2. Athens day cruise – itinerary
The final itinerary will be decided by the cruise personal on the morning of departure, depending on sea conditions. This means that you'll visit all three Greek islands but probably in a different order than the one below.
Aegina
Before pulling into the port of Aegina, we were presented with the option to buy a guided bus tour to the Temple of Aphaia and the Agios Nektarios Monastery or a tour of the island scenery. If you choose one of these tours, you will have to pay extra.
We decided to explore Aegina on our own and we spend the time walking on the seashore and exploring the narrow streets full of souvenir shops. When in Aegina, you have to try the ice cream – it's delicious and there are so many flavors to choose from!
For the best view over the city, head to this place. If you decide to skip the guided tours and explore Aegina at your own pace, you can also visit the Ekklisia Isodia Church. If you have time left, head to some of the smaller streets. Here you'll find many local shops selling beautiful souvenirs.
In total, we had about one hour and a half to explore Aegina. Fun fact – did you know that Aegina is the first capital of modern Greece?
-> Book your Athens cruise here.
Poros
Our Athens day cruise continued with a stop to beautiful Poros. Make sure to check out the views as the ships makes its way into the port. The buildings are layered over the hills and create some stunning views.
You'll only have 45 minutes here. Therefore, you'll have to decide what you want to do – you can either explore the city or climb to the clock tower for a panoramic view of the city.
Since most of the people on our cruise ship headed directly to the clock tower, we decided to explore the city. I prefer going to places with fewer tourists.
We ended up walking on a long pontoon bridge which had the most incredible views. We admired the houses, the exotic trees, took some photos, and then headed back to our ship.
It was time for our buffet lunch! A Greek feast was waiting for us with lots of delicious food and yummy desserts. We enjoyed our meal while listening to Greek music and continued our journey to our last stop – Hydra.
Hydra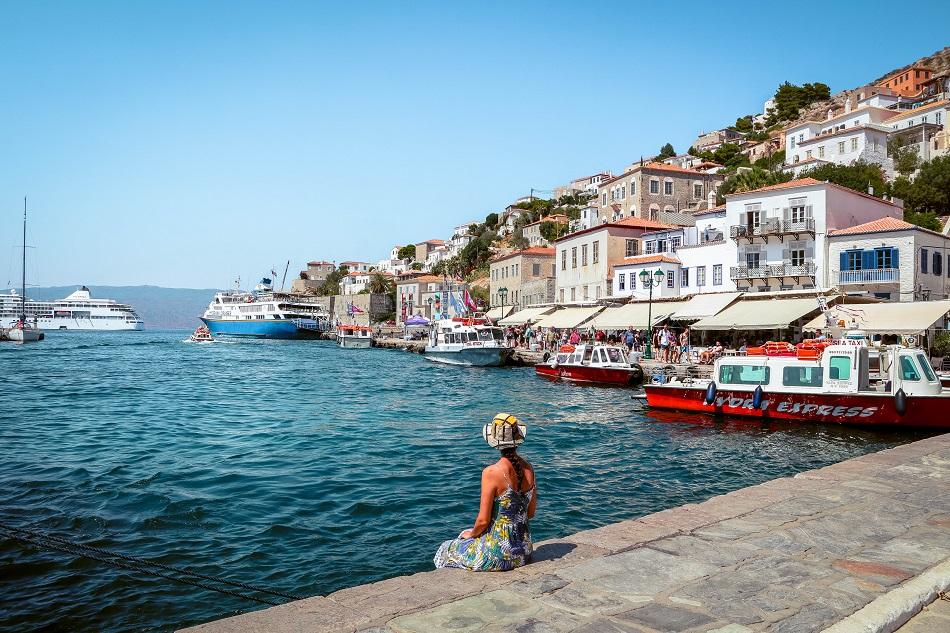 Hydra, the last stop on our 3 island cruise from Athens, was my favorite. Hydra is the only island in Greece with no cars. Therefore, people mainly use donkeys as a means of transportation.
I loved this island. The beautiful houses, the charming restaurants, the luxurious yachts and vessels – everything was like a summer dream. I wish I could spend a few days here.
I spent my time exploring the city, walking through the maze of alleys, and taking photos. Lots of photos. After we enjoyed the beauty of this island, it was time to head back to the ship and back to Athens.
On the way back we were entertained with Greek music and performances. I haven't been on many cruises, but this Greek island cruise from Athens was one of the best experiences of my life.
-> Book your Athens cruise here.
3. Where to book your day cruise from Athens
You can search for a tour agency in Athens or you can book your cruise online. I recommend booking your cruise online, a few days in advance. This is the tour that we booked and we loved it!
4. Athens day cruise – FAQ
How many hours does a day cruise from Athens last?
Usually, the cruise takes 10 hours and it starts at 8 in the morning.
What islands will I visit on a day cruise from Athens?
You will visit the following islands – Poros, Hydra, and Aegina.
Does the buffet lunch include options for vegetarians?
Yes, the buffet lunch includes options for vegetarians.
How many passengers are on the boat?
A cruise ship can accommodate up to 800 passengers. It depends on the season if the ship will be full or not.
5. Where to stay in Athens
If you're planning to spend a few days in Athens, I'm here to help you. I've been searching for the best hotels, for each budget and these are my recommendations:
Budget – Bedbox Hostel – excellent location, clean rooms, friendly staff, good amenities, fun activities
Mid-Budget – Evripidou Suites – excellent location, clean and spacious rooms, beautiful design, excellent amenities
Luxury – The Pinnacle – amazing rooftop terrace with view towards Acropolis, spacious and luxurious rooms, breakfast included, friendly staff, excellent amenities and location
I loved cruising around these 3 incredible Greek islands for a day. If you're planning to visit Athens, a day cruise is a must! If you have any questions, don't hesitate to ask me in the comments section below.
May the travel bug bite you!
Disclosure: Please note that this post may contain affiliate links. If you make a purchase through these links, I will earn a small commission at no extra cost to you. I only recommend companies and products that I trust and the income goes to keeping this website running. Thanks!