Bohol is one of the most visited islands in the Philippines. It's famous around the world for the intriguing and beautiful Chocolate Hills but there are other amazing places to visit on the island too.
Apart from beautiful waterfalls, cute tarsiers, and stunning beaches, Bohol is home to the incredible Bilar man-made Forest. While exploring the island, it's very probable that you'll pass right through this mahogany man made forest in Bohol.
1. About
This 2-kilometer long stretch of mahogany trees in Bohol is located between the towns of Bilar and Loboc. The trees are standing tall, at almost the same height. Their branches are long and their leaves cover the blue sky.
Good to know – While you're in Bohol, make sure to take an island hopping tour. You'll get the chance to see dolphins, swim with the turtles and admire the beautiful Virgin Island.
Inside the forest, you'll never see the sun. That's how thick Bilar man-made forest is. If you're planning to explore the forest and enjoy the quiet, take an extra sweater with you. Inside the forest, the temperatures are much lower.
Bilar-Loboc man-made Forest was planted around 50 years ago as part of a reforestation project. It's a beautiful place for both locals and tourists to relax and reconnect with nature.
No time to read now? Pin it for later!
Expect to see lots of people here taking photos. Bilar forest in Bohol is a great place for photo-shoots. The winding road and the surrounding green mahogany trees create the perfect backdrop for photos.
However, you have to be extremely cautious. There are no parking spots at Bilar man-made forest so most of the cars are parked right on the side of the road. Also, people love taking photos in the middle of the road which is extremely dangerous because the visibility is very low.
-> Check out my awesome Bohol itinerary! It's perfect if you're looking for awesome waterfalls, stunning beaches, and adventurous activities such as island hopping!
If you plan to take photos in the middle of the street, make sure you're in a place with great visibility. Vehicles passing through the forest can be very speedy.
You can also take a relaxing walk through the forest. There is no other vegetation growing apart from the mahogany trees and the wind barely blows. Walking through Loboc man-made forest feels like stepping back in time.
Good to know – There is no entrance fee to the Bohol man-made forest
2. How to get to there
You'll have to take the ferry to get to Bohol. There are ferries from Cebu, Siquijor, and Dumaguete. Check out the prices and schedules below.
Once you're in Bohol you can take a guided tour or rent a motorbike. As I've already said, the forest is situated between Bilar and Loboc. Most of the guided tours in Bohol include a stop at the mahogany man-made forest.
If you're traveling from Panglao Island to the Chocolate Hills, you'll pass through the forest.
3. Places to visit near Bilar-Loboc man-made Forest
Bohol is full of incredible tourist attractions and I had the chance to spend 4 days on this beautiful island and the island of Panglao. Here are some tourist attractions near the Bilar man-made Forest.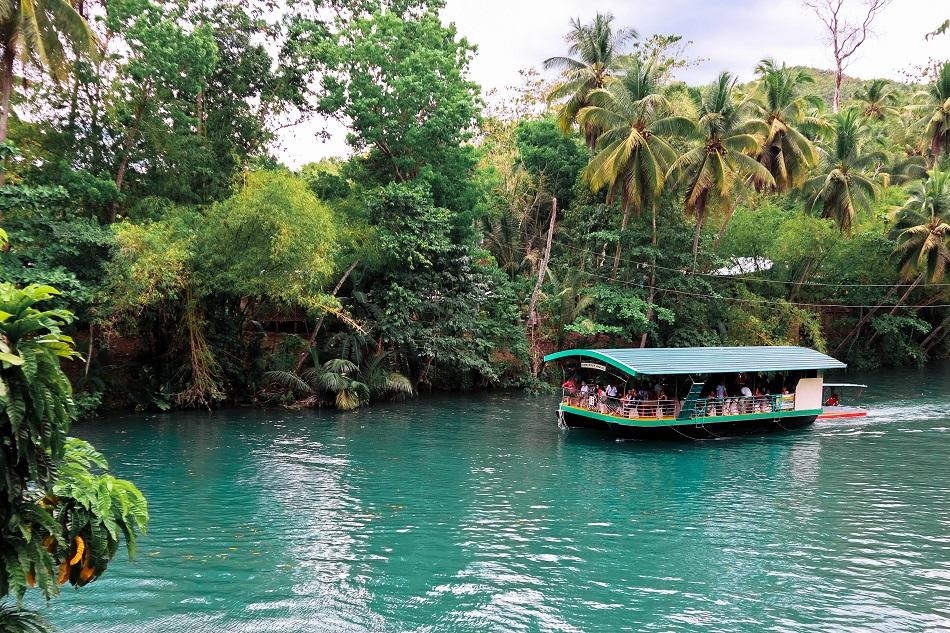 Take a Loboc River Cruise – Eat a delicious meal while cruising along the Loboc River. The views are insane and you'll pass by lush vegetation and authentic local villages. Book your tour here.
Visit the Twin Hanging Bridge – These two bamboo bridges are a popular attraction in Bohol. The bridges are hanging about 25 meters over the river. If you're afraid of heights, maybe this place isn't for you.
See some Tarsiers – These cute animals with their huge eyes will melt your heart. Make sure to visit a Tarsier sanctuary, where the animals are treated well, in a stress-free environment. I recommend choosing the Philippine Tarsier Sanctuary.
Admire the Chocolate Hills – Go to the Chocolate Hills View Point and admire the tens of round-shaped hills around you. It's a unique sight!
Visit the beautiful Pangas Falls – Situated right near the Chocolate Hills, Pangas Falls is one of the most beautiful waterfalls on Bohol Island. Refresh yourself in the cold stream and admire the views around you. Another must-see waterfall on the island is Dimiao Falls.
4. Where to stay in Bohol
I've been searching for the best hotels in Bohol, for every budget. There are many options to choose from but I'm here to help you. Below are my recommendations.
Budget – Homaja Beach Resort – great location, excellent view, very clean, friendly staff, breakfast included
Mid Budget – Mario Dive Resort – great location, clean & spacious rooms, great facilities
Luxury – North Zen Villas – incredible view, luxurious design, spa, excellent restaurant, great amenities, friendly staff
If you have any questions about the beautiful mahogany Bilar man-made Forest, let me know in the comments section below. Enjoy Bohol and have a great time visiting the Philippines!
May the travel bug bite you!
Disclosure: Please note that this post may contain affiliate links. If you make a purchase through these links, I will earn a small commission at no extra cost to you. I only recommend companies and products that I trust and the income goes to keeping this website running. Thanks!