If you're looking for a white sand beach, turquoise water, and beautiful palm trees, Alona Beach is for you. This tropical paradise situated on Panglao Island near Bohol is an up-and-coming tourist destination.
This exotic one-and-a-half kilometer long stretch of sand is one of the most famous tourist attractions on Bohol, together with the Chocolate Hills, the Man-Made Forest, the Twin-Hanging Bridge, and the Dimiao Falls.
One thing that I loved about this place was that there are many stores, restaurants, and hotels nearby. Also, this beach is the starting point for all the Bohol island hopping tours and diving activities.
In this guide, I'll share with you everything you need to know about Alona Beach. From nightlife to activities and accommodation, I'm covering everything.
1. Location & how to get there
Alona Beach is located on Panglao Island, about 20 km away from Tagbilaran City. You'll most probably arrive in Tagbilaran by ferry from Cebu (
click here for prices
) or Siquijor (
click here for prices
). From there, you can take a taxi (shared or private) or a tricycle to Alona Beach.
Tagbilaran City is situated on Bohol Island. Panglao and Bohol are connected through two bridges so the access from one island to the other is easy.
If you want to explore more of Panglao and Bohol by yourself, you can rent a motorbike. There are a few motorbike rental shops at Alona Beach or you can simply ask at your accommodation. We rented a motorbike for a few days and had a lot of fun exploring all the tourist attractions in Bohol.
2. What to expect at Alona Beach, Bohol
I'm not gonna lie, Alona Beach can get pretty busy especially in the morning when tourists gather for their island hopping tours. If you want to avoid the crowds, go towards one of the two ends of the beach.
The beach is not very big compared to others in the Philippines. It's just 1.5 kilometers long and you can easily walk from one end to the other in less than 20 minutes.
No time to read now? Pin it for later!
However, this is a popular place for other reasons. The beach is full of restaurants and terraces where you can stop for a drink or a snack. Take a seat and admire the views.
There are also many resorts and hotels near the beach as well as supermarkets and pharmacies. Alona White Beach Panglao is a great choice if you're looking for a place with great touristy amenities.
-> Check out my 3-day Bohol itinerary. It's packed with awesome places and adventurous activities!
3. Things you need to know
There are a few things you should keep in mind when visiting Alona Beach. I'll list them down below.
Buy a local sim card with internet – If you want to make sure that you can post awesome photos on Facebook or Instagram any time of the day, buy a local sim card! You can do so at the airport when arriving in the Philippines or online.
Sunsets at Alona Beach – If you're looking for a place to see a magical sunset, this beach might not be the right choice. The sun sets on the other side of the island. I recommend going to Momo or Doljo Beach for the best sunsets on Panglao Island.
Beware of sea urchins – If you're planning to swim or snorkel, buy some rubber shoes to protect you from sea urchins.
Entrance fee – There is no entrance fee.
4. Alona Beach Activities
In terms of tourist attractions, Alona Beach has a lot to offer. Depending on how adventurous you are, you can choose from snorkeling, diving, and swimming.
I'll tell you more about each of these activities down below. Don't forget about the sea urchins!
Alona Beach swimming
If you're too scared to try snorkeling or diving, you can choose swimming. Here, the water gets gradually deeper which makes it perfect for beginning and advanced swimmers alike.
Keep in mind that just a few meters inside the water, the seaweed starts to grow. If you'd like to avoid it, don't go too far away from the seashore.
Alona Beach snorkeling
Alona Beach is known to be one of the best places for snorkeling in the Philippines. You can rent snorkeling gear for 250 pesos per day from the many dive shops you can find on the beach.
Then, head to the left-end of the beach and start exploring the marine life! You'll see that the Alona Beach snorkeling area is marked by white buoys. Make sure to snorkel only in this area!
If you want to take underwater photos, I recommend buying a GoPro. It's my favorite camera for photographing marine life! It's easy to use and the photos are always stunning!
Alona Beach diving
There are about 15 dive shops on this beach. You can just walk on the main street and you'll find many dive centers to choose from. Go ask for prices and choose the best option for you, depending on your experience.
A few good dive centers are Go Scuba Diving Center, Bohol Divers Club, and Philippine Fun Divers.
Once you choose the best dive center for you, you'll be taken to a banca boat and your adventure will begin. Take your time to admire the underwater world unfolding in front of your eyes.
Alona Beach island hopping tours
Another popular activity you can do while in Bohol is to go island hopping. All tours have the same itinerary that includes dolphin watching, Balicasag Island, and Virgin Island.
This was my favorite part of my trip to Bohol. On Balicasag Island you can swim with the turtles and go snorkeling. Virgin Island is a small stretch of sand with no vegetation or buildings. The water surrounding it is super-clear and perfect for swimming.
To book your island hopping tour, you can go to one of the tour agencies on Alona Beach or you can book your tour online. Make sure to book your tour at least one day in advance.
5. Alona Beach Restaurants and Bars
At Alona Beach Panglao you'll find a wide range of restaurants, serving both local and international dishes. Burgers, pizza, noodles – these are just some of the dishes you can try here.
Below is a list of the best restaurants.
Baybayon Grill – I love this restaurant because it has a varied menu. You can try rice with chicken, fries, and even pancakes.
Giuseppe Pizzeria – This is the best pizza you'll find on Panglao Island. From the Beach you'll have to walk for about 15 min to get to this place but trust me, it's worth it.
Shaka – Do you like fruit bowls? If the answer is yes, you have to try Shaka!
6. Alona Beach Nightlife
With many clubs and bars both on the beach and near the beach, Alona Beach has the best nightlife scene in Bohol. If you want to dance or just enjoy a relaxing night while drinking a glass of wine, you can find the perfect place here.
With a wide variety of music genres, the clubs and bars are open until 3-5 am. If you want to dance, I recommend trying Aluna Beach Bar (opened until 3 am). If you like reggae music, you can try the Aliahailey Reggae Bar (opened until midnight).
Another option is to simply take a walk on the beach and choose a bar randomly. I'm sure you'll have a great time!
7. Alona Beach Hotels
I know, I know, everybody is looking for cheap accommodation. Unfortunately, that's not possible. Alona Beach is one of the most expensive areas in terms of accommodation on Panglao Island.
However, even if the hotels are a bit more expensive, the views are incredible and you'll be close to tens of restaurants and bars which is awesome.
If you're wondering where to stay on Alona Beach, I'm here to help you! I've been searching for the best hotels, for every budget and I've found some pretty incredible beachfront hotels and some cute hostels too.
Budget accommodation
If you're on a budget, expect to pay between $15 and $40 for one night at a hotel or hostel on Alona Beach. Below are three great options for those who want to make the most out of their money.
Moon Fools Hostel – This place is pretty awesome for a hostel. It has a modern design, clean rooms, and breakfast is included in the price. If you feel like splurging, you can choose a private room.
Unk's Homestay – This homestay is well known for its friendly hosts. The place is super clean and the beds are comfortable. Also, breakfast is included in the price.
Mid Budget accommodation
For a few extra bucks, you'll get a larger room and a pool! Below are some awesome accommodation options for those with a medium budget.
Island World Panglao – This new resort has an amazing design and a beautiful pool. The place is located close to Alona Beach and the amenities are great!
Positano Alona Beach – This little corner of paradise includes an awesome pool and super-clean rooms. However, breakfast is not included.
Luxury accommodation
If you're willing to splurge, you'll get a room in a modern beachfront hotel with great views towards the sea. Are you ready for a luxurious stay? Below are the best hotels at Alona Beach.
Henann Resort – With a huge pool facing the sea, this hotel is the ultimate luxury. The rooms are very spacious and they have modern amenities. It's a great choice for couples looking for a romantic vacation.
Amorita Resort – For an unforgettable experience, choose a private villa with a pool. They even have villas with ocean views. This place is a corner of paradise.
8. Other attractions on Panglao Island
If you have a few days to spend on Panglao Island, make sure to explore more of this natural beauty. One of the places that I loved was Hignadanan Cave. This underground cave is amazing and you can even swim in the small natural pool inside it. If you want to avoid the crowds, be there early in the morning.
There are also some other great beaches on Panglao such as Withe Beach, Doljo Beach, and Momo Beach.
If you want a hustle-free experience, you can choose a Panglao guided tour like this one. The tour includes the Hignadanan Cave, Dauis Church, the Shell Museum, and a stop to the Bohol Bee Farm.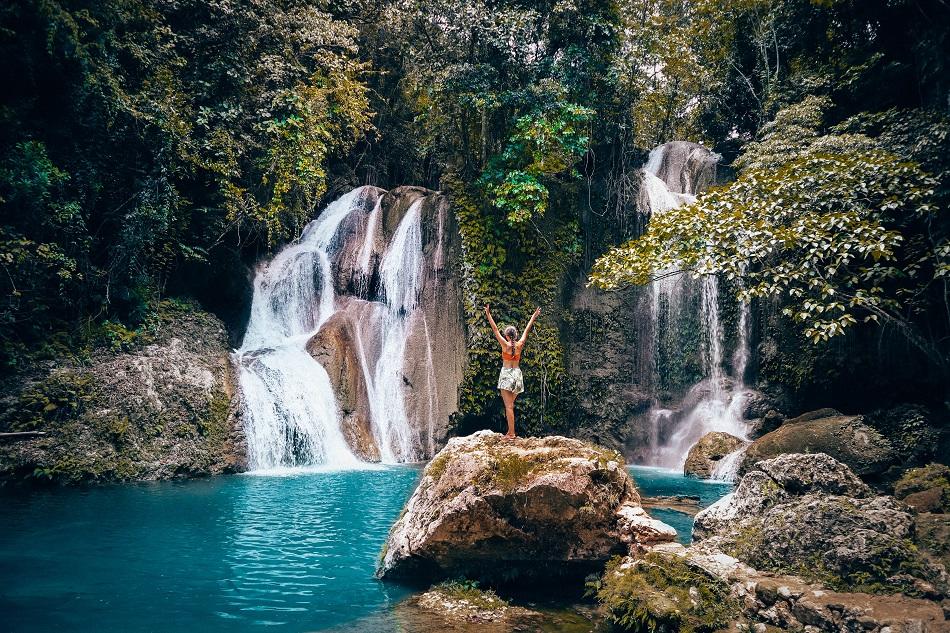 Below are a few awesome places you have to visit on Bohol Island:
9. Final thoughts
Although I loved Alona Beach, I can't say it was my favorite beach in the Philippines. I'm more into remote, empty beaches and this one is anything but remote. However, this doesn't mean that you won't like it. Some people prefer touristy locations and that's fine.
Alona Beach is a beautiful beach and there are lots of activities available for tourists. Don't forget – taking an island hopping tour is a must!
May the travel bug bite you!
Disclosure: Please note that this post may contain affiliate links. If you make a purchase through these links, I will earn a small commission at no extra cost to you. I only recommend companies and products that I trust and the income goes to keeping this website running. Thanks!