When traveling to Japan you'll see lots of people, both locals and tourists, wearing beautiful kimonos with elegant embroidered designs. You'll see them at temples, in parks, and in front of any major tourist attractions.
Taking a photo-shoot while wearing a kimono is a very popular activity. It's one of the best things to do in Tokyo, even if you're spending only one day in the city. The photos you'll get are the best souvenir you can take home with you from Japan.
If you're planning to rent a kimono in Tokyo, I'm here to help you. In this guide I'm covering the history of the famous kimono, the best kimono rental places in Tokyo, and how to wear this traditional Japanese garment.
Are you ready for your Tokyo kimono experience?
1. What is a kimono?
A kimono is a traditional Japanese garment that can be either formal or semi-formal and it's used for special occasions such as public holidays, festivals, tea ceremonies, weddings, and funerals.
The word kimono means "wearing thing" (ki means "wearing" and mono means "thing"). Even though nowadays most people wear kimonos only for special occasions, geishas still wear them on a daily basis.
If you are a fan of the "Memoirs of a geisha" movie and you'd like to see a real-life geisha, head to Gion district in Kyoto.
There are two categories of textiles used for kimonos: Gofuku (silk for luxury garments) and Futomono (cotton for everyday wear). In Japan both men and women wear kimonos. Men's kimono should fall to ankle length while women's kimono should be as tall as she is.
An interesting fact is that every season has different patterns associated. For example, a kimono with cherry blossoms should be worn in spring while a kimono with bamboo and pine tree patterns should be worn during winter.
A hand-made kimono with traditional hand-dyed patterns can cost as much as $10,000. A complete outfit with obi, socks, and accessories can cost up to $20,000. However, nowadays cheaper fabrics are used and the kimonos are far less expensive.
No time to read now? Pin it for later!
Kimono styles range from extremely formal to casual, depending on their fabric, pattern, and color. A full kimono outfit for women usually has 12 separate pieces that require assistance to be put together. In Japan, there are kimono dressers who can be found at hair salons or you can call them to your home to help you get dressed.
Unlike women's kimonos, men's kimonos are simpler. An entire outfit only has 5 pieces and the main difference is that men's kimonos are dyed in dark colors (gray, black, dark blues, browns).
Other AWESOME things to do in Japan:
2. Where to rent a kimono in Tokyo
Now that you know a few things about kimonos, it's time to talk about renting a kimono in Tokyo. Tokyo is a beautiful city and there are many places that would be the perfect backdrop for a photo-shoot.
One of the most popular kimono rental locations in Tokyo is Asakusa. However, there are some other awesome places too. In this section we'll talk about the most popular kimono rental places in Tokyo.
Kimono rental Asakusa
Asakusa is one of the most popular districts in Tokyo. Most tourists come here to visit the famous Senso-ji Temple and Asakusa Shrine. Sonso-Ji Temple is one of my favorite temples in Japan but it's very crowded. If you want to avoid the crowds, be there early in the morning.
I've seen many locals and tourists alike dressed in kimonos here and there's no wonder why. The temple and the Asakusa Shrine create the perfect backdrop for photos.
I recommend booking your kimono session online. Once you get to the store, you can choose your design from more than 200 options and you'll have someone to assist you to get dressed.
Also, if you're looking for a luxury kimono experience in Asakusa, I recommend this one. It includes hair-styling, makeup and a professional photo-shoot in an incredible setting with a professional photographer.
Kimono rental Kamakura – day trip from Tokyo
Explore the beautiful city of Kamakura while wearing a kimono. Visit the Amida Buddha, an incredible bronze statue that can be found at Kotokuin Temple.
Also, head to Hasedera Temple and admire the eleven-headed statue of the goddess of mercy Kannon. While in Kamakura, you can also shop for some souvenirs at Komachi Street.
This kimono experience includes transfers from Tokyo, a guide, and a photographer. This is an incredible day tour from Tokyo and a great chance to unearth the fascinating culture of Kamakura. For more details about this tour, click here.
Kimono rental Shibuya Crossing
Wear a kimono in one of the most vibrant and youthful locations in Tokyo. Shibuya Crossing is one of the most popular tourist attractions in the city and the perfect location for a photo-shoot.
Did you know that Shibuya Crossing is the busiest pedestrian crossing in the world?
You can book online your rental kimono for Shibuya Crossing.
Rent a kimono Harajuku
Harajuku is a vibrant neighborhood with lots of restaurants and shops. Here you'll find colorful clothes, accessories, and the best rainbow cotton-candy you'll ever have.
If you're looking for a kimono rental place in Tokyo close to Shibuya, choose this one! You can take a walk around Harajuku and discover all the incredible things you can do here dressed in a beautiful kimono.
3. Tokyo kimono rental costs
Depending on where you're renting your kimono, the prices may vary a bit. Also, the price depends on whether or not hair-styling and hair accessories are included in the service.
To rent a kimono for one day in Tokyo expect to pay somewhere around $10-$30. This price includes a shop assistant who will help you choose the best kimono for your body shape. The assistant will also help you get dressed.
Almost all kimono rental shops in Tokyo have lockers where you can leave your clothes.
What's usually included in the price:
tote bag
traditional Japanese slippers (zori)
socks (tabi)
hair accessories
personal assistant to help you get dressed
Good to know – Most kimono rentals in Tokyo are for 10 hours. This means that you can put on your kimono in the morning and return it in the evening. This is great because you'll have the chance to take photos at different locations around the city.
4. A step by step guide to wearing a kimono in Tokyo
After booking your kimono experience, the first step is to head to the shop. Once you'll enter the shop, you'll see hundreds of beautiful kimonos waiting for somebody to wear them. I'm telling you, choosing only one can be difficult.
Choose your favorite kimono pattern and your favorite obi and somebody from the staff will come and help you get dressed.
The first thing you have to know is that you don't have to get fully undressed to wear a kimono. It's your choice. You can keep your pants and t-shirt on if you want.
If you're tall, like I am, expect the kimono to be a bit short. Most shops provide kimonos for people up to 1.8 meters but I'm 1.9 meters. However, this didn't stop me!
After choosing your kimono, somebody from the staff will help you get dressed. And no, you can't put it on by yourself. Most kimonos cost a fortune and getting dressed with one is pretty difficult (lots of layers and knots). You'll definitely need assistance.
Other AWESOME things to do in Japan: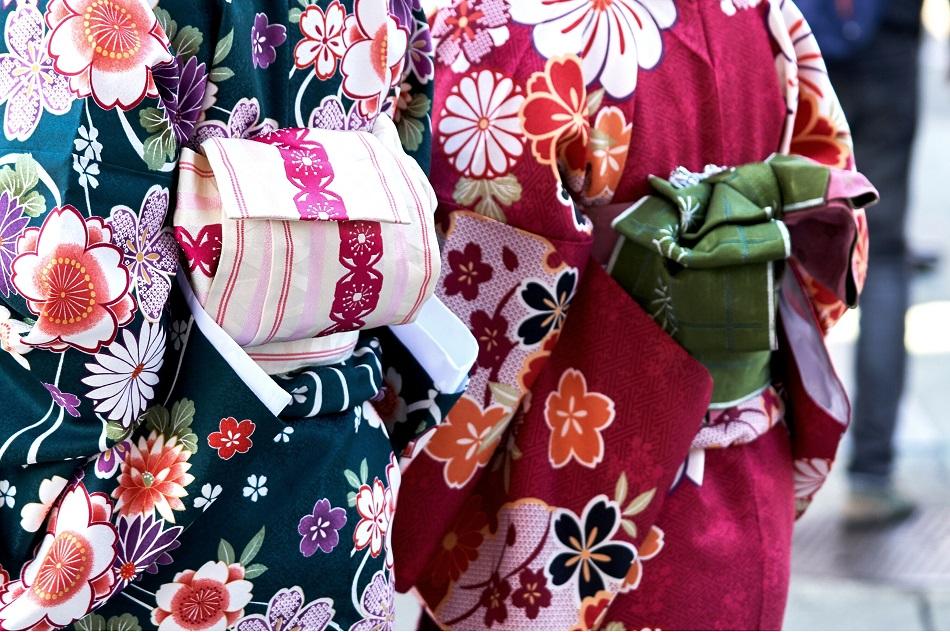 After getting ready, choose your favorite hairstyle and hair accessories and head outside to explore the city! Locals might be staring at you but it's only because they're happy to see that you love their traditional clothing.
Don't be shy! Wear your kimono with pride and show it to the world!
Make sure to return your kimono at the set time. If you're late, you might be required to pay extra.
Good to know – when renting a kimono in Tokyo you might be required to leave a deposit. Take good care of your kimono and don't damage it or else you'll have to pay for it!
5. Best places for photos when wearing a kimono
It would be a shame to wear a kimono and not take some photos in it. Since you can rent a kimono in Tokyo for a full day, you can visit some awesome tourist attractions around the city and take some photos.
Below are some of the most beautiful places in Tokyo.
Good to know – Buy a Tokyo subway pass to save money on transport.
Senso-ji Temple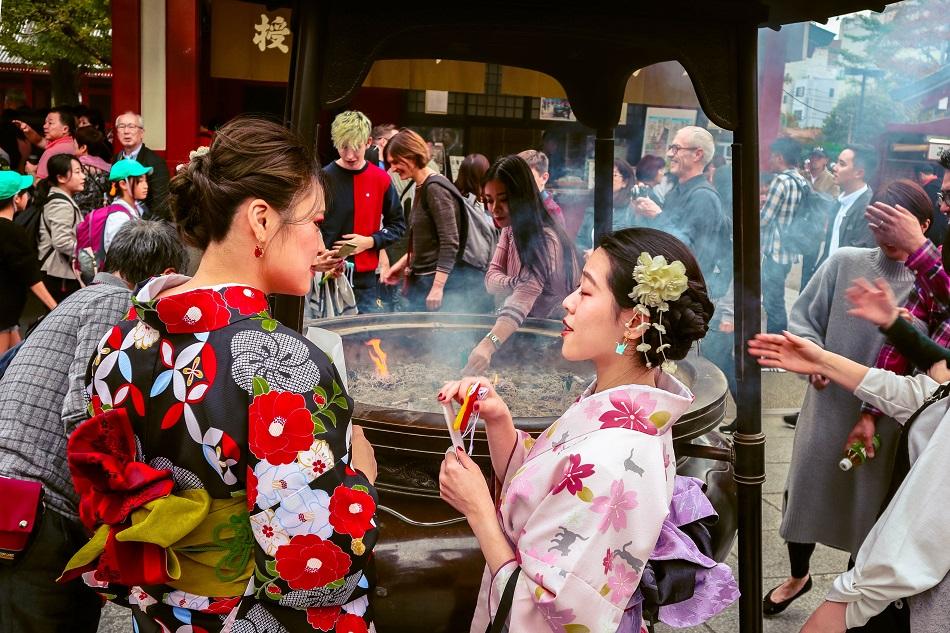 This is one of the busiest and most popular temples in Tokyo. Make sure to be there early in the morning. Senso-ji Temple is an incredible traditional Japanese temple and its architecture is simply stunning.
The main entrance is one of the most beautiful parts of the temple but make sure to explore it all!
Harajuku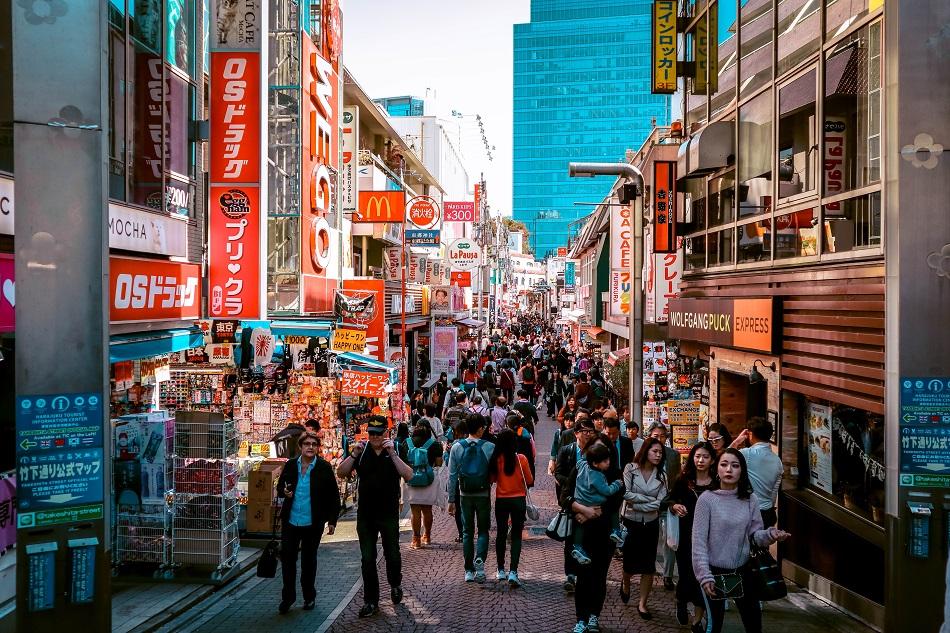 This is one of the coolest neighborhoods in Tokyo. Known for its fashion stores, delicious crepes, and restaurants, Harajuku is one of the most important tourist attractions in the city.
Go to Takeshita Street, the heart of Harajuku, and take some awesome photos! If you want to get creative, buy a rainbow cotton-candy and use it as photo prop!
Shibuya Crossing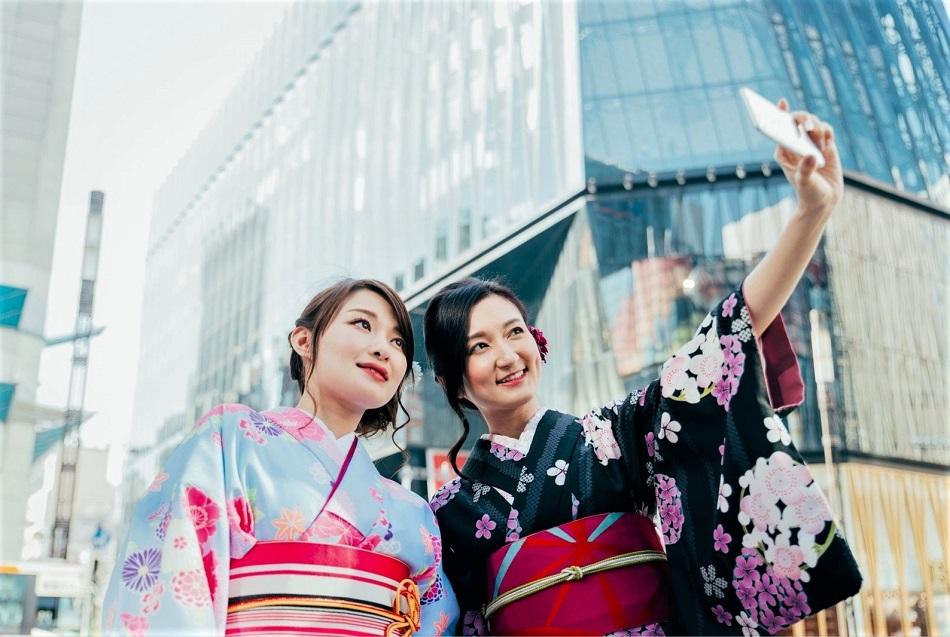 You can't visit Tokyo without stopping at Shibuya Crossing. This is the busiest pedestrian crossing in the world and the perfect background for photos.
Wearing a traditional Japanese kimono in such a modern location will help you create some incredible photos. My recommendation would be to get to Shibuya at sunset when all the lights are on.
Yoyogi Park
Visit Meiji Shrine and the nearby Yoyogi Park. Take a relaxing walk in the park and take a photo with the huge torii gate at the entrance. Yoyogi Park is just a short walk away from Harajuku.
After exploring the park, head to the beautiful Meiji Shrine and step away from the hustle & bustle of Tokyo.
Gotokuji Temple
This unique temple is not yet popular among tourists. If you want to escape the chaos of Tokyo, this is the place to go. Gotokuji Temple is considered to be the birthplace of maneki-neko, the famous white cat which is supposed to bring luck to its owners.
You'll find thousands of maneki-neko around the temple and you can take some photos with them dressed in your kimono!
These are the best places for a kimono photo-shoot in Tokyo. If you're moving fast, you can visit them all in a single day!
Photography tip – When taking photos, make sure to stand a bit diagonal in order to show your obi's bow and hair accessories.
6. Final thoughts
Wearing a kimono in Tokyo is a unique experience. You'll feel like a celebrity for a few hours. Don't be surprised if people come to you asking to take photos with you. If you hear the word kawaii, it means that you're cute.
Take care when walking on the streets. You'll need to take small steps. Walking in a kimono is a bit difficult but it's definitely worth it!
7. Things you need to know before visiting Tokyo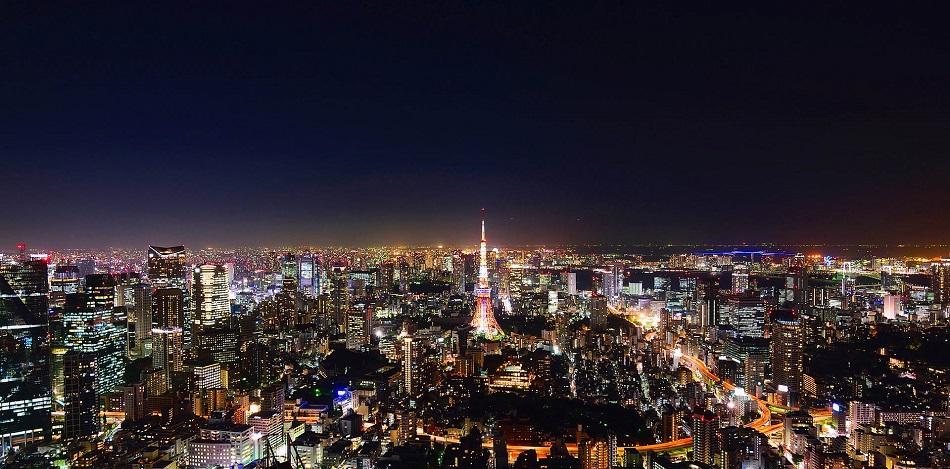 There are a few things you should know before visiting Tokyo. I recommend booking your airport transfer in advance, to save time and money. You can get the Skyliner from Narita Airport to Tokyo and back. The journey will take around 40 minutes.
I also recommend getting a Tokyo subway pass. This pass will grant you unlimited free rides on the subway. The Tokyo subway is the best way to get around the city. It's awesome and super-fast!
Book online your WiFi device and pick it up from the airport or other locations around the city. Booking the device online is much cheaper than buying a sim card from the airport.
8. Kimono FAQs
Can men wear kimonos?
Of course! All kimono rental shops in Tokyo provide kimonos for men. Keep in mind that the fabrics for men have a darker color.
I'm super tall. Can I still rent a kimono?
Yes, you can. I'm super tall (190 cm) and I was able to rent a kimono and a hanbok in Korea. Some kimonos might be a bit short if you're very tall but don't worry about it. Just enjoy the experience!
Is it ok to wear a kimono as a foreigner?
Oh, yes! The Japanese love it when foreigners take interest in their traditions and customs.
How long does it take to get dressed in a kimono?
You have to be patient when putting on your kimono. For women it usually takes around 40 minutes to get dressed. Men are a bit luckier – 20 minutes. Keep in mind that a complete kimono outfit has lots of layers and knots.
Can I buy a kimono in Tokyo?
Of course, you can! Kimonos are pricey but they are a great souvenir. Below are a few kimono shops in Tokyo.
9. Where to stay in Tokyo
There are many accommodation options to choose from in Tokyo! I've been searching for the best hotels for each budget. Below are my recommendations.
Budget – Emblem Hostel – good location, gym, clean rooms, access to train/ subway
Mid Budget – Hotel Rex – excellent location, included breakfast, modern & spacious rooms, awesome amenities
Luxury – Ascot Tokyo – excellent location, beautiful pool, spacious & luxurious rooms, excellent staff, great value for money
May the travel bug bite you!

Disclosure: Please note that this post may contain affiliate links. If you make a purchase through these links, I will earn a small commission at no extra cost to you. I only recommend companies and products that I trust and the income goes to keeping this website running. Thanks!