Chengdu is the capital of Sichuan province in China and a rising tourist attraction for foreigners. Although most of the people visit it to see the cutest animals on this planet – the pandas, Chengdu has much more to offer. From its incredible architecture to its delicious Sichuan cuisine, Chengdu should definitely be on your travel list when visiting China.
After spending one week in Chengdu, I completely fell in love with it. In this article I will share with you the top 20 tourist attractions in Chengdu but before that, let's talk a bit about when is the best time to visit this city.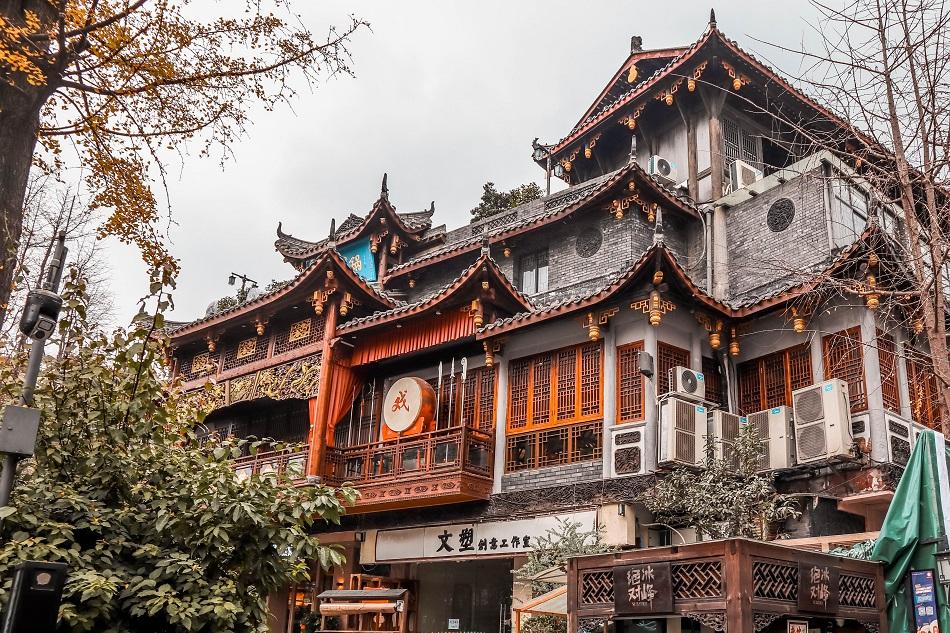 When is the best time to visit Chengdu
Summers in Chengdu can be extremely hot while winters are very cold. I have visited Chengdu at the beginning of December and it was freezing cold. We had to buy extra jackets to face the temperatures. Also, most of the restaurants and shops do not have heating systems so if you're traveling during winter, be prepared to face the cold.
Even though the weather was not friendly at all, I still loved Chengdu a lot so don't get discouraged by the forecast. However, if you want to stay on the safe side, the best time to visit Chengdu is during spring and autumn. For more details about the weather in Chengdu, click here.
Now let's get to the most interesting part and talk about the must see places in Chengdu.
No time to read now? Pin it for later!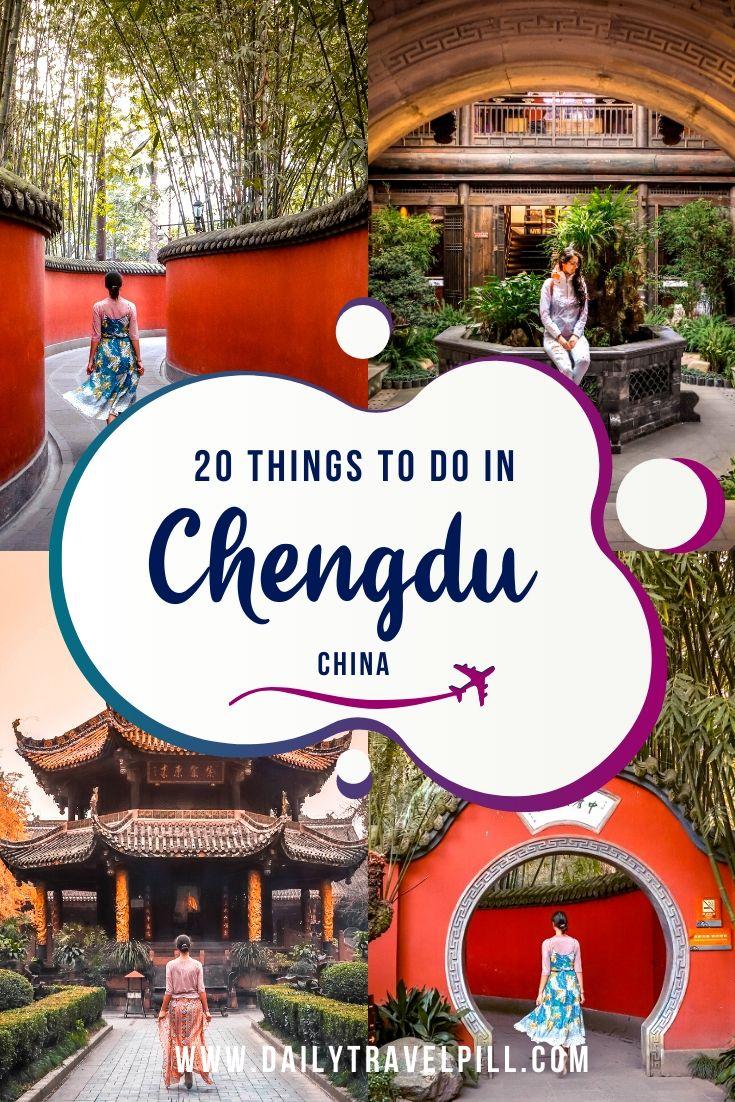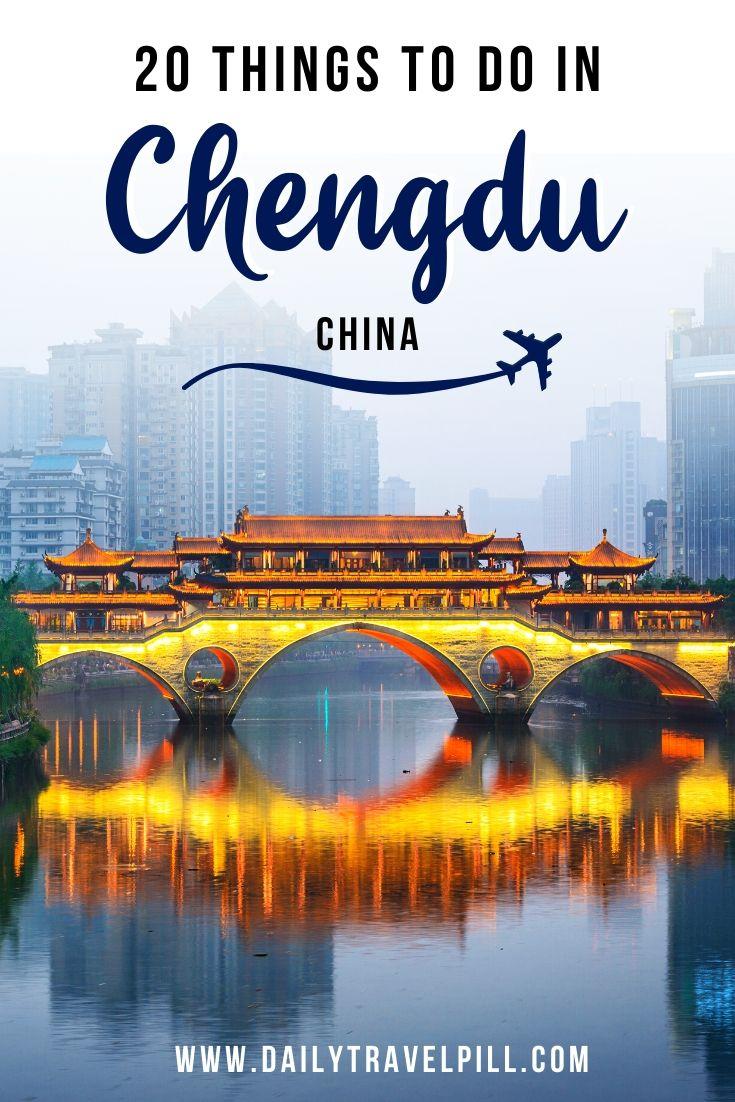 20 must see Chengdu tourist attractions
1. Be impressed at the Sichuan Opera
You can't go to Chengdu without attending the Sichuan Opera. Unlike western operas, where you have to dress fancy, here at the Sichuan Opera the atmosphere is a bit more relaxed. People are sitting on bamboo chairs and between every 2 chairs there is a table for tea and sunflower seeds. Yes, that's right – you can eat sunflower seeds at the opera.
The Sichuan Opera consists of several acts: people dancing and singing in traditional costumes, people playing instruments, theater and even shadow puppetry. I loved the opera so much that the two hours felt like ten minutes. Going to the Sichuan Opera is definitely one of the top things to do in Chengdu and an unforgettable experience at the same time.
2. Visit Tianfu Square
One of the places to visit in Chengdu is Tianfu Square. Some say that if you haven't been to this square, you didn't even visit Chengdu. This huge place, surrounded by tall skyscrapers is situated in the heart of the city.
Tianfu Square is the largest square in southwest China and, seen from above it has the shape of a giant yin yang. In the Chinese culture, the yin and yang are the representation of how two opposite forces can actually be complementary.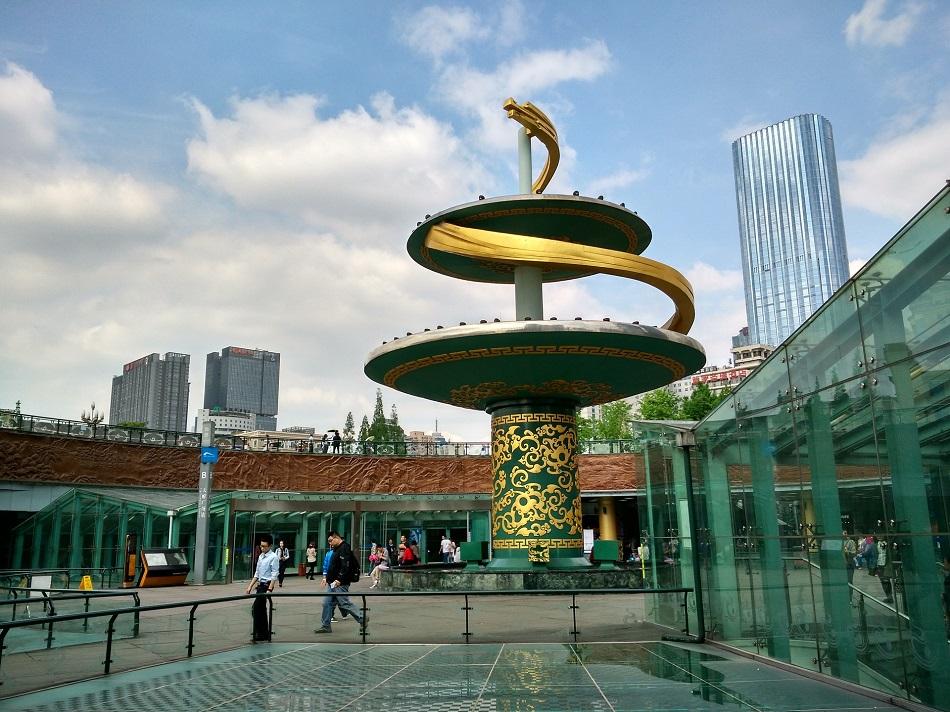 In the center of Tianfu Square you will find the symbol of Chengdu (the original golden plate can be found at Jinsha Site Musem) which is a plate with Golden Sun Bird pattern.
Here you can also find the Sichuan Science and Technology Museum where you can find some of China's achievements in science and technology. Right in front of the museum stands a marble sculpture of Mao Zedong, waving his hand to visitors.
3. Mingle with the locals at People's Park
There is no better place to explore and discover the daily life of Chinese people than at the People's Park in Chengdu. This is the first public park in Chengdu, built in 1911 and today it serves as a place where locals come to relax and make new friends.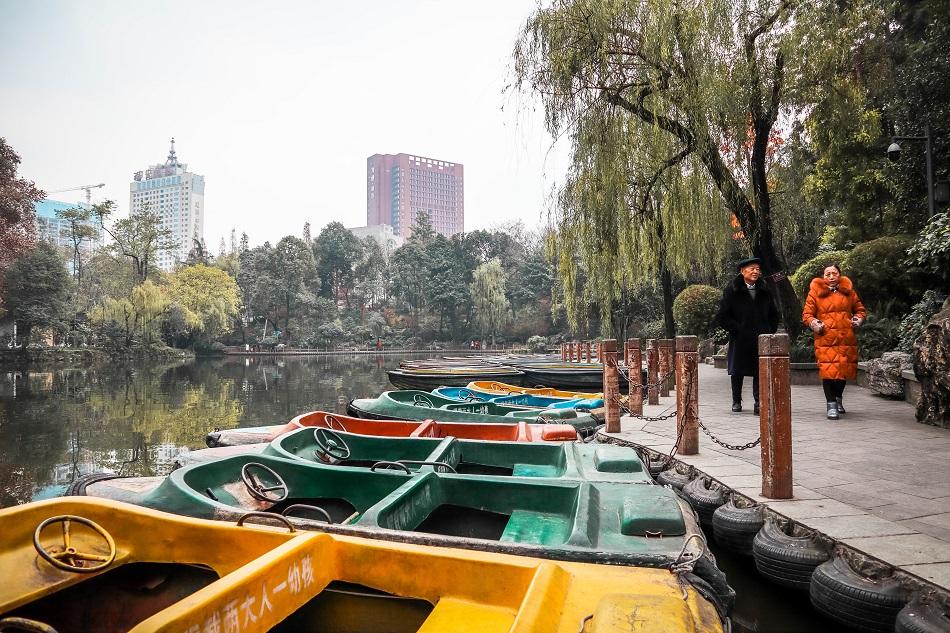 The highlight of my visit to People's Park was drinking tea at the Singing Crane Teahouse. You won't find many tourists here but this is one of the reasons why I loved this experience so much. What I love about Chinese tea is that it always comes with sunflower seeds – just delicious!
If you want something for your sweet tooth, you can try melted sugar. You will first have to spin a wheel and depending on where it lands, you will get a certain animal or pattern. All this for just 10 CNY.
While walking through the park, you will see people playing Mahjong, singing and even exercising. Elder people gather in groups and exercise on music in the park. If you want, you can join them, like I did. I must say that considering the fact that when I visited it was December, the exercise routine really helped me get warm.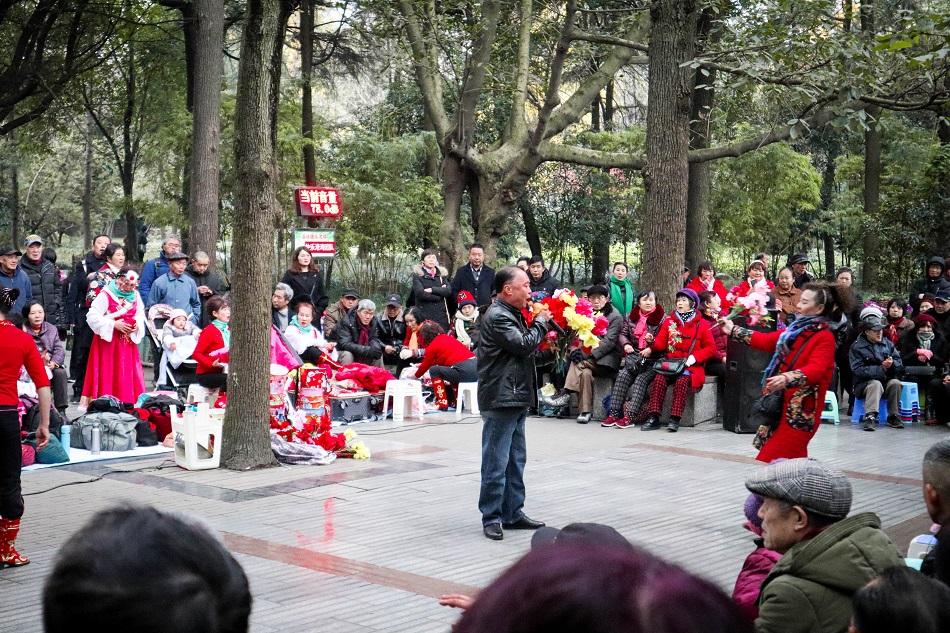 The most interesting part of People's Park is the "Love Wall". Here, people who are searching for their half are writing a short description of who they are and what they are looking for (height, weight, financial status) in the hope of finding a husband or wife. If you are single, you can try your luck. 🙂
4. Get lost between red walls at Wuhou Shrine
Famous for its red walls, the Wuhou Shrine is perfect for those who are looking for photography places in Chengdu and, at the same time, want to learn more about the Chinese culture.
The temple consists of several buildings, gardens and the famous red walls. If you want to take a photo here, make sure to be at the temple early in the morning (the temple opens at 8 am). The temple gets pretty busy later in the day.
Wuhou Shrine is dedicated to Zhuge Liang who was a politician, astronomer and diplomat. Although the original temple was destroyed, it has been rebuilt according to the original blueprints. The current temple was built in 1672 and is one of the most scenic spots in Chengdu.
While visiting the Wuhou Shrine, take a short walk and explore the Jinli Street too.
5. Buy some souvenirs at Jinli Street
Jinli Street is one of my favorite places in Chengdu. With many souvenir shops, street food and amazing architecture, Jinli Street should definitely be a part of your Chengdu itinerary. This street is quite twisted but don't worry – getting lost will only lead to discovering beautiful handicrafts shops and traditional restaurants.
There is a small alley where locals hang small colorful bags – there are thousands of them! These bags are a symbol used by people to wish for good luck, safety, good marriage or pretty much anything. If you want to embrace the Chinese culture, you can even buy one from a small shop nearby and hang it here.
While visiting the Jinli Street, do not hesitate to try some of the local street food (Gou Zi, Liang Gao, Liang Fen, and Fen Zheng Rou) or buy some panda-themed souvenirs. If you would like a more authentic souvenir, you can buy Shu embroidery. In front of one of the stores you can even watch how the Shu embroidery is made.
6. Shop till you drop at Taikoo Li & IFS
Here you will find options for any kind of budget. If you would like to shop for luxury items, then IFS is the perfect place for you. With more than 300 luxury brands, IFS is one of the trendiest shopping places in Chengdu. However, the main attraction is the giant panda who is climbing on the mall – don't miss it!
If you have a medium budget, you should check out Taikoo Li shopping area. I loved this shopping district's architecture which is very similar to the Sichuan architecture but with a modern twist. With more than 300 retail outlets, Taikoo Li is a shopping heaven and a great place to spend the afternoon after exploring the amazing tourist attractions in Chengdu.
So, if you are in for some shopping in Chengdu, Taikoo Li and IFS are the perfect places and the best part is that they are within walking distance from each other. For more shopping places in Chengdu, click here.
7. Visit the Daci Temple
My Chengdu attractions list would never be complete without the Daci Temple. Just a few steps away from the Taikoo Li shopping district, Daci Temple is a tranquil place where you can enjoy some silence away from the usual hustle and bustle of the city.
Originally, the temple was built in 618 and it used to be the largest Buddhist monastery in Sichuan. However, over the time, the temple has been rebuilt many times.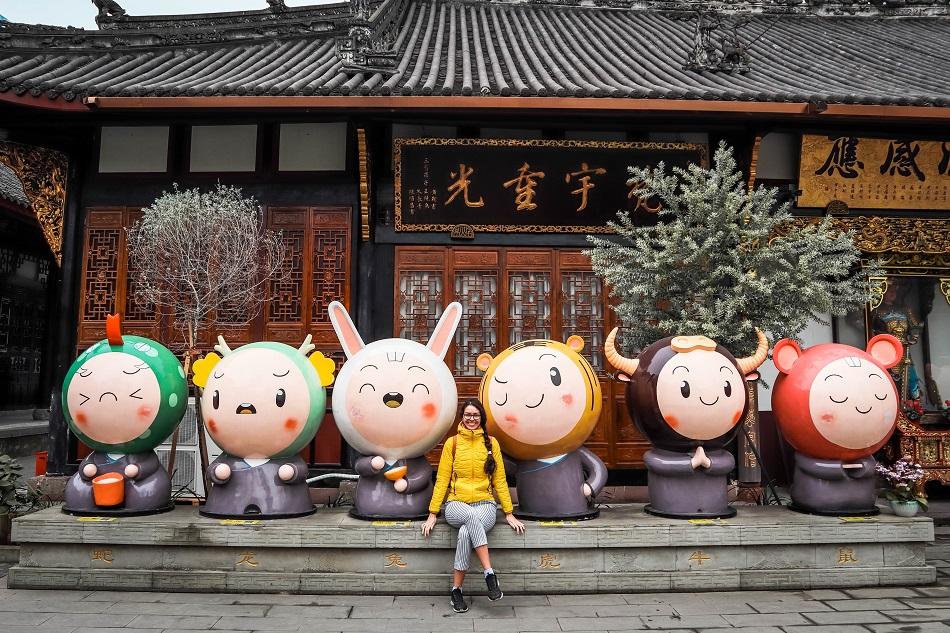 Apart from its beautiful architecture, at Daci Temple you will find some of the cutest statues with the Chinese zodiac. One of the reasons I recommend visiting this temple is that here you won't find any tourists. Daci temple isn't yet on tourists' radar so you can admire it in peace, without bumping into dozens of people.
8. Eat at the first panda themed KFC in the world
Ok, let's admit – we all love KFC and we all love pandas. What if our favorite restaurant merged with our favorite animal? Well, in Chengdu you can eat at the first panda themed KFC in the world, right near the IFS shopping center.
This restaurant is fully decorated with panda paintings, bamboo pillars and panda stuffed animals. The cashiers even wear panda caps. How cute is that?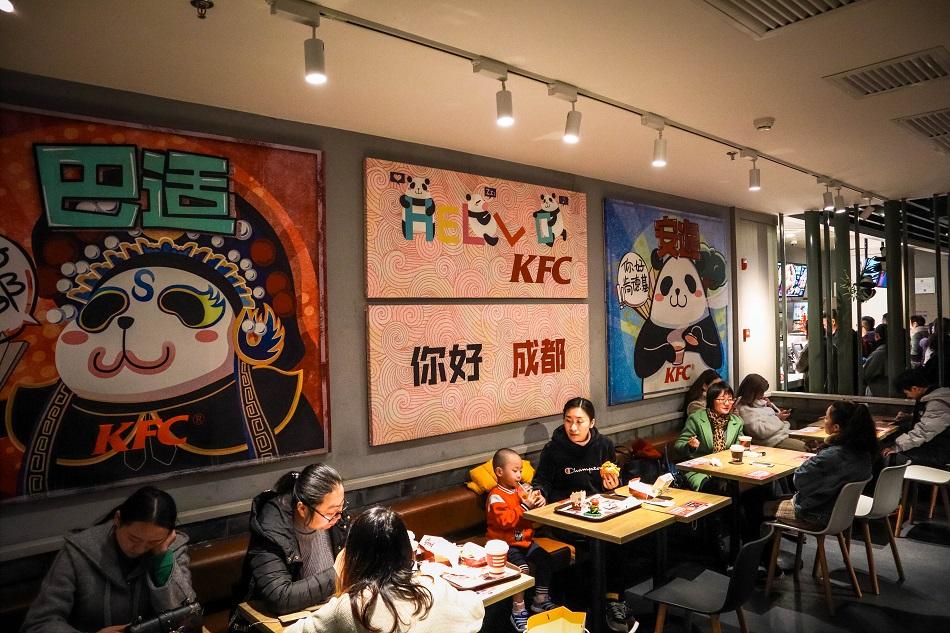 9. Admire the Anshun Lang Bridge
Among the things to see in Chengdu is the Anshun Lang Bridge which dates back to the Yuan Dynasty (1271-1368) and is located on Jinjiang River. The bridge is particularly beautiful during the night, when the lights reflect into the river and it houses one of the most popular restaurants in the city.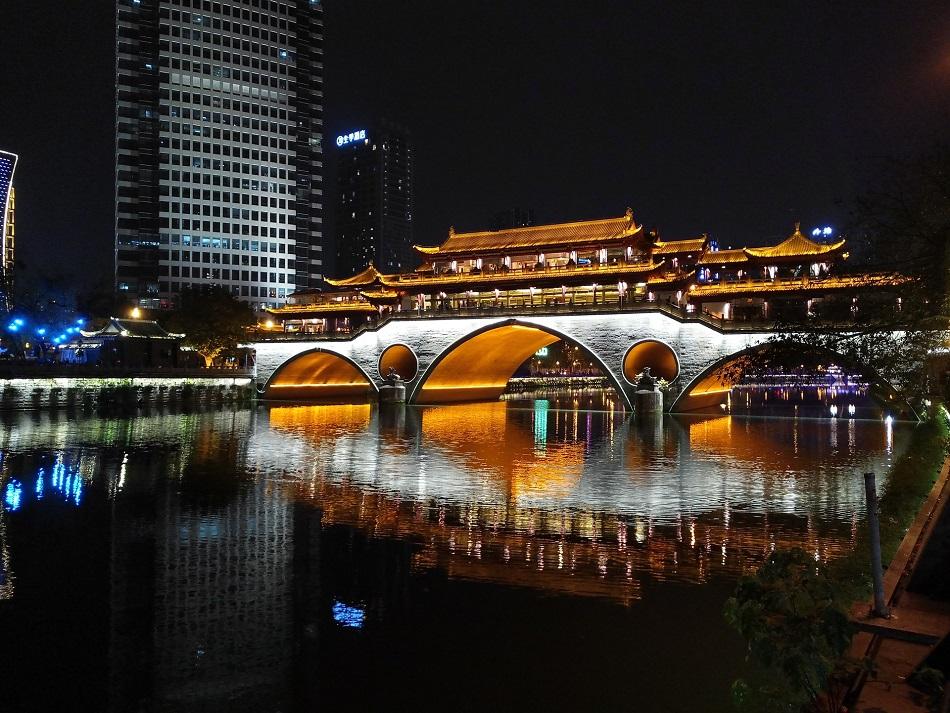 If you are looking for a romantic place to spend the evening while eating some traditional food, the Anshun Lang Bridge is the perfect place. Don't hesitate to take a walk along the river and enjoy the best views over the Anshun Lang Bridge in Chengdu.
10. Visit the Wenshu Monastery
Wenshu Temple or Wenshu Monastery is the best-preserved temple in Chengdu and it was built in the Tang Dynasty (618-907). Here you can find works of art created by famous Chinese painters and calligraphers. However, the most important relic here at the temple is a piece of Xuan Zang's skull who was a famous monk during the Tang Dynasty.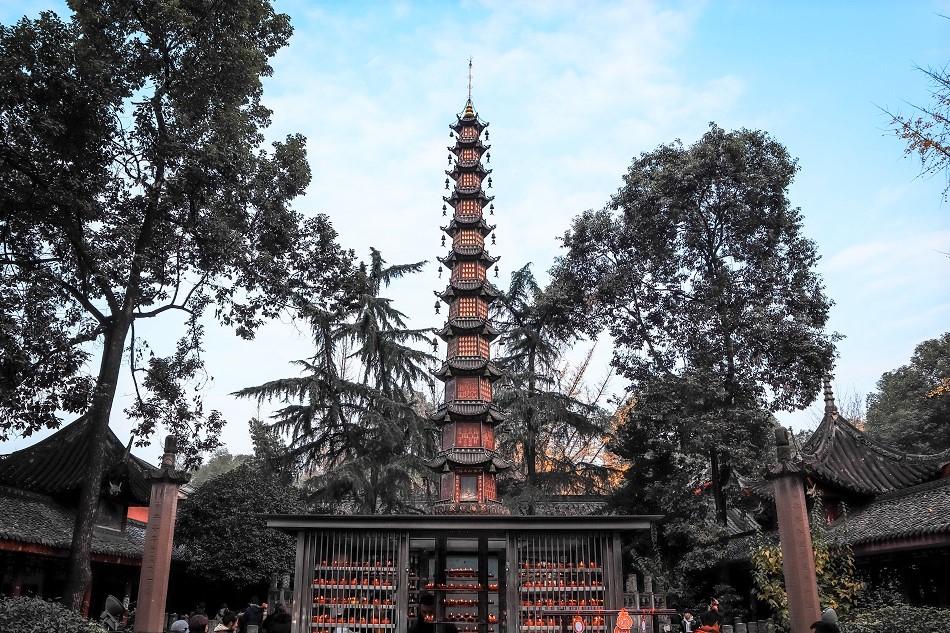 A visit to the Wenshu Monastery is the perfect opportunity to learn more about the Chinese culture. It is well known that Chinese people love tea. Right near the temple there is a beautiful tea house where you can sit on bamboo chairs and enjoy a delicious cup of tea together with the locals.
I loved Wenshu Monastery's architecture and think that this is one of Chengdu's highlights.
11. Visit the Qingyang Palace
Qingyang Palace or Black Goat Palace in Chengdu is one of the most famous Taoist temples in China and one of Chengdu's points of interest. It was built during the Tang Dynasty (618-907) and even though it's located in one of the busiest areas in the city, the temple is an oasis of tranquility.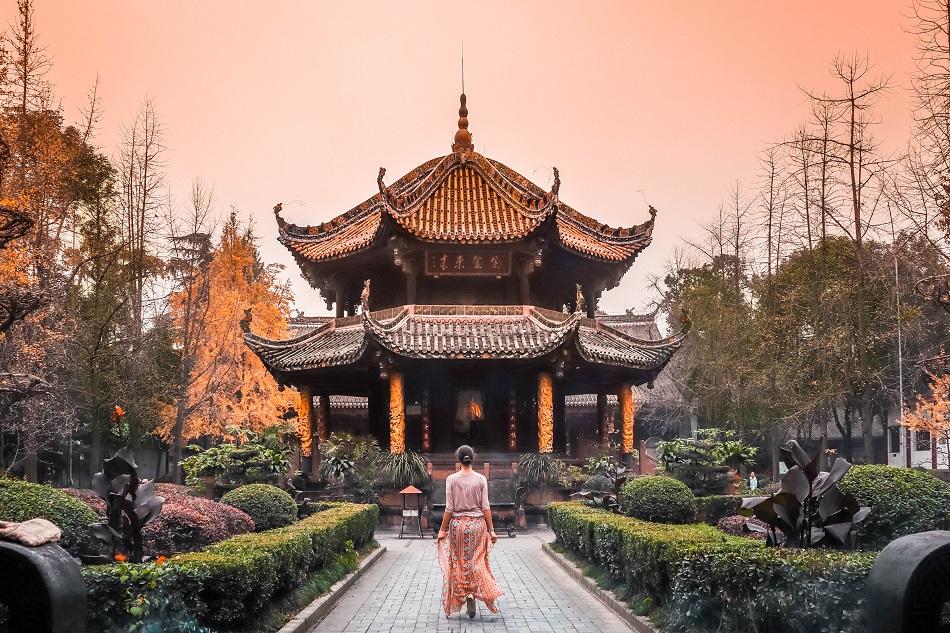 Take a walk through the temple and admire its beautiful architecture or join the locals and drink some tea while playing Mahjong. Either way, a visit to the Qingyang Palace is a must while in Chengdu.
12. Take a walk on Qintai Road
Probably one of the most beautiful streets in Chengdu, the Qintai Road is packed with tea houses, restaurants, jewelry stores and Sichuan Opera theaters. The street is almost one kilometer long and it ends with an impressive wooden gate with incredible carved details.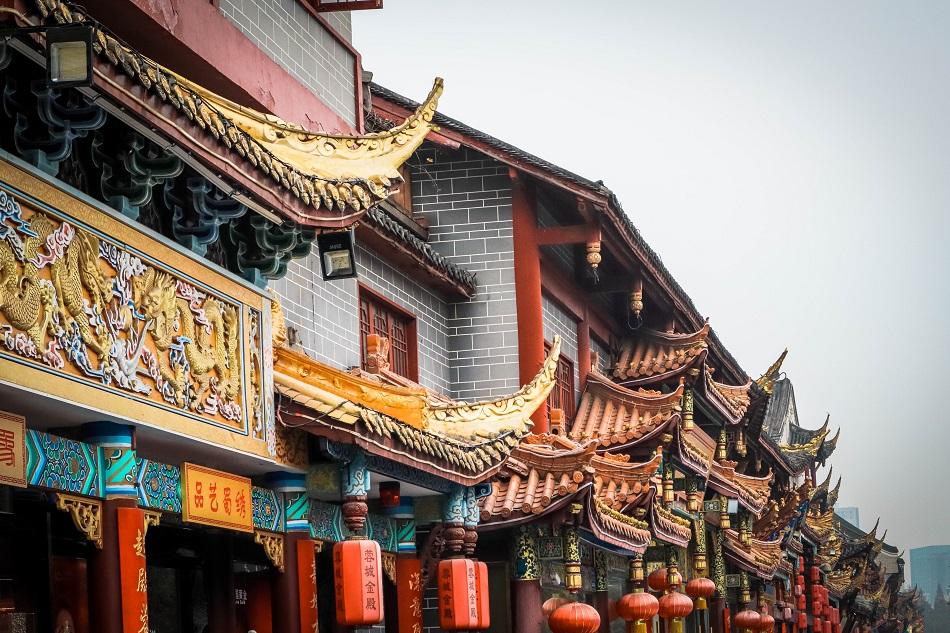 Qintai Road's buildings are built in the styles of the Han (202BC — 220AD) and Tang (618 – 907) dynasties. I loved the pointy roofs with golden details. I recommend visiting Qintai Road during the night when all the lights and lanterns are lit. Just walk along the road and observe how the local life unfolds.
13. Explore the Kuan Zhai Alley
Also called the Wide and Narrow Street, the Kuan Alley and Zhai Alley are one of the most important tourist attractions in Chengdu. After intense renovations, the alleys were opened to public in 2008.
Here you will find traditional Chinese restaurants with beautiful gardens, souvenirs shops, art shops and delicious street food. These alleys are quite similar to the Jinli Street but I find them a bit more touristy.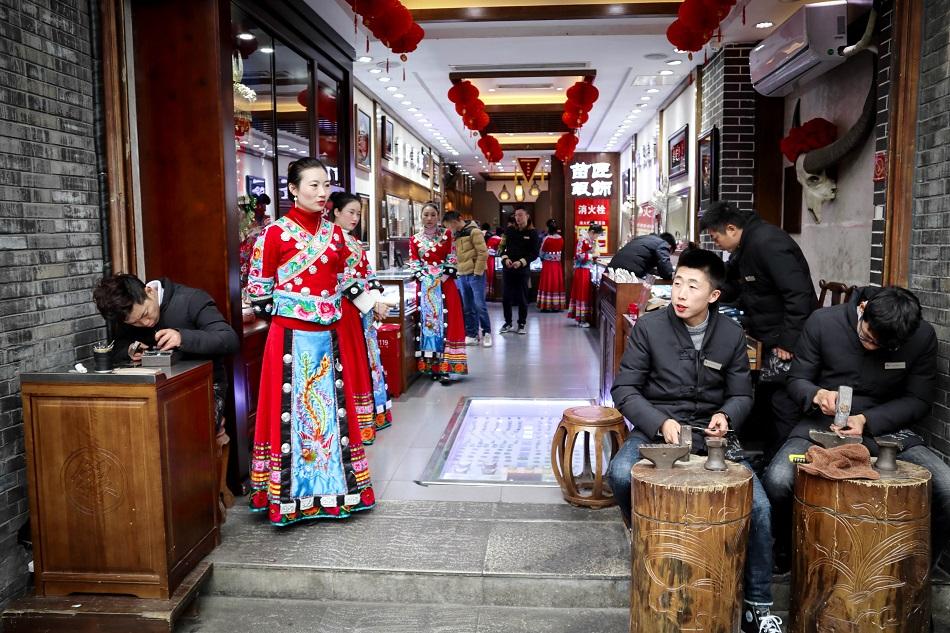 Don't hesitate to take lots and lots of photos here since you will find beautiful hidden alleys with Chinese architecture and red lanterns (for more awesome photography locations in Chengdu, click here). If you want to taste the local food, try the rice cookies – they are delicious!
Also if you're feeling adventurous and want to experience new things you can try the ear picking. When you see locals with flashlights on their head and thin metal sticks in their hands, they're for ear picking. The Kuan Zhai Alley is one of the most famous sightseeing places in Chengdu so don't miss it!
14. Cuteness overload at the Chengdu Research Base of Giant Panda Breeding
The Research Base of Giant Panda Breeding is not only the most important tourist attraction in Chengdu but also a place where you can discover more about these incredible creatures.
China is the only country with pandas (excluding the zoos around the world). If you want to see these cute, giant balls of fur, the only provinces in China were you can see them are: Sichuan, Shaanxi and Gansu provinces. Sichuan province hosts 70% of the pandas in China.
Therefore, if you are in Chengdu, take the chance to visit the Research Base of Giant Panda Breeding and be prepared to never want to leave.
The base was founded in 1987 and nowadays it hosts over 100 giant pandas as well as other animals too (red pandas, black-necked crane and white crane). Pandas have always been my favorite animals and having the chance to observe them so closely has been a privilege.
Although until a few months ago visitors could hug a panda, now this practice has ended. As much as I wish to hug a panda, I believe that it's better to limit the animals' interaction with humans.
For more information about how the Panda Research Base, click here.
15. Shop in the world's biggest building – New Century Global Center
Situated right near Guixi Ecological Park, the New Century Global Center is the world's largest building in terms of floor area. This building is more than a mall – it has several facilities inside such as: offices, conference rooms, a university complex, an artificial pool, an IMAX cinema, commercial centres, an ice skating rink and even hotels. This building is a city itself!
Although I am sure that visiting it all would take one week, I think it's an interesting experience to spend a few hours at the New Century Global Center. If you want to see some photos from the inside, click here.
16. Dig in the past at the Jinsha Site Museum
If you want to learn more about the past, a visit to the Jinsha Site Museum is a must. Here you will find one of the most important relics in Chengdu and the symbol of the city: the Golden Sun Bird which was excavated right at this site. You will see this symbol around the city: from the subway tickets to Tianfu Square.
At the Jinsha Site Museum you will also find a large collection of relics of gold, jade, bronze, ivory (elephant tusks) and stone which are exhibited in 5 halls. These relics offer important information about the Shu Kingdom.
A visit to this museum is a must when in Chengdu if you are passionate about history. You can buy your entrance ticket here.
17. Get hungry at Sichuan Cuisine Museum
One thing is sure: I fell in love with the Sichuan cuisine. I loved it so much that I decided to visit the Sichuan Cuisine Museum and find out more about it. This museum is the first in the world to display a local cooking culture. Here you can see old cooking utensils and even taste some traditional dishes.
Also, you can see how the Pixian chili bean paste is made and even buy some. I personally loved the demonstration about how the Golden String Noodles are made – they are the thinnest noodles I've ever seen.
Although it's a bit far from the city, visiting the Sichuan Cuisine Museum is an exciting experience for those who are passionate about gastronomy. If you don't want to worry about transport, you can book a guided tour.
18. Drink tea at a tea house
Drinking tea is a central part of Chinese people's lives and culture together with playing Mahjong. Chengdu is one of the biggest tea producing regions in China so visiting this city without trying the tea is a blasphemy.
If you want an authentic experience, you should try finding a tea house near riverbanks or in the parks of Chengdu. Some of the best tea houses in Chengdu are: Baihuatan Park, Yuelai Tea House or Suwei Chahao. Apart from being delicious, drinking tea is one of the top things to do in Chengdu.
-> Read more about China
19. Be brave and eat some spicy food
Chengdu is a foodie's dream. If you want to experience the local cuisine, you should definitely try the Hot Pot or Chuan Chuan. Chinese people are not joking when it comes to spiciness. The good news is that if you don't like spicy food, you can dip it in sesame oil before eating it and the spiciness is gone.
The Hot Pot and Chuan Chuan are quite similar. You will sit at a round table with a bowl of broth in the middle. When eating Hot Pot, you will have to put the meat in the broth and let it cook for a few minutes. After this, you will have to search for it inside the broth. Sometimes it gets lost but sometimes you will find it – it's kind of funny. The Chuan Chuan is a bit different because the meat and vegetables are already placed on long sticks so losing them in the broth is almost impossible.
Tip: you can find the best Hot Pot in the city at Shu Daxia Hot Pot.
20. Take a day trip outside Chengdu
If you feel that you've seen it all in Chengdu, a trip outside the city is a great idea. You can visit the Dujiangyan and the Qingcheng Mountain in only one day. For more awesome day trips from Chengdu, click here.
The Duijangyan Irrigation System is the oldest and only surviving no-dam irrigation system in the world and a wonder of Chinese science. This system plays a crucial role in draining off floodwater and providing water to more than 50 cities.
One of the highlights of this place is the Anlan Bridge or the Couple Bridge. The story says that during the Qing dinasty a husband and wife donated money to build this bridge and help the villagers cross the river safely. Unfortunately, they managed to build only half of the bridge. After the husband died, the wife built the other half.
To check out the guided tours to Duijangyan Irrigation System and Qingcheng Mountain, click here.
At Qingcheng Mountain you will find one of the most famous Taoist temples in China. Reaching it is a bit difficult and it requires hiking, taking a cable car, a boat and a bit more hiking but the trip is worth it. Considered one of the birthplaces of Taoism, Mount Qingcheng is the perfect escape from the hustle and bustle of Chengdu.
You can also visit Mount Emei or Leshan Giant Buddha as a day trip from Chengdu.
How to get around Chengdu – transport options
Public transport in Chengdu is extremely affordable and efficient.
Chengdu is a big city with a population of over 14 million people so getting around on foot is out of discussion. The fastest and most efficient way to travel around Chengdu is by subway. The subway system is incredibly efficient and there are stations near all the major Chengdu attractions.
If you want, you can also use the bus. It is affordable but sometimes due to traffic it might take a bit longer to get to your destination compared with the subway.
During our trip we also used a tuk tuk and I deffinitely recommend using it for short distances. Even though, compared to other countries like Cambodia, you won't find that many tuk tuks in Chengdu, there are a few and riding one is always an interesting experience.
Another mode of transportation available in Chengdu is the taxi.
The best guided tours in Chengdu
If you're looking for a hustle-free experience, you can choose a guided tour around the city. With a guide, you won't have to worry about creating your own itinerary.
Also, you can book some cultural activities in the city. Below are the best guided tours and experiences in Chengdu:
Where to stay in Chengdu
I've searched for the best accommodation in Chengdu, for each budget. Here are my recommendations:
Budget – Together Hostel – good location, clean rooms, brand new hostel
Mid Budget – Lia Hotel – excellent location, spacious & clean rooms, English speaking staff
Luxury – Minyoun Hotel – excellent location, breakfast included, modern & elegant rooms, excellent services & staff
Final thoughts
My trip to Chengdu was actually my first time to China and I absolutely loved it. Even though I've been traveling all around southeast Asia for almost one year now, China felt completely different but in a good way. Chengdu was a lovely city and even though it was freezing cold, I loved it. I hope to come back sometime and explore more of it.
I hope you have enjoyed this article about the Chengdu tourist attractions and found it useful. If you have any questions, do not hesitate to ask me in the comments section below.
May the travel bug bite you!
Disclaimer: I was welcomed in Chengdu by Go Chengdu. As always, all opinions are my own and they reflect my true, unbiased experience.
Disclosure: Please note that this post may contain affiliate links. If you make a purchase through these links, I will earn a small commission at no extra cost to you. I only recommend companies and products that I trust and the income goes to keeping this website running. Thanks!