Are you looking for some awesome activities outside Chengdu? I've compiled the perfect list of activities which includes: temples, gastronomy, sightseeing, and adrenaline. If you are looking for Chengdu day trips, read below and choose your favorite activity.
There are also many beautiful places to explore inside the city. To read about the top 20 tourist attractions in Chengdu, click here.
No time to read now? Pin it for later!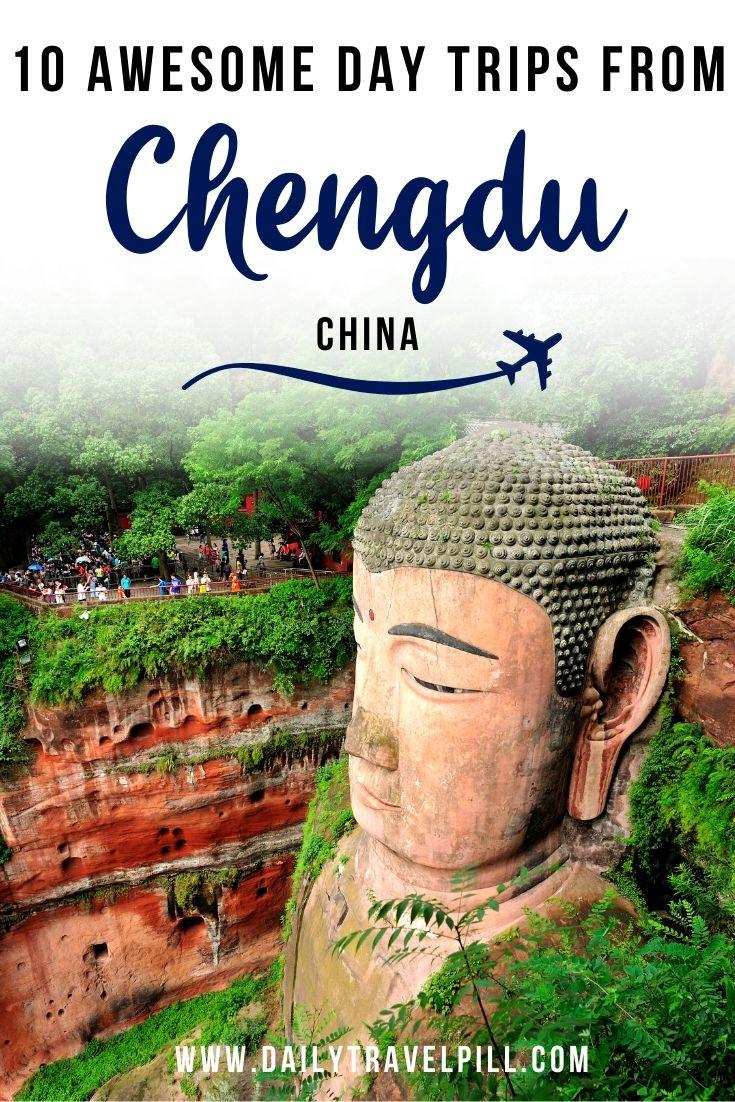 1. Visit the Dujiangyan Irrigation System
One of the most popular Chengdu day trips is visiting the Dujiangyan Irrigation System which is the oldest and only surviving no-dam irrigation system in the world. Visiting this place will give you an idea about the Chinese inventiveness and skill.
Apart from the irrigation system itself, here you will find beautiful gardens, temples and the famous Anlan Bridge or the Couple Bridge which is one of the most photographed places in the Chengdu area.
You can visit the Dujiangyan Irrigation System and the Qingcheng Mountain on the same day. To check out the prices and availability of this tour, click here.
2. Get lost in nature at Qingcheng Mountain
If you want to spend one day outside Chengdu, surrounded by nature and fresh air, then you should visit the Qingcheng Mountain. Considered the birthplace of Taoism, the mountain has some spectacular views and the temple on top is beautiful.
To get to the top of Qingcheng Mountain you will have to hike for about half an hour (on stairs), take a boat, take the cable car and then hike a bit more. However, the climb is totally worth it and you will be rewarded with some beautiful views.
To book this one day trip from Chengdu, click here.
3. Be impressed by the Leshan Giant Buddha
This 71 -meter tall statue is the largest stone Buddha in the world and is listed as a UNESCO World Heritage Site since 1996. The Leshan Giant Buddha is probably one of the most popular attractions near Chengdu and is visited by hundreds of people every day.
A monk called Hai Tong initiated the project of building this statue in 713 AD. The purpose of the statue was to calm the turbulent waters responsible for many boat accidents. If you want to visit the Leshan Giant Buddha, make sure to avoid the winter time since during the winter the statue is being renovated.
Book your tour here.
4. Explore the beauty of the Flower Town
Flower Town or Sanshenxiang is mostly a place visited by locals or Chinese tourists. This is one of the attractions near Chengdu which can be reached by bicycle. The Flower Town is a great place to escape the traffic in Chengdu, sip some tea, take walks and smell flowers.
If you're not feeling like biking, you can also take a taxi to the Flower Town since it's really close to Chengdu.
Tip: avoid visiting it during the weekends since Sanshenxiang can get pretty crowded.
5. Cuteness overload at the Giant Panda Research Base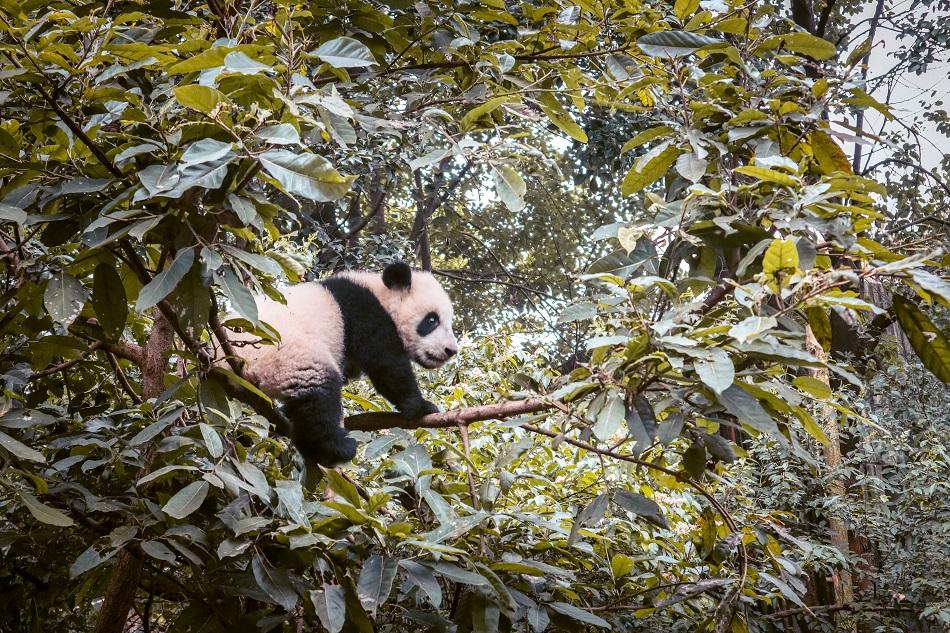 Spending one day outside Chengdu at the Giant Panda Research Base is one the best things you can do. There is no point in denying it – we all love pandas and being close to them is a privilege. You can't visit China or Chengdu without seeing the pandas. This is why I recommend taking a day off from the hustle and bustle of the city to spend some time with these amazing animals.
You can watch the pandas eat bamboo, climbing trees and interacting with each other. Personally, seeing the pandas was the highlight of my trip to Chengdu and I recommend this experience to anyone who visits this city.
To book your trip to the Cuteness Land, click here.
6. Have a taste of the Sichuan Cuisine
The Sichuan cuisine is famous around the world and for a good reason: it is delicious! I fell in love with it and now it's one of my favorite types of food. If you want to explore more about the Sichuan Cuisine, you can take a day trip to the Sichuan Cuisine Museum where you can see old kitchen utensils and even cook some dishes.
For those passionate about gastronomy, this is the ultimate experience! This is one of the best things to do outside Chengdu! Book your visit here!
7. Explore the tea plantations
Do you like tea? then you should definitely take a day trip from Chengdu to one of the tea plantations nearby. Tea is an important part of Chinese culture and as time passed by, tea played an important role in the economic development of the country.
As you visit Chengdu, you will notice that there are many tea houses in the city and drinking tea while playing Mahjong is one of the locals' favorite activities. If you like tea and want to see the process of making it, a day trip to Mt Mengding (Mengdingshan) is the perfect choice.
Here you will learn about tea making and tea tasting, you will learn about the entire tea-making process (harvesting, brewing) and you will have the chance to walk between the tea terraces.
8. Feel the adrenaline rush at the Happy Valley in Chengdu
Spend a fun day at the Happy Valley Theme Park in Chengdu. Here you can enjoy 130 attractions for both adventurous people and children. You can also admire the shows with incredible acrobatics and extreme sports.
Some of the attractions are: Happy Times Ferris Wheel, the Magical Castle, the Flying Island or the Silk Road Odyssey.
To read more about all these attractions near Chengdu, click here.
9. Find out more about the Chinese culture at Mount Emei
Mount Emei is one of the places near Chengdu you have to visit. Situated in the Leshan City, Sichuan Province, the mountain has 4 scenic regions: Baoguo Temple, Wannian Temple, Qingyin Pavilion and Golden Summit. The Golden Summit, which is the main peak, has 3079 meters and offers some spectacular views.
The Buddhist architecture, music, paintings, and temples all reflect the Chinese culture and here, at Mount Emei, you will be fascinated by all this. You can book this tour here.
10. Visit one of the ancient towns and villages near Chengdu
If you are looking for places to visit outside Chengdu, then you should definitely visit one of the following ancient towns and villages: Huang Long Xi Ancient Town, Huai Yuan Ancient Town, Yue Lai Ancient Town or Pingle Ancient Town (to check out more awesome ancient towns near Chengdu, click here).
Even though these villages are all situated near Chengdu, they have different characteristics: some are remote, some are lively, some are elegant, some are traditional. However, they are all cultural gems and visiting them is a great way to take an off the beat path trip from Chengdu, away from all the tourists while discovering more about the Chinese culture.
Where to stay in Chengdu
I've searched for the best accommodation in Chengdu, for each budget. Chengdu is a city with lots of options in terms of hotels and hostels. Here are my recommendations:
Budget – Together Hostel – good location, clean rooms, brand new hostel
Mid Budget – Lia Hotel – excellent location, spacious & clean rooms, English speaking staff
Luxury – Minyoun Hotel – excellent location, breakfast included, modern & elegant rooms, excellent services & staff
I hope that you've enjoyed my blog post about these 10 amazing day trips from Chengdu. Depending on your preferences and interests, you can choose any of the options above and have a great time.
If you have any questions or mentions, don't hesitate to let me know in the comments section below.
May the travel bug bite you!
Disclaimer: I was welcomed in Chengdu by Go Chengdu.  As always, all opinions are my own and they reflect my true, unbiased experience. 
Disclosure: Please note that this post may contain affiliate links. If you make a purchase through these links, I will earn a small commission at no extra cost to you. I only recommend companies and products that I trust and the income goes to keeping this website running. Thanks!