The Hong Kong Monster Building has become an internet sensation. Montane Mansion has taken Instagram by storm after it was featured in the Transformers – Age of Extinction movie. There's something about this building that attracts tens of tourists daily.
Hong Kong is well known for its tall, crowded apartment buildings. The city itself is one of the most crowded places on earth. This Instagram sensation is just a reflection of what Hong Kong really is – a vertical city.
Read more about the best view in Hong Kong here.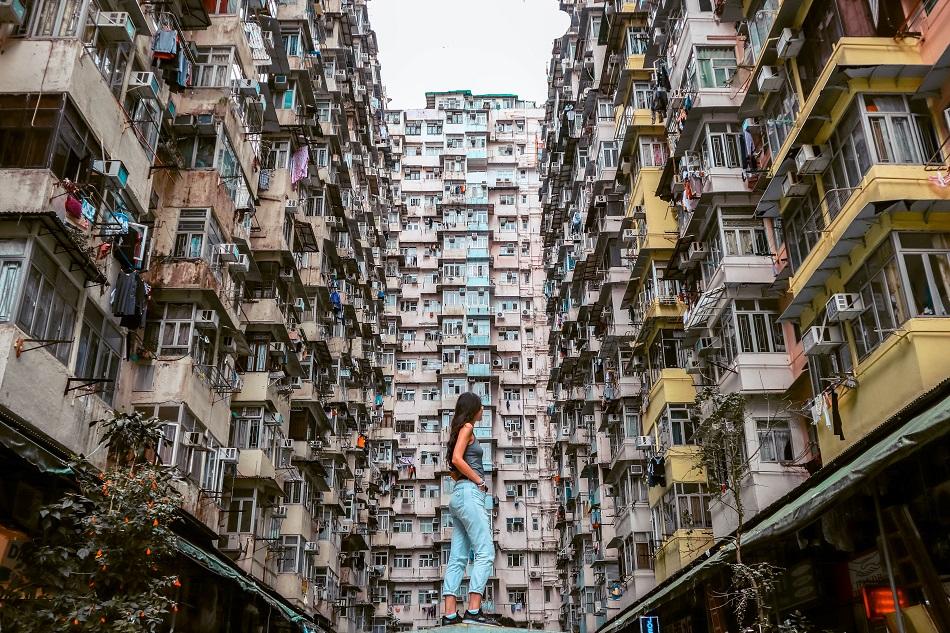 The Monster Building is located in Quarry Bay but it somehow reminds me of the infamous Kawloon Walled City. Seeing the small, cramped apartments from the outside only makes you wonder what's really happening on the inside and how people live there.
Although walking inside the building would be a fascinating adventure, you have to remind yourself that people actually live there. Having that many tourists around the place where you live can be a bit stressful so make sure to respect the locals' privacy :).
Good to know – In the past years, the authorities used fences to surround the green/ blue platforms that tourists used to take photos. Unfortunately, nowadays it's a bit more difficult to take a photo at the Monster Building in Hong Kong. However, the place is still worth visiting and I recommend it to anyone visiting this incredible city.
1. Why is the Quarry Bay Monster Building so spectacular?
For me, it's all about the feeling I got when I visited this place. Looking up, towards the sky, I was surrounded by this U-shaped building which only revealed a small gap of sky; the rest was all concrete and glass. I felt little, overwhelmed and a bit suffocated by the tall, concrete walls.
As a westerner, it's simply fascinating to imagine how people live in such small spaces but I think it's just a matter of perspective. Thinking about it will make you realize that one doesn't need much to be happy.
Others visit this Instagram-famous building in Hong Kong just to take pictures. However, I recommend taking a small break from photography to see what's really happening around you. You'll notice elders sitting at tables, chatting or playing Mahjong while drinking tea.
For them, this is their home, their reality. Visiting the Monster Building was a much-needed wake-up call. It made me realize how fortunate I am for having a spacious apartment to call home.
Other awesome things to do in Hong Kong:
2. About the famous apartment building in Hong Kong
This concrete giant was built in the 1960s by the local government as an attempt to provide accommodation for the city's low-income residents.
The Monster Building is E-shaped and there are actually two courtyards that can be visited. However, before visiting these courtyards, I recommend taking a look at the exterior of the building. Its facade is quite impressive. Even though it's not that Instagrammable, the facade is yet another reflection of Hong Kong's overpopulation.
Hundreds of small windows are aligned one after the other, each with an air conditioning hanging outside. I can only imagine that people here live in tiny one-bedroom apartments.
If you want to get a closer look inside Hong Kong's housing crisis, check out this tour. It's a true eye opener!
The Monster Building, as it has been nicknamed by locals, is actually a complex of five different structures: Montane Mansion, Oceanic Mansion, Fok Cheong Building, Yick Cheong Building and Yick Fat Building.
3. Which courtyard is the best
Both Monster Building courtyards look pretty much the same. The only difference is how they're pained. The front buildings from the eastern courtyard are painted blue while the ones from the western courtyard are painted red.
Honestly, I recommend choosing the less crowded courtyard, the western one. Most of the times you'll have to wait for about half an hour to take photos here. This building is by far one of the most famous tourist attractions in Hong Kong.
4. Photography tips & tricks
Due to its symmetry and striking architecture, this building has become an Instagram sensation along with the colorful basketball court.
Good to know: if you want to take a photo like the one below, where the sky is framed by buildings, you'll have to visit the eastern courtyard.
Use a wide-angle lens
Trust me, you'll need it. To capture all the small apartments around this Instagram sensation, you'll need the widest-angle lens you own.
Use a tripod
There will be many people around, waiting to take the perfect shot but not all of them are photographers. If you care about composition, I recommend using a tripod instead of asking somebody to take your photo.
Try different angles
There is much to play around with! Colors, corners, sky, concrete walls – it's a photographer's dream!
5. The best time to visit
If you don't have a professional camera, I recommend visiting during the day. Go as early as you can to avoid the crowds. We've waited for about half an hour before our turn to take photos came.
If you're a professional photographer, you can capture some amazing photos during the night. The lights from the apartments combined with the dark sky will look spectacular.
If you want to get a glimpse of the Monster Building both during the day and during the night, you can visit it in the evening and wait for the sun to set. It's worth it.
6. What to visit nearby
Hong Kong has so many incredible attractions! If you're planing to backpack in Hong Kong, don't worry! There are many affordable things to do!
Right near the Montane Mansion, there is another alley which looks very similar to the Monster Building. However, instead of a courtyard where locals can hang out, here you will find a bustling market. This place is full of locals and local products such as vegetables, fish and meat. It's a great way to get off the beaten path in Hong Kong.
The market is located in between the following buildings: Tak Lee Building and Wai Lee Building.
Also, just a short subway ride away is the famous Victoria Peak and Victoria Harbour. For an unforgettable memory, choose a Victoria Harbor cruise during the famous Symphony of Lights light show.
Tip: if you want to avoid the crowds, choose to go to the Lugard Road view point instead of Victoria Peak. You'll thank me later!
7. How to get to the Monster Building
Getting to the Hong Kong Monster building is easy. There are several transportation options, depending on your budget.
Taxi
You can take a cab from anywhere in the city. I recommend using the Grab App which is the Asian version of Uber.
The exact address is the following: Montane Mansion 1028 King's Road, Quarry Bay, Hong Kong
Subway
Exit the subway at the Tai Koo Station and walk for about 5 minutes on King's Road until you reach the Montane Mansion.
8. Where to stay in Hong Kong
I've been searching for the best hotels in Hong Kong, for every budget and I discovered an amazing website where you can compare all accommodations in one search. Here you'll find budget options, as well as five-star hotels, at the best prices. Check out CozyCozy!
I hope that this guide about the famous apartment building in Hong Kong – the Monster Building was useful.It's a unique place to visit and you should definitely add it to your itinerary. If you have any questions, do not hesitate to let me know in the comment section below.
May the travel bug bite you!
No time to read now? Pin it for later!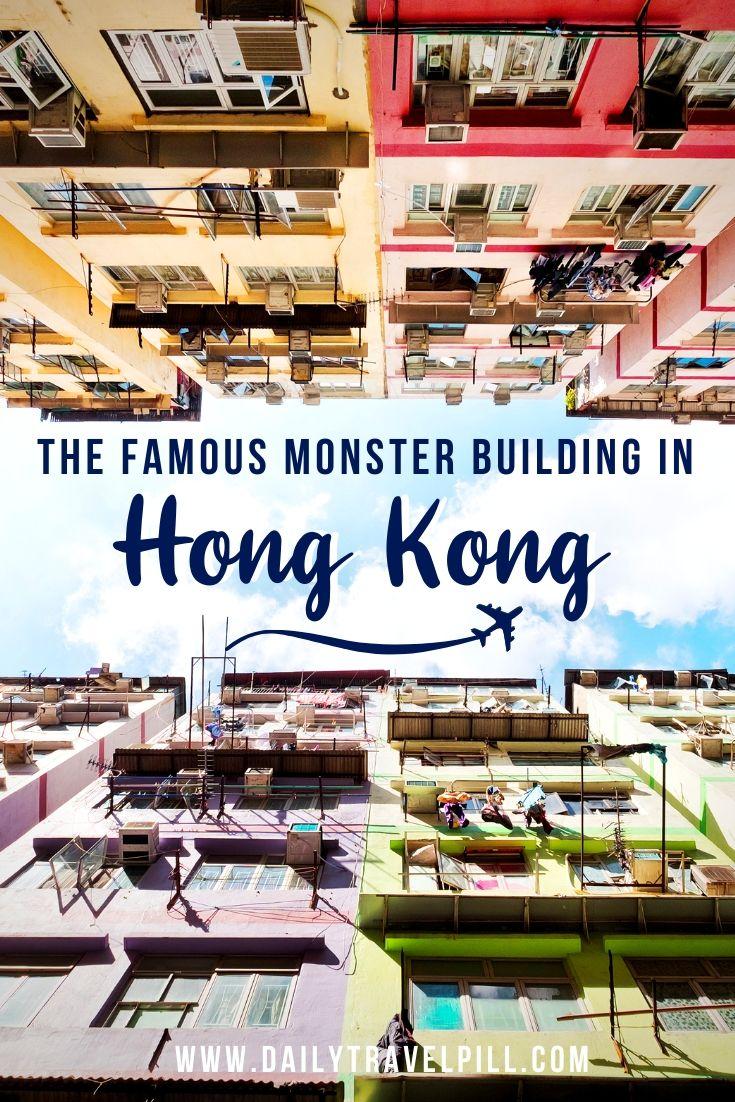 Disclosure: Please note that this post may contain affiliate links. If you make a purchase through these links, I will earn a small commission at no extra cost to you. I only recommend companies and products that I trust and the income goes to keeping this website running. Thanks!