One of the most visited places in Portugal is Sintra. Home to the colorful Pena Palace, the famous Quinta da Regaleira, the stunning Cabo da Roca, and many other incredible places, Sintra is the perfect day trip from Lisbon.
There are so many possible routes for visiting Sintra and sometimes the information you'll find online is conflicting. That's why I want to share with you the perfect itinerary for one day in Sintra and a few tips & tricks that will make your trip easier.
This itinerary is for those who don't mind waking up early in the morning. You're going to have to change many buses and walk a lot but you'll see some of the most impressive sights in Sintra.
Without any further introduction, let's talk about everything you need to know when planning your Sintra day trip.
This itinerary is for you if:
You want to see as much as possible
You want to avoid the crowds
You want to squeeze Cabo da Roca on your one day Sintra itinerary
1. A short introduction to Sintra
The historic center of Sintra is famous for picturesque palaces, beautiful villas, and amazing gardens. There are so many places to discover and it would take days to see them all. The beauty of Sintra resulted in its classification as a UNESCO World Heritage Site.
This city, together with the palaces and castles, is one of the most expensive areas in Portugal. Don't expect to find cheap restaurants or any type of bargains here.
Sintra tips & tricks
Wear comfortable shoes – visiting Sintra will require a lot of walking.
Bring some water and snacks – a small Coca Cola can cost up to €3 in Sintra. It's better to bring your own.
Bring some warm clothes – the temperatures in Sintra are a bit lower than in Lisbon. Bring something to keep you warm, especially if you're planning to visit Cabo da Roca.
Don't forget your camera home – Sintra is a dream location for any photographer.
No time to read now? Pin it for later!
2. How to get from Lisbon to Sintra
The easiest option is to take the train from Lisbon to Sintra. The train starts from Rossio Station and the journey takes around 40 minutes. A round-trip ticket costs only €4.50.
Sintra Train Station is the final stop and this is where you'll have to get off the train. When I arrived in Sintra I was a bit confused because there were no signs indicating the bus station.
If you find yourself in the same situation, exit the train station and then turn right immediately on the street parallel to the station. Here you'll find the bus stations for all buses covering the Sintra tourist attractions (403, 434, and 435).
-> Here are 25 free things to do in Lisbon
3. Sintra bus routes map
There are 3 bus routes in Sintra that cover all the major tourist attractions. You can switch between buses but for each of these routes, you'll have to pay a different ticket. Tickets can be purchased directly from the driver.
All these buses are run by Scott URB. Before going into more detail about my one-day Sintra itinerary, I'll share with you everything you need to know about the Sintra buses.
You're going to need all this info to follow my itinerary.
Good to know – for buses' schedule, please refer to this website.
Sintra bus route 434
This circular hop on/ hop off bus costs €6.90 for a round-trip (you can get on and off wherever you want) or €3.90 for a one-way trip. The route is the following:
Sintra Train Station
National Palace
Moorish Castle
Pena Palace
Sintra Train Station
Sintra bus route 435
The bus number 435 costs €5 for a round-trip and its route is partially overlapping with bus number 434 and 403. This will help us explore more of Sintra but more about this a bit later.
What is important to know is that the actual route does not correspond to the Sintra Bus Map you'll find all around the city. After Monserrate Palace, bus 435 will not return to the train station on the same route. Instead, it will make a big loop and it will stop in Colares and then it will return to the station. This means that in Colares, bus number 435 connects with bus number 403 (heading to Cabo da Roca).
The route of bus 435 is the following:
Sintra Train Station
National Palace
Quinta de Regaleira
Seteais Palace
Monserrate Palace
Colares (connection with 403)
Sintra Train Station
Sintra bus route 403
This is the bus that connects Sintra Train Station to Cabo da Roca and Cascais. A one-way ticket costs €5 and you can purchase your ticket directly from the driver.
4. Can you walk in Sintra?
Yes, you can but I wouldn't recommend it, especially if you only have one day to visit Sintra. Some of the roads are pretty steep and it would take too much time to get from point A to point B.
Buses are your best option. They're affordable and fast.
5. One day in Sintra – itinerary
Now that you know all the details about the bus routes around Sintra, it's time to talk about how to spend one day in Sintra. As I've said before, this itinerary is for those who want to explore as much as possible in just one day.
This will be our itinerary – Pena Palace -> Quinta de Regaleira -> Monserrate Palace -> Cabo da Roca
Stop #1 – Pena Palace
Our first stop will be at Pena Palace. Make sure to check the train and bus schedule and catch the first 434 bus, early in the morning (the schedules change every few months).
An advantage of catching the first bus to Pena Palace is that there won't be many tourists around. You can take photos and admire this colorful palace without having hundreds of people all around you.
Good to know – You can buy your skip-the-line ticket online for the same price. Buy now!
To get to the palace from the entrance you'll have to climb a steep hill for about 15 minutes. Alternatively, you can take a mini-bus to the top but you'll have to pay a separate ticket for this service.
Take your time to admire the palace and visit it's interior too (you'll have to purchase the €14 ticket to see the rooms). Make sure to admire every corner of this architectural wonder and plan around one and a half hours to visit it.
The palace was completed in 1857 and its architecture is a mix of Romantic, Gothic, and Moorish.
Pena Palace entrance fee – €14.00 (Palace + Park), €7.5 (Park)
Pena Palace opening hours – 9.30 am – 7 pm (summer), 10 am – 5 pm (winter). The gardens are open one hour later than the palace.
Stop #2 – Quinta de Regaleira
From Pena Palace, take bus 434 to the National Palace and then change to bus number 435. Our next stop will be the famous Quinta de Regaleira.
There are 2 stops for Quinta de Regaleira. Make sure to get off the bus at the second one, which is more uphill. This way, you won't have to climb through the gardens to get to the Initiation Well.
Quinta de Regaleira is a stunning place with beautiful gardens, fountains, grottoes, and small lakes. There's a lot to explore but 2 hours should be enough to see the most important attractions.
Start with the Initiation Well, the famous underground tower with circular stairs. Contrary to popular belief, the well was never used for water resources. Instead, it was used for ceremonial purposes. More exactly, for Tarot rites.
Once you climb down all the stairs inside the Initiation Well, you'll get to a maze of caves and tunnels. You're supposed to find your own way out but don't worry, it's an easy task.
Continue your journey and explore the gardens. You'll discover hidden towers, beautiful fountains, and exotic plants. It is said that symbols of alchemy, Masonry, and Knights Templar can be found here.
At the bottom of the gardens, you'll arrive at Regaleira Palace. The palace has 5 floors and its Gothic architecture is simply stunning.
Quinta de Regaleira entrance fee – €6
Quinta de Regaleira opening hours – 9.30 am – 8 pm (summer), 9.30 am – 6 pm (winter)
Stop #3 – Monserrate Palace
Hop on bus number 435 again and stop at our next destination – Monserrate Palace. If you don't like crowds, you'll absolutely love this place.
When I arrived at Monserrate Palace I was already a bit tired but the beauty of this place gave me energy. There were only a few tourists around and I had the chance to admire the palace in peace.
From the entrance, you'll have to walk around 10 minutes to get to the palace. Built in 1863, the palace's architecture was influenced by Romanticism and it has Neo-Gothic elements.
My favorite part was the palace's interior. The Piano Room is probably the most fascinating part of Monserrate Palace. Its round shape and countless windows are just some of the elements that make it unique.
Monserrate Palace entrance fee – €8
Monserrate Palace opening hours – 9.30 am – 7 pm (summer), 10 am – 5 om (winter)
Stop #4 – Cabo da Roca
Our last stop on this one day Sintra itinerary is Europe's westernmost point, Cabo da Roca. From Monserrate Palace take bus number 435 and get off at Colares. From here you can switch to bus 403 or you can take an Uber to Cabo da Roca.
We decided to order an Uber. The price we should have paid for the bus (2 people) was the same as the Uber fare.
After a day of sightseeing, you should arrive at Cabo da Roca just in time for the sunset. Head to the edge of the cliff (don't get too close! The rocks can be slippery) and admire the views!
To get back to Sintra or the train station, you'll have to take bus 403 or order another Uber.
6. Sintra day trip – budget & costs
Here are the costs of spending one day in Sintra, if you follow my itinerary.
Bus 434 – €6.90
Bus 435 – €5
Bus 403 / Uber – €5/ person or €20 Uber fare
Pena Palace entrance fee – €14
Quinta de Regaleira entrance fee – €6
Monserrate Palace entrance fee – €8
Bus/ Uber from Cabo da Roca to the train station – €5 / person or €30 Uber fare
Round-trip train tickets from Lisbon – €4.50
TOTAL – €54.4/ person (if you only travel by bus)
Please keep in mind that this budget for one day in Sintra does not include food & drinks. Prices in Sintra are quite spicy and if you decide to eat at restaurants, you should add at least another €50 to your budget.
However, if you're on a budget and want to spend as little as possible, I recommend bringing your own food and snacks. Buy some sandwiches from Lisbon and don't forget to also bring water!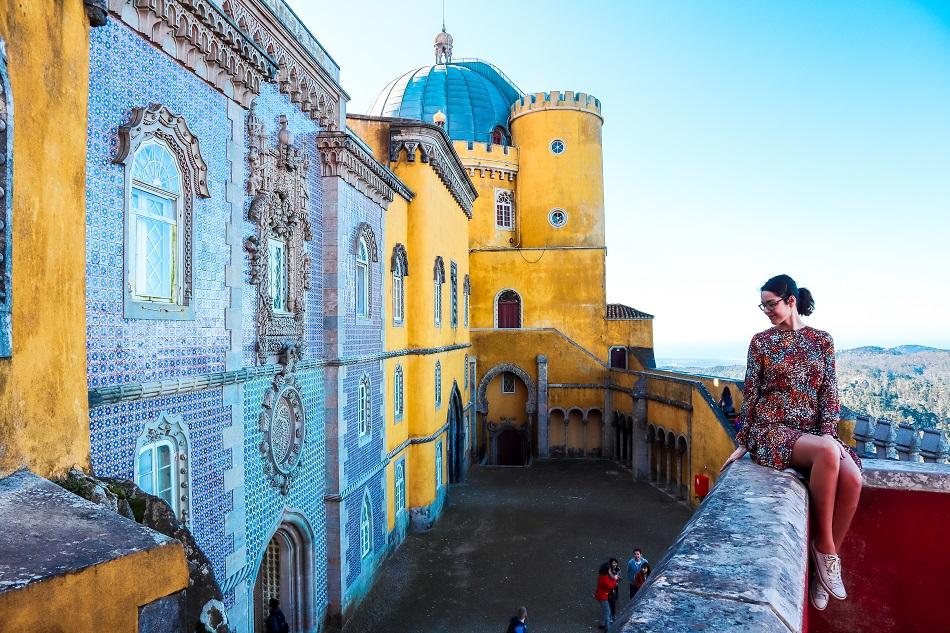 7. Sintra day tours
If juggling between buses and Uber rides seems too much for you, you can always choose a guided tour of Sintra. Here are my favorites.
Sintra highlights full-day tour from Lisbon – click here
Sintra, Cascais, Cabo da Roca tour from Lisbon – click here
8. Where to stay in Lisbon
If you're planning a day trip from Lisbon to Sintra, I've got you covered. These are the best hotels in Lisbon, for every budget.
Budget – Flores Guest House – good location, spacious and clean rooms, good amenities, great value for money
Mid Budget – Pessoa Hotel – great location, beautiful design, spacious and modern rooms, friendly staff
Luxury – H10 Duque de Loule – beautiful views, great location, luxurious rooms, amazing design, awesome rooftop bar
9. Final thoughts
Spending at least one day in Sintra is a must while visiting Portugal. I loved exploring palaces, getting lost in beautiful gardens, and admiring the ocean from Europe's westernmost point.
This itinerary works best for those who want to see as much of Sintra as possible. I'm not saying it's not going to be tiring but in the end, it'll be worth it!
If you have any questions, don't hesitate to ask me in the comments section below!
May the travel bug bite you!

Disclosure: Please note that this post may contain affiliate links. If you make a purchase through these links, I will earn a small commission at no extra cost to you. I only recommend companies and products that I trust and the income goes to keeping this website running. Thanks!