After spending a few days in Lisbon and Sintra, it was time to continue our journey through Portugal and visit Porto. By the time we arrived in Porto, I already fell in love with Portugal.
I fell in love with the colorful houses, the delicious egg tarts, and the stunning miradouros (viewpoints) scattered around the cities. Out of all the places I visited in Portugal, Porto was my favorite.
I spent 3 days in this beautiful city and I tried to explore as much as possible. In this blog post, I'll share with you the perfect itinerary for one day in Porto.
You'll visit stunning churches, beautiful neighborhoods, and for sunset, you'll visit the most incredible viewpoint in the city. Are you ready to make the most out of your 24 hours in Porto?
1. One day in Porto – tips and tricks
Here are a few things you should consider when planning to visit Porto.
Wear comfortable shoes – I can't stress this enough. Porto is built on steep hills and comfortable shoes are a must.
Get a 1-day Porto Card – With this card, you'll save a lot of money. You'll get free access to metro, buses, and suburban trains plus free entry to 6 museums and attractions. Read more here.
Try pastel de nata (egg tarts) – You'll find them all around the city but you'll find the best at Castro – Atelier de Pasteis de Nata
No time to read now? Pin it for later!
2. Is one day in Porto enough?
Spending one day in Porto is enough if you only want to see the highlights of this city. You'll have plenty of time to see the main tourist attractions and catch a glimpse of the local life.
However, if you want to really experience the city's vibe and visit everything it has to offer, I recommend spending at least 2 days in Porto. Even though it's smaller than Lisbon, Porto has a lot to offer.
It's a city full of history, with a beautiful architecture, and lots of museums to explore. Some may even argue that Porto is more beautiful than Lisbon.
3. Porto one-day itinerary
This itinerary will cover all the main tourist attractions in the city. They're all situated within walking distance from each other. However, if you feel like the hills in Porto are too much for you, you can always choose public transport.
We'll start our day at the top of one of the hills and then we'll make our way to Ribeira Square. We'll end this itinerary at Jardim do Morro, the best place for watching the sunset in the city.
Without any further ado, this is the perfect Porto one-day itinerary.
P.S. I haven't included Livraria Lello in this itinerary. I think it's an overrated tourist attraction. There is always a long queue outside the library and there's even an entrance fee of €5. I don't want to destroy your Harry Potter dreams but J.K. Rowling admitted that she never even visited this library.
#1 Chapel Almas de Santa Catarina
This beautiful chapel is covered in beautiful blue and white azulejos. The panels depict scenes from the life of various saints. 15,947 panels are covering this chapel, to be more exact.
Chapel Almas de Santa Catarina is a beautiful example of Portuguese architecture and unlike the more famous Igreja do Carmo, it's less crowded.
There is no entrance fee to visit the interior of this chapel.
#2 Rua de Santa Catarina
From Chapels Almas de Santa Catarina we'll continue our journey on Rua de Santa Catarina, the busiest and most important commercial street in Porto.
Here you'll find many international brands like Zara and H&M but also small patisseries. For breakfast, I recommend stopping at Fábrica da Nata. They have great coffee and delicious pasteis the nata (egg tarts).
#3 Santo Ildefonso Church
At the end of Rua de Santa Catarina is the beautiful Santa Ildefonso Church. Completed in 1739, this church was built in proto-Baroque style.
Thousands of blue-and-white tiles cover the church, making it one of the architectural masterpieces of Porto. When I visited it, I took the chance to snap some pictures in front of this impressive church.
Make sure to visit its interior too! It's free of charge.
Opening hours – Monday 3 pm – 6.30 pm, Tuesday to Saturday 9 am – 12 pm and 3 pm – 6.30 pm, Sunday 9 am – 1 pm and 6 pm – 8 pm
#4 Sao Bento Train Station
Our one-day itinerary of Porto continues with Sao Bento Train Station. It's one of the most visited tourist attractions in Porto.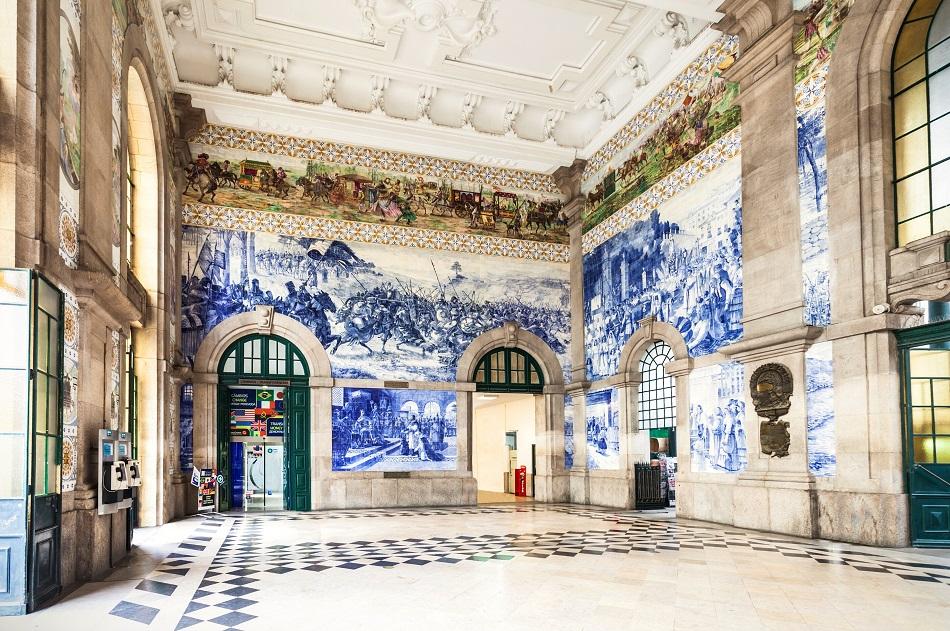 It shouldn't come as a surprise that the reason why this train station is so popular is because it's interior is covered in azulejos, depicting scenes from the country's history.
#5 Porto Cathedral
From Sao Bento Train Station, walk a few minutes and you'll arrive at the impressive Porto Cathedral (Sé do Porto), built in the 12th century. Overlooking the city, the cathedral looks more like a fortress.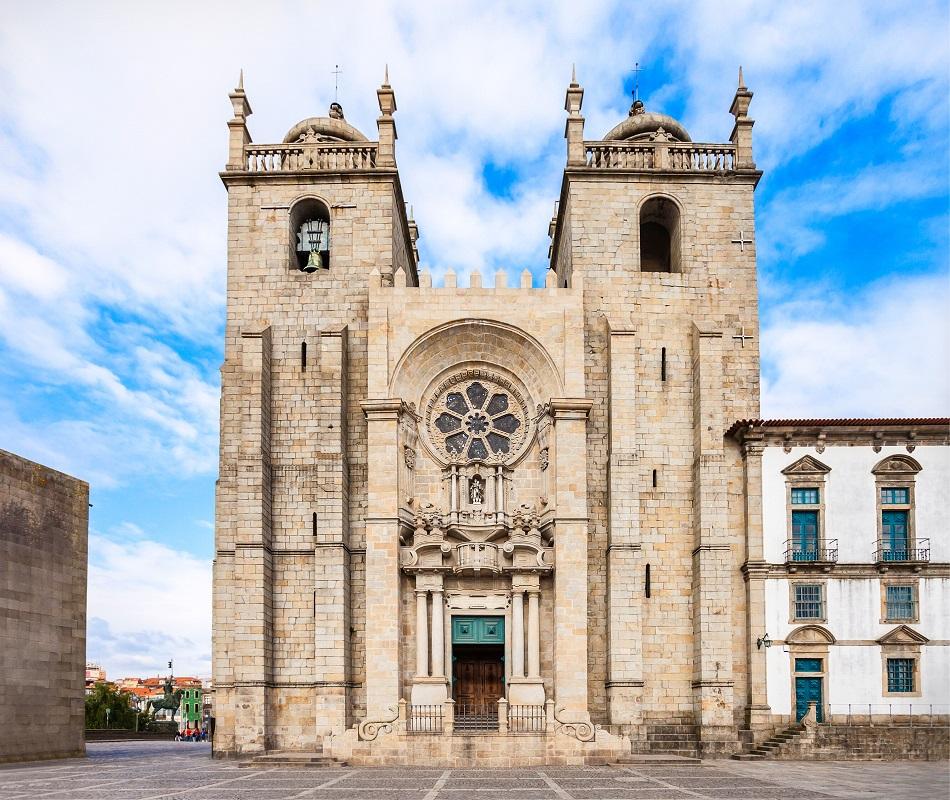 With tall walls and 2 imposing towers, the cathedral is a must-see while in Porto. A fact not many know is that the column sitting in the square in front of Porto Cathedral was used for hanging criminals.
If you want to visit the cathedral's interior, you'll have to pay an entrance fee of 3 euros.
Opening hours – April to October – 9 am to 12.30 pm and 2.30 pm to 7 pm. November to March – 9 am to 12.30 pm and 2.30 pm to 6 pm.
#6 The Colorful Houses Square
There's not an official name for this place so I'm going to call it the Colorful Houses Square. For the exact location, click here.
This hidden place is worth visiting if you want to take a few awesome photos. I discovered it thanks to my friend Diana, who also wrote a guide about the most instagramable places in Porto.
Visit this square on your way to the next stop – the beautiful Cais de Ribeira.
#7 Cais de Ribeira
Admire the Douro River and Ponte Luis I from the stunning Cais de Ribeira. The street bursts with restaurants, cute shops, and cafes.
However, what I loved the most about Cais de Ribeira were the colorful houses, glued to one another. I loved staring at their small balconies, colorful azulejos, and unique architecture. Not to mention, I took a few hundred pictures.
While you're here, visit the hidden alleys of Ribeira and explore the area a bit. You'll find quiet streets, where the local life doesn't seem to be bothered by curious tourists.
#8 Ponte Luis I
We're getting close to the end of our one day in Porto. Cross the beautiful Luis I Bridge to the other side of the river. Make sure to take a few pictures along the way.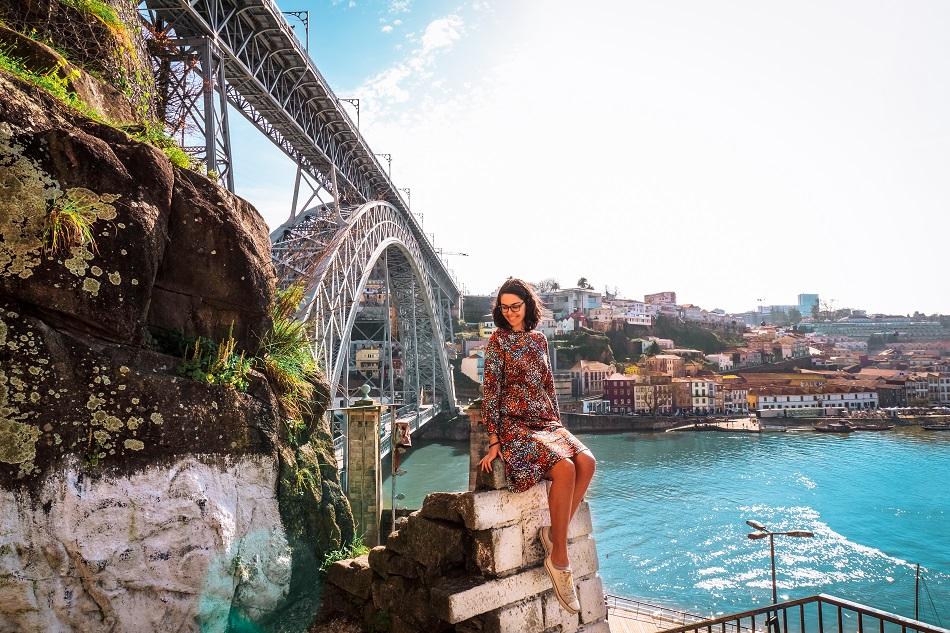 You can cross it on either of the two levels. The top level is used for the metro while the bottom level is used by cars. However, there are sidewalks on both levels.
#9 Jardim do Morro
We're going to end this our journey at Jardim do Morro, famous for the views it offers. Watching the sunset from here is a unique experience and one of the things you must experience while in Porto.
To get to Jardim Do Morro you can use Teleférico de Gaia or you can simply walk. Climbing to the top of the hill on foot will take around 15 minutes.
Cable-car entrance fee – €6 one way, €9 return trip
Cable-car opening hours – daily from 10 am until 6 pm
3. How to get around Porto
Given the fact that you're planning to visit Porto in a day, I recommend walking. However, if you prefer public transport, I recommend using the subway. One ticket costs only €1.2 and the connections are great.
Good to know – with Porto Card, you'll get free access to all public transport in Porto.
As an alternative, you can also use Uber. I used it a few times during my trip to Porto and the prices are reasonable.
4. Where to stay in Porto
I've been searching for the best hotels in Porto, for every budget. There are lots of hotels to choose from but these are the best.
Budget – Oporto Chic & Cozy – great location, modern apartment, good amenities
Mid-Budget – Catalonia Hotel – great location, spacious and clean rooms, great amenities, super-comfortable beds, friendly staff
Luxury – Infante Sangres Hotel – excellent location, breakfast included, beautiful pool, luxurious rooms, and excellent amenities
5. Final thoughts
Visiting Porto in a day might be a bit tiring but you'll explore stunning places and you'll make lots of great memories. I must admit that I loved Porto more than Lisbon and I'd go back in a heartbeat.
If you have any questions, don't hesitate to ask me in the comments section below.
May the travel bug bite you!

Disclosure: Please note that this post may contain affiliate links. If you make a purchase through these links, I will earn a small commission at no extra cost to you. I only recommend companies and products that I trust and the income goes to keeping this website running. Thanks!