If you ask people what they know about Romania, you will get one of these answers: Dracula, Nadia Comaneci (the first gymnast to ever get a perfect score at the Olympics) or Gica Hagi (a famous footballer).
However, there are many more interesting things about Romania that deserve more attention. Here are 20 fascinating facts about Romania that will surprise you.
1. Romania is home to the most beautiful waterfall in the world
Designated as the most beautiful waterfall in the world by the World Geography, Bigar Waterfall is truly unique due to the way the water spreads and falls. Situated deep in the forests of Anina Mountains, this waterfall is an important tourist attraction in Romania, especially for locals.
2. Romanians are some of the most welcoming and warm people in Europe
Romanians are well known for their welcoming nature. They are proud when they see that foreign tourists visit their country and they will do anything to make everyone feel like home.
No time to read now? Pin it for later!
3. One of Europe's largest underground glaciers can be found in Romania
Would you expect to find glaciers in Romania? Scarisoara Glacier is located at an altitude of approximately 1,100 meters in the Apuseni Mountains. If you're feeling adventurous, you can actually visit this cave. Hiking to Scarisoara Glacier will take through some incredible traditional Romanian villages.
-> Read more about the Romanian people here. What are Romanians really like?
4. Dracula's story was inspired by a Romanian ruler
Another interesting fact about Romania is connected to the famous Dracula character. Bran Stoker's character was inspired by Vlad Tepes, the impaler, who was a Romanian ruler that used to impale his enemies and showcase them along the roads. Also, Transylvania is real and is a territory of Romania.
Tours to Dracula Castle:
5. Romania is home to one of the narrowest streets in Europe
One fun fact about Romania is that the Rope Street in Brasov is the third narrowest street in Europe. The street is 80 meters long and its width varies between 111 and 135 centimeters. If you're planning a trip to Brasov, don't skip this interesting street.
-> Find out which are the best hotels in Brasov! Read my guide.
6. A Romanian gymnast was the first ever to get a perfect 10 at the Olympic Games
Aged only 14, Nadia Comaneci was the first gymnast in the history of Olympic Games to ever obtain a perfect score – 10. She obtained this performance in 1976, at the Summer Olympics in Montreal. At the 1980 Olympic Games, she won two more gold medals and attained two more perfect 10s.
-> Is Romania safe to visit? Find out here!
7. The Romanian Palace of Parliament is the second largest administrative building in the world
With a floor area of 365,000 square meters, the Romanian Palace of Parliament is also the heaviest building in the world. This building is the centerpiece of Bucharest and an important tourist attraction.
8. Romania has a "Merry Cemetery"
Situated in Sapanta, the Merry Cemetery is unlike any other cemetery you've ever seen. Here, the tombstones are beautifully decorated with intricate details and colorful designs. But that's not all! On every tombstone there is a short, funny poem like the one below but of course, written in Romanian.
Under this heavy cross
Lies my poor mother in-law
Three more days should she have lived
I would be dead, and she would read (this cross).
You, who here are passing by
Not to wake her up please try
Cause' if she comes back home
She'll criticize me more.
But I will surely behave
So she'll not return from grave.
Stay here, my dear mother in-law!
9. Romania has 7 incredible UNESCO Heritage Sites
Romania's beauty and importance has been recognized by UNESCO. Some of the sites included are: the churches of Moldavia, the Dacian Fortresses, the historic center of Sighisoara, the Horezu Monastery and a few others.
10. A Romanian city was the first to have street lights in Europe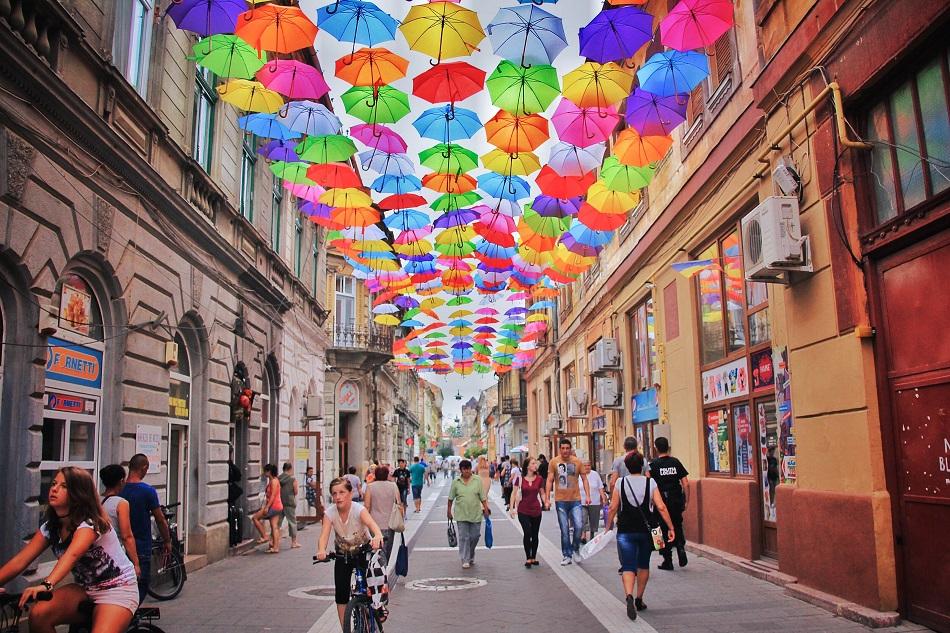 In 1889, Timisoara became the first city to have street lights. Today, Timisoara is one of the most beautiful cities in Romania and one of the top tourist attractions.
11. Europe's richest country in gold resources is Romania
Apart from being Europe's richest country in gold, Romania is also the only country with a gold museum. The museum has exhibits from all over the world and can be found in Brad city.
12. Europe's largest population of brown bears lives in Romania
Seeing a bear in a big city like Brasov is not unusual for Romanians. Due to the fact that some cities and towns were built close to the forests and mountains, sometimes the bears get lost outside their home in search of food.
13. Romania is home to one of the most beautiful roads in the world
Named as "The world's best road" by Top Gear, Transfagarasan Road is a true hidden gem. To visit it you will have to rent a car or take a guided tour but you will be rewarded with some of the most spectacular views in Romania. Would you like to drive on this road?
Do you want to drive on this incredible road? Here are some tours from Bucharest and Brasov:

14. The modern jet engine was invented by a Romanian
Henri Coanda was a Romanian aerodynamics pioneer and engineer. Thanks to his inventions and discoveries, flying is possible today. Could you imagine a world without planes?
15. The tallest wooden monastery in the world is in Romania
Sapanata-Peri Monastery is the tallest in the world. This Orthodox monastery is situated in the heart of Maramures county and it has a height of 76 meters.
16. Romania has some pretty incredible castles
Bran Castle (also known as Dracula Castle), Peles Castle, Cantacuzino Castle are just a few examples of incredible architectural masterpieces. Romania is full of beautiful castles which will make you feel as a part of a fairy-tale.
17. Bucharest has a Triumph Ark, just like Paris
During the Communist regime, Bucharest was also called the "Little Paris" and just like the real Paris, there is a beautiful Triumph Ark in the heart of Bucharest.
18. The Romanian language is 1700 years old
The Romanian language is part of the Romance languages. Romanian's sister and brothers are Italian, French and Spanish. Although there are a few similarities between all these Latin languages, Romanian is quite different and more difficult to understand and learn.
19. Peles Castle was the first one in Europe to be lit by electricity
The heating and electricity system of Peles Castle, built in 1888 still functions today. Peles Castle is one of the most visited tourist attractions in Romania. Make sure to add it to your itinerary if you plan to visit Romania.
20. The fountain pen was invented by a Romanian
The fountain pen was invented by Petrache Poenaru. This was a big breakthrough because due to this invention people were able to write for a longer period of time without recharging their pen.
I hope that you've found useful all these interesting facts about Romania. Which one is the most surprising one? Let me know in the comments section below.
May the travel bug bite you!
Disclosure: Please note that this post may contain affiliate links. If you make a purchase through these links, I will earn a small commission at no extra cost to you. I only recommend companies and products that I trust and the income goes to keeping this website running. Thanks!