Known for its stunning beach resorts, Antalya is one of the preferred destinations in Europe for those who want a relaxing holiday by the sea. However, apart from its luxurious 5-stars hotels, Antalya has a lot more to offer.
From historical sites to stunning waterfalls and amusement parks, this region has something for everyone. I was amazed to discover this place's diversity and in this post, I want to share my 10 favorite things to do in Antalya.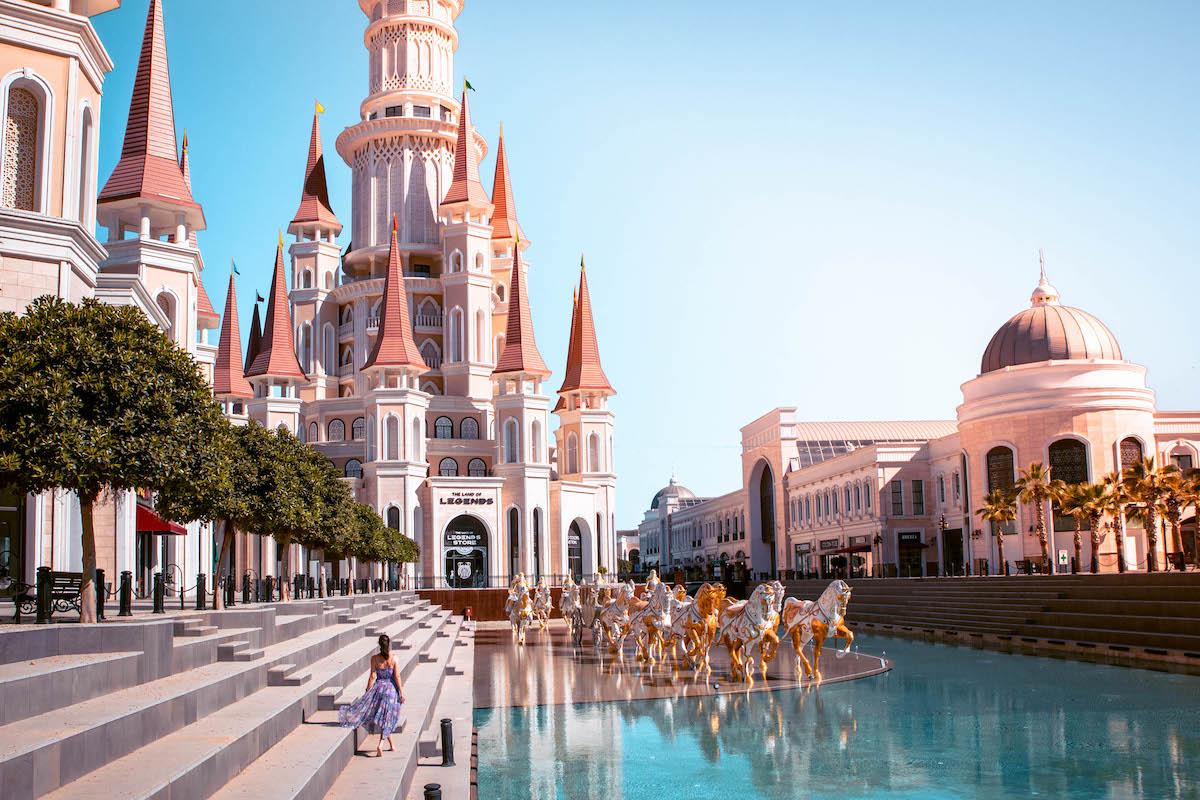 1. Top things to do in Antalya
Antalya is a big region that stretches way beyond the city of Antalya. Depending on where your hotel is located, you'll have to arrange transport to some of these destinations.
I traveled to Antalya with Hello Holidays and they arranged the transport to each tourist attraction we visited. They also took care of accommodation, plane tickets and transfers.
1.1 Antalya Waterfall – Duden Waterfalls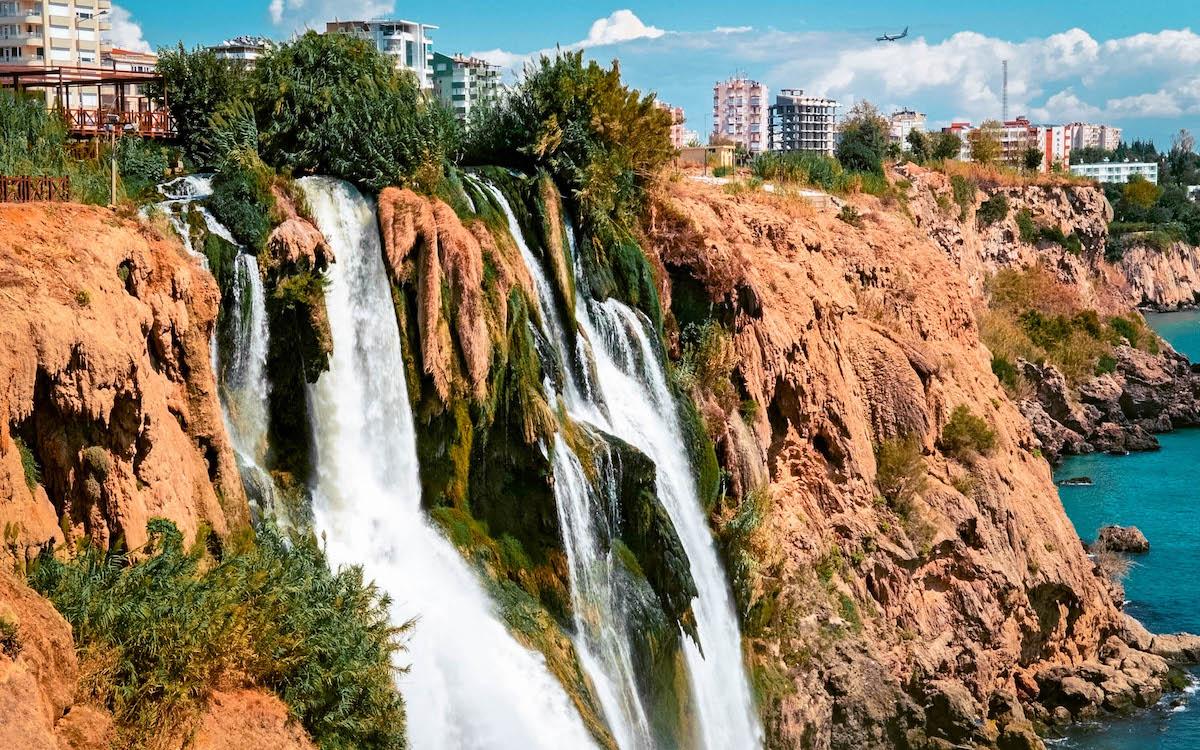 Duden Waterfalls are comprised of 2 waterfalls – Upper Duden Waterfall and Lower Duden Waterfall. I only had the chance to admire the Lower Duden Falls. The water is falling off a big cliff directly into the Mediterranean Sea, creating a stunning scenery.
Right near the waterfall, there is a beautiful park with cute alleys and benches called Duden Park. You can walk along the cliff edge for the best view of the waterfall and after that relax for a few minutes in the park while admiring the sea. When planning to visit Antalya, a trip to Duden Waterfalls is a must.
Opening hours – 24/7
Entrance fee – Free
1.2 St. Nicholas Church, Demre
Every year, we all wait for Saint Nicholas' Day. It's a day of joy, when we share presents with our loved ones, but did you know that Saint Nicholas was born and lived in Antalya, more specifically in the city of Demre?
One of the must-see tourist attractions in Antalya is the St. Nicholas Church, the place where he is believed to be buried. The church was built in 520 and is very well-preserved. You can still admire a few icons painted on the wall, but the main attraction is St. Nicholas' tomb.
Opening hours – 8.30 am to 5 pm
Entrance fee – 70 Turkish lira
1.3 Myra Ancient City, Demre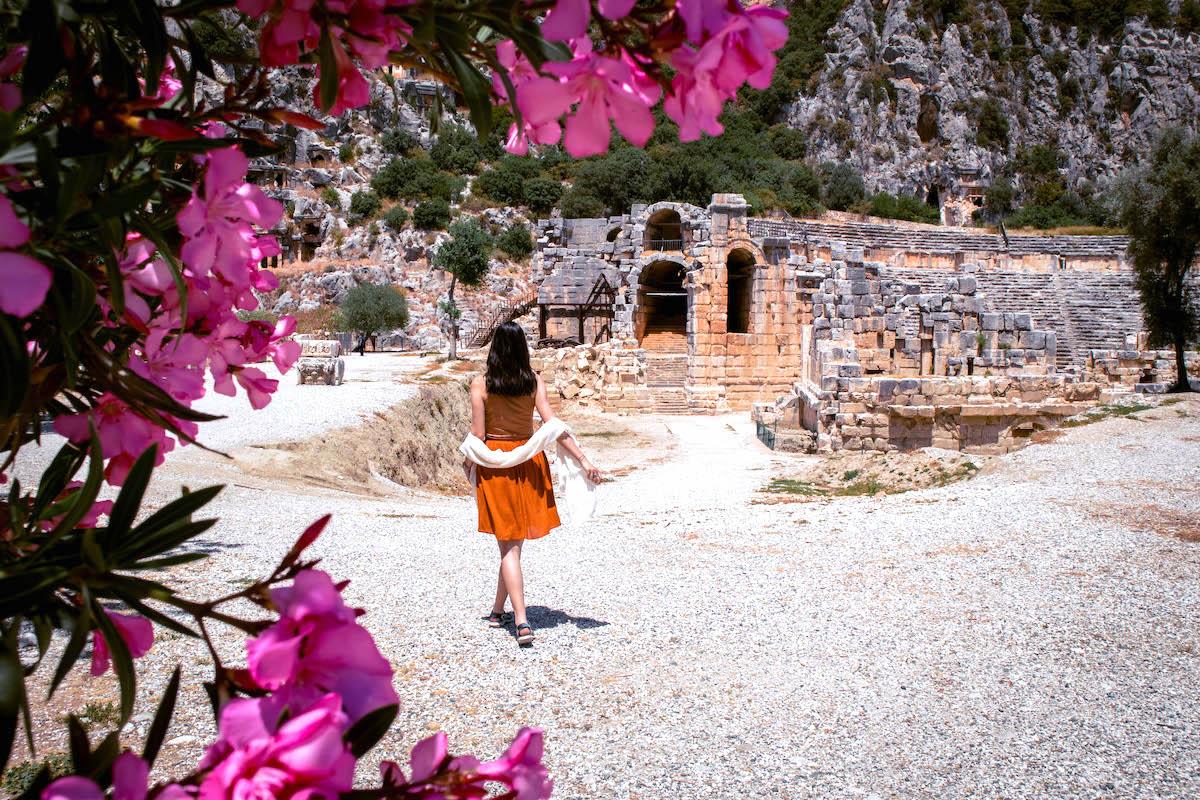 Myra was originally an ancient Greek town with well-preserved sites such as the theatre of Myra and the rock-cut tombs. When I arrived here, I was impressed by how well the theatre was preserved. The seats were in perfect shape, making it easy for me to imagine the grandeur of the spectacles held here.
After admiring the theatre, we headed to the rock-cut tombs. Even though visitors are not permitted to enter the tombs, they're still quite impressive. These tombs were discovered in 1840 by a foreign traveller and it is said that at that time, they were still painted in yellow, red and blue. Nowadays, these colors are not visible anymore, but the tombs are breathtaking.
Opening hours – 8 am to 5 pm
Entrance fee – 55 Turkish lira
1.4 Perga or Perge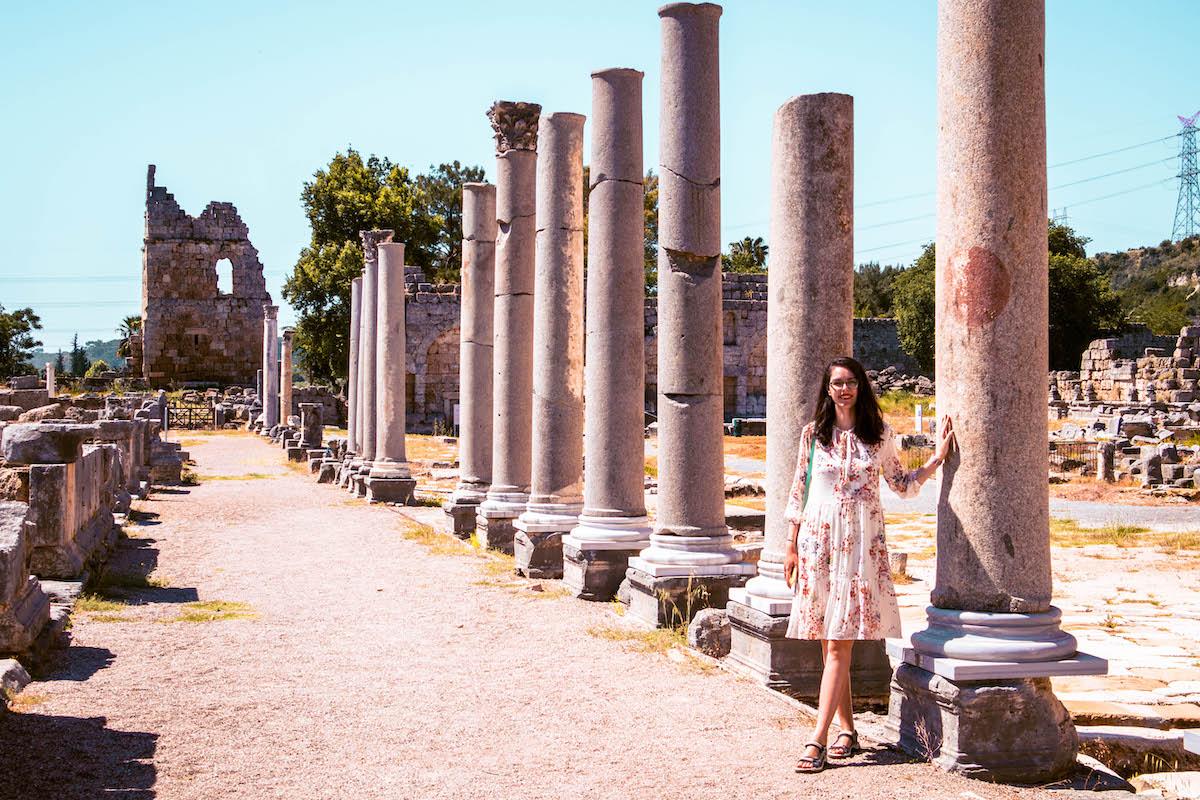 It's incredible to see the ruins of this ancient Greek city. The site is huge and I recommend planning at least 2 hours to explore it. You can visit the baths, the agora, the stadium, the Roman theatre and many other incredible sights here.
It would be best to visit this ancient city with a guide because there isn't much information on site. One thing that really surprised me about this place is that this city is believed to have been inhabited by around 200,000 people.
Opening hours – 9 am to 6.30 pm
Entrance fee – 60 TL
1.5 The Land of Legends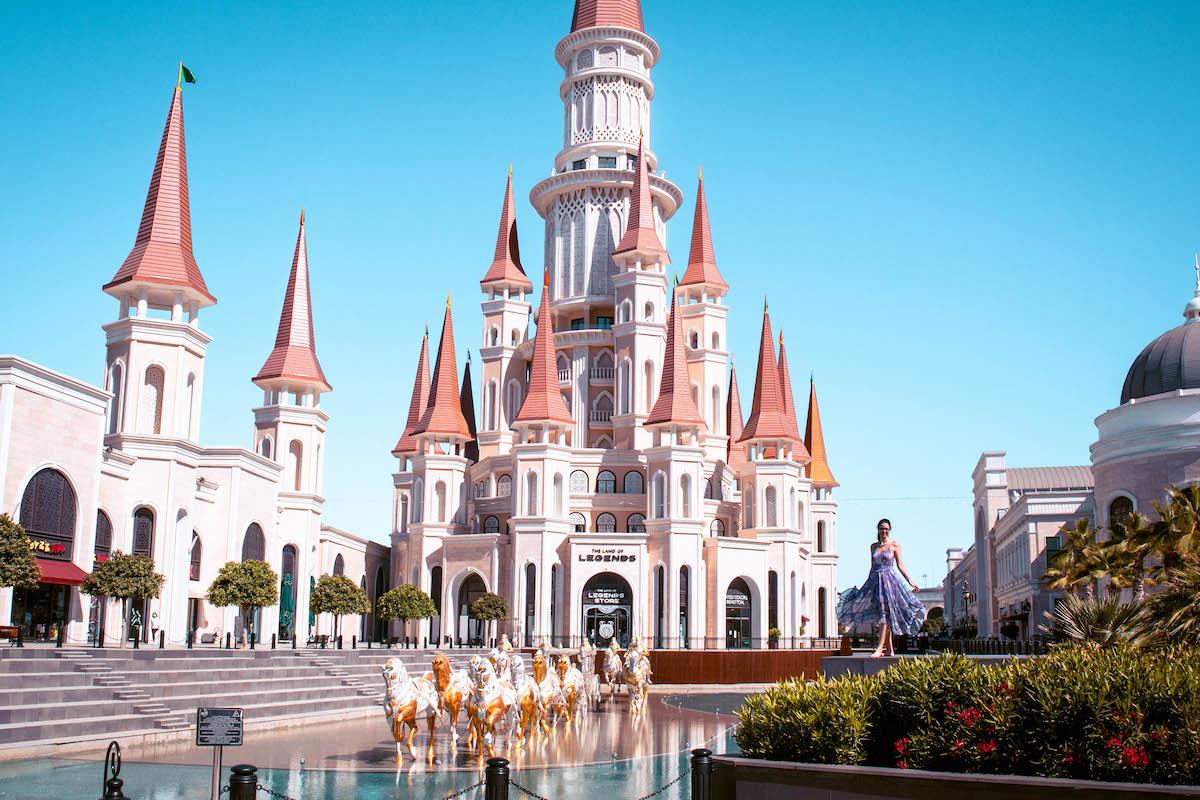 I spent one week in Antalya and had the chance to spend 2 days at The Land of Legends, an incredible amusement park with both roller-coasters and water slides. I stayed at The Land Of Legends Hotel, located right near the theme park. It's a great choice for families with children.
The theme park is huge and honestly, I recommend spending 2 days here to fully enjoy it. The star of the park is the Hyper Coaster Ride, a 62-meter high roller-coaster perfect for adrenaline junkies.
You can also enjoy many water slides of different difficulty levels, beautiful pools and also artificial waves.
Opening hours – 10 am to 5 pm
Entrance fee – 35 USD
1.6 Antalya Old Town – Kaleici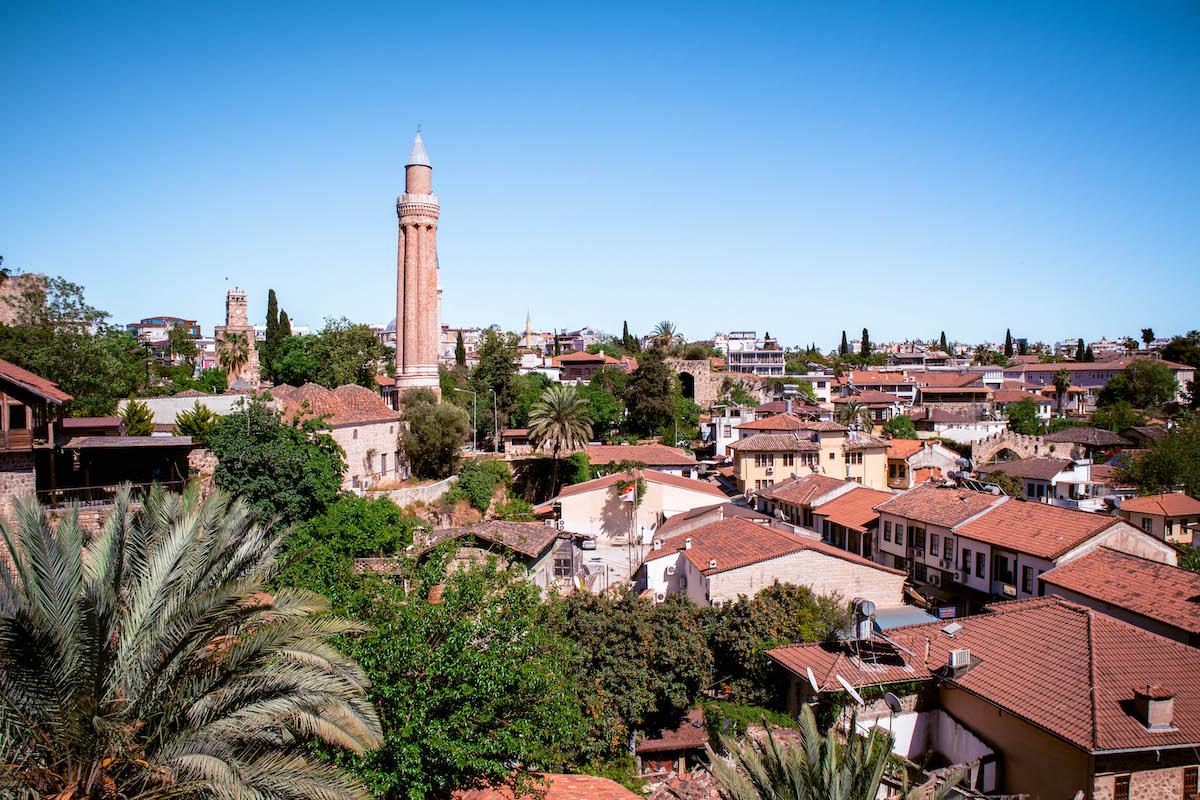 Antalya's heart is in Kaleici, a beautiful district with cobblestone streets, countless shops and restaurants, beautiful viewpoints and an impressive harbour.
I loved the glass viewpoint, from where you can see the nearby mountains and the Mediterranean Sea. Another must-see place is Mermerli Beach. Although rather small, I recommend admiring this beach from the nearby pier.
If you're looking for souvenirs, Antalya Kaleici is the place to go. From carpets to tea, spices and fridge magnets, you can find anything here.
Opening hours – 24/7
Entrance fee – Free
1.7 Tahtali Mountain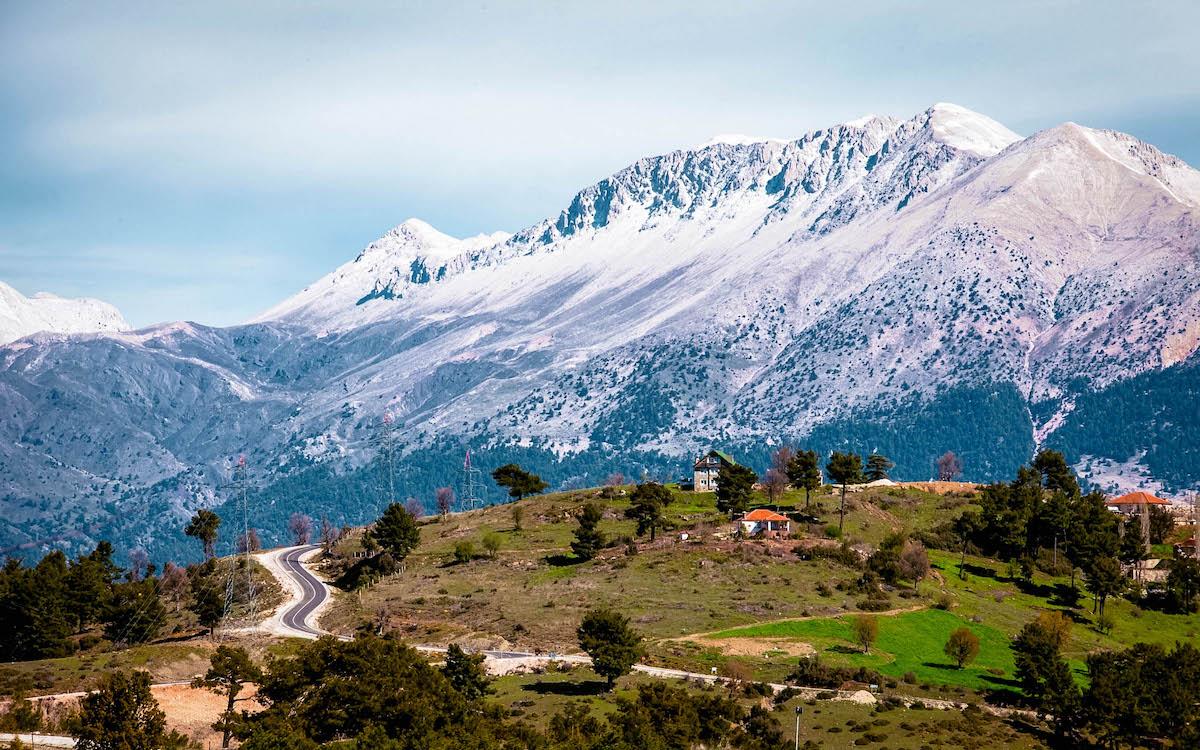 One of the best things to do in Antalya region is to climb to the top of Tahtali Mountain, also known as the Lycian Olympus. The mountain has a height of 2375 m and it can be reached by the Olympos Aerial Tram, aka cablecar.
The views from the top are simply breathtaking. You can admire the Beydaglari Mountains, the sea and the coastline.
1.8 Antalya Aquarium
What would you say about visiting the world's biggest tunnel aquarium, with a length of 131 meters? At Antalya Aquarium you'll learn many interesting things about the marine life and you'll have the chance to admire thousands of sea creatures.
Opening hours – 9.30 am to 6 pm (Saturday and Sunday closed)
Entrance fee – 35 USD
1.9 Tunektepe Teleferik Tesisleri
If you're looking for some of the best views in Antalya, go to Tunektepe Teleferik Tesisleri. This cablecar is easily accessible by public transport and is the perfect place to spend a relaxing afternoon.
From the top, you can admire Antalya city and the Mediterranean Sea.
Opening hours – 10 am to 8 pm (Monday closed)
Entrance fee – 20 TL
1.10 Aspendos Theatre
Located 47 kilometres away from Antalya, Aspendos Theatre is an incredible archaeological site. It was built in the 2nd and 3rd centuries and nowadays the venue is used for concerts and festivals. This is one of the top tourist attractions in Antalya and it's worth a visit.
Opening hours – 8.30 am to 5.30 pm (Monday closed)
Entrance fee – 60 TL
2. Where to stay in Antalya region
Antalya is well-known for its incredible beach resorts and 5-star hotels. If you're looking for a luxurious hotel, newly opened, I recommend Ng Phaselis Bay. I loved their spacious and modern rooms and beautiful pools, as well as the stunning beaches.
If you're traveling with children, I recommend The Land Of Legends. This hotel has many amenities dedicated to children and more importantly, it's located right near the theme park.
Other options would be Rixos Premium Belek or Spice Hotel and Spa. Of course, there are a few thousand other hotels in Antalya, but I recommend these because I tried them during my stay.
3. Final thoughts
There are many other activities you can try in Antalya, such as a wide variety of water sports. Also, this region is full of tourist attractions suitable for any tourist. It was hard for me to pick only ten, but I hope that I inspired you to visit this beautiful region in Antalya.
If you have any questions, don't hesitate to ask me in the comments section below. May the travel bug bite you!
Pin it for later!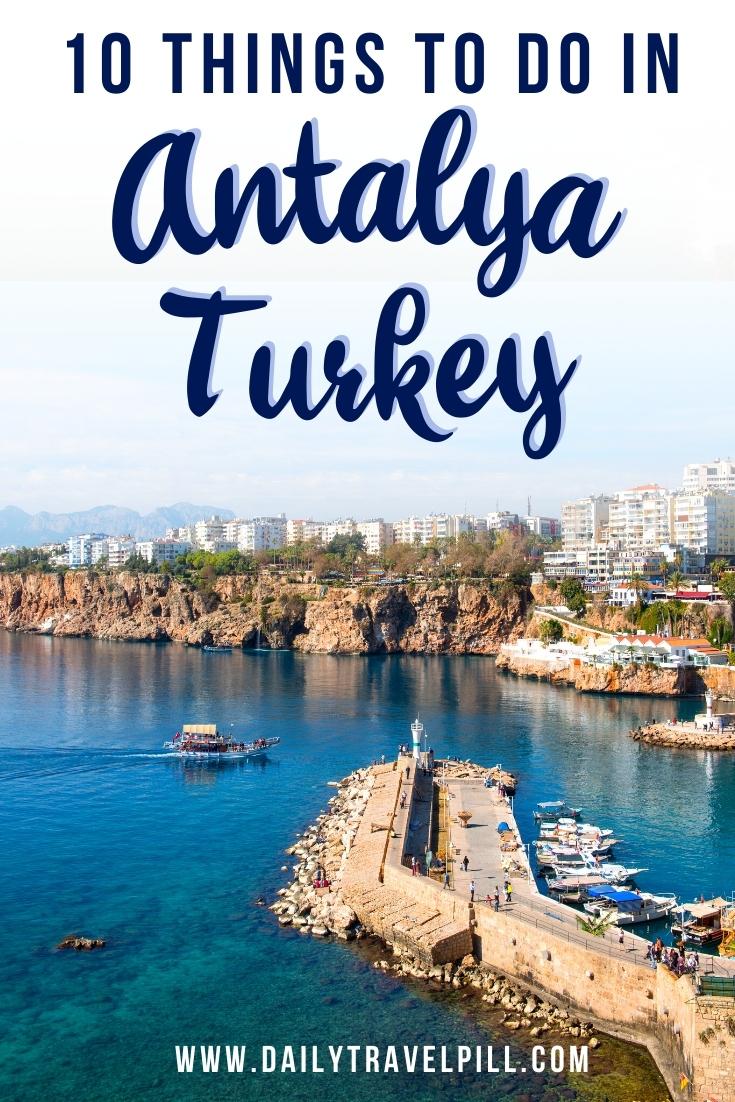 Disclosure: Please note that this post may contain affiliate links. If you make a purchase through these links, I will earn a small commission at no extra cost to you. I only recommend companies and products that I trust and the income goes to keeping this website running. Thanks!