Despite all of nature's efforts to hide this gorgeous and secluded cove among steep cliffs, miles off the beaten path, Porto Limnionas Zakynthos has become one of the island's main go-to spots, and for good reason too. It is absolutely beautiful!
Porto Limnionas is not renowned for its modern facilities, luxury holiday resorts, and loud parties. It's a place to escape from the tourist masses, and let yourself be surrounded by nothing but the beauty of nature.
I loved this place so much that during my one week in Zakynthos I visited it twice. It's the perfect place to relax or explore the underwater world! Snorkeling here is a dream!
1. What to expect at Porto Limnionas Beach
Contrary to its name, do not expect a beach in the true sense of the word, at Limnionas Beach, Zakynthos! Here you'll find a small cove tucked in beneath towering cliffs with crystal-clear water.
What makes this tiny hidden gem in Zakynthos so inviting, is the brilliant clarity of the water. The sea here is as clear as bottled water, making it one of the best places for snorkelling in Zakynthos. The jagged cliff faces on both sides hold several small submerged caves and one humungous one, for snorkelers to explore.
Despite having no sand, visitors flock to this cute little rocky bay during the summer months to swim, snorkel, scuba dive, or just relax on the rocks soaking up the sun and appreciating the stunning scenery provided by nature. Unlike other developed parts of the island, this place has been left untouched and is exactly as it was hundreds of years ago. Apart from the tavern perched up on the rocks, there is nothing artificial here.
The water is accessible from the pebbly beach or you can glide in straight off the rocks, or make a grand entry by throwing yourself off the jumping platform a few metres above the water. It's advisable to get here early in the morning during high season to pick a flat rock and lay down your towel. Although not every tourist in Zakynthos comes here, after 10 am it still becomes a little crowded.
As there is absolutely no sand anywhere, a good pair of shoes for walking on the rocks is necessary. There is also no shade here apart from the umbrellas near the taverna, and the sun is lethal during the summer months, especially in the middle of the day.
Beach chairs and umbrellas can be hired from the taverna on the rocks. They also have toilets and change rooms, but unfortunately, no outdoor showers to rinse off after a swim in the sea.
The rugged and rocky terrain and lack of modern infrastructure of Porto Limnionas does not make for an ideal spot for families with small children, but rather appeal to adults who prefer tranquillity, quietness and the raw beauty of nature.
2. Where is Porto Limnionas?
Sandwiched in between gigantic cliffs plunging into the soothing blue waters of the Ionian Sea, the tiny inlet of Porto Limnionas, lies roughly in the centre of the west coast of Zakynthos. It's situated less than 30 kms from the island's capital and only about seven kms from the rural village of Agios Leon.
3. Things to do at Porto Limnionas
People who come here, come for one purpose only…to admire the natural beauty of this remote coastline and to simply unwind.
Snorkeling and Scuba Diving
If you were to ask any local where to snorkel in Zakynthos, most would instantly say Porto Limnionas without hesitation. It's the ideal diving spot for complete novices with safe shallow water and fascinating rocky ledges and caves to explore alongside the cove.
Experienced divers can venture further out to the deeper reefs and the rocky shoreline. Please bring your own snorkelling gear.
There is also a diving centre here for certified scuba divers, or anyone who wants to be introduced to the magical underwater world of Porto Limnionas. After a quick and simple crash course, novices are able to enjoy a dive in complete safety and under the strict supervision of a PADI instructor.
For the more experienced divers, there is a rich marine life on the reefs close by with some awesome drop offs. If you're lucky, you may even spot a turtle or two.
I simply enjoyed snorkeling near the cliffs and inside the cave. I saw some colorful fish and a few beautiful corals. I didn't have the courage to venture in deeper water, where the marine life starts to really blossom.
Have lunch at the tavern
Just below the parking lot, is the Limnionas Tavern, Zakynthos, offering delicious, authentic Mediterranean food and panoramic views of the cove, the white cliffs and the open sea. They could not have picked a more stunning location!
The menu caters for all palates and appetites, and, unlike many other touristy joints, is reasonably priced. I recommend trying the seafood platter for two. Some other delicious dishes are whole fried fish, freshly caught calamari, and a range of delicious prawn dishes.
There is also a wide choice of meat and vegetarian dishes as well as their typical Greek specialities such as stifado (a beef or rabbit stew with pickle onions and red wine), fried zucchini balls, and yemista (slow-baked, stuffed tomatoes with roast potatoes), just to mention a few. Better not start on their desserts or their delicious cocktails!
The taverna is open for lunches and dinners, but it's wise to book your table as soon as you arrive. Needless to say, sitting under pine trees, glass in hand and watching the sun set across the sea, will turn any dinner into an unforgettable occasion.
Rent a sunbed and relax
If you're not too keen to lie on your towel on the rocks and looking for a little more comfort, the taverna also rents out sunbeds and umbrellas. They are perfectly situated in front of the restaurant, overlooking the gorgeous inlet and open Ionian Sea.
Renting two sunbeds costs around €12, but you need to book them as early in the morning as possible. By 10 am, they're usually all gone.
Go for a massage
If panoramic views and delicious food are not enough and you need some extra pampering, the taverna also offers a massage service. Now there's something you don't find in many other restaurants! Booking early is an absolute must, especially during peak season. 
Go on a short hike and take breathtaking photographs
There are many different vantage points to take in the stunning scenery around Porto Limnionas. By taking a short hike in either direction, photographers will capture the beauty, ambience and mood of this off-the-beaten-track place. The inlet from the cliffs high above, is truly magnificent.
A few kilometres south is another hidden gem, worth hiking to that few tourists know about. Porto Roxa is similar to Limnionas, with a smaller but equally charming inlet of crystal clear water, with a few tavernas perched up on the hill, overlooking the sea.
Stay over for a night or two
Most visitors come to Porto Limnionas for the day, or just pass through on their organised tours around the island. But for those who want to spend more than a day away from the hustle and bustle of the crowded towns, and explore this magical coastline in peace, there are a few lodging establishments around here that allow you to do that. 
Just above the parking lot, are the Limnionas Cave Villas, which offer luxury living with all the modern amenities, in the middle of nowhere.
The White Rock Cave Villa, a few hundred metres south of Limnionas also offer incredible sea views, allowing you to relax in total isolation. From there you can visit Porto Roxa beach, a few kilometres to the south for more stunning scenery and a choice of two restaurants serving an array of mouth-watering Mediterranean dishes.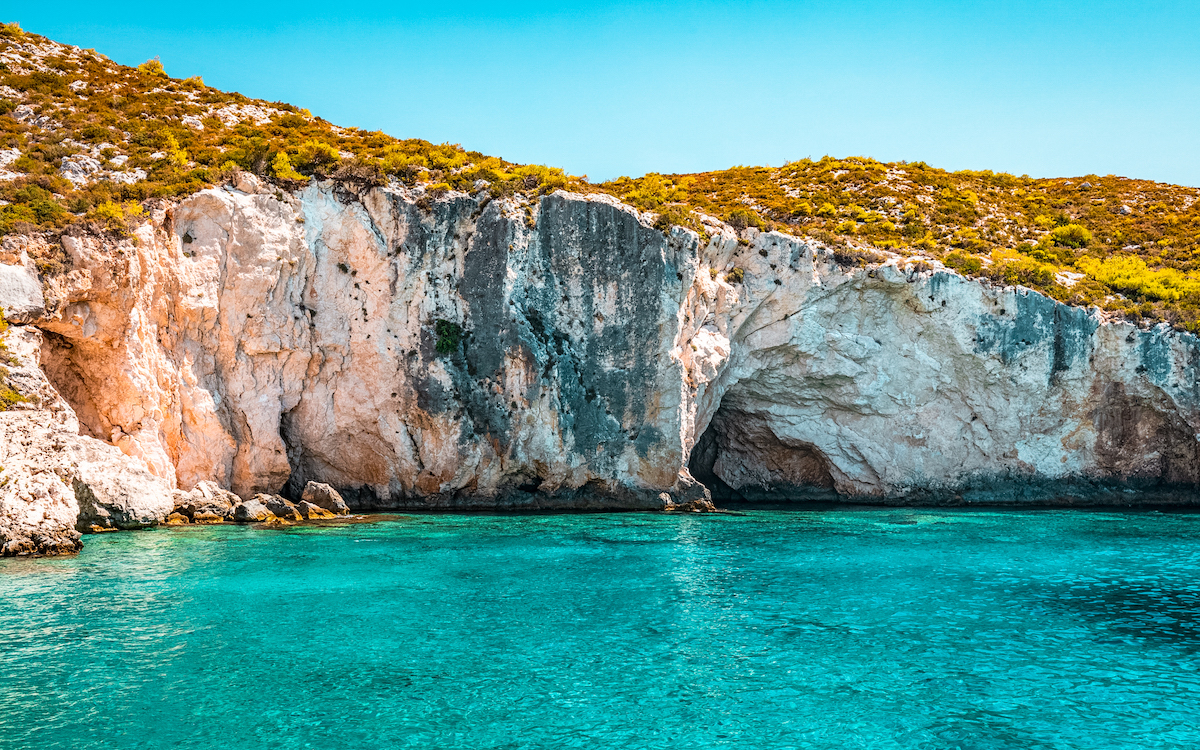 Lete Sunset Bar, a little to the north of Limnionas is another gem in the wilderness to enjoy great local cuisine, refreshing cocktails and is also one of the best spots on the island for spectacular sunsets.
About eight kms to the north of Porto Limnionas, perched on the edge of the Cliffs of Kambi and next to the view point, is the quaint Michali's Taverna, which, along with several other tavernas nearby, offer great Greek cuisine and spectacular views.
I had dinner at Michali's Taverna and this is the place where I watched the most incredible sunset in Greece. Definitely worth it!
4. When to visit Porto Limnionas 
As with most islands in the Mediteranean, the best time to visit them is during the summer months – from early June to late September. If you want to avoid the tourist masses and the high summer temperatures, avoid going in July and August.
If you have to go during this peak season, try to get to Porto Limnionas as early in the morning as possible, to get a good spot on the rocks or rent a sunbed, before the regular crowds pitch up.
June is a good time to go, although the water may still be a little chilly. September is probably a better choice.
5. Where to stay in Zakynthos
Zakynthos is one of the most beautiful islands in Greece. There are many accommodation options to choose from, starting with budget guesthouses and ending with luxury hotels.
If you're looking for a good-value-for-money option, I've got you covered!
Budget – Aggeliki Studios – beautiful rooms in good location, beautiful garden, amazing hosts, good amenities
Mid-Range – Alterego Studios – awesome location, clean and spacious rooms, beautiful pool, close to many restaurants and shops
Luxury – Zante Maris Suites – beautiful views and infinity pool, excellent restaurant on site, luxurious and spacious rooms, friendly staff
6. How to get to Porto Limnionas? 
Your best option to get to Porto Limnionas, is by car. In fact renting a car is by far the most practical and least costly way of exploring the island. With so many hidden gems dotted everywhere on Zakynthos, you'll find yourselves stopping in so many unexpected places, even if it's only to take in the scenery and capture a few memories. 
Renting a car gives you the freedom to do exactly that; go as you please and stop for wherever you want for as long as you want. For more information on renting a car in the main town, click here.
If you're staying close to the port of Zakynthos, take the Sarakina- Agios Kirika Road, which later becomes Zakinthou-Volimon Road. After travelling west for about five kms, you'll reach a junction, where you take the left fork onto Fiolitiou Road. Follow it as it snakes and climbs through the scenic countryside, until you reach the mountainous village of Agios Leon.
If you're setting off from anywhere along Laganas Bay, where most visitors stay, take the Lithakias-Agalas Road, travelling north-west until you reach Agios Leon.
If you're staying on the northern part of the island, make your way to Agios Leon on the Macharaidou-Anafonitrias Road.
From Agios Leon, follow the signs down to the west coast for about seven kms until you reach the free car park at Porto Limnionas. The road is steep and twisty at places, so you need to keep your wits around you at all times. From the car park, a few steps carved into the rocks will lead you to the inlet.
Porto Limnionas can also be reached by sea, although the rocky shoreline does not allow any docking as there are no landing jetties. Boats just have to drop anchor offshore and you can swim ashore. You could also pull in at Porto Roxa a few kms south, where you can moor in the sheltered waters of the cove near the small slipway.
Conclusion
Zakynthos, or Zante, as the Italians have named it, is an island packed with such natural beauty, it is virtually impossible to say which is the most beautiful spot. But if you want to spend a few hours, or a day or two in complete serenity and immersed in indescribable beauty, go to Porto Limnionas Zante. It may be the best thing you'll do in Zakynthos.
Like all the other spots on this west-facing shoreline, sunsets from Porto Limnionas are to die for. Please bring a camera here as cell phone photos can never do justice to the spectacular scenery.
No matter how you get to Zakynthos or how long you choose to stay, do not leave the island without at least visiting this little piece of heaven on earth. You'll find it difficult to leave. I know I did!
If you have any questions, don't hesitate to let me know in the comments section below. May the travel bug bite you!
Disclosure: Please note that this post may contain affiliate links. If you make a purchase through these links, I will earn a small commission at no extra cost to you. I only recommend companies and products that I trust and the income goes to keeping this website running. Thanks!