If you're looking for the perfect wine country escape, look no further than Napa Valley, California! Located just one hour north of San Francisco, a weekend getaway to Napa Valley is everything you need to recharge your batteries.
This stunning region is home to world-renowned wineries, charming small towns, and picture-perfect landscapes. With so much to see and do, it can be tough to know where to start. That's why I've put together this 2-day Napa Valley itinerary to help make the most of your time. So, pack your bags and let's indulge in delicious wines and excellent food!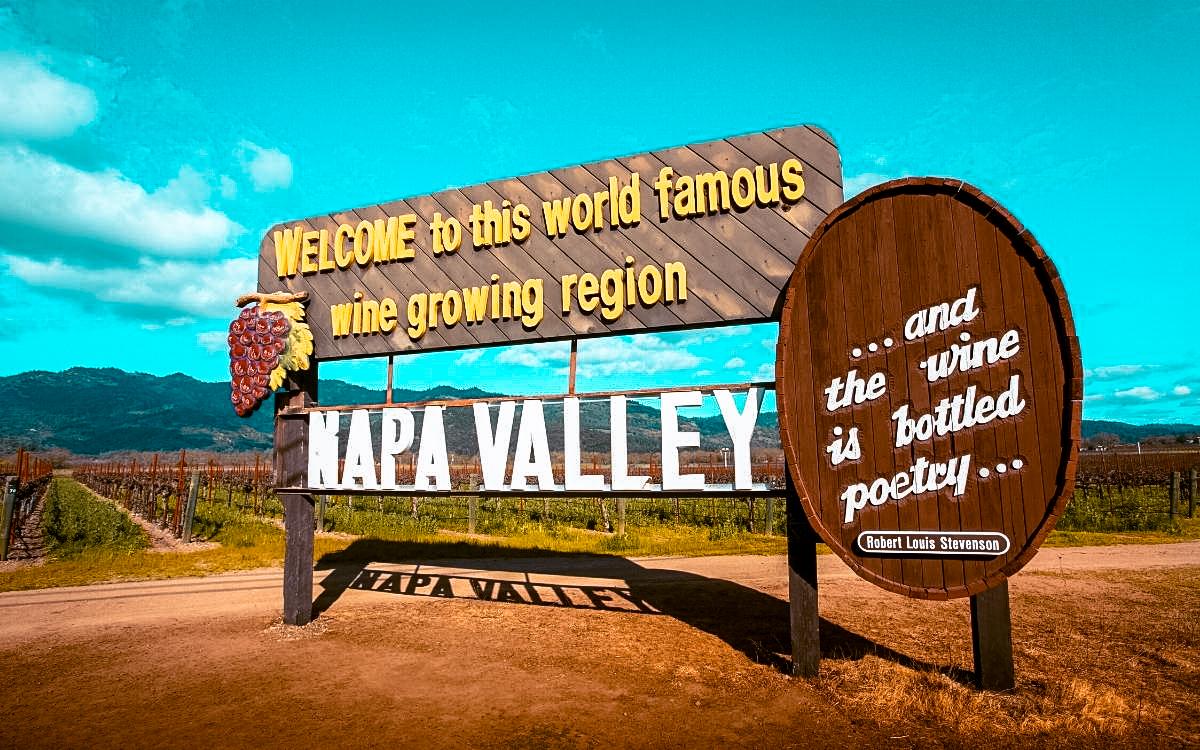 1. Napa Valley tips and tricks
Are you looking for a unique experience? See Napa Valley from an airplane! Read more about this experience here.
The hottest month is July with temperatures of 83°F (28°C). The coldest month is January with temperatures of 57°F (14°C).
I recommend booking all wine tastings in advance, especially the ride in the Wine Train.
You must be over 21 years old to drink alcohol in the United States.
For the restaurants mentioned in this 2-day Napa itinerary I recommend making reservations.
The most comfortable option is to visit Napa Valley with your own car. If you don't have a car, you can rent one or you can use Uber or Lyft.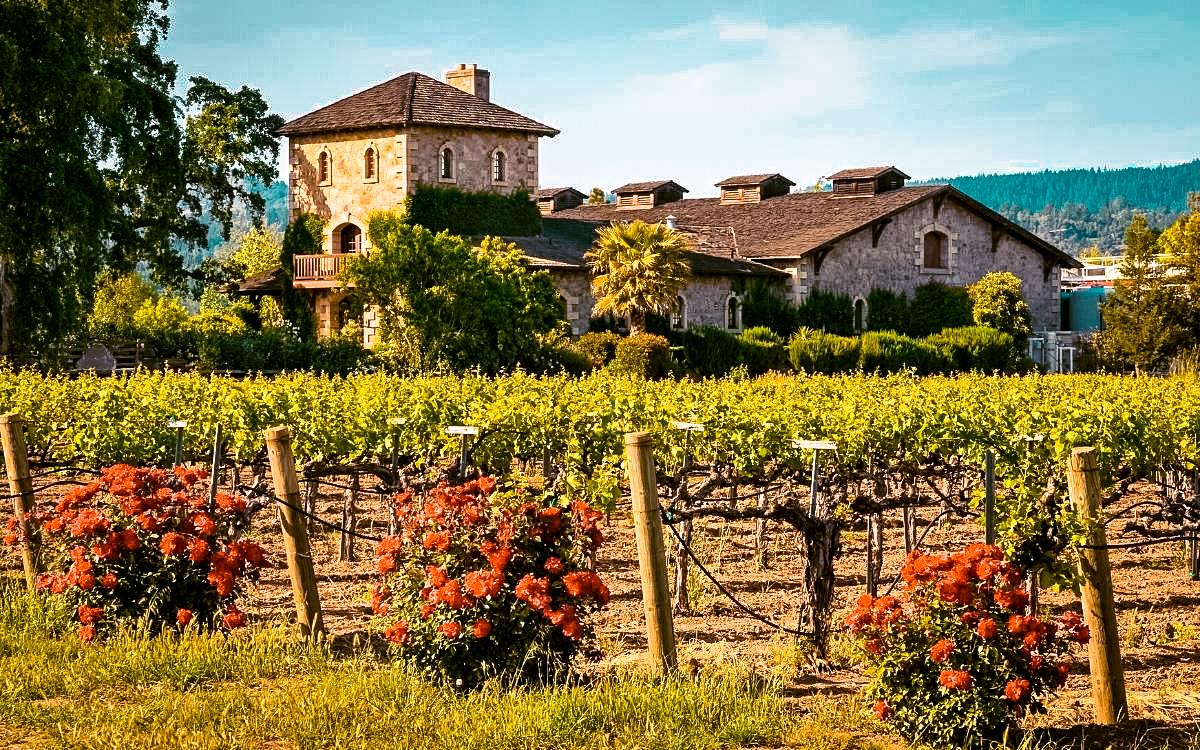 2. Napa Valley 2-day itinerary – Day 1
On the first day of this itinerary, I've included some of the best attractions in Napa Valley. We'll start the day at Oxbow Public Market and then we'll continue with wine tasting and delicious food. Are you ready?
Explore Oxbow Public Market
Start your first day in Napa with a visit to the Oxbow Public Market. This food lover's paradise is home to an array of local vendors selling everything from fresh produce to ice cream. So, whether you're in the mood for oysters, tacos, or wood-fired pizza, you'll find something to satisfy your morning cravings.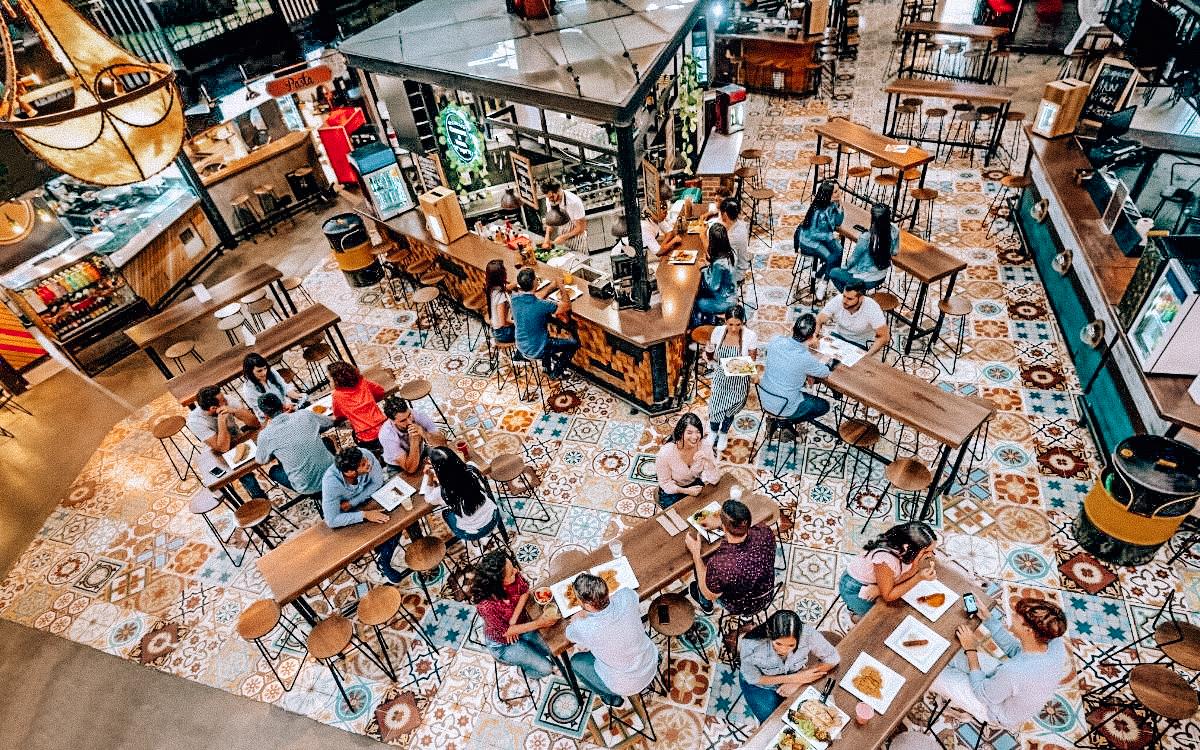 I recommend the El Porteño Empanadas ($7 each). Or have some breakfast tacos and tostadas (~$7-$10) at C Casa.
Also, while you're at the market, grab some small bites and stock up on picnic/snack supplies for later.
Visit the iconic Chateau Montelena Winery
After the Oxbow Public Market, head north to Chateau Montelena for a classic Napa Valley wine tasting experience. It's located only 30 miles away from Oxbow Public Market.
This well-known, iconic winery is most recognized for its 1973 Chardonnay, which beat all the best French wines in a competition known as the Judgement of Paris in 1976. This landmark victory effectively established Napa Valley as one of the best wine regions in the world.
Chateau Montelena offers a variety of different tastings, so whether you're a red or white wine fan, there's something for everyone to enjoy. They have two award-winning wines with their Chardonnays and Cabernets, as well as a great Zinfandel.
I recommend the "Taste of Montelena Tasting" ($45 per person) and you can enjoy this tasting in their beautiful Chateau. Please note that you'll need a reservation for wine tasting at Chateau Montelena.
After your wine tasting, take a stroll through the beautiful gardens and lake at Chateau Montelena.
Get lunch at Gott's Roadside & Stroll Downtown St. Helena
Let's continue this 2-day itinerary to Napa Valley with a stop at one of the best restaurants in the area. Gott's Roadside is located only 11 miles away from Chateau Montelena, next to St. Helena downtown. Their delicious burgers and fries cost around $15-$20.
This popular roadside eatery started out as a tiny stand selling burgers and shakes back in 1949. Today, it's still family-owned and has expanded to multiple locations across California.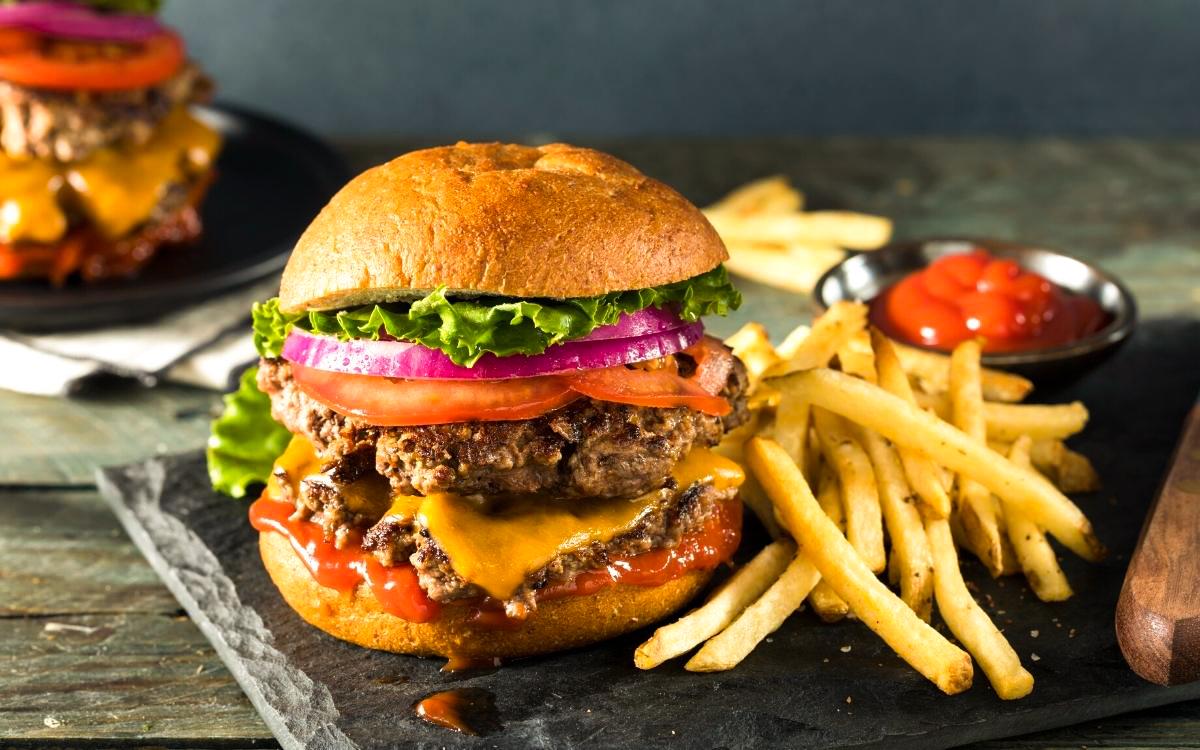 Gott's Roadside is the perfect place to enjoy a casual lunch outdoors. They have a large patio area with plenty of seating and umbrellas to keep you cool in the summer sun. And of course, no visit to Gott's is complete without trying one of their famous shakes! I recommend their chocolate malt shake (~$6) – it's delicious!
After lunch, take a stroll around the charming town of St. Helena. Pop into some of the cute shops or grab a coffee at one of the local cafes.
Visit Castello di Amorosa Winery
After lunch, make your way to the Castello di Amorosa winery (6 miles away from St. Helena) for an afternoon of wine tasting and exploring. This massive castle was built in the 13th century Tuscan style and is one of the only medieval castles in the United States!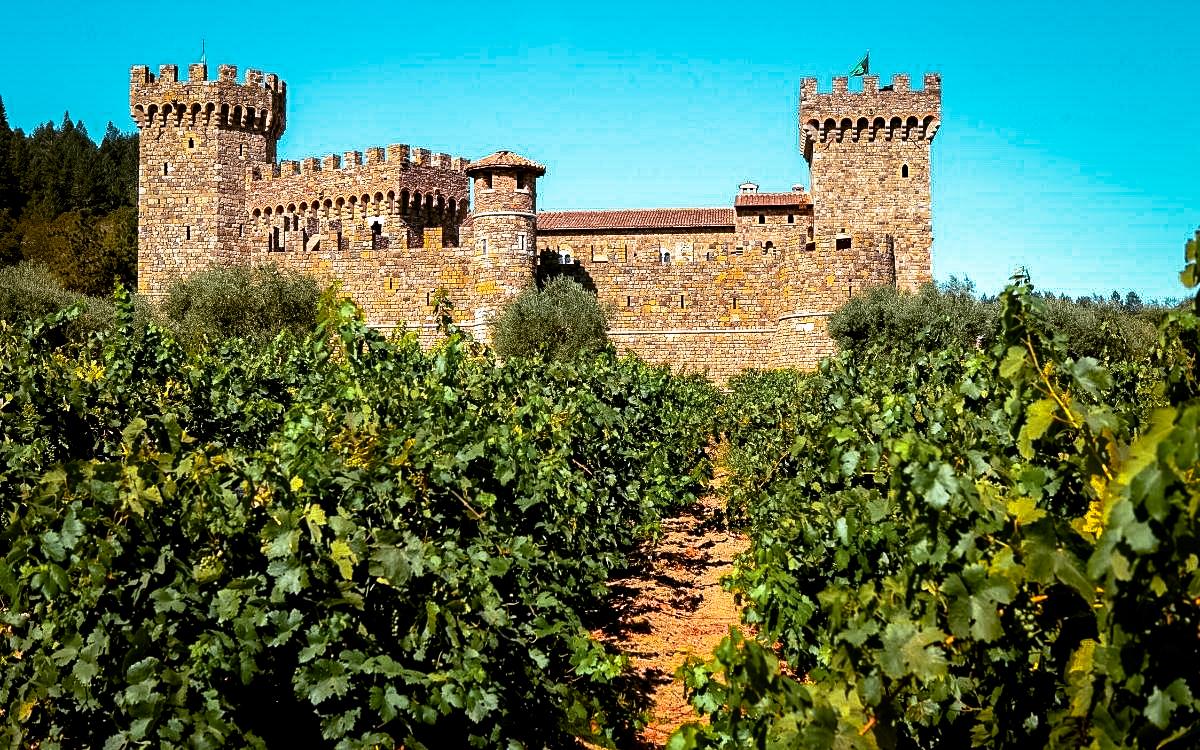 Castello di Amorosa offers a variety of different tastings, from a classic tasting of their most popular wines to a food and wine pairing. I recommend the "Standing Reserve Tasting" ($50 per person), which includes five wines from the large selection of wines.
After your wine tasting, explore the castle grounds and take in the breathtaking views of Napa Valley. Be sure to also visit the chapel, the great hall, and the pen to meet all their animals (it's included in the price of your tasting)!
Explore Yountville
Make your way to Yountville (18 miles away from Castello di Amorosa) and explore this lovely, quaint town in the heart of Napa Valley. Yountville is home to some of the best restaurants in Napa Valley, so if you're looking for a fine dining experience, this is the place to go.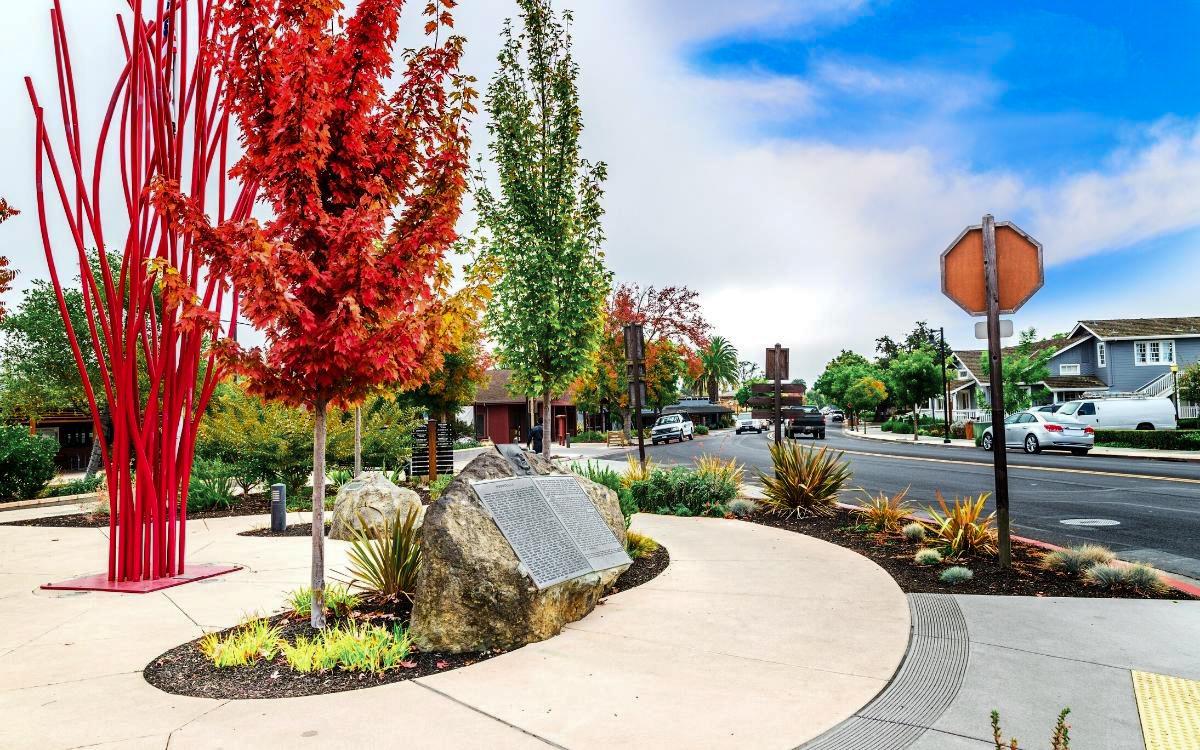 There are also plenty of shops and galleries to explore in Yountville. I recommend checking out the V Marketplace in the center of town. The V Marketplace is a shopping center with a variety of shops, art galleries, upscale home boutique shops, and a wine tasting cellar.
Also, don't skip the Napa Valley Museum. It's the perfect place to learn more about Napa Valley's history and culture.
Dine at Bottega Restaurant
After exploring Yountville, I recommend Bottega for an upscale Italian dining experience. This highly rated restaurant is owned by renowned chef Michael Chiarello and offers a seasonal menu with fresh, local ingredients.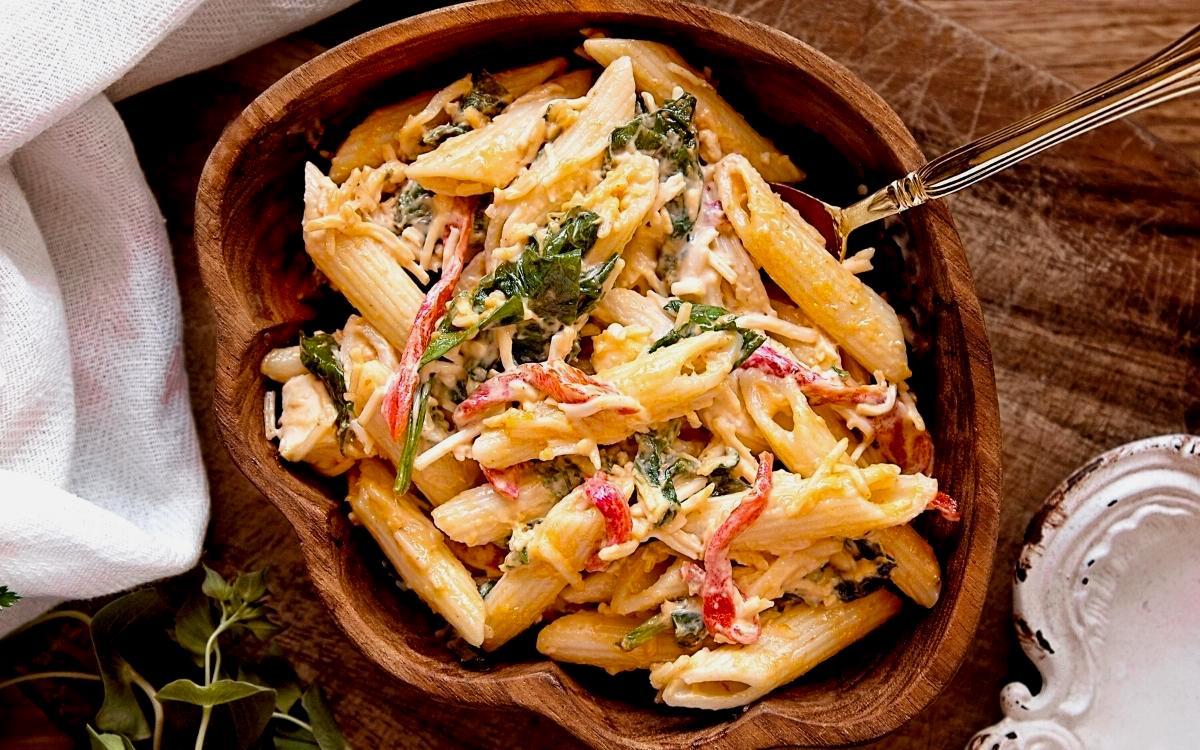 Bottega is the perfect place to enjoy a romantic dinner or a night out with friends. The ambiance is upscale but still comfortable and inviting. And of course, the food is absolutely incredible. You have to try the Spaghetti alla Sophia Loren!
3. Two days in Napa Valley – Day 2
Your second day in Napa Valley will be full of exciting activities. Wake up in the morning, grab something to eat, go for wine tasting and enjoy a ride in the world-famous Napa Valley Wine Train. It's time to create some awesome memories!
Start your day at The Station
Start your second day with a visit to The Station. This cute little gas station is the perfect place to grab a quick cup of coffee and a pastry before starting your day. They have a wide selection of house-made pastries, as well as sandwiches and salads if you're looking for something more substantial.
I recommend their "OG Donut" ($3 per donut) and their "Green eggs, no ham" biscuit sandwich ($8).
Go to the historic Robert Mondavi Winery
After breakfast, make your way to the Robert Mondavi Winery for a morning of wine tasting (6 miles away from The Station). This winery is one of, if not the first and most renowned historic wineries in Napa.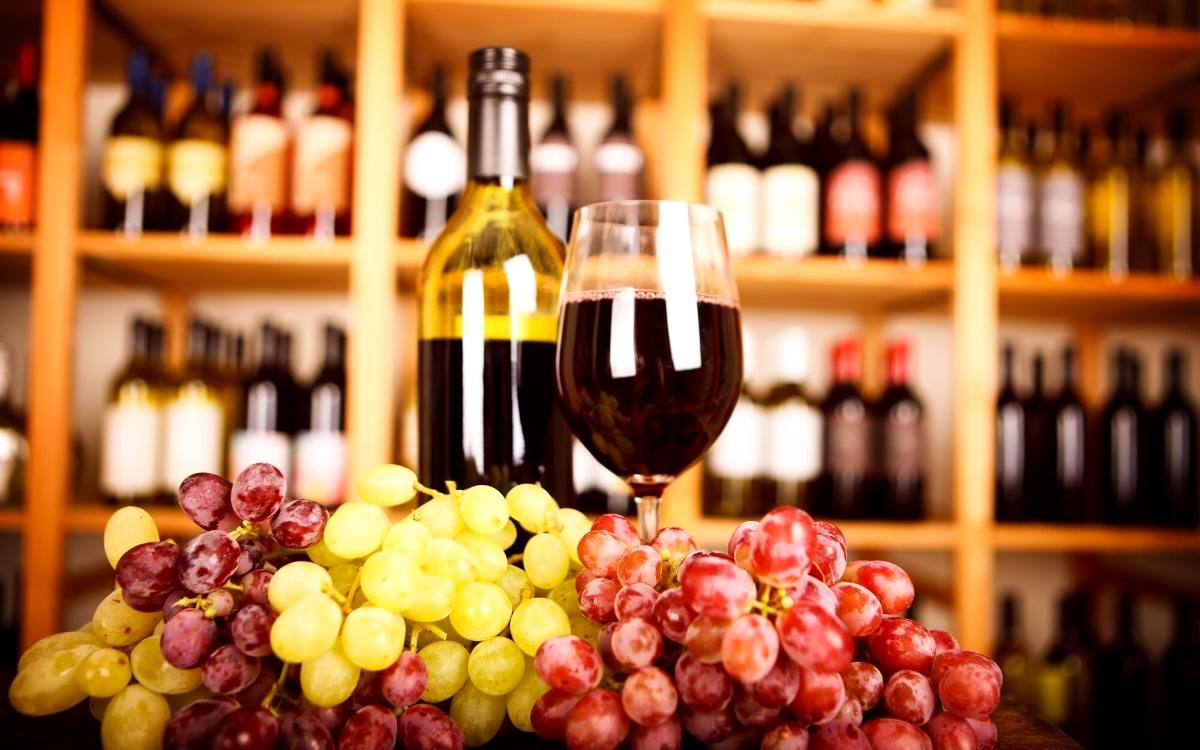 In 1966, Mondavi was established as the region's pioneering winery. They are also known for their lovely California mission-style architecture. This is a must-see for everyone who comes to Napa Valley for the first time.
They offer a variety of different tastings, from a classic flight of their most popular wines to a reserve wine tasting. I recommend the "Estates Collection" tasting ($65 per person).
Hop on Napa Valley Wine Train
After wine tasting, take a ride and have lunch on the Napa Valley Wine Train (13 miles away from Robert Mondavi Winery)! This is a great way to see Napa Valley. The train takes you through some of the most beautiful vineyards in Napa Valley.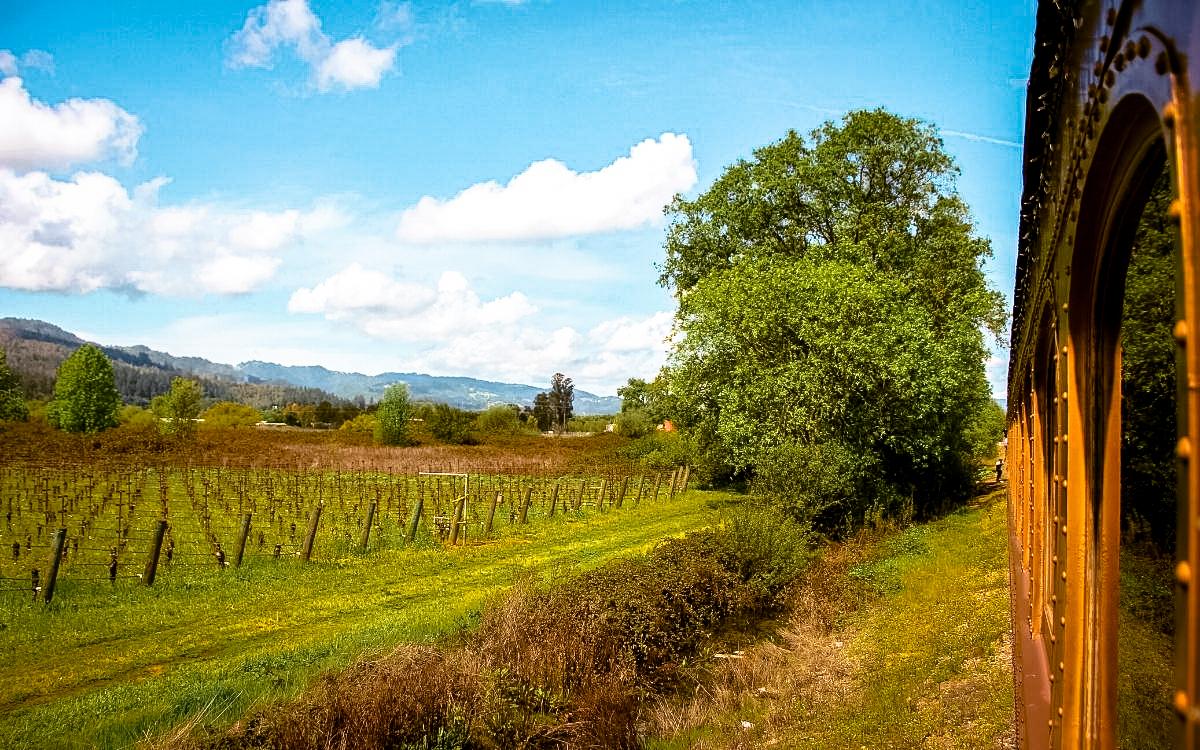 And of course, the food is amazing. They serve a three-hour, multi-course lunch. They also have a variety of other experiences from a murder mystery to an afternoon tea.
The Napa Valley Wine Train is definitely a unique and memorable experience. Although it may be somewhat pricey during busy seasons in Napa.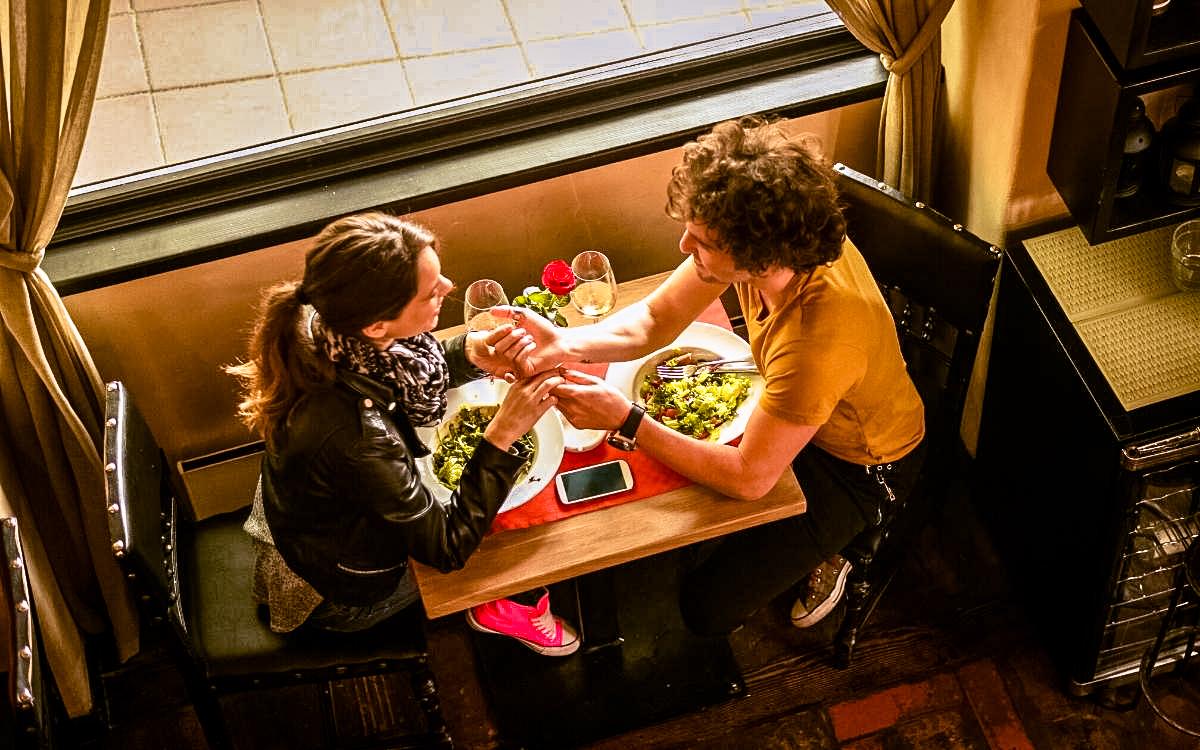 Good to know: The price per person can range from $150 to $300. Make sure to book your tickets in advance! Depending on the tour you choose, it can last from 3 hours to 6 hours or more. Considering you only have 2 days in Napa Valley, I recommend choosing a 3-hour tour.
Taste exquisite wines at Alpha Omega Winery
After lunch on the Napa Valley Wine Train, make your way to the Alpha Omega Winery for an afternoon of wine tasting (15 miles away from Napa Valley Wine Train). Alpha Omega winery is a family-owned winery that produces some of the best wines in Napa Valley.
They are known for their Bordeaux style wines, but they also produce some great Chardonnays and Sauvignon Blancs. This winery is a must-taste for any wine lover!
The Rutherford estate is located just off highway 29, with a wonderful view of their fountain and vineyards. They have a number of different wine tastings, and I recommend any of them. The pricing ranges from $75 to $150 per person.
Dine at Bistro Jeanty in Yountville
After wine tasting, head to Bistro Jeanty for a casual French dining experience (7 miles away from Alpha Omega Winery). This charming bistro is located in the heart of Napa and offers a menu of classic French dishes.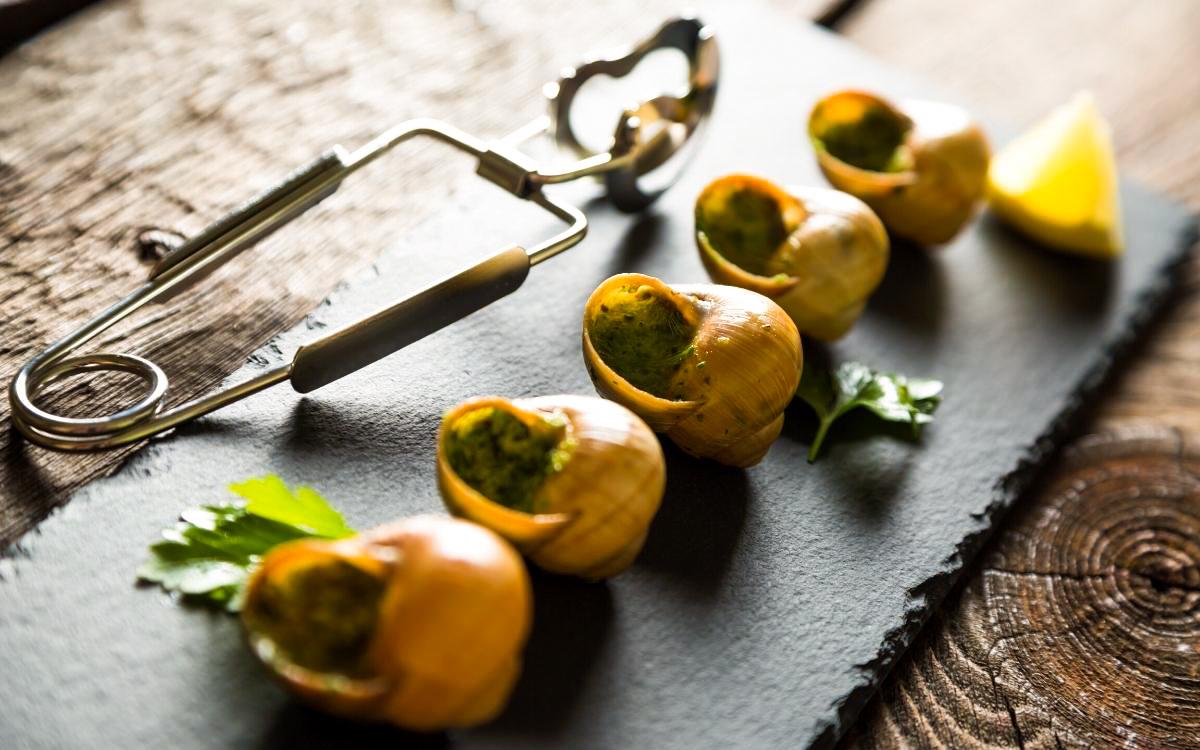 The decor is cute and cozy, with exposed brick walls and dark wood floors. The food is absolutely amazing. I recommend the escargot, the mussels, and the French onion soup.
Bistro Jeanty is the perfect place to enjoy a casual dinner with friends. The price per person is around $30 – $50.
4. Where to stay in Napa Valley
I've been looking for the best hotels in Napa Valley, for every budget. Napa is known for its wide selection of boutique hotels. Here are some of the best:
Budget – Hawthorn Suites – spacious and clean rooms, good location, friendly staff, beautiful indoor pool, breakfast included
Mid-Range – Churchill Manor – beautiful manor, free bikes, free parking, breakfast included, excellent amenities
Luxury – Rancho Caymus Inn – beautiful outdoor swimming pool, free private parking, spacious and luxurious rooms, fabulous breakfast
5. Final thoughts
This is the perfect two-day guide to Napa Valley! You will definitely have an amazing time exploring all that this beautiful region has to offer. Napa Valley is an incredible destination for wine lovers and not only.
If you have any questions, don't hesitate to ask me in the comments section below. May the travel bug bite you!
Pin it for later!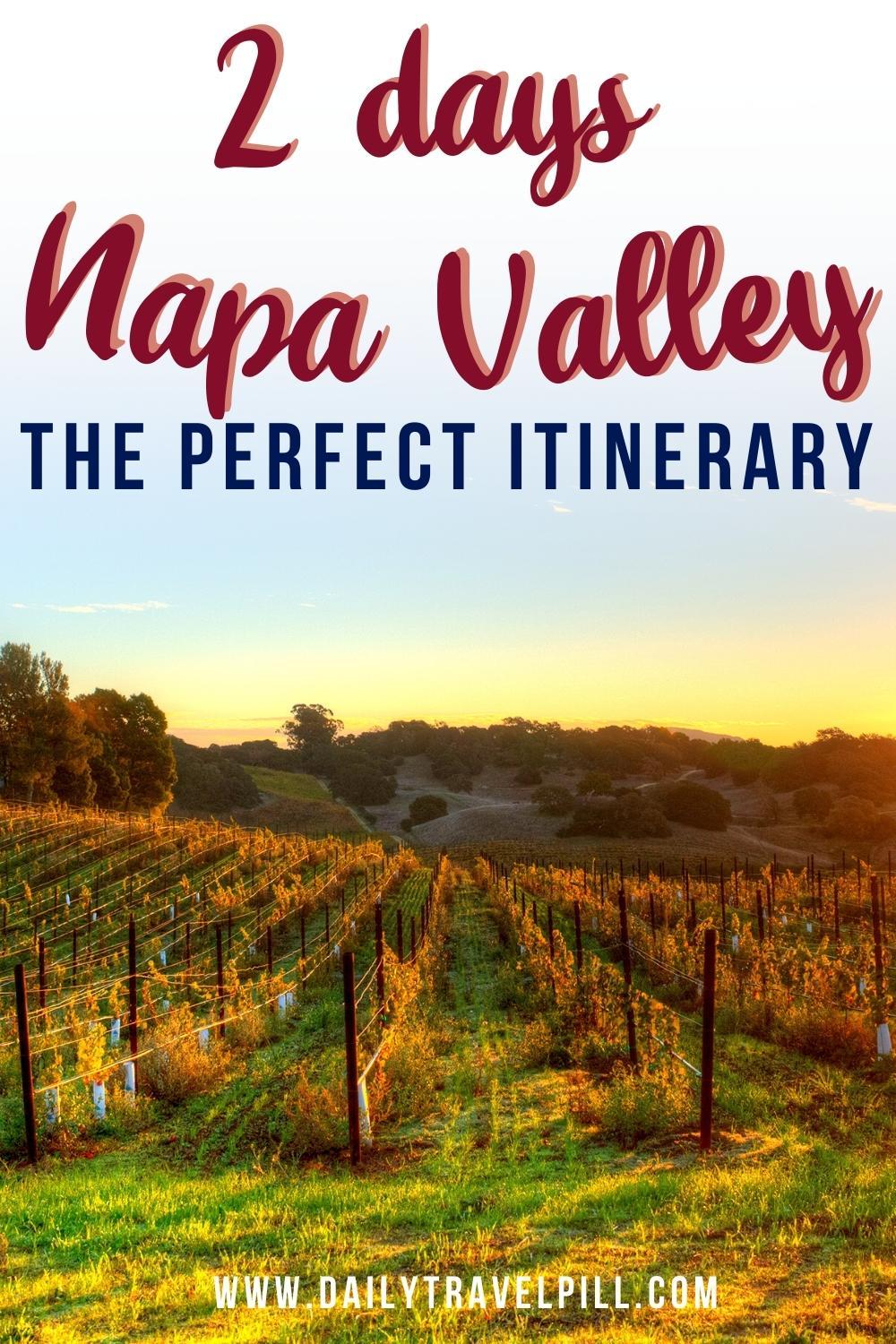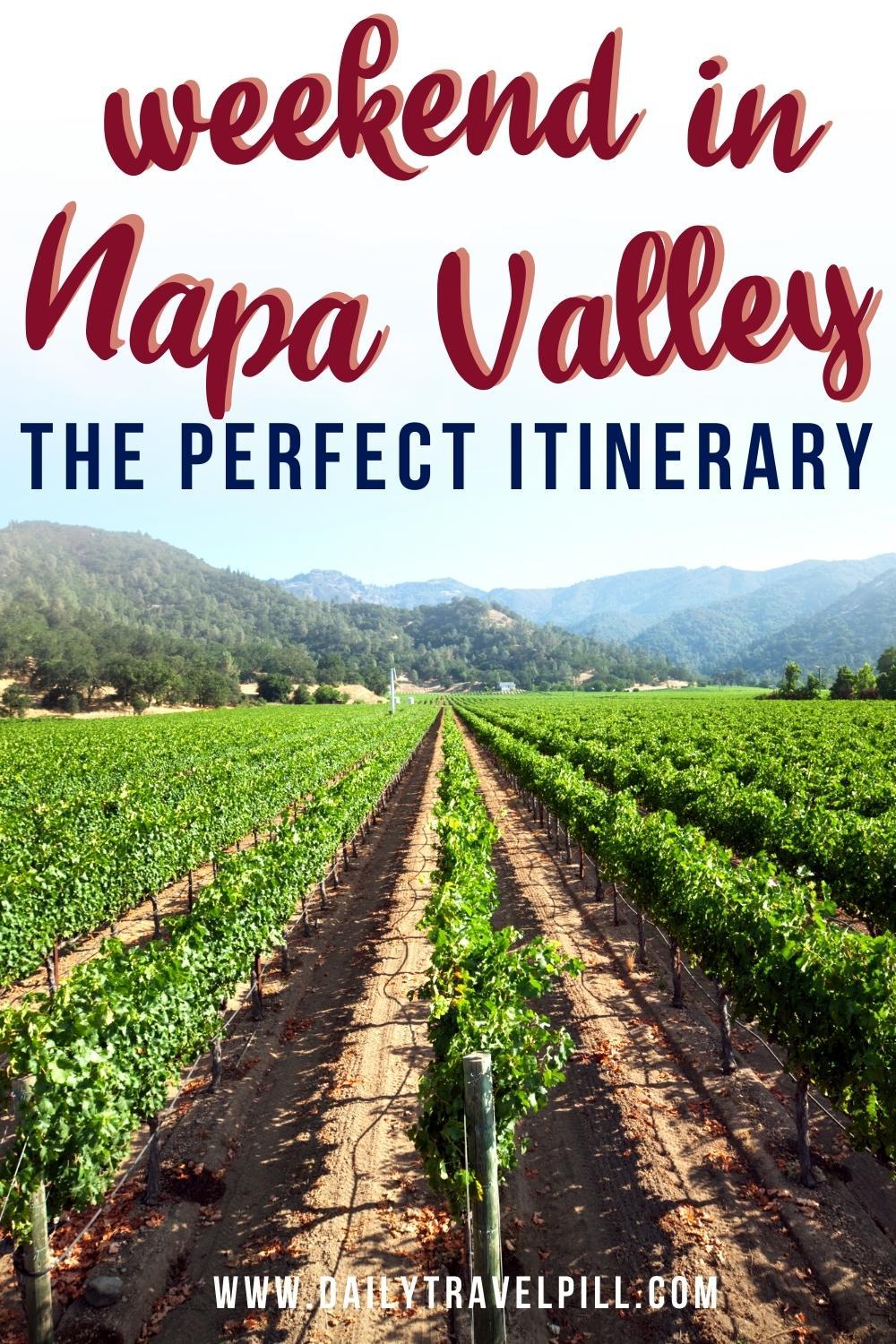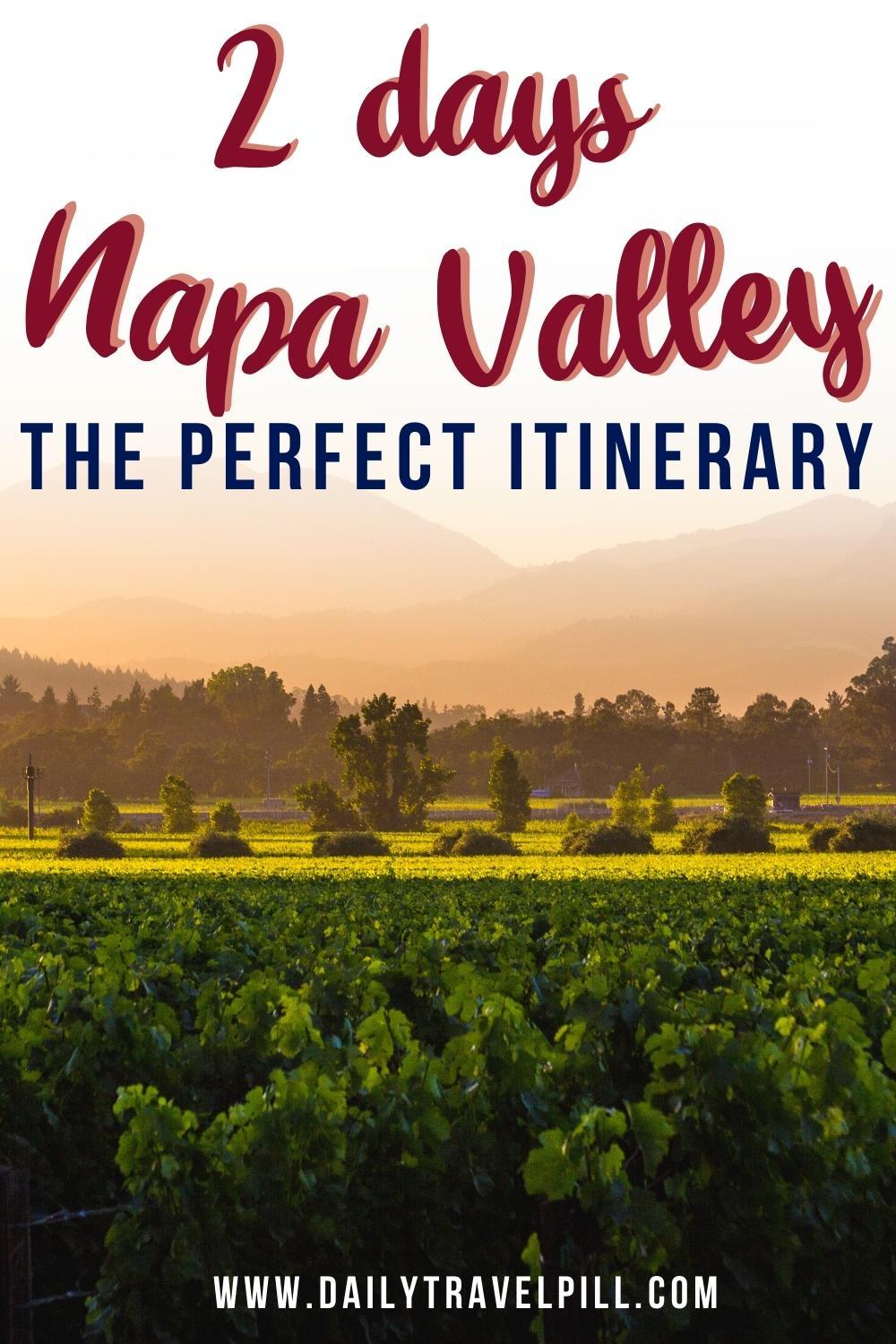 Disclosure: Please note that this post may contain affiliate links. If you make a purchase through these links, I will earn a small commission at no extra cost to you. I only recommend companies and products that I trust and the income goes to keeping this website running. Thanks!