Finding hidden waterfalls in Bali is becoming increasingly difficult. Wherever you go, there are buses filled with tourists eager to take over every little piece of the island. Luckily, there are a few secret waterfalls near Ubud which are still undiscovered. With lush vegetation, and incredible views, below are my favorite 4 hidden waterfalls near Ubud, Bali.
While you're in Ubud, don't forget to visit the world-famous Ubud Swing. With an epic jungle backdrop, in the heart of Ubud, this swing is a once in a lifetime experience! Also, you can't miss the Tegalalang Rice Fields!
1. Tibumana Waterfall
Just 45 minutes away from Ubud, there is this beautiful hidden gem called Tibumana Waterfall. Its perfect, straight stream of water made me fall in love with it instantly. Although you might find a few people at this waterfall, there won't be any crowds.
The best part about Tibumana Waterfall is that swimming is allowed as long as you won't get too close to the water stream. Make sure to bring your swimming suit with you! Also, don't forget your camera as this waterfall is one of the most Instagrammable Bali waterfalls I've seen.
Entrance fee: 10,000 IDR
2. Bangkiang Djaran Waterfall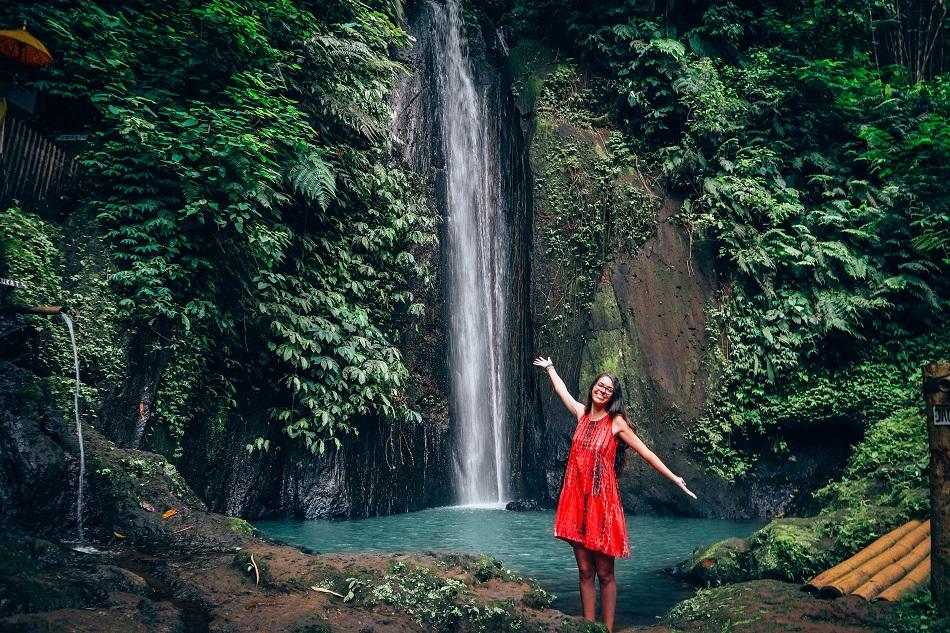 -> The most Instagrammed villas near Ubud
A bit further from Ubud than Tibumana Waterfall, Bangkiang Djaran Waterfall is trully a hidden place. Although the access to this waterfall is easy, it somehow got overlooked by tourists.
When we visited, there were only two other people at this waterfall. Its beauty is simply breathtaking. Although compared to other waterfalls, Bangkiang Djaran is smaller, it has its own charm. This waterfall is definitely one of my favorites in Bali.
If you decide to visit Bangkiang Djaran, don't hesitate to explore the area a bit more. If you continue walking on the path after the waterfall, you will come across another impressive waterfall situated on the other side of the river and a little temple.
Entrance fee: donation of 5,000 IDR
3. Tukad Cepung Waterfall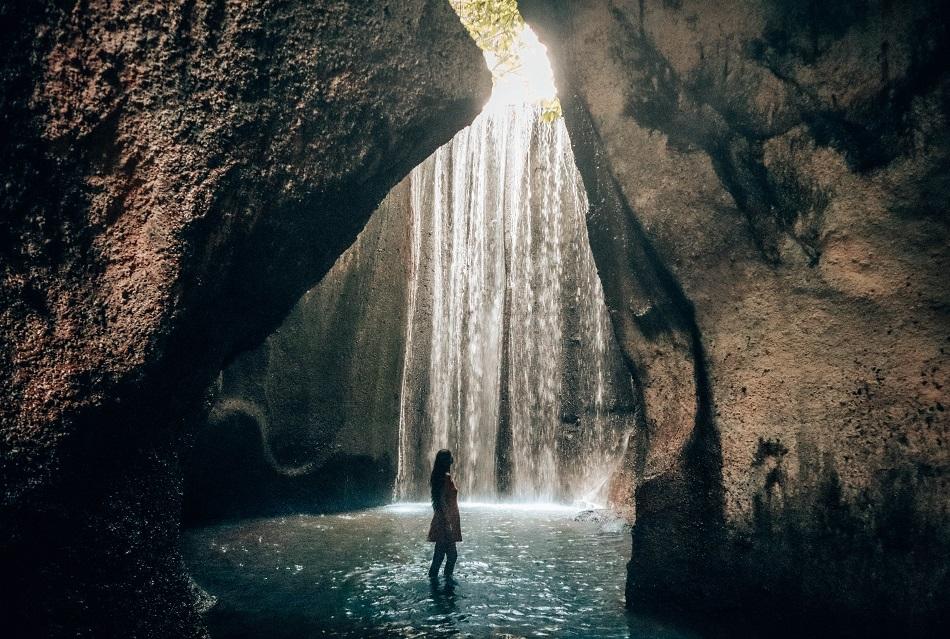 A rising star among Instagrammers is Tukad Cepung Waterfall, one of the most beautiful waterfalls in Asia. It is well known due to the majestic rocks that surround it and the light rays which offer an incredible spectacle.
Although you might find a few people at this waterfall, it is still one of the secret waterfalls near Ubud. Don't forget your slippers home as you will have to walk through the river to reach the waterfall.
Entrance fee: 10,000 IDR
4. Goa Rang Reng Waterfall

Situated right near Tibumana Waterfall, Goa Rang Reng is another hidden waterfall near Ubud. The water stream falling down over the black rocks creates an incredible view and the good news is that swimming is allowed. However, I would recommend being careful as those rocks can be slippery.
If you are an adventure seeker, there is also a rope to help you get to the top of the waterfall. I loved that Goa Rang Reng Waterfall was not crowded at all.
Entrance fee: 15,000 IDR
How to get to waterfalls near Ubud
Take a guided tour
If you want a hustle free experience, I recommend booking a guided tour. There are many tours to choose from but below are the best ones:
Ubud Waterfalls Tour – Tibumana, Tukad Cepung, Tegenungan Waterfall
Bali Instagram Tour – Gates of Heaven, Water Palace, Tukad Cepung Waterfall, Rice Terraces, Jungle Swing
Best of Ubud – Tegenungan Waterfall, Rice Terraces, Monkey Forest, Coffee Plantation
By motorbike
The easiest way to get to all these beautiful waterfalls is to rent a motorbike for a day for about 75,000 IDR. If you like chasing waterfalls, you can visit all these secret waterfalls near Ubud in just one day as long as you wake up early. I would suggest the following order: Goa Rang Reng, Tibumana, Bangkiang Djaran and Tukad Cepung.
I only recommend renting a motorbike if you're really comfortable driving one. The traffic in Bali is pretty crazy, especially during high season.
Where to stay in Ubud
I've spent one month in Ubud and I've been looking for the best hotels in the area. Below are my recommendations.
Budget – Pondok Massas – beautiful pool, good location, friendly staff, good breakfast
Mid-budget – Ulun Resort – view towards the rice fields, beautiful view, good location, excellent breakfast
Luxury – Alena Resort – incredible pool, excellent service & breakfast, comfortable rooms
I hope that you liked my guide to the most beautiful hidden waterfalls near Ubud. Each and every one of them is unique. My favorite one was Tibumana Waterfall. Have you been to any of them? Let me know in the comments.
May the travel bug bite you!
More about Bali:
Pin it for later!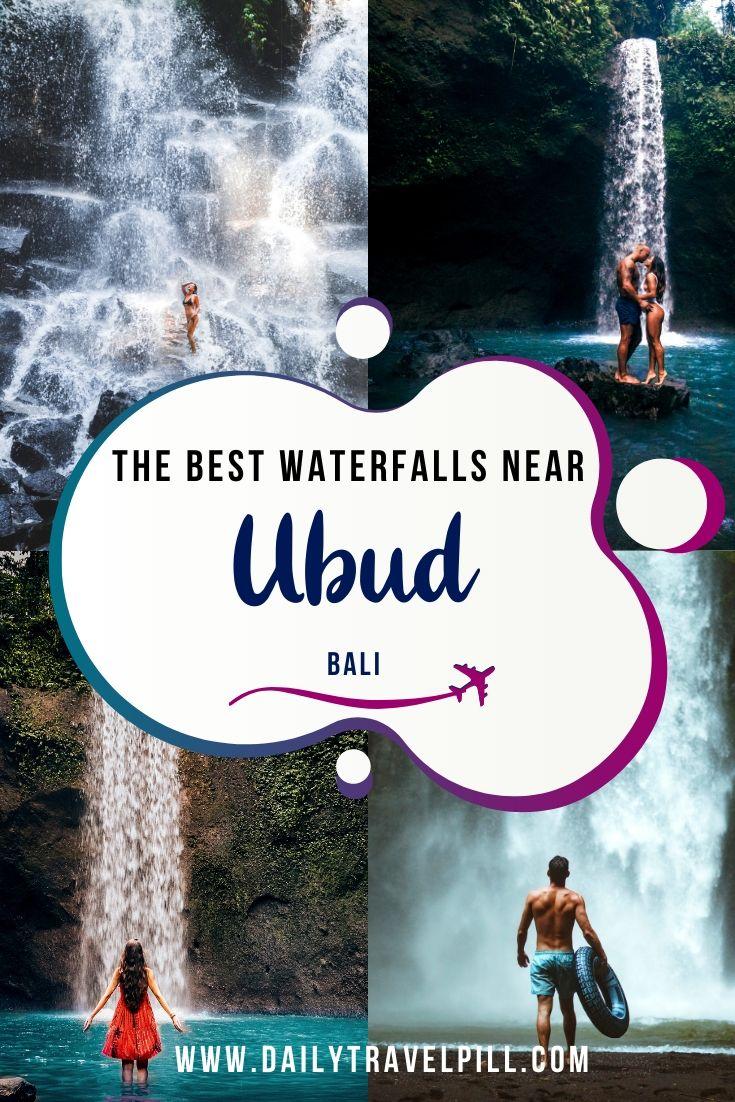 Disclosure: Please note that this post may contain affiliate links. If you make a purchase through these links, I will earn a small commission at no extra cost to you. I only recommend companies and products that I trust and the income goes to keeping this website running. Thanks!