I've spent 8 months in Bali and the Monkey Forest in Ubud is one of the highlights of my trip to this awesome island. Ever since we decided to move to Ubud for one month, visiting the Monkey Forest became my priority.
It was a unique experience. It was fascinating yet scary but definitely worth it. Just a quick search on Google and you will find a plethora of stories about people getting bitten by monkeys or being robbed by them.
However, nothing bad will happen as long as you follow the rules. I'm here to share with you everything you need to know when visiting the Ubud Sacred Monkey Forest.
When in Ubud, don't forget to also visit the amazing Tibumana Waterfall and Tukad Cepung Waterfall. Also, another popular tourist attraction in Bali that you can't miss is Pura Lempuyang Temple also known as Bali's Heaven Gate.
1. Interesting facts about Bali Monkey Forest
With around 10,000 monthly visitors, the Monkey Forest is definitely one of Ubud's hot spots. Having an area of 12.5 hectares, the forest is a popular attraction for people who want to get closer to nature.
The monkeys here must live a very happy life since they are free to wander wherever they want. There are no fences or restrictions for them. The Ubud Monkey Park is a free area and the monkeys live there by their choice.
-> The most Instagrammed villas near Ubud
Tri Hita Karana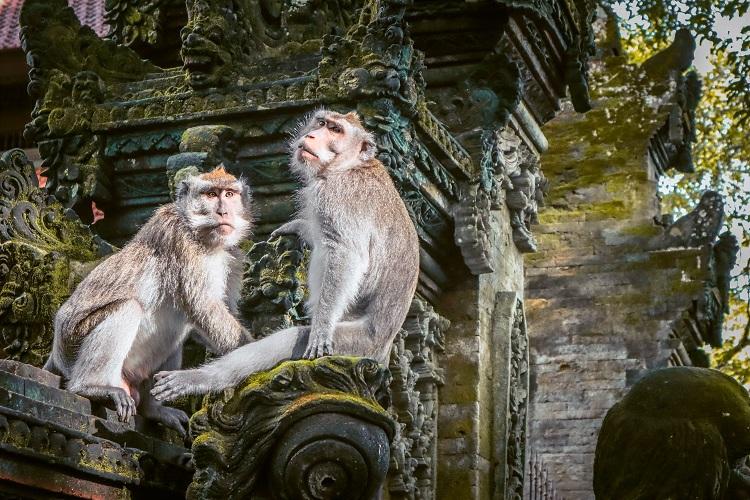 The Monkey Forest in Ubud is not just a tourist attraction, it is also considered an important spiritual place for the local community.
The forest is built according to the Balinese traditional philosophy called Tri Hita Karana. This means that there are three ways to reach spiritual and physical well-being: harmony between people, harmony between people and nature and harmony between people and God.
Other awesome things to do in Ubud:
Getting to know the monkeys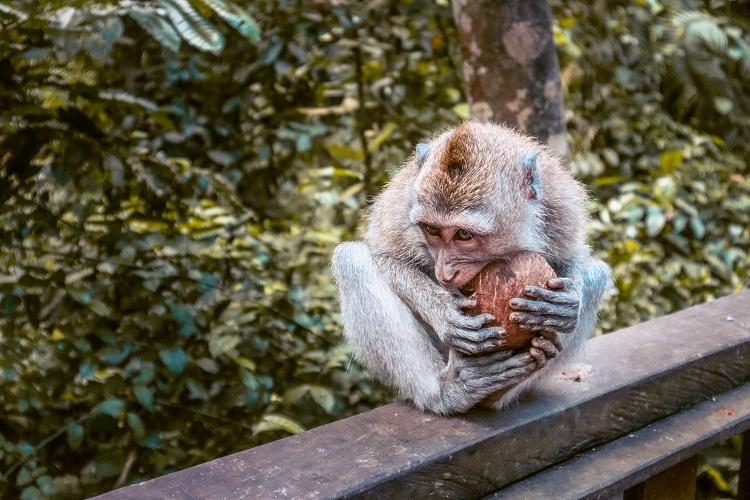 The Sacred Monkey Forest Sanctuary in Ubud is home to over 600 Balinese long-tailed monkeys, scientifically called Macaca fascicularis. They are divided into 5 different groups, each with its own territory. Monkeys are territorial animals and they don't usually mingle with each other. However, when they do, they'll most probably end up fighting.
Their diet consists of mainly sweet potatoes, combined with banana, coconut, cucumber or papaya.
2. Monkey Forest Ubud map
Getting around the Monkey Forest is quite easy. There are maps around the park and caretakers who can offer you more details about orientation. Don't forget to also ask for a map from the ticket office.
The Monkey Forest Ubud has an animal clinic, an open stage, an exhibition room, a first aid center, and toilet facilities.
3. Entrance fee and opening hours
The entrance fee for an adult is 80,000 IDR or about $6. If you are visiting the Monkey Forest Ubud with kids, the cost for them is 60,000 IDR (they kids must be between 3 and 12 years old). I find the price affordable and definitely worth it.
The Sacred Monkey Forest is opened daily between 8.30 AM and 6.00 PM but you can buy tickets only until 5.30 PM.
Other awesome things to do in Ubud:
4. Safety rules for visiting Monkey Forest Sanctuary
There are a few guidelines you should remember and by all means abide if you want to have a good experience at this monkey forest in Bali. Most people who are telling stories about how they got bitten by monkeys failed to follow these simple rules.
-> Read more interesting travel guides about Bali
The first thing you must do after buying your tickets is to read the guidelines listed right at the Monkey Forest entrance. Don't underestimate their importance. Take your time and read them carefully. I will also list them below:
Don't hide food from the monkeys

Monkeys are very smart and they have a strong sense of smell. Trying to hide food from them is pointless. They will find it and take it even if this implies opening your backpack.

Tip: Don't bring any food at all. You will see people trying to sell you bananas. Even if it sounds tempting, remember that food can transform a cute fluffy monkey into the devil itself. They love bananas and you are not going to break this love under any circumstances. Be sure to check all your pockets of any kind of food before entering the forest.

Don't panic

If the monkeys get close to you or jump on you, drop any food you have (and remember rule number 1 and cry) and walk away slowly.

Don't run

This is a big no-no. Even if you'll try to run, they'll run right after you and it will only get things worse.

Don't scream

At all times, keep calm and don't scream. Screaming frightens them and makes them more aggressive.

Don't bring plastic or paper bags

Does it look like something the monkey would want to play with? Then don't bring it with you. Let's keep the Monkey Forest litter free.

Take care of your belongings

If you like your sunglasses, jewelry or accessories, then don't keep them in plain sight. Monkeys might like them too and we already know who's going to win this fight.

Tip: keep all your stuff well hidden in your backpack. Remember that monkeys will open your backpack if they have the chance. It happened to us. It took the monkey less than 3 seconds to open it. My recommendation would be to leave your backpack at home and only bring your camera and phone. If this is not possible, then put your plastic bottles, rings, bracelets or coins inside the backpack. Once a monkey has your stuff, say goodbye to it.

Don't touch, grab or disturb the monkeys

Monkeys have unpredictable reactions and you wouldn't want to trigger them. Therefore, don't touch them and be extra cautious around baby monkeys. Their mothers are very defensive about their babies.

Tip: when photographing the monkeys, keep a decent distance from them. Use your zoom to take close-ups and don't use the flash.

Don't feed the monkeys peanuts, cookies, bread, snacks or drinks

The monkey's diet is very important and so it is maintaining their health.
We were very careful during our visit and fortunately, nothing bad happened. Although two monkeys climbed on Dan's back, they jumped off him soon after because he had no food with him.
I've seen many people trying to get the monkeys to climb on them for the sake of a selfie. Don't do that. Even if they look cute, monkeys are still animals and they can change their behavior in a matter of seconds. There's a reason why they have a first aid center inside the forest, if you know what I mean.
Although I have no idea if this information is correct or not, I've read somewhere that on average three people get bitten by monkeys per day inside the Ubud forest.
5. I got bitten by a monkey. What should I do?
Nope, panicking is not an option. If you start to panic you might trigger other monkeys too. The best thing to do in case of a monkey bite at Monkey Forest Ubud is to inform one of the caretakers. He will most probably take you to the first aid center where they will clean the wound and put a band aid on it.
Do the monkeys have rabies?
According to the official website, there have been no cases of rabies inside the Monkey Forest Ubud. However, rabies is spread around Bali and giving the fact that the monkeys are free to wander wherever they want, I would definitely get the rabies shots. However, this decision is up to you and you should definitely talk to a doctor.
Other awesome things to do in Ubud:
6. Is it safe to visit the Ubud Monkey Forest?
Being so close to such beautiful animals is a privilege and maybe a once in a lifetime experience for some of us. I wouldn't necessarily say that visiting the Monkey Forest in Ubud is safe but I would rather say that it is worth the risk.
-> Read more interesting travel guides about Bali
As long as you keep in mind the rules listed above, you will most probably be fine and out of danger. Don't forget that monkeys are wild and unpredictable animals. Keeping distance from them and avoiding contact of any kind are two of the most important rules.
Is Monkey Forest Ubud safe to visit with kids?
Visiting the Sacred Monkey Forest Sanctuary with children is a whole different story. It is harder for children to understand that monkeys can be dangerous since they look so fluffy and cuddly.
Keeping an eye both on the monkeys nearby and your child or children can be difficult. Moreover, children can be unpredictable too and they might put themselves in danger especially if they are not old enough to understand and abide all the rules.
Although I don't have children, I would definitely think twice before bringing them with me inside the Monkey Forest.
7. How to get to Ubud Monkey Forest?

The Monkey Forest is located in Ubud, Bali. Below are a few transport alternatives
1. By organized tour
The hustle free option is going with an organized tour. These tours usually include other tourist attractions too. Below are some alternatives:
2. By motorbike
Renting a motorbike in Bali is easy and straight forward. All you need to do is ask at your accommodation and they will most probably have motorbikes for rent. The price for one day is usually between 50,000 IDR and 75,000 IDR. If you are renting the motorbike for one week or one month, the price should be lower. Don't forget to negotiate!
3. By taxi
There are plenty of taxis in Bali. You can use the Grab app or Go-Jek app to order a taxi. Alternatively, you can get to one of the main streets in your area and you will definitely find one. The price per one kilometer is somewhere between 6,500 IDR and 10,000 IDR.
8. Where to stay in Ubud
I've been searching for the best accommodation in Ubud for every budget. Here are my recommendations.
I am sure you will have a great experience at the Monkey Forest Ubud. Don't let the internet stories scare you. Instead, be more cautious and follow the rules. If you have any questions, don't hesitate to ask me in the comments section below.
-> Read more interesting travel guides about Bali
May the travel bug bite you!
Pin it for later!
Disclosure: Please note that this post may contain affiliate links. If you make a purchase through these links, I will earn a small commission at no extra cost to you. I only recommend companies and products that I trust and the income goes to keeping this website running. Thanks!