With so many beautiful waterfalls to choose from in Bali, it is hard to decide which one to visit. We visited Tukad Cepung Waterfall after seeing Tibumana Waterfall and it didn't disappoint us.
Well hidden between rocks, Tukad Cepung is a rising star among Bali waterfalls. Tourists flock here to take that perfect Instagram shot. The waterfall can be seen between the rock formations and if you are lucky enough, the sun rays will create an amazing show just for you.
Looking for hidden waterfalls in Bali? Check out my full guide here.
Read more below to find out everything you need to know before visiting Tukad Cepung Waterfall Bali.

How to get to Tukad Cepung Waterfall Bali
The road from Ubud to Tukad Cepung Waterfall shouldn't take more than 50 minutes by car or motorbike. Gaining popularity, this waterfall is becoming one of the most visited waterfalls near Ubud so make sure to visit it as early as possible.

Tukad Cepung is also accessible from Canggu or Denpasar but the road will take about 1 hour 45 minutes. However, if you decide to visit it, you can easily add a few other nearby waterfalls to your itinerary such as Tibumana Waterfall or the less known Bangkiang Djaran Waterfall.
The road is good and if you are following Google Maps, it will lead you straight to the car parking which is free. You will notice that near the car parking there is a small shop where you can buy noodles (25,000 IDR) or refreshments (10,000 IDR for a small Coca Cola). You can also find another shop on the way to the waterfall.
Transport to Tukad Cepung Waterfall Bali

As public transport is not well developed in Bali, there are only two options to get to Tukad Cepung Waterfall: either by motorbike or by car. Read more details about each alternative below.
1. Rent a motorbike
Renting a motorbike in Bali is very easy. The only thing you need to do is ask at your accommodation and they'll most probably have motorbikes for rent. If they don't, ask at hotels or guesthouses nearby. To rent a motorbike for one day should cost around 50,000 IDR.
2. Book a guided tour
If you're looking for a hustle-free experience, I recommend booking a guided tour. The advantage is that you'll get the chance to see some other hot tourist attractions in Bali in the same day. Here are some of the most popular tours in Bali that include a stop at Tukad Cepung Waterfall:
3. Rent a car with a driver
If motorbikes are not your thing, my advice would be to rent a car with a driver for an entire day. You can agree on the itinerary beforehand and you can customize it according to your preferences.
Renting a car with a driver in Bali for one day will cost you around 45$. For prices, click here. If you're renting a driver, make sure to add Pura Lempuyang Temple, also known as Bali's Heaven Gate, to your itinerary!
Tukad Cepung Waterfall Bali entrance fee
The entrance fee to Tukad Cepung is only 10,000 IDR per person. The parking is free.
-> The most Instagrammed villas near Ubud
About Tukad Cepung Waterfall Bali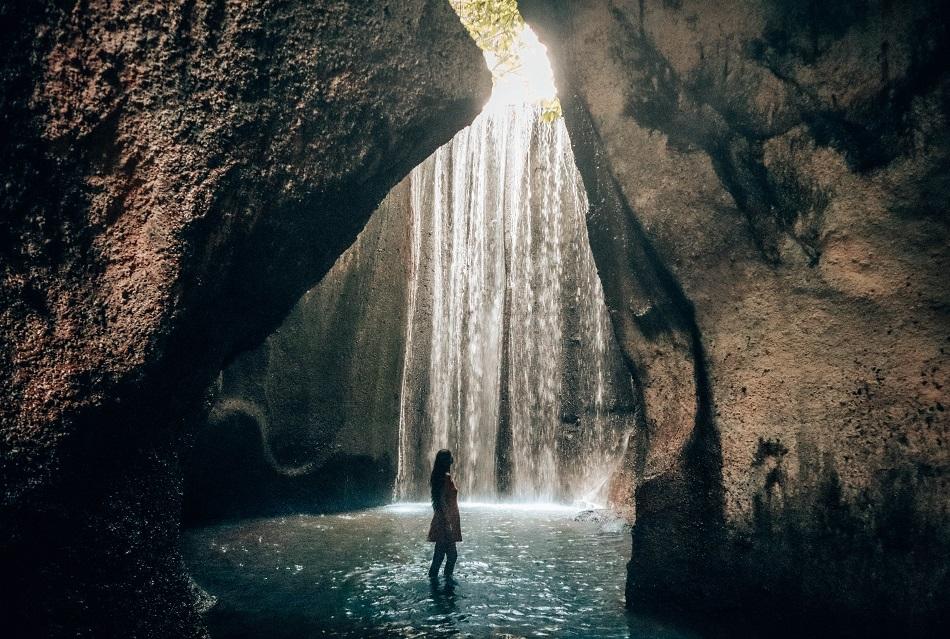 There are many waterfalls in Bali but I believe that Tukad Cepung is one of the most beautiful and unique ones. It is definitely worth visiting.
After parking your car or motorbike and paying the entrance fee, you'll have to walk for about 15 minutes. Once you descended all the stairs, you'll have to turn left to reach the waterfall. My advice would be to bring some slippers with you since you will have to walk through water at certain points.
We also ventured into the unknown and explored the right side of the stream. I recommend you do the same. You will discover some lush vegetation and other smaller waterfalls.
On your way towards Tukad Cepung Waterfall, the first thing you will notice is a big round rock which you can climb to take an awesome shot. On the right side of this rock is a small temple. You'll have to pass by the big rock and climb some metal stairs until reaching the waterfall.
As this waterfall is becoming increasingly popular, there will be plenty of people waiting to take the perfect shot. However, I loved that everyone was standing in line, waiting to take a photo. This way, everyone gets to have an amazing shot from Tukad Cepung Waterfall.
If you are lucky enough, you can even catch the beautiful sun rays shining at the top of the waterfall. Just make sure to visit it in the morning and bring your camera with you!
Chasing waterfalls in Bali is definitely my favorite sport and Tukad Cepung is one of my favorite spots so far on this beautiful island. For more Bali travel inspiration, read the articles listed below.
-> The most Instagrammed villas near Ubud
Where to stay in Ubud
After spending one month in Ubud, here are my favorite accommodations, for every budget:
Budget – Pondok Massas – beautiful pool, good location, friendly staff, good breakfast
Mid-budget – Ulun Resort – view towards the rice fields, beautiful view, good location, excellent breakfast
Luxury – Alena Resort – incredible pool, excellent service & breakfast, comfortable rooms
I'm sure that you'll have a great time at this waterfall. It's a spectacular place and one of the most fascinating tourist attractions in Bali. Make sure to also add Tibumana Waterfall to your itinerary! If you have any questions, don't hesitate to ask me in the comments section below!
May the travel bug bite you!
More about Bali:
Pin it for later!
Disclosure: Please note that this post may contain affiliate links. If you make a purchase through these links, I will earn a small commission at no extra cost to you. I only recommend companies and products that I trust and the income goes to keeping this website running. Thanks!