Have you ever heard the phrase "fairy tales are real"? Well, they sure are in Bled. This incredible hidden gem, situated in the heart of Slovenian mountains will definitely put a spell on you.
If you're thinking about spending one day in Bled, then you're in the right place. Even though I would totally recommend spending 2 or 3 days in this beautiful city, 1 day is enough to see the most beautiful areas around Lake Bled.
But first, if you're not sure yet if Lake Bled is worth visiting, read below.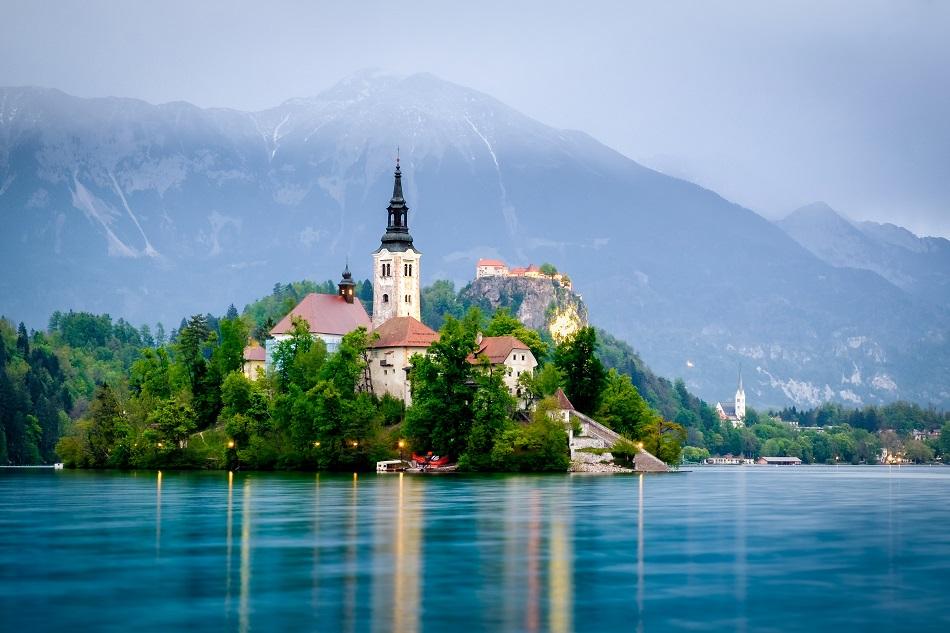 1. Is Lake Bled worth visiting?
Yes, yes, yes and YES! But why?
Unlike other touristy destinations around Europe, Lake Bled is still in its infancy when it comes to tourism. You can visit Bled all around the year, without bumping into hundreds of tourists per square meter. Even though it's incredibly beautiful, Lake Bled is still underrated which is great if you're looking for a quiet destination, away from the chaos.
No time to read now? Pin it for later!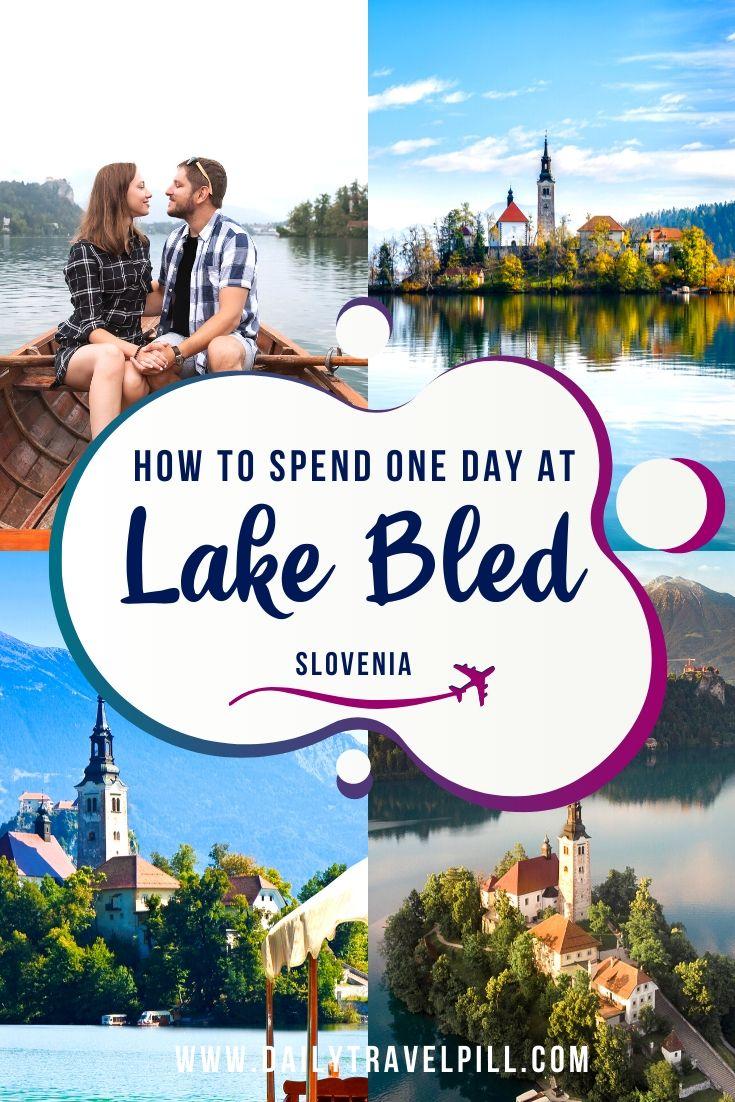 Another reason to visit Lake Bled even if it's just for one day is its incredibly blue-turquoise water. The entire lake and the nearby Vintgar Gorge are famous for their clear water. Also, Bled is well known for its thermal water.
With incredible healing properties (reduces muscle tension, improves blood circulation, beneficial for skin disorders and much more), the thermal water at Lake Bled can work wonders for your health. I definitely recommend trying the thermal springs from Grand Hotel Toplice.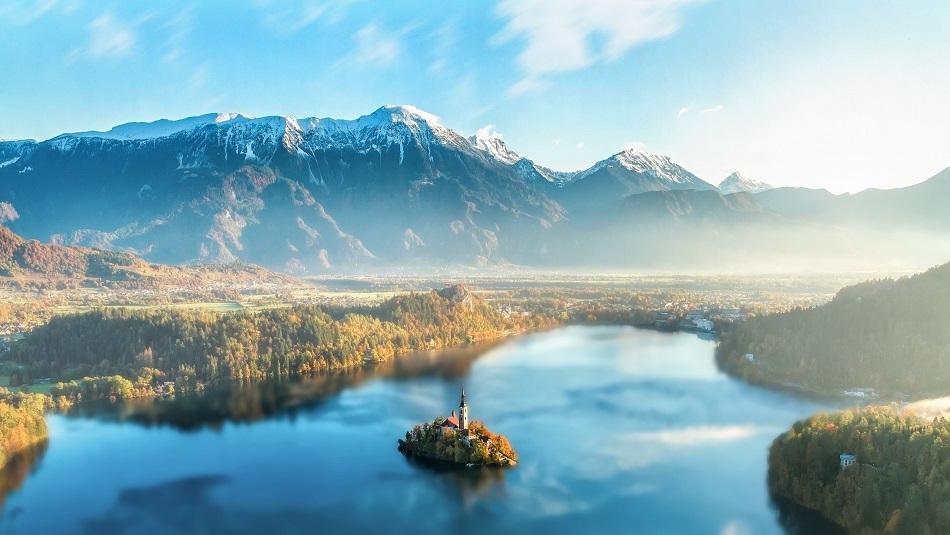 The most important reason why you should visit Lake Bled is that here you'll find some incredible views. The lake itself is beautiful and the magical Blejski Otok Island adds to the charm. Moreover, Lake Bled is surrounded by tall mountains and it even has one castle where you can climb and admire the views. I'll talk more about these in the section below.
So, if you're wondering if Lake Bled is worth it, I'd say it totally is.
2. One day trip to Lake Bled itinerary
If you are planning to visit Lake Bled in one day, you are in the right place. I know that one day might seem too little to see all that Lake Bled has to offer but you can definitely see and enjoy the most important and beautiful tourist attractions in the area. Let's see which are the places you have to visit at Lake Bled in one day.
Tip: I would recommend arriving in Bled at around 8 am.
Vintgar Gorge
Duration (getting there + visiting): 3 h
Visiting Lake Bled and Vintgar Gorge in one day is totally doable. Also called Bled Gorge, this place is famous for the amazing nature surrounding it. The Radovna River is carving through the massive stone walls and you can follow the river course while walking on wooden suspended bridges.
Vintgar Gorge is a great place to explore more of Bled's natural wonders. The walk is very relaxing and at every step you will be amazed by the turquoise-green water. The whole scenery just looks like it was cropped out of a fairy tale. If you are planning to visit Lake Bled in a day, this is definitely a must see.
To check out more details about Vintgar Gorge, read this article. To get to this beautiful place, you can take the bus from the main bus station in Bled. You can read more about transportation to Vintgar Gorge here. Plan somewhere around 2-3 hours to visit this natural wonder.
Tip: I would definitely recommend wearing some sport shoes. Even though the walk is not hard, it can get slippery from time to time. Good shoes are a must.
Vintgar Gorge entrance fee: 4 euros
Take a boat ride on the lake and visit Blejski Otok
Duration (getting there + visiting): 3 h
You just can't visit Bled without taking a boat ride on the lake. After all, Bled is most famous for the beautiful, tiny island right in the middle of the lake – Blejski Otok. An interesting fact is that Blejski Otok is the only natural formed island in Slovenia.
All boats/ gondolas at Lake Bled go to the island and back. Once you choose a gondola for your ride, make sure to ask your guide how much time you have on the island.
The Lake Bled gondolas have a unique design that I've never seen anywhere else around the world. They have two long benches on the sides, the gondola is covered with canvas and there is only one rower.
Taking a boat ride on the lake is one of the things you have to add to your itinerary when planning a Lake Bled day trip. It was hands-down my favorite activity.
Lake Bled gondola price: 12 euros
Eat a traditional Lake Bled cream cake
Duration (getting there + visiting): 1 h
You can't even say you've been to Bled if you haven't tried the local Lake Bled cream cake called Kremsnita. The recipe dates back to 1953 and it was first served at Hotel Park.
Kremsnita has several layers of pastry, custard, whipped cream and icing sugar – it's simply delicious. You can enjoy one of the best Kremsnita in Bled at Bled Castle restaurant. I totally recommend this place since it also has one of the best lake views.
Fun fact, we also have this cake in Romania and it's called Kremsnit. I guess it's so tasty that other countries borrowed the recipe.
Bled Castle
Duration (getting there + visiting): 2 h
The last stop in your one day trip to Lake Bled should be the Bled Castle. The reason why I'm saying this is because the castle is one of the best sunset points in Bled.
Bled Castle is the oldest castle in Slovenia and to get to is quite a challenge. You will have to climb on a steep hill but you will be rewarded with one of the best views in the area.
Tip: If you want, you can have dinner at the castle. However, keep in mind that the food is quite pricey.
Bled Caste entrance fee: 11 euros
3. Final thoughts
Lake Bled is one of the most beautiful places in Europe. The nature, the food, and the people here are incredible! I'm sure you'll have a blast!
I hope that you've found useful this one day trip to Lake Bled itinerary. If you have more time to spare, I would definitely recommend spending at least 2 days in the area. However, if you only have one day and follow my itinerary, you won't miss any hot spot.
If you have any questions, don't hesitate to ask me in the comments section below!
May the travel bug bite you!

Disclosure: Please note that this post may contain affiliate links. If you make a purchase through these links, I will earn a small commission at no extra cost to you. I only recommend companies and products that I trust and the income goes to keeping this website running. Thanks!