One of the must-see places in Jordan is Petra, also known as the rose-red city. The beauty of Petra is simply breathtaking and even though the Treasury is the most famous site, there are many other incredible tombs worth exploring.
Alongside Machu Picchu, the Taj Mahal and the Great Wall of China, Petra is one of the seven modern wonders of the world. You need at least a few days to fully enjoy the beauty of this place, but most tourists only have one day to visit Petra.
If this is the case and you're looking for the best Petra viewpoint, I'm here to help you. When I decided to visit this incredible city, I was a bit confused. I didn't find much information online about getting to one of the viewpoints.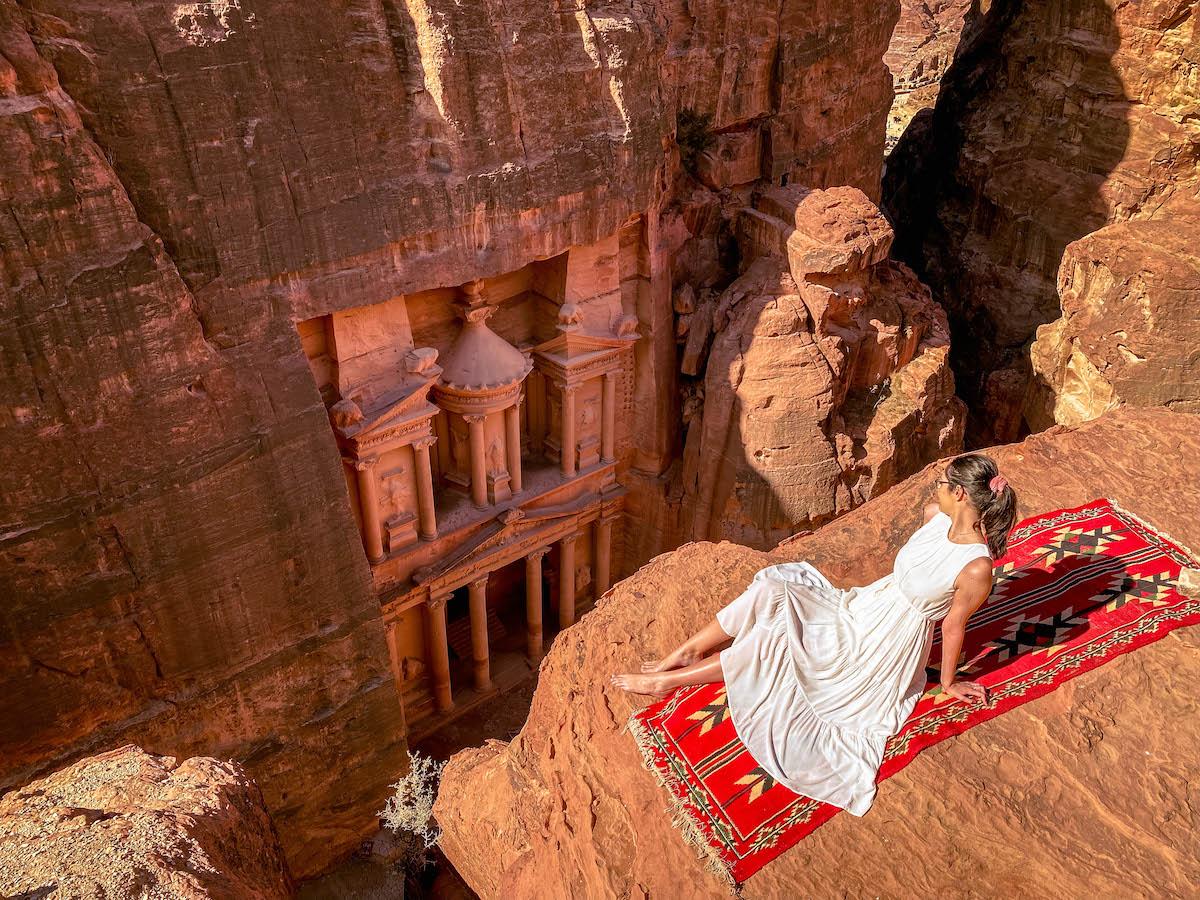 In this post, I'll share everything you need to know about the best Treasury viewpoint including how to get there, how to find a guide and how much it costs.
1. Where is the best Treasury viewpoint in Petra?
Once you enter Petra, you'll need to walk about 20 minutes to reach the Treasury. Along the road known as Siq Trail you'll find other incredible tombs, but everything fades in front of Treasury's beauty.
Unless you're entering Petra at 6 am, when the site opens, it will be very busy. Expect to find many people along the way and especially at the Treasury. You won't be able to take photos without people in the background, but don't worry – climb to one of the viewpoints and you can take lots of incredible photos with no people in sight.
There are actually a few Treasury viewpoints. Some are located higher, while others are closer to the ground. After doing my research, I came to the conclusion that the best Treasury photography location is the one that can be reached from the left side of the Treasury (it doesn't have an official name).
2. How to get to the Petra viewpoint? Do you need a guide?
As you'll enter Petra, you'll be approached countless times by bedouins trying to offer you donkey rides. Some of them will offer to take you to one of the viewpoints but I suggest waiting until you reach the Treasury to find a guide.
Otherwise, you'll have to walk all the way to the Treasury accompanied by a bedouin and you will probably feel rushed instead of taking your time admiring the beauty of this place.
Do you really need a guide to get to the Treasury viewpoint?
If you want to make the most out of your time at Petra, you'll need a guide to get to the viewpoint because the bedouins won't let you access the shortest route to the viewpoint without a guide.
I've seen a couple trying to climb to the viewpoint without a guide and the bedouins stopped them. I have to admit, the hike is a bit dangerous and having a guide definitely helps. To understand why you really need a guide, I'll share some bits of history with you.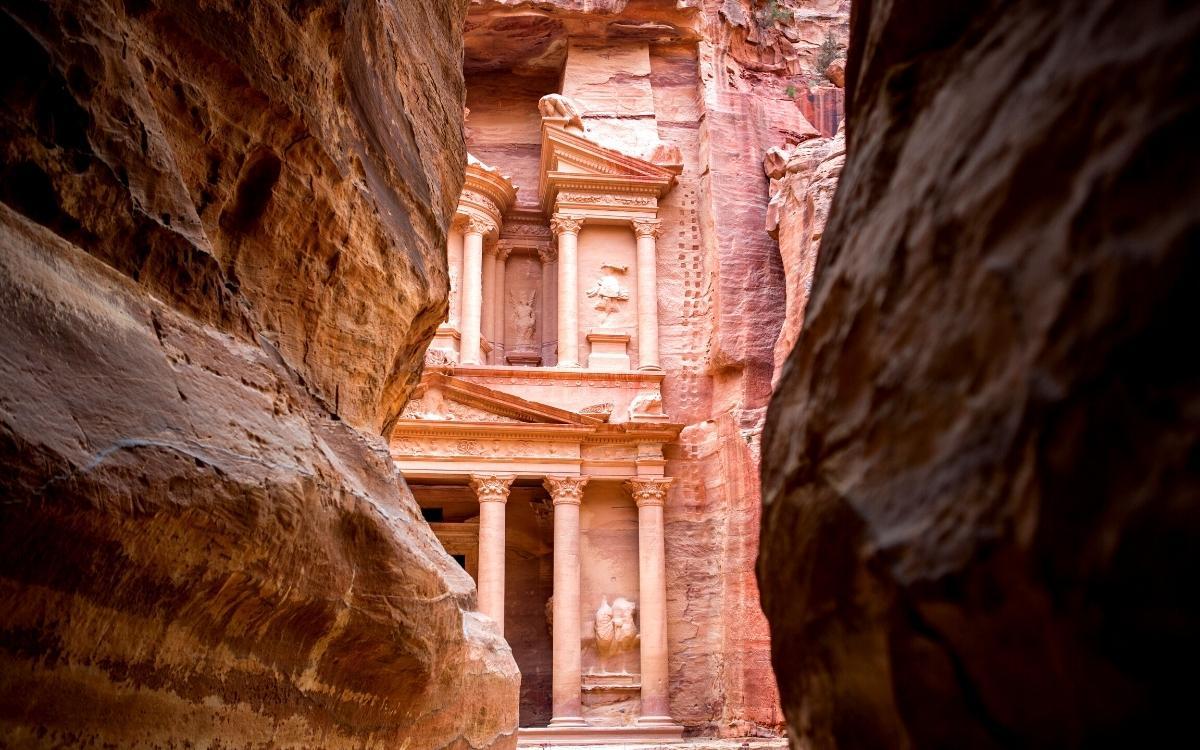 Before Petra was a touristy place, a small community of bedouins used to live there, inside the tombs and in tents. Once Petra became a UNESCO site and tourists started flooding the place, the bedouins were relocated in a small nearby town and they started selling souvenirs inside Petra, offering camel or donkey rides and acting as tour guides. Nowadays, this is how many bedouins make a living.
Where to find a guide?
I recommend searching for a guide to get to the Treasury viewpoint once you arrive in front of the Treasury. You'll be approached by bedouins and you just need to tell them which viewpoint you want to see and they'll take you.
How much does it cost to see the Treasury viewpoint?
Here comes the interesting part. Once you're in contact with one of the guides, the bargaining begins. We were first asked 40 euros and we managed to take it down to 25 euros for both of us. However, on our way down from the viewpoint, we heard one couple saying that they paid 15 euros.
The final price depends on your bargaining skills.
How to get to this incredible viewpoint?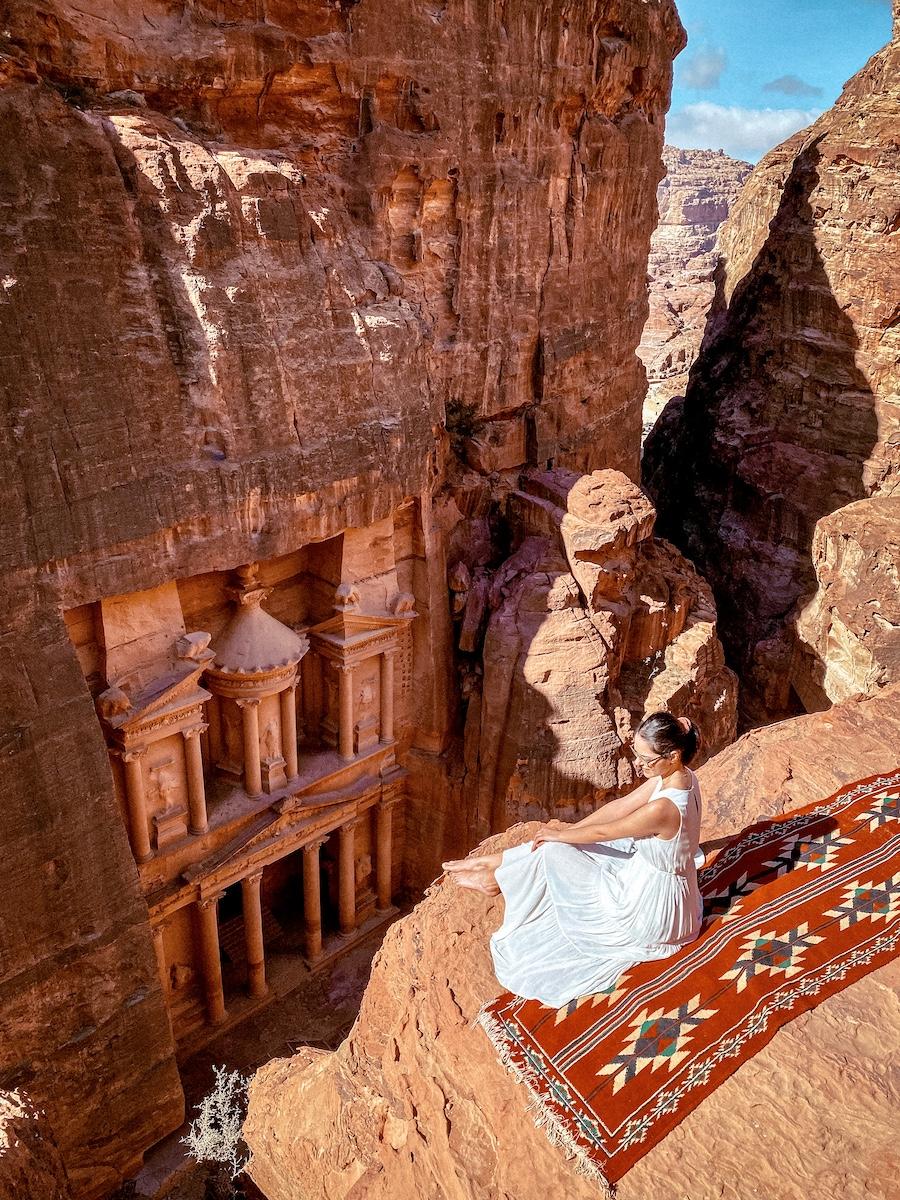 The trail starts on the left-hand side of the Treasury. At the bottom there are a few huge rocks that you'll have to climb in order to get to the trail. Don't worry, your guide will be there to help you.
The hike to the Treasury viewpoint takes about 20 minutes. I recommend wearing comfortable shoes.
Good to know – While visiting Jordan, try and dress conservatively. I always wore a scarf to cover my shoulders (I took it off for photos). You can read more about how to dress in Jordan here.
3. Treasury Viewpoint entrance fee
Once you get to the top, you'll see a small bedouin tent where a few locals sell tea and souvenirs. You'll have to pay a small fee of about 1 euro to take photos on the famous red carpet. Trust me, it's worth it. The view from up there is simply breathtaking.
4. Treasury Viewpoint photography
When visiting Petra, I recommend entering the site as early as possible in order to avoid the crowds. Once you enter, go directly to the Treasury and then climb to the viewpoint. The sun will be in the perfect position for awesome photos.
Think about how you'll pose in the photos before arriving at the viewpoint. Usually, there is a line of a few people waiting to take photos in the exact same place.
5. Where to stay in Petra
I recommend spending the night in Wadi Musa, the city where Petra is located. If you want to save time, I recommend Movenpick Resort Petra. This hotel is located right across the street from the entrance to Petra.
If you're on a budget, here are other accommodation options:
Budget – Petra View Flat – spacious and clean room, friendly hosts, excellent wi-fi
Mid-Range – Petra Boutique Hotel – modern rooms, great amenities, breakfast included, friendly staff
6. Final thoughts
Petra is an amazing place and there are lots of viewpoints to choose from. When it comes to admiring the Treasury, there are at least 3 official viewpoints. I hope that this guide included all the info you need for an amazing experience at Petra.
While in Jordan, you have to also visit the Dead Sea, Wadi Rum and Amman. These are just some of the highlights that are worth to be on any traveler's itinerary.
If you have any questions, don't hesitate to ask me in the comments section below. May the travel bug bite you!
Pin it for later!
Disclosure: Please note that this post may contain affiliate links. If you make a purchase through these links, I will earn a small commission at no extra cost to you. I only recommend companies and products that I trust and the income goes to keeping this website running. Thanks!