We all have that one friend who is constantly on vacation, traveling around the world and making plans to visit exotic destinations. As much as we hate him for that, he is still a good friend and good friends deserve awesome gifts.
As a traveler myself, I know the perfect gifts for travelers. It all depends on your budget but don't worry, I've got you covered! This article is divided in 3 sections:
low-budget gifts ($1-$30)
mid-budget gifts ($30-$70)
luxury gifts (above $70)
Before getting into more details about material gift ideas, let's talk about a new concept – gifting experiences!
Gift experiences, not material things!
Okay, so what if I tell you that you can gift your traveling friend some awesome experiences? That's right, with Tinggly you can gift him a once in a lifetime hot air balloon ride over Cappodocia, a bungee-jump in Singapore or a helicopter tour over the Philippines and all this without breaking the bank.
The best part about Tinggly is that you can choose a gift package (delivery worldwide) and your friend has 5 years to redeem his favorite experiences from more than 100 countries. Your friend can choose any experience he likes, anywhere in the world. How awesome is that?
Gifting experiences is priceless. It creates memories that will last forever and stories meant to be told for years to come.
Low budget gifts for travelers ($1 – $30)
1. Anti-theft scarf
For those scared that somebody might steal their valuables, this scarf is a life saver. Stylish and practical, this travel scarf has a hidden pocket where you can hide your money, keys, passport and other small items.

2. Collapsible bottle
When traveling, saving space is the most important thing. This collapsible bottle is great to stay hydrated and save space in the same time. When the water is gone, fold it and you're ready to go!

3. Travel accessories kit
This travel accessories kit includes several must have travel items: a foam pillow to keep you comfortable during flights, a silk eye mask for refreshing naps, foam earplugs to keep the noise away, and a foot rest. This is a great Christmas gift for your friends who travel if you are on a budget!

4. Money belt
This money belt keeps things organised and out of reach for thieves. It is perfect for storing the passport, keys and money. Just slide it under the shirt and nobody will notice it!
5. Outdoor compact blanket
This outdoor compact blanket is extremely useful and it saves a lot of space! You can use it at the beach, when camping, at festivals or for picnics. Also, it is 100% waterproof and sandproof – a must have item when on the road.
6. Foldable bag
When the checked in bag is too heavy, a foldable bag is definitely handy. It can also be used as a laundry, grocery or beach bag. Small and compact, this foldable bag is a great gift for travelers and it comes in many great colors!

7. Pocket games
Being a traveler involves spending a lot of time on trains, buses and airplanes. These pocket game are perfect to keep the mind busy and make some new friends. Not to mention, you'll get 12 awesome retro game in just one pack!
8. Compression packing cubes
Great for both backpacks and suitcases, these compression packing cubes will keep things organised. They are great for travelers who want to bring many clothes with them but don't have that much space.
9. Travel journal
Suitable for keeping track of adventures or travel planning, a journal is thoughtful gift for any traveler. This travel journal has a beautiful wooden design which makes it a unique Christmas gift.
10. World scratch map
This certainly is a gift to remember. Every traveler wants to keep track of the countries he visited. This is why a world scratch map is a great Christmas gift for your friend who travels.

Mid-budget travel Christmas gifts ($30 – $70)
1. Travel steam iron
Say goodbye to wrinkled clothes! With this mini travel steam iron there's no need to worry about wrinkled dresses, pants or shirts.
2. Tool organizer
Hair pins, cables, toiletries and other small stuff can easily get lost if not properly organized. This awesome tool organizer is great to keep all the small belongings in just one place when traveling.
3. Dry bag
Buying a cheap dry bag is never a good idea. This is why I recommend this ZBRO waterproof bag which has a lifetime warranty. It's perfect to keep electronics and any other valuables dry. As an extra feature this bag even has reflective stripes that can be seen from distance for extra safety.
4. Compact first aid kit
This compact, light and portable first aid kit is a must have in every traveler's luggage. Traveling is full of unexpected situations and a first aid kit can actually be a life saver.
5. Swiss army knife
Great for campers, hikers and not only, the Swiss army knife is a classic. You just never know when you'll need it and this is why it's a must have item for every traveler out there. There is even an unwritten rule: you're never a true traveler unless you have a Swiss army knife!
6. Portable Mifi
This is a huge money saver! This little device has saved us loads of money. A portable mifi works like an internet router but for sim cards. Just insert the sim card (with internet) and you can connect as many as 8 devices to the internet. Smart, right?
Luxury travel Christmas gifts (above $70)
1. Foldable hair dryer
If your friend has long hair, then a foldable hair dryer is definitely a great idea. It's easy to carry, it doesn't take much space and everybody needs it. I would say this is the perfect gift!

2. Amazon Kindle
Carrying books when traveling is not a good idea. They take up a lot of space and the're also pretty heavy. If you traveler friend loves to read while traveling, a Kindle is a great Christmas gift idea!
3. American Tourister Disney themed luggage
We are all children at heart and we all love Mickey Mouse. This Disney themed American Tourister luggage will steal the heart of every traveler. It's just too cute to be true!
4. Arden Cove anti-theft bag
Stylish, elegant, waterproof and anti-theft. This Arden Cove bag is the ultimate gift for any female traveler. It is small but well organized and it even has a built-in wallet. I own one of these beauties and it is everything I have ever wanted from a travel bag!.
5. Go Pro Hero 7
If you have money to spare, then this is the traveler's dream. A compact, professional camera great for both video and photos. Go Pro Hero 7 is the latest Go Pro camera and it has some awesome features designed for those who travel and love sports in the same time!
6. DJI Mavic Pro drone
This is the ultimate Christmas travel gift for any traveler on this planet. This portable DJI Mavic Pro drone is great for immortalizing amazing waterfalls, mountains or beaches. It's foldable, easy to care and easy to use.
I hope that these 22 gift ideas for travelers have inspired you to buy some awesome gifts for your friends. There's something for every budget and I'm sure that you'll find the perfect gift!
May the travel bug bite you!
Pin it for later!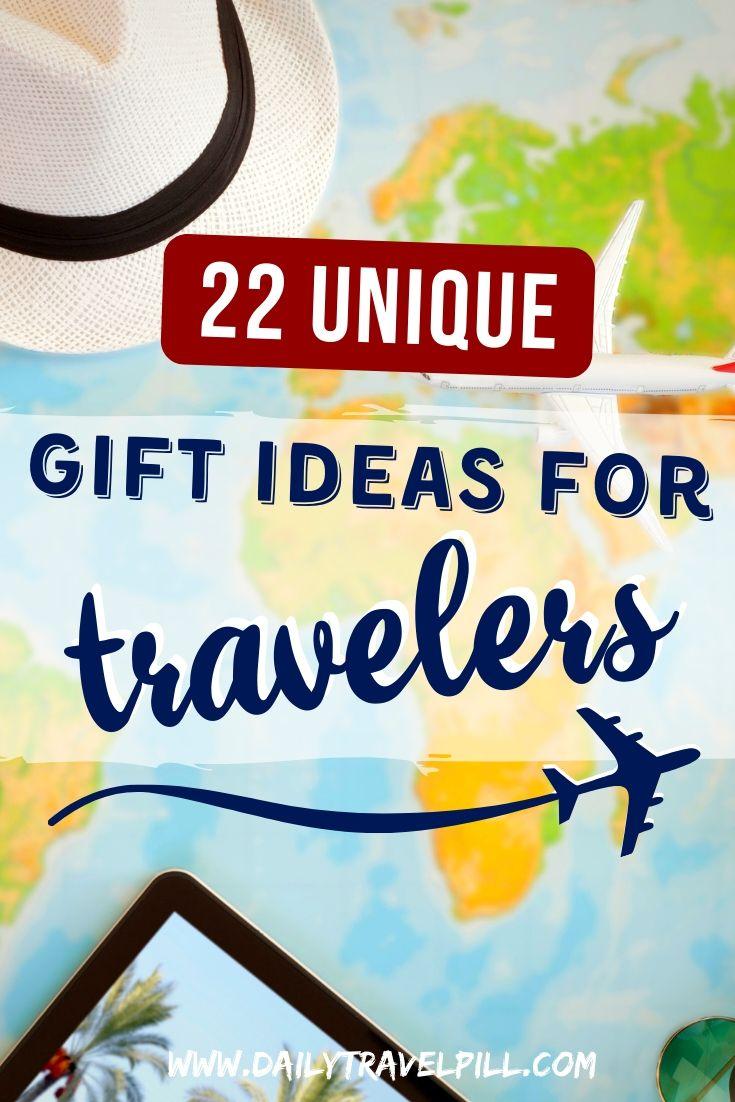 Disclosure: Please note that this post may contain affiliate links. If you make a purchase through these links, I will earn a small commission at no extra cost to you. I only recommend companies and products that I trust and the income goes to keeping this website running. Thanks!