If you're planning a day trip from Prague to Karlovy Vary, you're in the right place. Karlovy Vary is a beautiful city, mostly known for its stunning architecture and for the film festival that takes place each year here.
When planning a trip to the Czech Republic, most tourists only think about Prague. Even though Prague is a beautiful city with a rich history, there are many smaller cities and villages in the Czech Republic that are worth to be visited and one of them is Karlovy Vary.
Every time I visit a new country, I aim to visit smaller cities too. Most of the time, I end up loving these destinations more than the touristy ones. The same happened with Karlovy Vary. I fell in love with Becherovka and this city's architecture.
A world-renowned spa center, Karlovy Vary makes for the perfect day trip from Prague. Take the train or the bus and discover this stunning city and its incredible beauty. In this travel guide, I'll share everything you need to know when planning a day trip to Karlovy Vary.
1. Is one day in Karlovy Vary enough?
Let's put it this way, 24 hours in Karlovy Vary are enough to see what this city has to offer. However, if you're visiting Karlovy Vary as a day trip from Prague, you'll waste at least 5 hours on the road. You'll be left with around 8 hours to explore the city (if you're a morning person).
Even though the historical part of the city is not very big, there are many things to do in Karlovy Vary. There are several viewpoints, museums, churches and hot springs that are worth visiting.
If possible, I recommend traveling from Prague to Karlovy Vary in the evening. Book a night at a hotel in Karlovy Vary and start fresh the next morning. After a day of sightseeing, you can go back to Prague.
Also, to save some time, I recommend visiting Karlovy Vary in the summer, when days are longer. During winter, apart from the freezing temperatures, the sunset is pretty early.
2. Things to know before visiting Karlovy Vary
Here are a few things you should consider before visiting Karlovy Vary.
Buy a ceramic sipping cup – you'll see these ceramic cups in every souvenir shop. You can use them to drink water from the hot springs or you can buy them as souvenirs.
Try the Karlovy Vary wafers – you can find these huge wafer disks in supermarkets or at local producers. They come in a variety of flavors and they're simply delicious. A wafer costs around 0.5 EUR.
Buy a bottle of Becherovka – one of the most popular alcoholic drinks in the entire Czech Republic was first manufactured in Karlovy Vary.
Avoid visiting Karlovy Vary during the International Film Festival – the festival takes place each year, usually in the first week of July. The city is extremely crowded during this time and prices are much higher.
3. How to get to Karlovy Vary from Prague
You have three transport options to get from Prague to Karlovy Vary. You can book a guided tour, take the train or the bus. When I visited Karlovy Vary, I chose the bus. It was fast, affordable and comfortable.
I'll talk more about each of these options below.
Option 1 – Join a guided tour
If you want a hassle-free experience, I recommend booking a guided tour. Usually, these tours include transport from Prague to Karlovy Vary and back, an English-speaking guide and a predefined itinerary that all the tourists need to follow.
The downside is that you can't decide the places you'll visit or how much time you'll spend at each of the tourist attractions on the itinerary. However, you won't have to worry about researching things to do or booking transport.
Booking a guided tour is a good option for those who plan to spend only one day in Karlovy Vary. Here are some of the best tours, with excellent reviews:
Option 2 – Take the bus
If you don't like guided tours and you're looking for a DYI option to visit Karlovy Vary, I recommend taking the bus. There are several bus companies that operate the route Prague – Karlovy Vary with multiple buses per day.
The buses are very comfortable and reliable. Most of them have free WiFi and they all leave from Prague Florenc Bus Station, right next to the central railway station.
A one-way ticket costs around 6 EUR and the trip takes a little over 2 hours. Some companies that operate this route are Flixbus and Regiojet.
No time to read now? Pin it for later!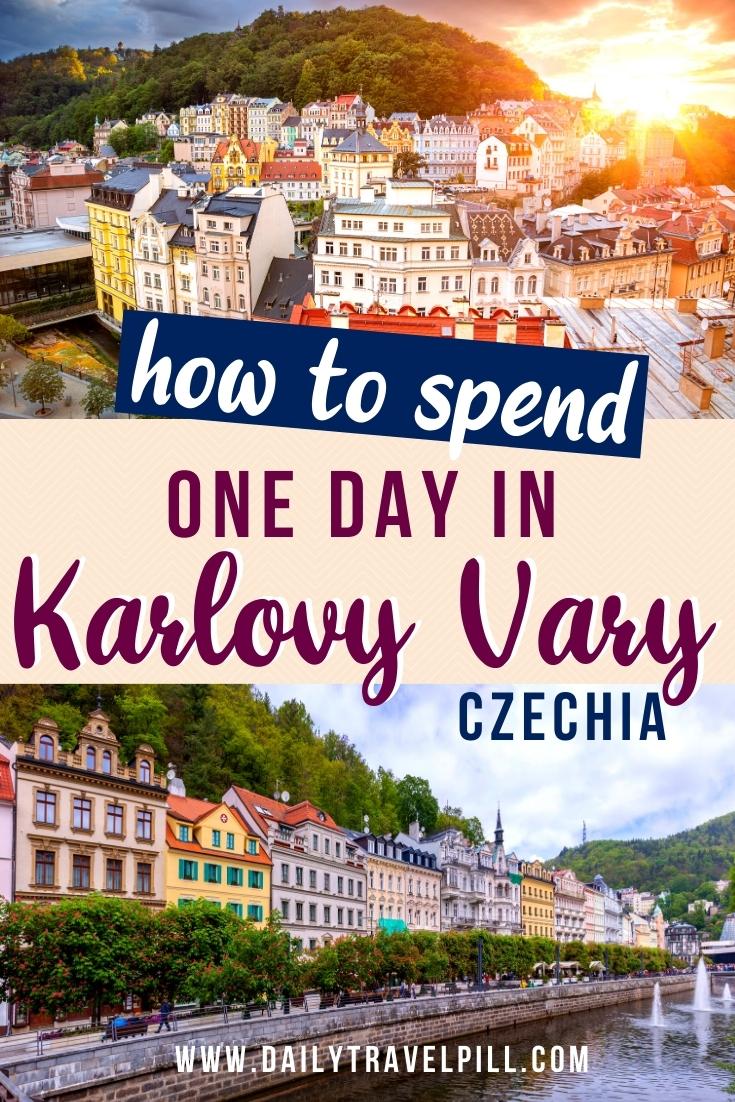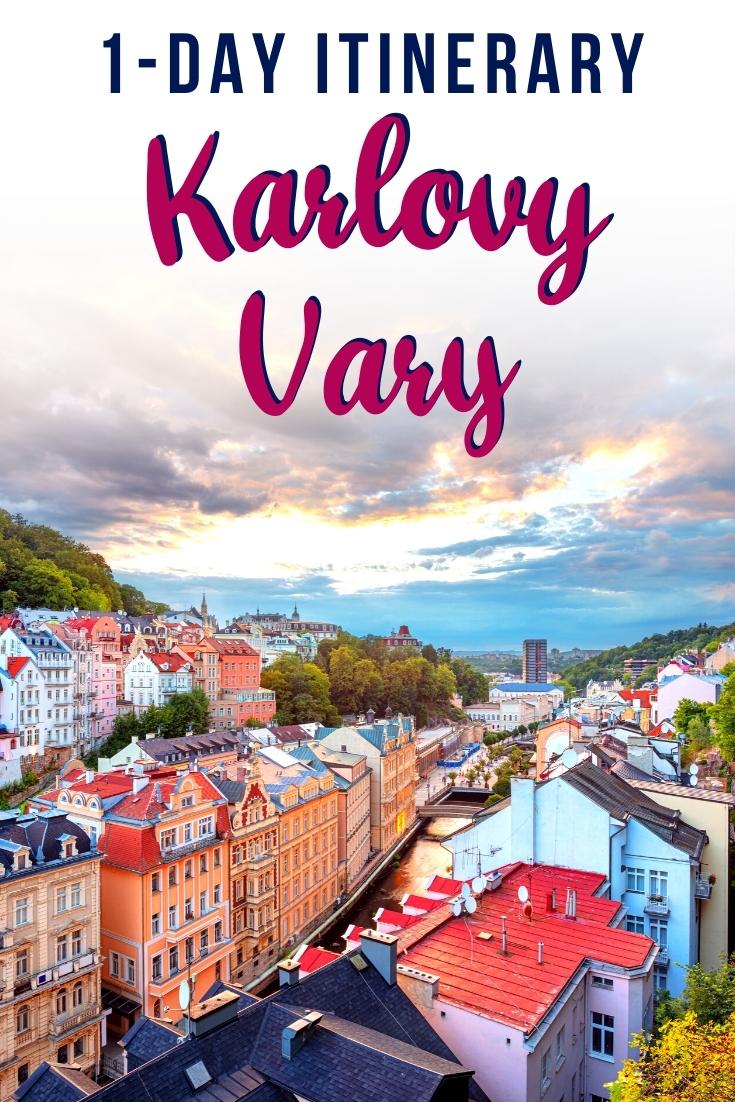 Option 3 – Take the train
If I were you, I'd only choose the train if you get carsick. The trains are slower than buses and more expensive. The trip will take between 3 and 4 hours and a ticket can cost up to 12 EUR.
The first train departs from the Prague Main Railway Station at 05.18 am but for the latest schedule, check out this website.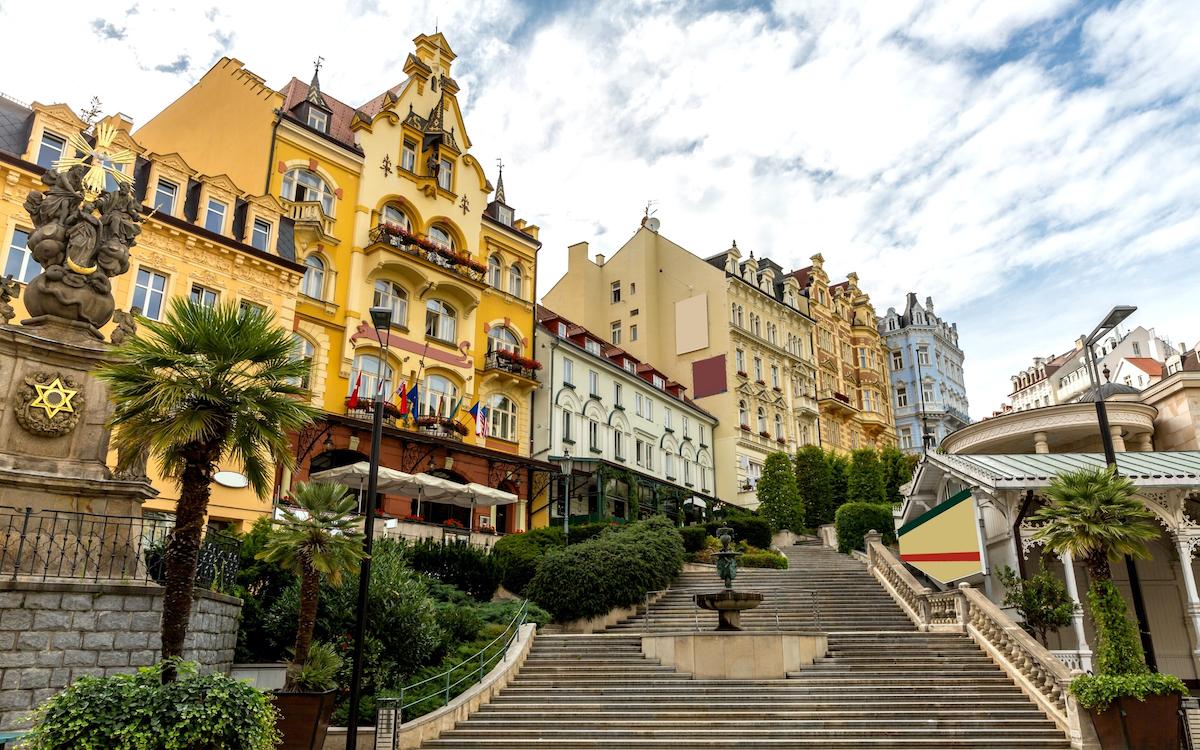 4. Things to do in Karlovy Vary in one day – Itinerary
If you arrive early in the morning in Karlovy Vary, I recommend starting your day with a visit to the Moser Museum of Glass (open starting at 9 am). From the bus terminal, it's a 30-minute walk to the museum. Alternatively, you can take the bus or a taxi.
If you arrive in Karlovy Vary later than 10 am, I recommend skipping the Museum of Glass and heading directly to the Becherovka Museum, located right near the bus terminal.
Moser Museum of Glass
One of the most insightful and entertaining places I visited during my Karlovy Vary day trip was the Moser Glass Museum. It gave me a deeper understanding of what goes on behind the closed doors of one of the most prestigious glass manufacturers in the world.
The visit comprised both the glassworks and the museum, offering a complete experience where I was completely absorbed by the craftsmanship and the talent needed to create such masterpieces. Inside the museum, there were hundreds of amazing examples of Moser crystal glass products.
Opening hours – Sunday closed, Monday to Saturday from 9 am to 4 pm
Entrance fee – 5 EUR
Becherovka Museum
Another place that you shouldn't miss if you have one day in Karlovy Vary is the unusual Becherovka Museum, presenting the history of the prestigious herbal liquor, extremely well known in the Czech Republic. I had the chance to explore this small collection and learn more about the beginnings of the Becherovka, first created by a pharmacist in Karlovy Vary, all the way back into 1817.
The bittersweet liquor recipe is still a secret and only a few people know it. The old pharmacy was transformed into a modern museum. Once inside, I admired the old distillery and cellars, old bottles and other historical items. I also sampled the delicious liquor and I loved it. I have to admit, I also bought a few bottles for later.
Opening hours – Monday closed, Tuesday to Sunday from 9 am to 12 pm and 12.30 pm to 5 pm
Entrance fee – 7 EUR for adults, 5 EUR for children. More ticket options here.
Park Colonnade
As you make your way inside the Karlovy Vary old city center, you'll pass by the beautiful Park Colonnade located in a beautiful park. During summer, the park is filled with stunning flowers and tourists looking for a place to find shade.
Park Colonnade is one of this city's symbols and an important piece of history. I admired the Park Colonnade in all its glory and was impressed by the delicate and intricate cast iron architecture.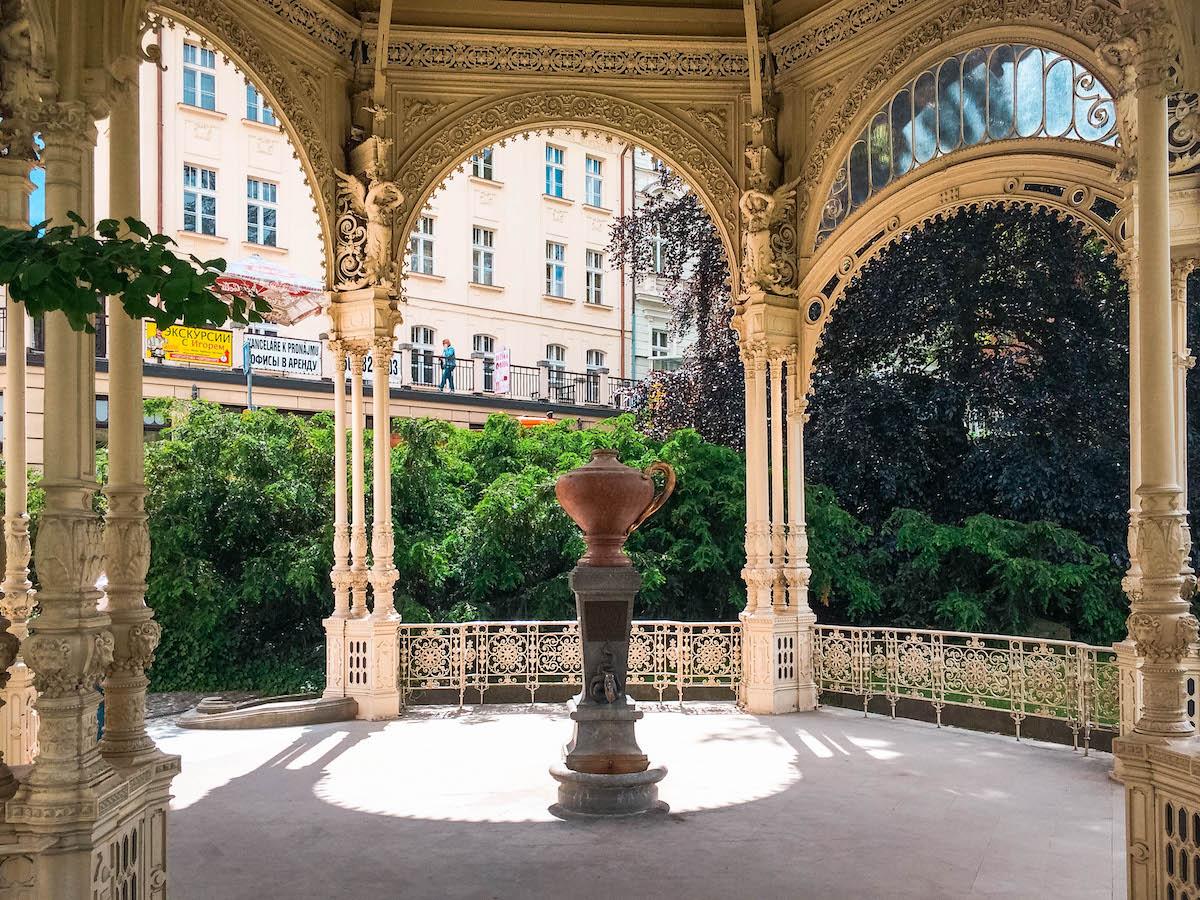 It's a remnant of an old concert pavilion and restaurant hall (Blanensky Pavilion), opened at the end of the 19th century. Today, it makes for a beautiful addition to the already spectacular town architecture.
Opening hours – 24/7
Entrance fee – free
Mill Colonnade
The colonnades of Karlovy Vary are definitely among its most interesting and beautiful characteristics. The Mill Colonnade was definitely my favorite, a beautiful example of late 19th century architecture. It's just a short walk away from Park Colonnade.
It was first built between 1871 and 1881, incorporating a few mineral springs and further expanded later on. Walking inside this over 130 meters-long masterpiece, I couldn't help but notice the atmosphere created by the Corinthian columns and the beautiful reliefs on the walls.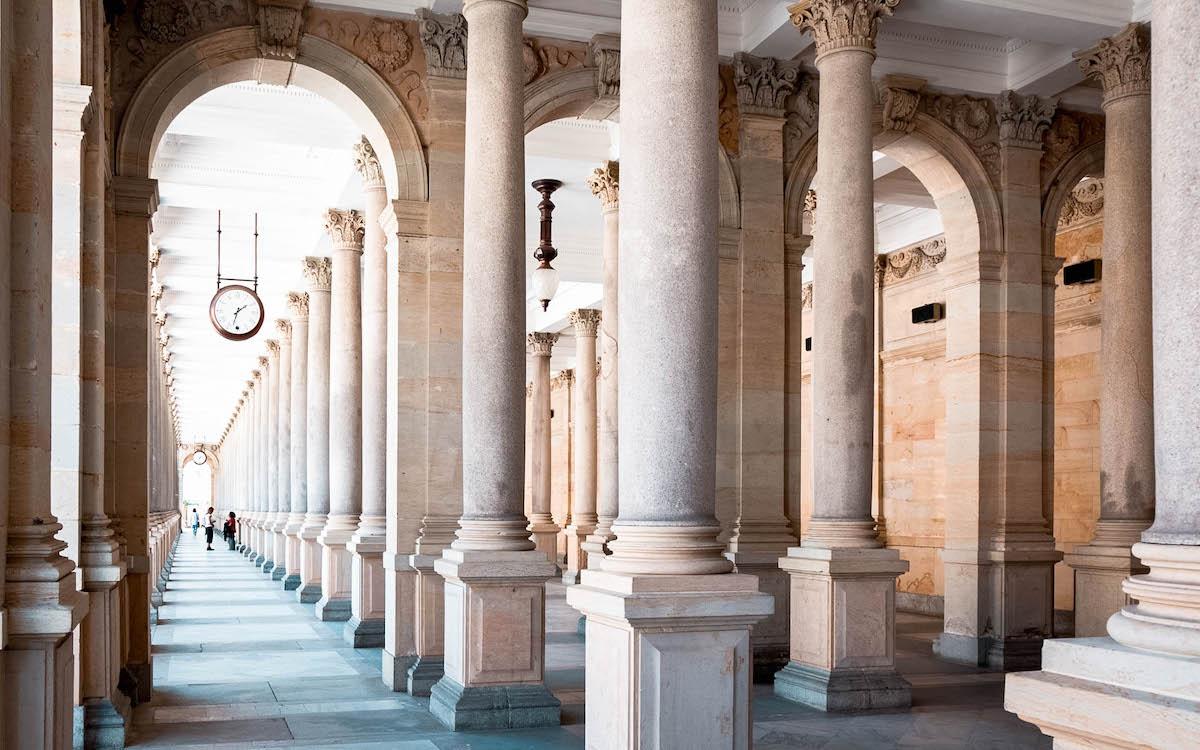 If you want, you can drink water from one of the 5 springs inside Mill Colonnade. Be careful, the water is super-hot.
Opening hours – 24/7
Entrance fee – free
Market Colonnade
If you're only spending one day in Karlovy Vary, I would recommend admiring all of the fabulous colonnades that adorn the elegant town. The delicate Market Colonnade was also built at the end of the 19th century and restored several decades ago.
I was astonished by the rich details and the wood carvings inside this monument, with splendid Swiss-style architecture. The white colonnade stands on the site of the oldest spa in Karlovy Vary and houses three mineral springs inside.
Opening hours – 24/7
Entrance fee – free
Good to know – if you're hungry, I recommend stopping at Promenada Restaurant, located right near the Market Colonnade. They serve delicious local dishes at decent prices.
St. Mary Magdalene's Church
One of the most interesting attractions that you can visit in Karlovy Vary is the beautiful church of St. Mary Magdalene, located across the river from the Market Colonnade. Located in the center of town, close to the spa area, this high Baroque church features impressive architecture and prized works of art that can be admired inside, including the baroque altarpiece, statues and old furniture.
Built between 1733 and 1736, it's considered one of the most important cultural sights in the country. If you can, I would also advise arranging a visit to the underground crypt, although it might not be an experience for everyone.
Grand Hotel Pupp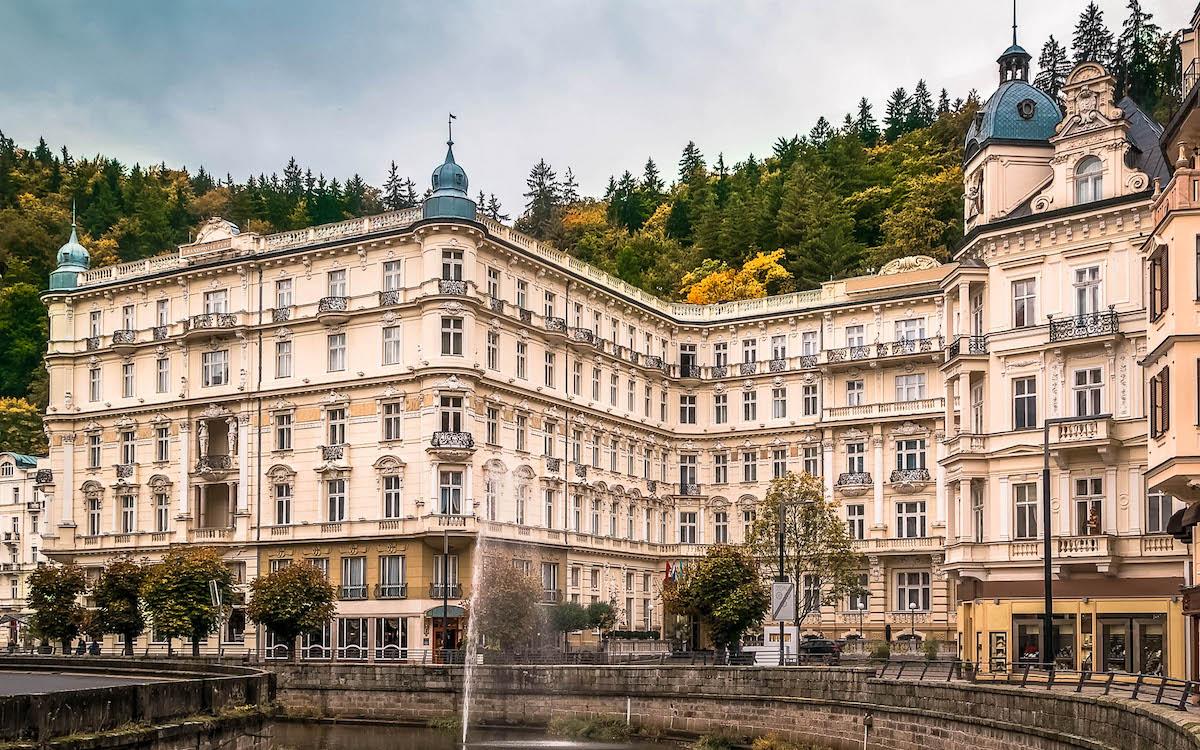 Follow the river for a few minutes until you reach the beautiful Grand Hotel Pupp. If you want a sweet snack, stop at Karlovarske trdlo and try their delicious chimney cakes. They have many varieties with lots of topping options.
A symbol of Karlovy Vary, Grand Hotel Pupp is one of the oldest establishments in town. The history of the hotel started in 1701, when it was built and known as the Saxon Hall, while the adjacent Czech Hall was built several years later. Along the centuries, the two were joined and expended, creating a legacy that stood the test of time.
The hotel itself started around the beginning of the 20th century, later accommodating many movie stars and celebrities arriving in the city for the Karlovy Vary Film Festival. Nevertheless, its true international fame was brought by the movie Casino Royale from the James Bond saga.
Diana Observation Tower
For the best panorama of Karlovy Vary, I chose to take the funicular to the sensational Diana Observation Tower. The funicular is located right behind Grand Hotel Pupp. For more details about the schedule and ticket prices for the funicular, click here.
The tall tower sits on a hill near the center of town and can be reached by either following one of the walking paths uphill, or using the funicular. If you only have one day in Karlovy Vary, I recommend taking the funicular. It's much faster.
The entrance to the observation tower is free. Once I got up, I was amazed by the superb views. The hill has been a popular hiking destination for centuries and after the tower and funicular were built, more travelers began to arrive and admire the unforgettable panorama.
Opening hours – 9 am to 6 pm
Entrance fee – free
Deer Jump
When going back to the city, follow the path to the Deer Jump viewpoint. one of the oldest viewpoints in the city. The walk through the forest is super relaxing and once you reach the Chamois Statue, also known as the Leaping Stag, you'll be rewarded with breathtaking views.
Opening hours – 24/7
Entrance fee – free
St. Peter and Paul Cathedral
When making your way back to the bus or train station, follow the road to St. Peter and Paul Cathedral. It's the biggest and most important orthodox church in the entire Czech Republic.
Built at the end of 19th century, this superb monument with Byzantine architecture was one of the highlights of my trip. Its elegant white silhouette is adorned with five golden plated cupolas, while the interior features beautiful oil-painted icons and a priceless wooden iconostasis.
The cathedral is located in a residential district, about 1 km away from the hot springs in the center of town. On the way, you'll pass by stunning villas. I was amazed by their architecture and couldn't resist photographing most of them.
Opening hours – 9 am to 6 pm
Entrance fee – free
5. Total budget for one day in Karlovy Vary
Below are the costs for one day in Karlovy Vary. They can vary depending on the season and transport options chosen.
Bus from Prague and back – 12 EUR
Moser Museum of Glass (optional) – 5 EUR
Becherovka Museum – 7 EUR
Funicular to Diana Observation Tower – 4 EUR
Lunch & snacks – 20 EUR per person
TOTAL (per person) – 48 EUR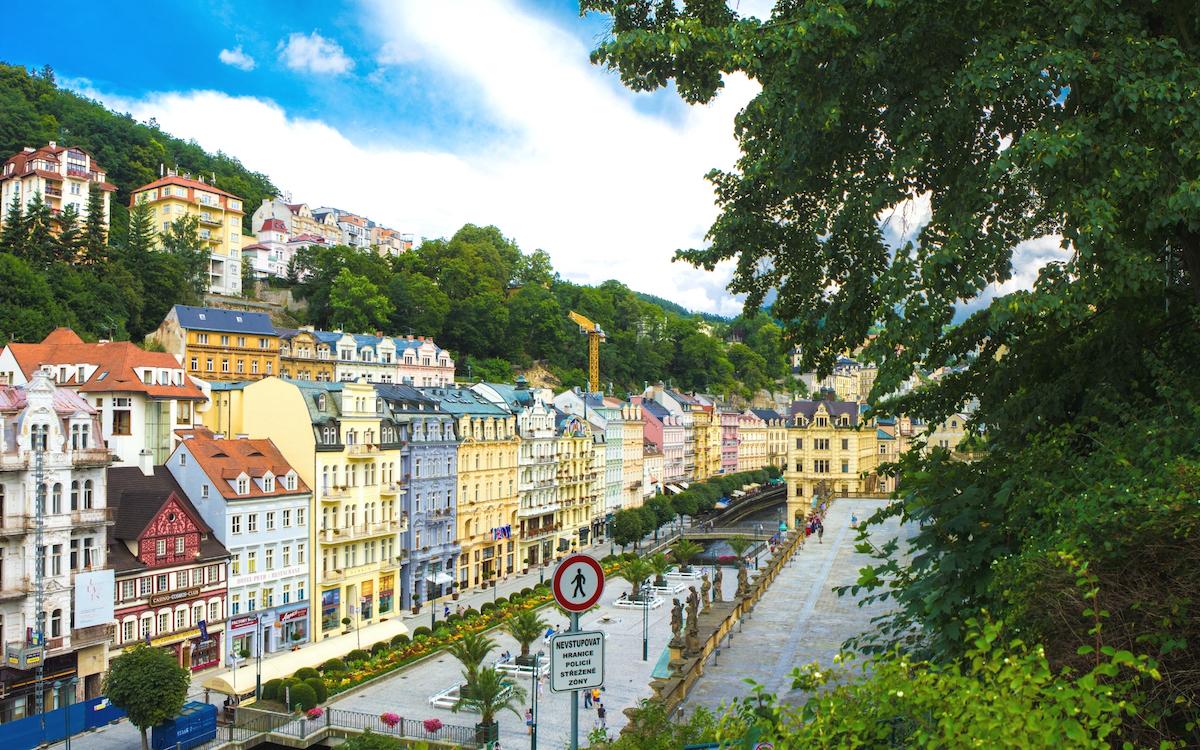 6. Where to stay in Prague and Karlovy Vary
If you plan to visit Karlovy Vary as a day trip from Prague, I've shared the best hotels in the city below. Prague is a big city and finding a good hotel or guesthouse in a good area is very important. Below are a few options for every budget.
Budget – Dream Hostel Prague – excellent location, modern design, great facilities, shared & private rooms, good amenities
Mid-Range – Pytloun Boutique Hotel – excellent location, spacious & clean rooms, great amenities, breakfast included, friendly staff
Luxury – The Grand Mark Prague – excellent location, luxurious rooms and details, fitness centre, excellent restaurant, excellent amenities
If you plan to spend one night in Karlovy Vary, to have more time to explore the city, here are the best hotels for every budget.
Budget – Hotel Boston – good location, clean rooms, comfortable beds, friendly staff
Mid-Range – Promenada Romantic Hotel – beautiful pool & sauna, excellent location, clean & spacious rooms, good amenities
Luxury – Spa Hotel Imperial – excellent location, renowned spa facilities, sauna, fitness room, pool, breakfast included
7. Final thoughts
These are some of the top things to do in Karlovy Vary in one day. This city is simply stunning and the good part is that most of the tourist attractions are located within walking distance from each other.
Make sure to arrive in Karlovy Vary early in the morning and use your time wisely. Even though 2 days would be perfect to see all that Karlovy Vary has to offer, one day is enough to see the main sights.
If you have any questions, don't hesitate to ask me in the comments section below. May the travel bug bite you!
Disclosure: Please note that this post may contain affiliate links. If you make a purchase through these links, I will earn a small commission at no extra cost to you. I only recommend companies and products that I trust and the income goes to keeping this website running. Thanks!