Nusa Penida is an incredible island, with lots of places to discover. Many people visit it as a day trip from Bali, but in just a few hours you can't really experience this island, let alone visit all its incredible natural wonders.
Plan at least 2 days in Nusa Penida and this corner of paradise will surprise you! From stunning beaches to beautiful temples and incredible rock formations, this island has it all! Visit Peguyangan Waterfall and discover a beautiful natural infinity pool, go to the Thousand Island Viewpoint for the best views and stop by the best beaches in Nusa Penida.
After spending a few days on this island and uncovering its secrets, I want to share the most beautiful beaches in Nusa Penida. Read this post to find out where you can find them.
1. Top Nusa Penida beaches – MAP
Click on the map below to see the best beaches in Nusa Penida.
Honestly, in my opinion, the beaches in Nusa Penida are much more spectacular than those in Bali. The cliffs surrounding them are breathtaking and the views are simply stunning. Bali also has a few beautiful beaches, but if you really want to see something unique, go to Nusa Penida.
Below are the most beautiful beaches on the island!
2. Best beaches in Western Nusa Penida
Western Nusa Penida is mostly known for its beaches, but you can also visit the Teletubbies Hill, a unique viewpoint that offers spectacular views of the surrounding round-shaped hills.
Also, make sure to visit the Thousand Island Viewpoint and the nearby Treehouse. These places are Insta-famous!
If you get hungry in this area, I recommend Warung Kubu. The owner is super friendly and we had some delicious sandwiches here for just a few dollars.
Atuh Beach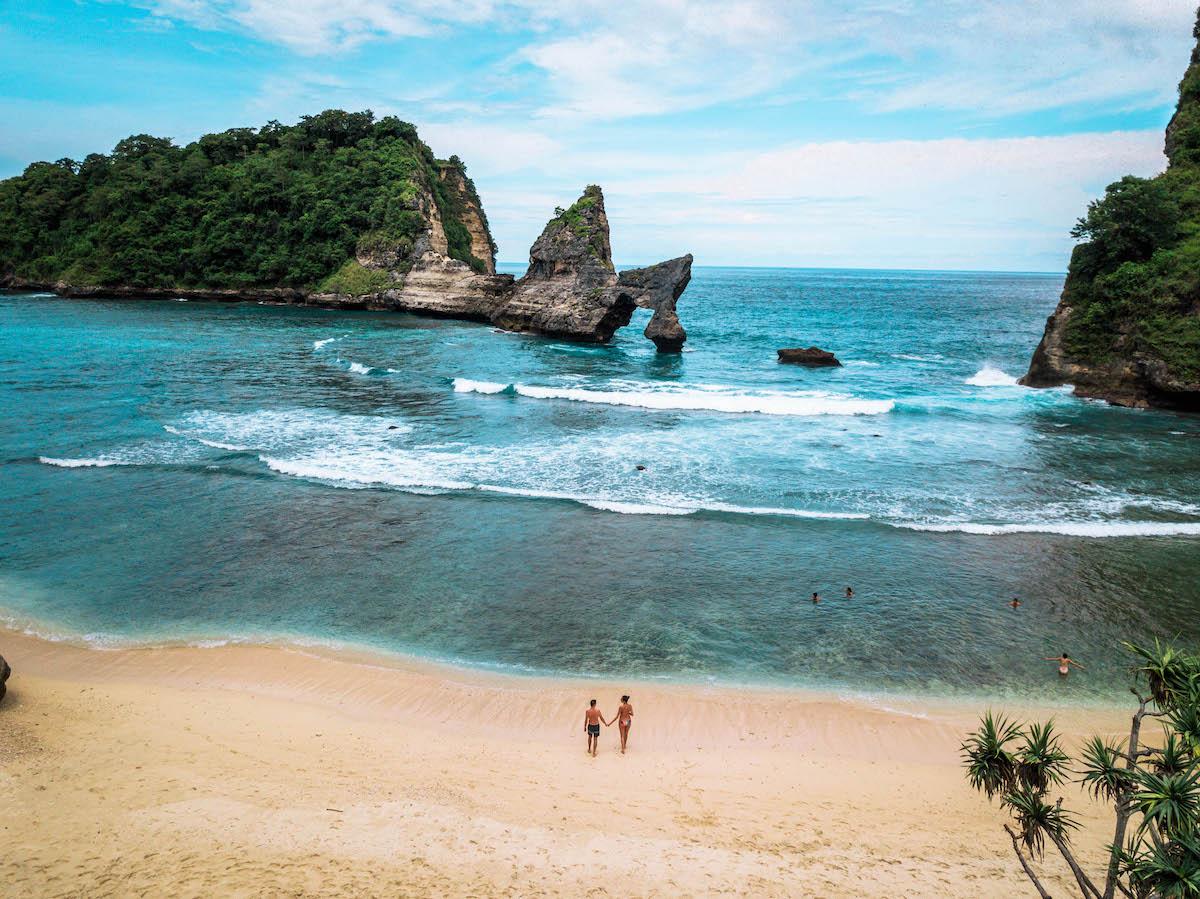 Located near the more popular Diamond Beach, Atuh Beach is one of the most beautiful beaches in Nusa Penida. The beach is wide, there are several restaurants and bars serving refreshments and local dishes and you can rent sunbeds.
A feature that makes this beach unique is the huge rock located a few hundred meters from the shore. The rock has a beautiful broken arch and it kinda looks like a dinosaur.
Before visiting Atuh Beach, make sure to check the tide. If the tide is low, you can't swim in the water. If the tide is high, you can swim, but I recommend bringing some water shoes because the bottom of the sea is covered in pebbles, small rocks and corals.
Even though it started raining when I visited Atuh Beach, I still enjoyed this place a lot. For me, Atuh Beach is my favorite beach on Nusa Penida.
If you'd like to read more about Atuh Beach, check out my guide.
Diamond Beach
Good to know – Atuh Beach and Diamond Beach are located close to each other. You can easily walk from one to the other.
One of the most famous beaches in Nusa Penida, Diamond Beach is a true gem. To get to the beach, you'll have to climb down a set of stairs carved into the cliff. The views are simply breathtaking!
Once you get close to the beach, you'll pass by a small warung. Right near the warung, there is a beautiful swing and nest, perfect for those who want to take some incredible photos.
If the tide is low, you can walk on the beach and enjoy the views. There are two huge diamond-shaped rocks on the beach, hence its name. Keep in mind that you won't find any shade on the beach. Also, if the tide is high, you won't be able to walk along Diamond Beach because the waves will reach the cliff and it's too dangerous.
You can read more about Diamond Beach in my travel guide.
Suwehan Beach
Even though the climb down to Suwehan Beach might be challenging for some, this beach deserves to be visited. If you're looking for secret beaches in Nusa Penida, Suwehan Beach is one of them. Not many tourists visit it, meaning that you can admire the natural beauty surrounding you in peace.
Suwehan Beach actually looks a bit like Diamond Beach. Here you'll also find a huge rock on the beach, resembling a diamond. If you have more days to spend on Nusa Penida, I recommend adding this beach to your itinerary.
3. Best beaches in Eastern Nusa Penida
Eastern Nusa Penida is one of the most visited areas on the island. With stunning places like the Angel Billabong and Tanjung Kuning cliff jumping area, this area of Nusa Penida deserves your attention.
Below are the most beautiful beaches in Eastern Nusa Penida.
Crystal Bay Beach
One of the most popular beaches in Nusa Penida is Crystal Bay Beach. It's a famous place for snorkeling, diving, boat tours, but also the perfect place to relax and enjoy the views.
The beach is wide and right on the shore you can find many warungs and local shops. You can even rent snorkeling gear to explore the marine life. I recommend planning at least 2 hours for this beach.
Located in a small bay, Crystal Bay has turquoise water, perfect for swimming and water activities. If you're visiting during July – October, you can even see the Mola-Mola fish, a giant yet friendly fish that amazes everybody.
During my stay in Nusa Penida, I went to Crystal Bay Beach a few times. For me, it was the perfect combination between spectacular nature, turquoise water and great amenities.
Crystal Bay Beach is a must-see when in Nusa Penida so make sure to add it to your itinerary! To read more about this beach, click here.
Toya Pakeh Beach & Bias Muntig Beach
Located on the northwestern side of Nusa Penida, these two beaches are actually located one after the other, right near the port. If you're visiting Nusa Penida from Bali, the first things you'll see are these two beaches.
With white sand, turquoise water and many hotels and beach clubs nearby, these beaches are very popular among tourists. The only disadvantage is that most of the time, the locals park their boats here so it might be a bit difficult to swim.
The good news is that there are many shops and restaurants nearby and plenty of places where you can find shade. You can also head to one of the beach bars, but keep in mind that most of them require minimum spending.
Pandan Beach
Pandan Beach can only be reached on foot from Crystal Bay Beach. On the left side of Crystal Bay, there is a trail through the forest that leads to Pandan Beach. Follow it for about 10-15 minutes and you'll arrive at this beautiful yet empty beach.
There is a small shop on the beach selling drinks, but apart from this, you can enjoy the unspoiled nature. The beach is located in a small, beautiful bay and both sides of the bay are covered with thick forest.
4. Best beaches in Southern Nusa Penida
Southern Nusa Penida is known for the spectacular views it offers. From the steep stairs leading to Peguyangan Waterfall to breathtaking viewpoints like Banah Cliff Point or Saren Cliff Point, here you'll find some of the most fascinating places on the island.
When it comes to beautiful beaches, Southern Nusa Penida has plenty of them. Here they are!
Kelingking Beach
Also known as the T-Rex Beach due to the unique shape of the surrounding rock formations, Kelingking Beach is the most popular tourist destination in Nusa Penida. If you'd like to avoid the crowds, make sure to arrive here early in the morning, preferably before 9 am.
When I visited Kelingking Beach, I was simply amazed by this place. We were the first people there, but there were a few monkeys to keep us company. The stairs leading to the beach are quite abrupt and I recommend bringing some comfortable shoes (avoid flip-flops).
It takes about half an hour to get to Kelingking Beach from the parking lot so make sure to plan at least 2-3 hours for this tourist attraction. Near the parking lot you can find a few warungs and shops, in case you're hungry or thirsty.
The beach itself is spectacular. It's located in a wide bay, surrounded by tall cliffs covered with trees. The water is crystal-clear and even though it might look inviting, avoid swimming here when the waves are too big.
Broken Beach
Located in the south-west part of Nusa Penida, the beautiful Broken Beach is one of the most visited places on the island, together with the nearby Angel Billabong. I arrived here early in the morning and there weren't too many tourists around.
I first passed by the Angel Billabong. Unfortunately, the tide was high and swimming in the billabong was not possible. After that, I continued walking for about 5 minutes until I reached one of the top beaches in Nusa Penida – Broken Beach.
Broken Beach is an unusual place because you can't really reach the beach or lay your towel on the sand. The beach was formed by the collapse of a cliff, leaving a hole in the ground. Broken Beach connects to the sea through a rocky arch.
There are many viewpoints and photo opportunities, so make sure to bring your camera and a set of extra batteries. Near the beach, there are a few local warungs and shops selling ice-cream and refreshments. You can read more about the Broken Beach here.
Tembeling Beach
Tembeling Natural Pools are super-popular among tourists visiting Nusa Penida. However, there's one catch. When we visited, the road leading to Tembeling was in such a bad shape that we decided to turn back.
However, from what I've heard, the local authorities invested a lot of money in rebuilding the roads on the island. Therefore, the road to Tembeling might be in better shape these days.
The pools are simply spectacular. They're filled with crystal-clear water and you can swim here peacefully. However, just a short walk away from the pools is Tembeling Beach, one of the secret gems of Nusa Penida.
The beach is beautiful, but for swimming, I recommend the pools.
No time to read now? Pin it for later!
Lumangan Beach
One of the less-visited places in Nusa Penida is Lumangan Beach. The road to this beach is in good condition and the beach is easily accessible.
Still unspoiled by tourism, this small corner of paradise is the perfect destination for those looking for a quiet place to spend a few hours. Nusa Penida can be pretty hectic and a trip to Lumangan Beach is the perfect way to relax.
There are no shops or warungs around and the beach is still untouched. Nearby is a viewpoint called Pantai Korawa. Make sure to visit it too!
5. Best Beaches in Northern Nusa Penida
There aren't many tourist attractions in Northern Nusa Penida. However, there are a few villages and diving centers, as well as restaurants. Below are the most beautiful beaches in Northern Nusa Penida.
Mentigi Beach & Kutampi Beach
These beaches are not spectacular when compared with Diamond Beach or Kelingking. However, what I loved about them is that from here you can see Bali and the imposing Mount Agung. Of course, you'll need a sunny day with no clouds, but once you catch a glimpse of Bali's biggest volcano, you'll fall in love with Mentigi Beach and Kutampi Beach.
You can also rent a paddleboard here or go snorkeling. These beaches might not be spectacular, but they surely are unique!
6. Things you need to know before visiting these beaches
Here are a few things you should keep in mind when exploring Nusa Penida and its beaches.
Always bring cash with you – some of these beaches require a parking fee. It doesn't cost more than IDR 5 K, but you can only pay cash.
Always bring water and sunscreen with you – some of the more remote beaches have no warungs or shops nearby. It's best to bring water and stay hydrated. Also, the temperatures in Nusa Penida can get pretty high, so make sure to use sunscreen.
Check out the tide – if you want to go swimming, make sure to visit the beaches above when the tide is high.
7. How to get to Nusa Penida
There are many daily ferries from Bali to Nusa Penida. You can either book a guided tour that includes transport to the Bali port, ferry tickets, transport on Nusa Penida or you can choose the DYI option.
If you only want to book your ferry tickets, I recommend booking them online. It's more affordable and you won't have to wait in line at the port.
We chose to plan our trip by ourselves because we wanted to have the freedom to manage our itinerary the way we wanted. However, if you want to join a tour to Nusa Penida, below are a few options.
8. How to get around Nusa Penida
You have two options to explore Nusa Penida and its stunning beaches – you can either rent a motorbike or hire a driver. When we visited, we chose to rent a motorbike for IDR 80 K per day.
We asked our guesthouse owner if he has motorbikes for rent and he was able to arrange one for us. You can also rent a motorbike directly from the port, in case you're planning to spend just one day in Nusa Penida.
If you choose to hire a driver with a car, keep in mind that prices start at IDR 500 K for 8 hours. You can agree with your driver on an itinerary and the good part is that you won't have to worry about directions.
9. Where to stay in Nusa Penida
There are many hotel and guesthouse options in Nusa Penida. The island is a great destination for all kinds of tourists. I've been searching for the best accommodation on the island, for every budget. Please find below my recommendations.
Budget – Double-G Guesthouse – excellent location, spacious rooms, air conditioning, friendly staff
Mid-Range – NG Sweet Home – beautiful pool, quiet area, good location, spacious & clean rooms, continental breakfast included
Luxury – Adiwana Resort – excellent location, incredible pool, beautiful views, luxurious rooms, excellent facilities
10. Final thoughts
There are many amazing beaches in Nusa Penida. Some of them are more popular while others are more remote. In my opinion, the beaches in Nusa Penida are 10 x better than those in Bali. The views are more spectacular, the water is better for swimming and the marine life is richer.
I hope you'll have a great time exploring this island. And don't forget, plan at least 2 days for Nusa Penida. It's worth it!
If you have any questions, don't hesitate to ask me in the comments section below. May the travel bug bite you!
Disclosure: Please note that this post may contain affiliate links. If you make a purchase through these links, I will earn a small commission at no extra cost to you. I only recommend companies and products that I trust and the income goes to keeping this website running. Thanks!