Peguyangan Waterfall is one of the most beautiful places on Nusa Penida, together with Diamond Beach, Atuh Beach and Thousand Island Viewpoint. To get to it, you'll have to climb down the famous Nusa Penida blue stairs and, at the end of your journey, you'll be rewarded with the most incredible view.
At the bottom of the stairs, there is a small temple, a few springs and an incredible infinity pool. Also known as Guyangan Waterfall, Air Terjun Peguyangan or "The Blue Stairway to Heaven", this place should be on your itinerary if you're planning a trip to Nusa Penida.
I visited Peguyangan Falls and, in this guide, I'll share everything you need to know when planning to visit this place. I love exploring hidden gems and Peguyangan Waterfall is definitely one of Nusa Penida's secret places.
1. Climbing down the stairs to Peguyangan Waterfall
You've probably seen photos of these blue stairs on Instagram. However, no matter how beautiful they look in photos, remember that there are a little over 700 stairs leading to Peguyangan Waterfall. The journey down to the temple and waterfall takes about 20 minutes – half an hour, depending on your fitness level.
Remember that apart from the waterfall, there is also a temple at the bottom of the stairs. After parking your motorbike or car, you'll have to put on a sarong or scarf to cover your legs. I recommend bringing a scarf, but you can also rent a sarong at then entrance for IDR 10 K.
To get to the stairs, you'll have to go through a small Balinese gate. The stairs are attached to the cliff and they're made from wood and metal. Some areas are quite steep, so make sure to be super-careful.
Also, I recommend avoiding flip-flops when climbing down the stairs to Peguyangan Falls. Try and wear sneakers or something more comfortable.
We visited the waterfall during a local holiday and there were many locals carrying offerings on the stairs. I'm not saying that the hike down is easy, but if the locals managed to reach the waterfall and temple with heavy offerings on their shoulders, so can you!
Keep in mind that there are no shops along the way or at the bottom of the stairs. I strongly encourage you to bring a bottle of water and a few snacks with you. At the beginning of the stairs, you'll find a small warung selling drinks, snacks and Mie Goreng (IDR 10 K). Get everything you need from here.
When we visited, it was a sunny day and the temperatures were high. Even though the descent seemed easy, when it was time to climb up the stairs, we needed a lot of water to stay hydrated. Also, make sure to bring sunscreen!
Climbing down the 700 stairs to Peguyangan Waterfall and Temple was a bit challenging even for us, but the views were well worth it. From time to time, we stopped to take photos and enjoy the waves hitting the cliffs.
2. Peguyangan Temple – Pura Segara Kidul
Also known as Pura Segara Kidul, the temple near Peguyangan Waterfall was built to honor Kanjeng Ratu Kidul, a very popular figure among the people of Java and Bali. Kanjeng Ratu Kidul is believed to be the ruler of the Indian Ocean, hence the temple's proximity to the ocean.
Good to know – On the top of the cliff, right at the entrance leading to the stairs, there is another temple called Pura Ulun Danu Segara Kidul.
Locals believe that the Peguyangan springs, located at the bottom of the blue stairs, near the temple, have healing powers. It is said that they can clean your bad karma. First, locals shower under the three springs located at the entrance of the temple. After, to finish the ritual, they head to another spring to clean themselves.
If you're a spiritual person, you can perform this ritual and clean yourself of your sins.
No time to read now? Pin it for later!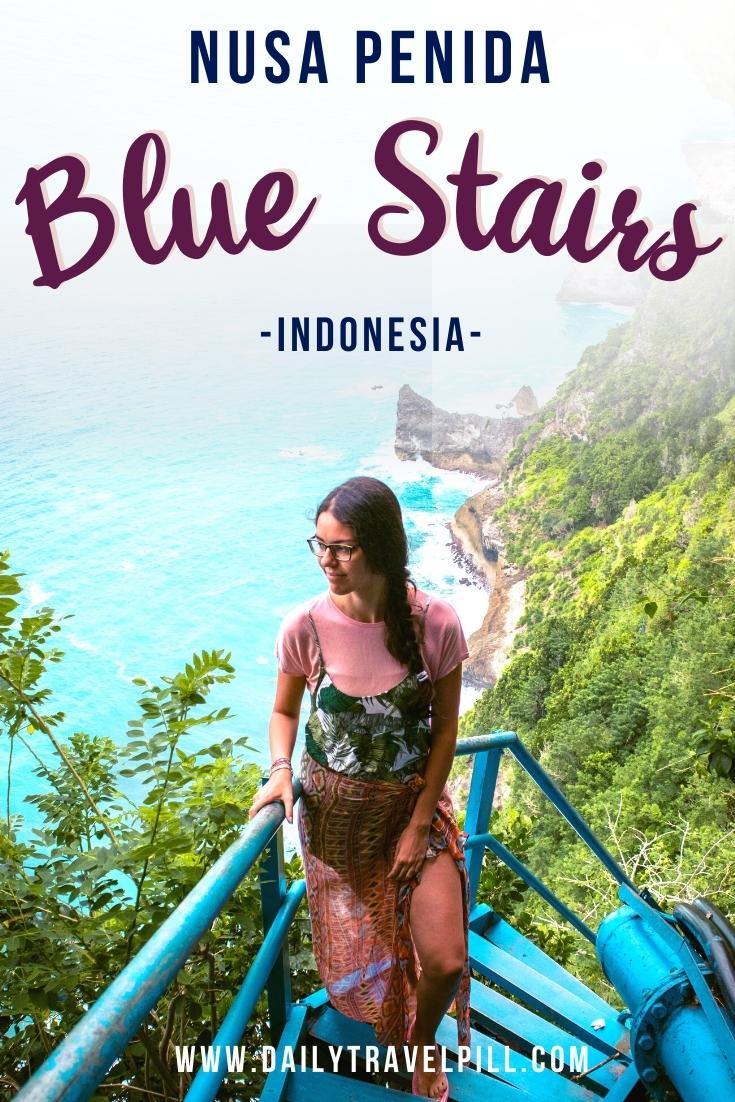 3. Peguyangan Waterfall & Infinity Pool
Before visiting Peguyangan, I read many articles where people said that there is no waterfall here. It's true that you won't find a "standard" waterfall, but below the temple, the springs and spouts fall into the ocean, creating small waterfalls. Simply stunning!
One of the most popular things to do at Peguyangan, Nusa Penida is to take a dip in the small infinity pool located just after the temple. You can sit back and relax while admiring the waves crashing into the cliff. It's definitely one of the best views on Nusa Penida!
Good to know – Be very careful when heading to the infinity pool inside the cave because the rocks are very slippery.
There are also smaller rock pools where you can take a dip to refresh yourself before climbing the stairs back up. Make sure to recharge your batteries before making your way back to the parking lot.
Climbing over 700 stairs is not an easy task, especially if you're visiting Peguyangan during mid-day, when the temperatures are the highest.
I have to admit that it took us more than half an hour to get back to our motorbike, but the climb was worth it. Peguyangan Temple & Waterfall is a unique place, the perfect combination between awesome views, spirituality and natural wonders.
4. When to visit Peguyangan Waterfall, Temple & Infinity Pool
I recommend visiting this place as early as possible to avoid the high temperatures. Compared to other tourist attractions on the island like Diamond Beach and the Thousand Island Viewpoint, Peguyangan Waterfall is not crowded at all.
5. Entrance fee and opening hours
There is no entrance fee to Peguyangan Waterfall. However, you'll have to pay a parking fee of IDR 5 K.
You need to cover your knees even when climbing down the stairs. You can bring a scarf with you or you can rent a sarong for IDR 10 K.
You can visit Peguyangan Falls every day, from 6 AM until 7 PM.
6. Where is Peguyangan Waterfall
Peguyangan is located in the southern part of Nusa Penida, near Manta Point. You'll have to drive on a narrow path from the main road to get to the waterfall but the road is in good shape.
Moreover, I've heard that the local authorities invested a lot of money in rebuilding the roads on Nusa Penida. The island was well-known for its terrible roads, but now the roads are in good condition.
7. How to get to Peguyangan Waterfall
When we visited Nusa Penida, we chose to rent a motorbike for a few days. It gave us the freedom to visit off-the-beaten-path places and manage our schedules. However, you can also hire a driver or join a guided tour to explore this island. I'll talk about each of these options below.
Option 1 – Rent a motorbike
You can rent a motorbike from your hotel or guesthouse's owner or you can rent one from the port if you only plan to spend one day in Nusa Penida. We chose to rent a motorbike from our guesthouse for IDR 80 K per day.
Before starting your journey, make sure that the tank is full! You can buy gas from shops near the port for around IDR 10 K per liter.
Option 2 – Join a guided tour
If you want a hassle-free experience, I recommend joining a guided tour. This day trip tour from Bali includes stops at Peguyangan Waterfall, Tembeling Beach and more! It also has excellent reviews!
Option 3 – Hire a driver
Another option to get to Peguyangan Waterfall is to hire a driver with a car. Prices start at IDR 500 K per day for a group of maximum 4 people. The advantage of hiring a driver is that you won't have to worry about directions or planning a schedule.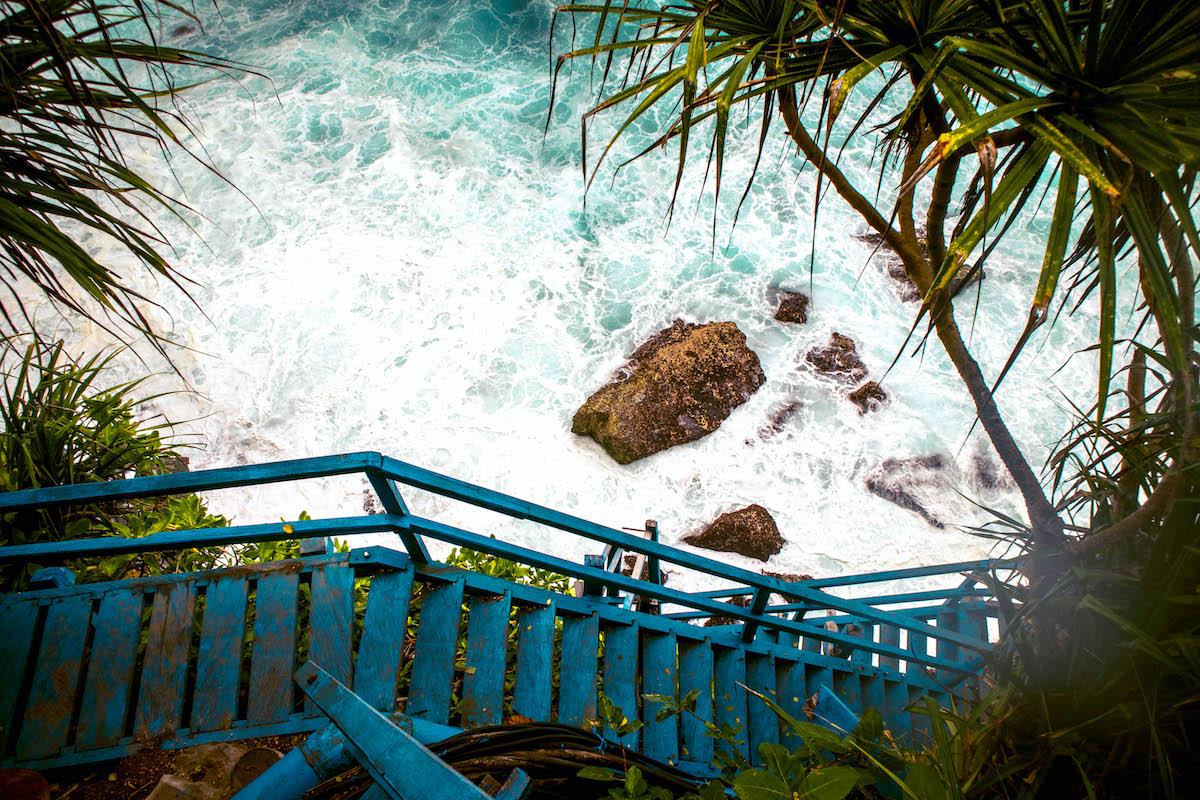 6. Places to visit near Peguyangan Waterfall
We coupled our visit to Peguyangan Waterfall with Banah Cliff Point and the famous Kelingking. You can also visit Manta Point, it's just a short drive away from Peguyangan.
While in Nusa Penida, don't hesitate to visit the incredible Diamond Beach, famous for its beauty and stone-carved stairs. Right near Diamond Beach is the beautiful Atuh Beach, known for the broken rock located right in front of the bay.
7. Where to stay on Nusa Penida
Most hotels and guesthouses on Nusa Penida are located on the western part of the island, near the port. In this area you'll find many restaurants and shops. I recommend booking your accommodation in this area.
I've been searching for the best accommodation in Nusa Penida, for every budget. See below my recommendations.
Budget – Double-G Guesthouse – excellent location, spacious rooms, air conditioning, friendly staff
Mid-Range – NG Sweet Home – beautiful pool, quiet area, good location, spacious & clean rooms, continental breakfast included
Luxury – Adiwana Resort – excellent location, incredible pool, beautiful views, luxurious rooms, excellent facilities
8. Final thoughts
Peguyangan Waterfall is one of the less-visited places on Nusa Penida, but this is exactly the reason why I loved it. Away from the crowds and with incredible views, this place should be on your itinerary when visiting Nusa Penida.
If you have any questions about Peguyangan Waterfall, don't hesitate to ask me in the comments section below!
To read more about costs when visiting Indonesia, check out my Indonesia travel guide. It includes important information about transport, things to do and more!
May the travel bug bite you!
Disclosure: Please note that this post may contain affiliate links. If you make a purchase through these links, I will earn a small commission at no extra cost to you. I only recommend companies and products that I trust and the income goes to keeping this website running. Thanks!