After traveling through Asia, we chose Bali as our home base. We lived on this beautiful island for almost 8 months. There are many places to discover in Bali, but even more incredible places await just a ferry ride away.
Nusa Penida is one of the most visited islands near Bali. Famous for the T-Rex Beach and hidden gems like Atuh Beach and Thousand Island Viewpoint, Nusa Penida should be on every traveler's bucket list. One of the most beautiful beaches on the island is the famous Diamond Beach.
To reach it, you'll have to climb down a set of stairs carved into a cliff, but trust me, the views are spectacular. Actually, Diamond Beach is one of the most instagrammable places in Nusa Penida. Right near the beach, there is a swing with fabulous views and a nest where you can take photos.
In this guide, I'll share everything you need to know when visiting Diamond Beach, Nusa Penida. From things to do to how to get there, this is the most comprehensive guide you'll find.
1. Where is Diamond Beach Nusa Penida?
Diamond Beach is located a bit further away from all the famous tourist attractions on the island and the port. You can find it on the eastern part of Nusa Penida, right near Atuh Beach and Rumah Pohon Tree House.
If you decide to visit Diamond Beach, make sure to also visit Atuh Beach. Keep in mind to set Diamond Beach as your GPS destination. From this parking lot, you can easily access both beaches.
There is another road leading to Atuh Beach, but from there it's hard to reach Diamond Beach.
The famous Tree House and the Thousand Island Viewpoint are just a short drive away, so make sure to add them to your itinerary. You can easily visit all these 4 attractions in a day. You can even manage to visit them in half day if you wake up early. 🙂
Good to know – I recommend spending at least 2 days on Nusa Penida. I know that many tourists only visit this island as a day trip from Bali, but one day is not enough to see all it has to offer.
No time to read now? Pin it for later!
2. How to get to Diamond Beach Nusa Penida
The first step is to get to Nusa Penida. There are many ferries from Bali to Nusa Penida and most tourists buy their tickets directly from one of the ports. However, I recommend buying your tickets online because they're cheaper. There are several ferries each day from different companies.
The ferry ride will take about 45 minutes and depending on the weather, the ride can be pretty bumpy. If you get seasick, choose a sunny day with no wind to get to Nusa Penida.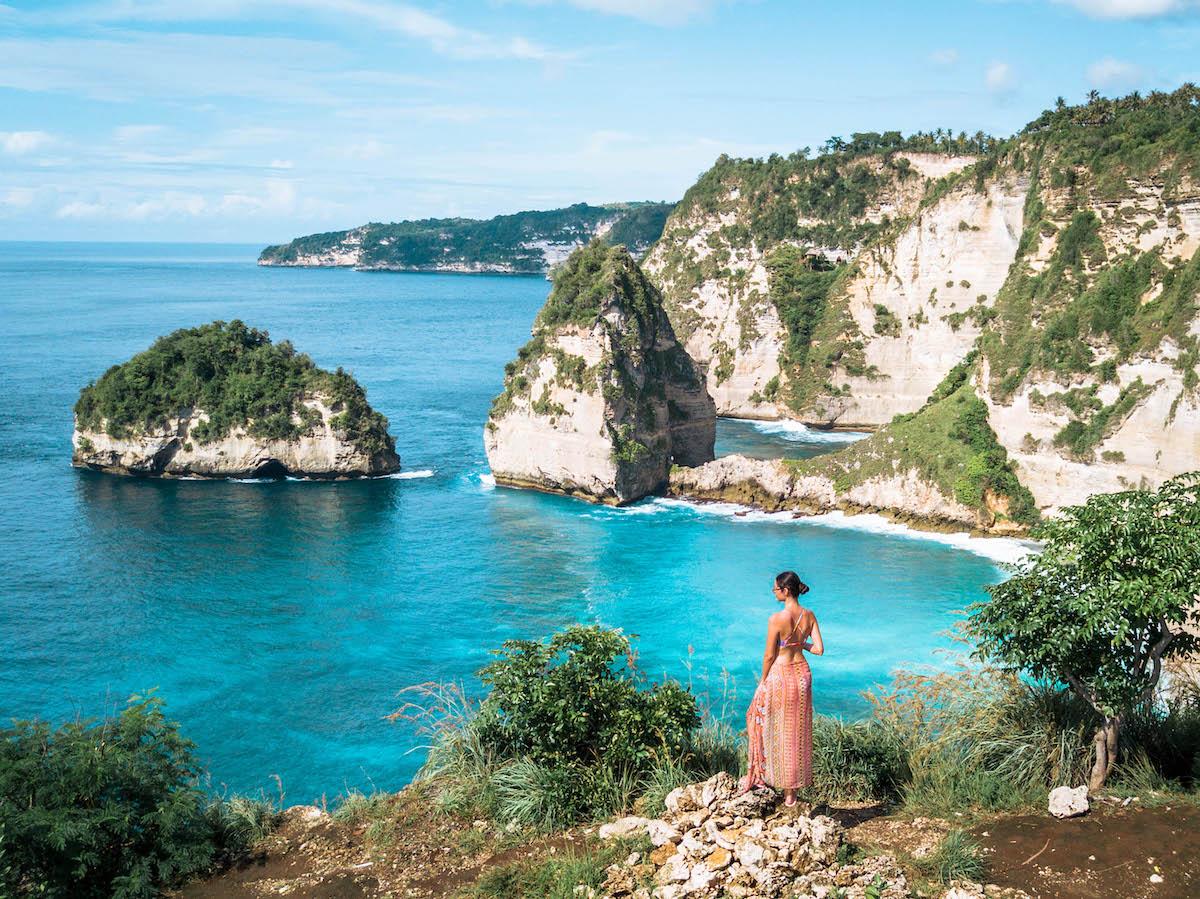 Once you get to this beautiful island, you have several options to explore it. You can either hire a driver with a car, join a guided tour or rent a motorbike. We chose to rent a motorbike because Dan is an experienced driver and we wanted to be in charge of our schedule.
Good to know – When we visited Nusa Penida, the roads were in terrible shape, making it difficult to reach even the most popular attractions. Lately, I've heard that things have changed. The roads are now in good condition, suitable for both cars and motorbikes.
Option 1 – Rent a motorbike
If you're an experienced driver, renting a motorbike is the best option to explore Nusa Penida. If you're planning to spend more than one day on the island, I recommend renting your motorbike directly from your accommodation. You can ask your host and he or she will help you. Most hotel and guest house owners offer motorbike rental services.
If you only plan to spend one day exploring Nusa Penida, you can rent a motorbike directly from the port. When you arrive on the island, you'll see many people asking if you need a scooter or motorbike.
Before starting exploring the island, make sure to check the tank. You can buy gas from shops near the port for about 10 K rupiah per liter.
Renting a motorbike for one day costs around IDR 80 K. If you're planning to stay more days, you can negotiate the price.
Option 2 – Hire a driver
If you want a hassle-free experience, I recommend hiring a driver. You can sit back and relax while somebody else takes care of planning the itinerary and driving. Hiring a driver in Nusa Penida costs around IDR 500 K per day and a car can accommodate up to 4 people. If you're a group of 3 or 4 people, it's really affordable to hire a driver.
You can find a driver online or, if you're planning to spend more days in Nusa Penida, you can ask your host for recommendations.
Good to know – In Indonesia, it's customary to leave tips. After the tour ends, leave a tip of IDR 50 K – IDR 60 K to your driver. He will appreciate it.
Option 3 – Join a guided tour
You can join a day tour from Bali that includes ferry tickets and transport on Nusa Penida, although I recommend spending more than a day on the island.
You can choose this Nusa Penida Instagram tour that has great reviews or this tour that includes stops at T-Rex Beach, Diamond Beach, Angel Billabong and other attractions.
3. Climbing down to Diamond Beach
Once you reach the Diamond Beach parking lot, follow the path and the signs. After a few minutes, you'll see a set of stairs on your right side. The stairs are carved into the cliff and they're quite narrow, so be careful.
It takes about 15 minutes to climb down the stairs and get to the beach. Take your time to admire the views along the way because they're spectacular. We stopped for about 20 minutes to take photos and enjoy the views.
Good to know – there are no shops until you reach Diamond Beach. Bring a bottle of water to stay hydrated.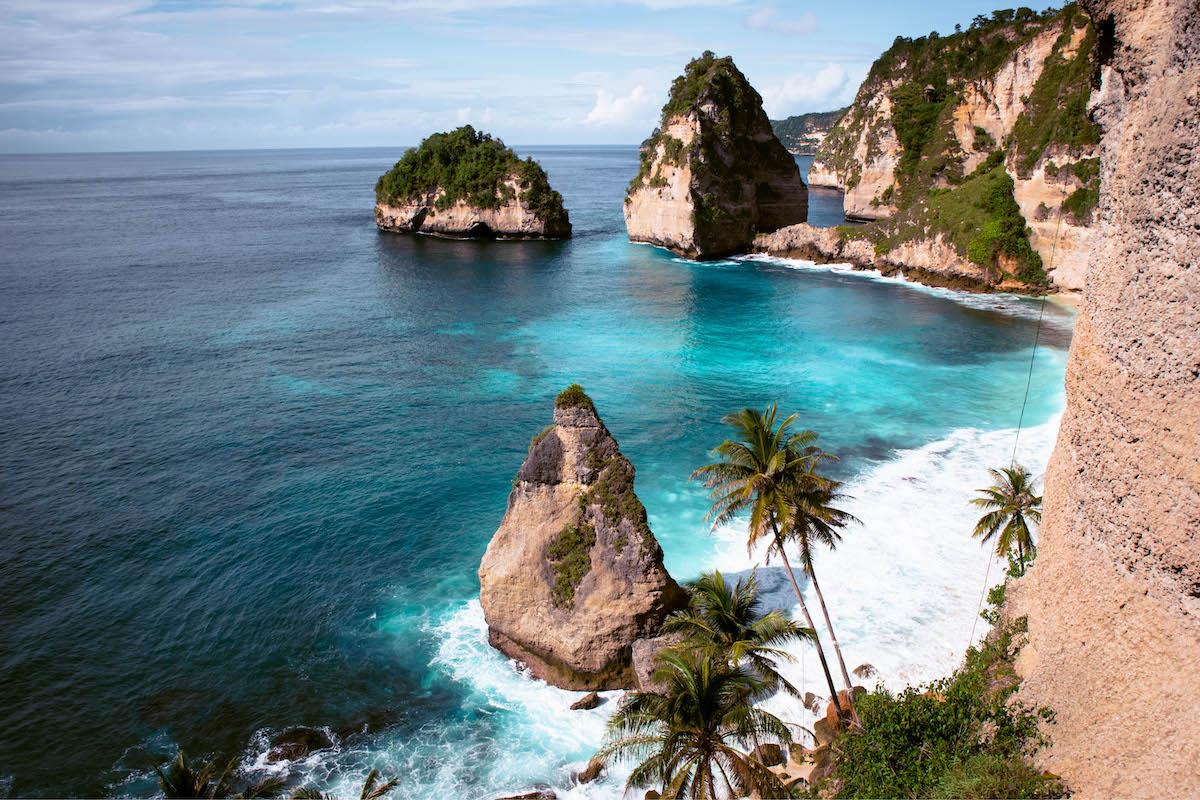 Once you reach the beach, you'll see a swing and a nest on your left, perfect for those who want to take a few instagrammable photos and a small shop selling snacks and refreshments.
From here, you'll have to go down another small set of stairs to actually reach the beach.
4. Diamond Beach swing and nest
You might be familiar with Bali swings and nests. They're all over the island and they're super popular among tourists who are passionate about photography.
Well, there is a beautiful swing at the Diamond Beach Nusa Penida and for a small fee, you can take a few photos in it while enjoying the views. Right near the swing, there is a nest made from wood and branches.
The nest is one of the most instagrammable spots on Nusa Penida, so make sure to take a photo here. It offers stunning views of the beach.
The guy who owns the small shop also manages the swing and the nest. Therefore, if you want to use them you'll have to pay the fee at the small wooden shop.
5. What to expect at Diamond Beach
Diamond Beach is extremely popular, especially at mid-day. There will be many tourists on the stairs and at the beach trying to take photos. The only way to avoid them is to wake up early.
Right near the beach, there is only one small warung selling snacks and refreshments. I recommend bringing drinks and something to eat with you.
You can find more restaurants and bars at the nearby Atuh Beach. I recommend visiting Atuh Beach too – it's super close. From the main path leading to Diamond Beach, continue walking for a few minutes.
You'll see a set of stairs on the left side of the path leading to Atuh Beach. It takes about 15-20 minutes one-way to reach Atuh, but the views are worth it. This beach is famous for the huge broken rock sitting right in front of the bay. If you ask me, it kinda looks like a dinosaur.
6. Diamond Beach tide
It's very important to check the tide before visiting Diamond Beach. If the tide is high, you won't be able to walk on the beach because the waves will reach the cliffs.
Unfortunately, when we visited, the tide was high and we were only able to admire the beach from the small warung/ shop. When the tide is low, you can safely explore the beach and even lay your towel on the sand to enjoy the sun!
7. Swimming at Diamond Beach
Unfortunately, if the tide is high, swimming or snorkeling are not possible at Diamond Beach. The bottom of the sea is rocky and the waves are usually very powerful. You can try and take a dip in the water, but you should be really careful not to hurt yourself.
There are many rocks on the bottom of the sea and near the shore. Don't get too close to them because the currents are strong and they can draw you in.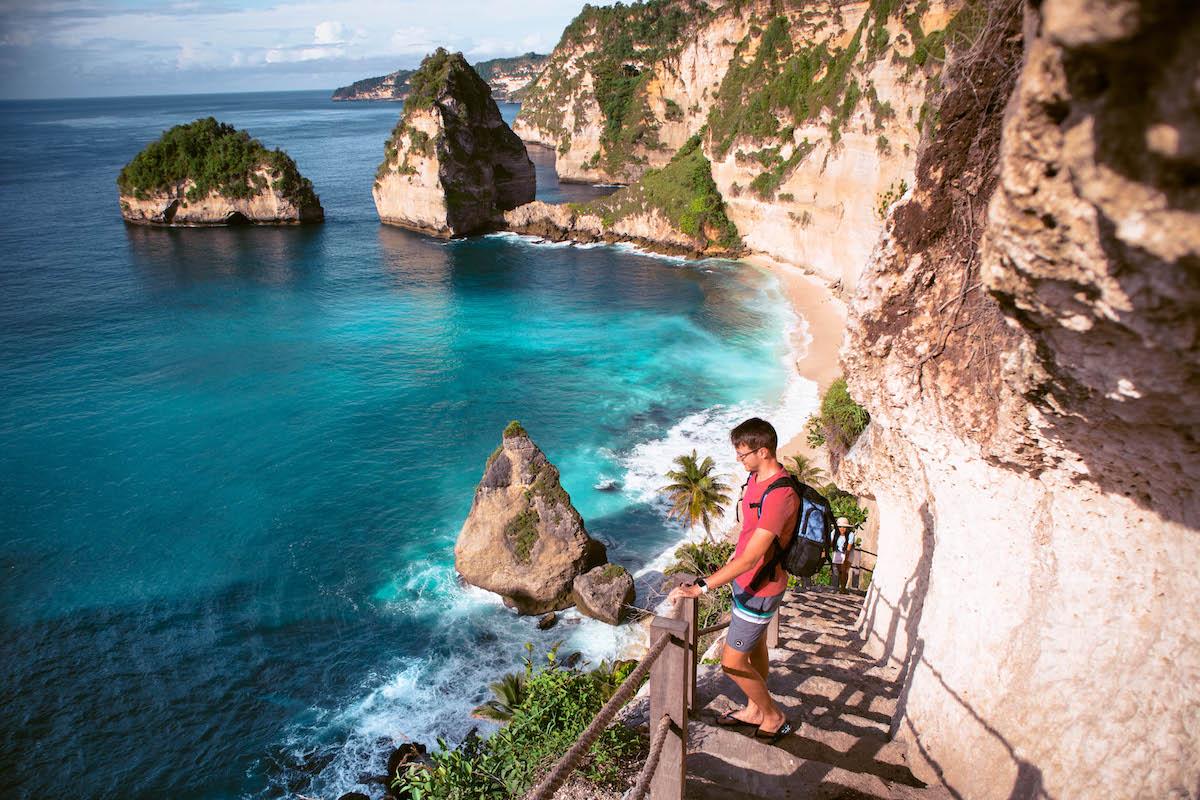 However, when the tide is low, you can swim safely. Keep in mind that on the bottom of the sea there are many rocks. I recommend bringing some water shoes.
8. Hidden Diamond Beach viewpoint
I want to share a secret with you. Not many people know about this viewpoint and it's only a short walk away from the stairs leading to the beach.
To reach this incredible Diamond Beach viewpoint, you'll have to follow the path past the stairs leading to the beach. After about 50 meters, on the right side of the path, you'll see a cliff. On Google Maps you can find it as Jogglo Viewpoint.
When we visited, there was nobody there. We took our time to take photos and we even flew our drone. I'm telling you, this is one of the best views on Nusa Penida!
9. The best time to visit Diamond Beach
Ok, so this is super-important. If you want to avoid the crowds and the high temperatures, visit Diamond Beach as early as possible. We were there at 8 AM and there was just another couple at the beach.
At 9 AM, people started coming and the stairs became super-busy. It was almost impossible to take photos anymore. Also, my recommendation would be to visit Diamond Beach first and then head to Atuh Beach.
10. Entrance fee and opening hours
The beach is open 24/7, but the best time to visit it is early in the morning. The entrance to the beach is IDR 10 K, which includes the parking and the beach fee.
If you're visiting Diamond Beach with a driver or a guided tour, this fee is usually included in the tour price.
11. Is it worth visiting Diamond Beach?
Nusa Penida is home to many incredible tourist attractions. Most tourists visit Kelingking Beach, Broken Beach and Crystal Bay because they're all in the same area.
Fewer people reach the eastern part of the island even though there are many incredible places worth exploring, such as Atuh Beach, Diamond Beach, Thousand Islands Viewpoint and the Tree House.
In my opinion, Diamond Beach is one of the most beautiful beaches in Asia. Trust me, in two years of full-time travel across Asia, I've seen hundreds of beaches, but Diamond Beach will always have a special place in my heart.
12. Places to visit near Diamond Beach
As I've said before, I recommend visiting Atuh Beach. It's just a short walk away from Diamond Beach. After these 2 places, you can head to the famous Tree House and the Thousand Island Viewpoint. They're both in the same area.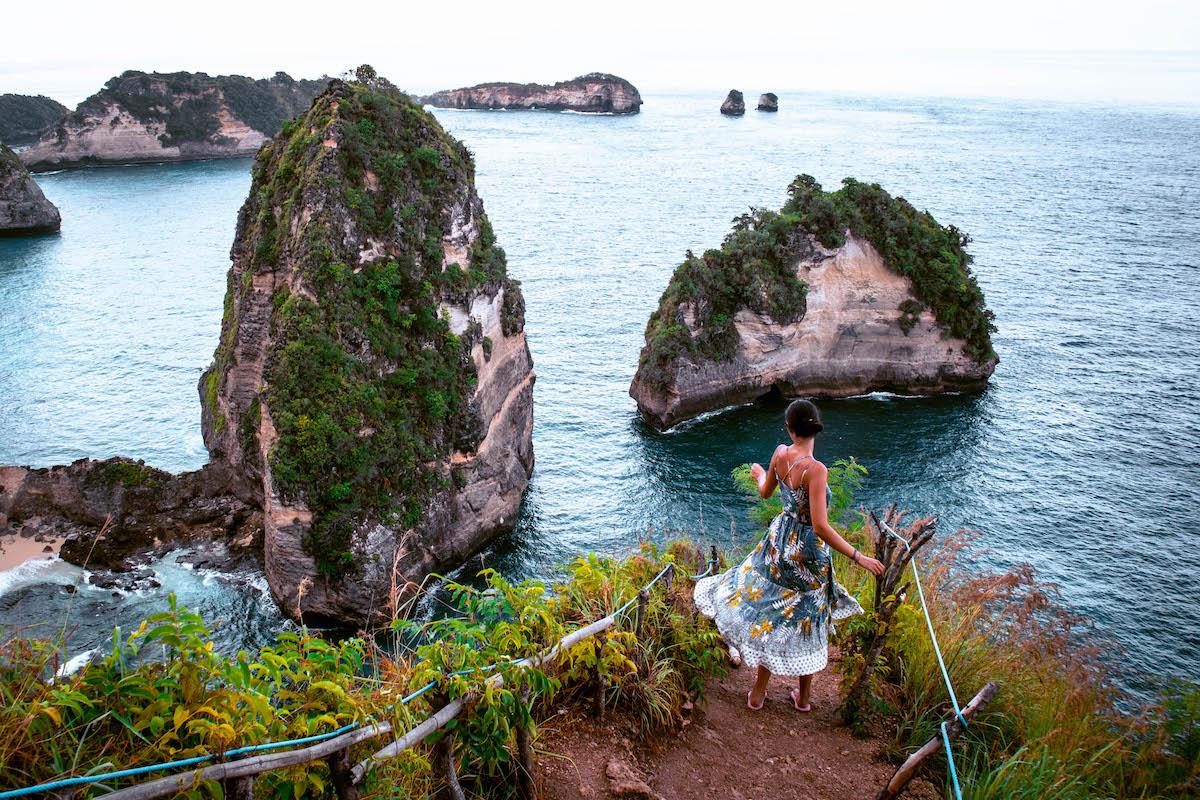 Another place you can visit on this part of the island is Suwehan Beach. If you're looking for a quiet place, away from the crowds, Suwehan Beach is the perfect destination. It's actually quite similar to Diamond Beach. It also has a big rock formation right on the beach shaped like a diamond.
13. Where to stay on Nusa Penida
Most hotels and guest houses on Nusa Penida are located close to the port. I think this is the best area to find accommodation because it's close to restaurants, supermarkets and shops.
Budget – Double-G Guesthouse – excellent location, spacious rooms, air conditioning, friendly staff
Mid-Range – NG Sweet Home – beautiful pool, quiet area, good location, spacious & clean rooms, continental breakfast included
Luxury – Adiwana Resort – excellent location, incredible pool, beautiful views, luxurious rooms, excellent facilities
14. Final thoughts
If you're planning to visit Nusa Penida, you have to add Diamond Beach to your itinerary. It's an incredible beach with some of the most impressive views.
Check out my Indonesia travel guide to find out more about transport, costs, things to do and accommodation. If you have any questions about Diamond Beach, let me know in the comments section below.
May the travel bug bite you!
Disclosure: Please note that this post may contain affiliate links. If you make a purchase through these links, I will earn a small commission at no extra cost to you. I only recommend companies and products that I trust and the income goes to keeping this website running. Thanks!