Is living in Bali a dream of yours? I'm here to help you make the right decision!
When I decided to travel the world full-time, I never imagined that I would end up spending 8 months in Bali. I fell in love with the culture and the freedom I felt while living on this beautiful island. In this blog post, I want to share with you my experience as an expat in Bali.
I'll share with you both the good parts and the ugly parts. There are many advantages to choosing Bali as a home base but there are also some things that might be a deal-breaker for some of you. These are the pros & cons of living in Bali.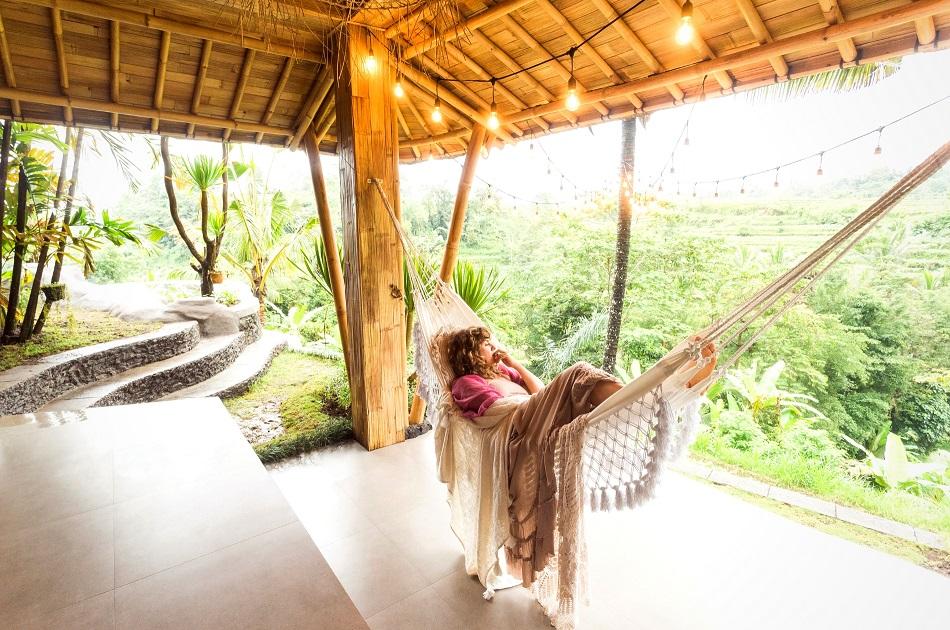 1. Why I chose to live in Bali
At the beginning of 2018, I packed my bags (together with my boyfriend Dan), bought a one-way ticket to Thailand, and started what was going to be the adventure of our lives.
For about 3 months, we traveled non-stop through Thailand, Cambodia, Vietnam, Malaysia, and Singapore. Searching for accommodation and transport every other day is challenging and tiring.
When we reached Malaysia, we were exhausted. We craved a break. We felt the need to stop for a while and take in all the experiences that we've lived.
No time to read now? Pin it for later!
Our bodies demanded rest so we decided to make Bali our next destination and spend there a few weeks. Little did we know that we'll end up living in Bali for 8 months in total.
When we arrived, we already knew that we wanted to find a place close to the sea so Canggu was the natural choice for us. Many digital nomads choose Ubud as their home base but we'll talk about which area is better later.
In just a few days we found a beautiful room in a small villa, with a pool and a cute dog, called Milo (here's my complete guide about how to find long-term accommodation in Bali). We used the first few days to sleep and recharge our batteries and slowly, we started to explore Canggu and other areas of Bali.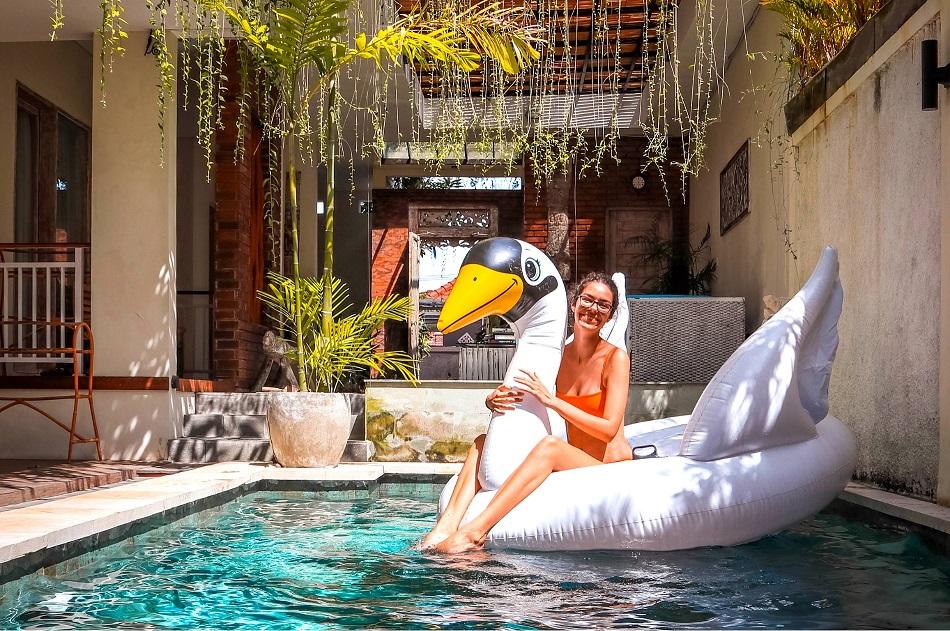 2. The advantages of living in Bali
There are many reasons why expats choose to live in Bali. It's a beautiful island, with an incredible culture, and kind people. Here are some of the reasons why you should move to Bali right now.
#1 The internet is super-fast
If you're a digital nomad, the first thing you have to check when thinking about moving to a new place is the internet speed. For me, the internet connection was super-important as a travel blogger.
I was happy to find out that Bali is one of the places with the fastest internet connection. However, depending on where you're staying, the speed might vary. That's why I recommend checking the internet speed before choosing your accommodation.
#2 Good airport connections and cheap flights
Choosing Bali as my home base was the best decision. Denpasar airport has great connections with almost all the countries in Southeast Asia.
Also, there are several flights per day connecting Bali to Kuala Lumpur and Singapore. From there, you can get to pretty much anywhere on the island.
#3 Lots of co-working spaces to choose from
Personally, I'm the type of person who prefers to work from home (in this case, my accommodation in Bali). However, if you feel more productive in a co-working space, there are lots to choose from.
Seminyak, Canggu, and Ubud are well known for their rich offer of co-working spaces. Some even have a pool and offer weekly parties.
#3 You can use a scooter or motorbike to get anywhere you want
If you only like to use public transport, maybe moving to Bali is not a good idea. There are no trains on the island and traveling by bus is rather a nightmare.
However, for those who like driving scooters or motorbikes, Bali is heaven on earth. Everyone in Bali drives a scooter, even kids.
Don't worry, you don't have to buy a scooter to get around. You can rent one for long-term at an affordable price (more about costs below).
We used a scooter to get from Canggu to pretty much anywhere. It's cheap, convenient, and fun!
#4 There are lots of beautiful places to explore
I've been to 40 countries but Bali is my favorite place. There are so many beautiful waterfalls to explore, rice terraces to admire, and views to take in.
My favorite part of the island is the Northern area. Leke Leke Waterfall, Banyumala Twin Waterfalls, and Brahmavihara-Arama Temple are just a few of the incredible places you can explore here.
Ubud has its gems too. The Monkey Forest, Tibumana Waterfall, or Tukad Cepung Waterfall are all worth a visit.
Apart from Bali itself, there are several breathtaking nearby islands that you can explore. Plan a few days for Nusa Penida, Nusa Ceningan, Nusa Lembogan, Lombok, or Gili Islands.
#5 The food scene is insane
Do you like Thai food? You'll find it in Bali. Do you like Indian food? You'll find plenty of Indian restaurants in Bali. Bali is a mix of tastes from all around the world.
I was surprised to even find a Romanian restaurant in Seminyak where I had some of the best mici (even if you're not a Romanian, you have to try mici. They're delicious!)
Bali is well known for its cafes, serving everything from vegan dishes to delicious burgers. The local food is great too! If you're in Canggu, you have to eat at Waruna.
#6 The nightlife is great
If you like to party, you definitely have to move to Bali. With countless beach bars and clubs, Bali is perfect for those who want to unleash their party animal.
The best places to move to if you're looking for awesome parties are Canggu and Ubud.
3. Disadvantages of living in Bali
I loved living in Bali and I would go back anytime. However, there are a few things that bothered me in one way or another. No place on earth is perfect and Bali is no exception. Here are the downsides of living in Bali.
#1 The traffic can be pretty hectic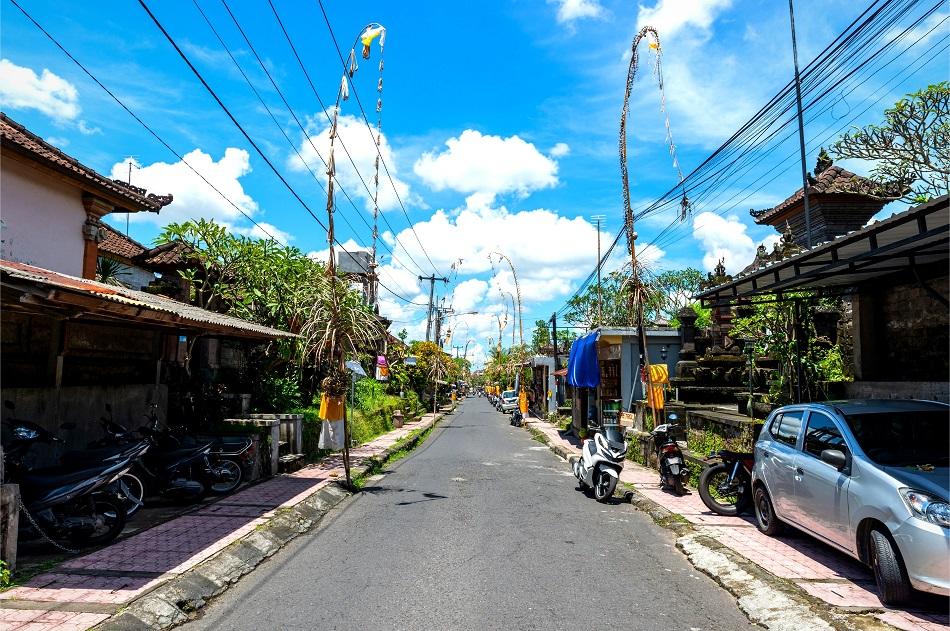 Areas such as Canggu, Seminyak, and Ubud can get pretty busy. A one-hour drive can easily transform into a 2-hours drive.
My advice to you would be to never trust Google Maps. If Google tells you that to get from point A to point B takes 30 minutes, double that time to get an accurate estimate.
#2 Shopping for electronics is nearly impossible
Once you've been to the shopping malls of Kuala Lumpur and Singapore, there's no going back. After our camera broke in the Philippines, upon our arrival back to Bali we decided it's time to buy a new one.
We were surprised to find out that even in Denpasar, there are few electronics shops. It's hard to find a specific camera or laptop and even if you do, the prices are higher compared to Kuala Lumpur and Singapore.
#3 The mighty rainy season
If you're planning to live long-term in Bali, there's no way to avoid the rainy season. Imagine days on end with rain. A lot of rain. Rivers of rain.
I remember that one time it rained so much that our villa's pool almost flooded the garden. It was crazy.
There's not much to do during the rainy season. However, as a digital nomad in Bali I loved that the bad weather gave me the opportunity to focus more on my business.
4. Which is the best area to live in Bali as a digital nomad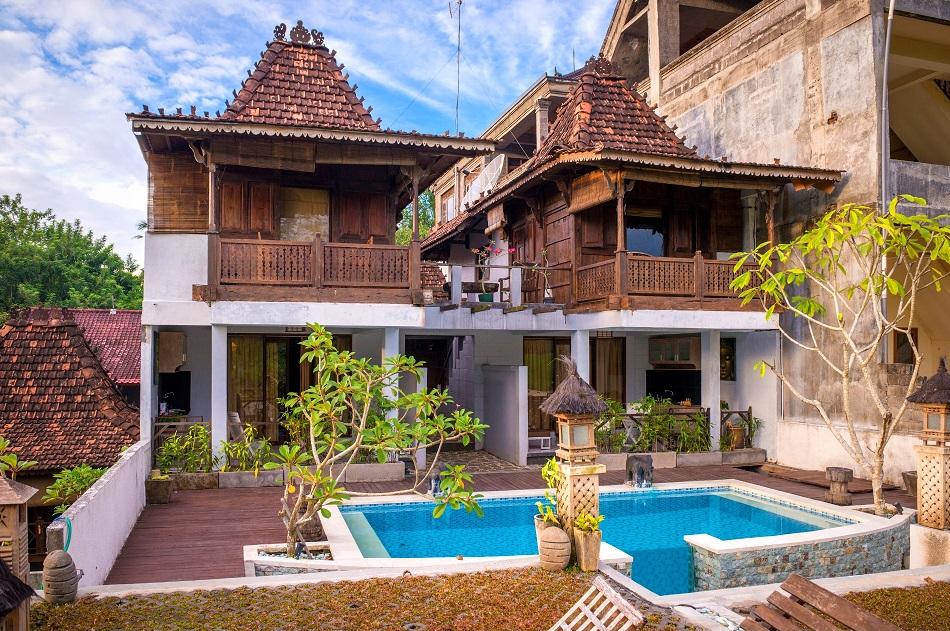 Some prefer Canggu, some prefer Seminyak, some prefer Ubud. I think it all depends on your personal preferences. If you'd like to be closer to the sea, you have to choose Canggu or Seminyak.
If you want to be closer to the jungle, waterfalls, and rice fields, you have to choose Ubud. All these 3 towns are a great choice for digital nomads. The internet is great, there are lots of restaurants to choose from, and many co-working spaces.
I wrote a detailed guide about how to find long-term accommodation in Bali in any of these areas. Make sure to check it out!
5. Living in Bali monthly costs
Probably the question I get most often is "Is it expensive to live in Bali?". No, it's not. The costs of living in Bali are low compared to other countries.
You can live in this beautiful corner of paradise for as little as $1200 per month for 2 people. Our average monthly spending during our 8 months in Bali was $1500 but we didn't hold back from anything. Oh, and we only ate out. No cooking for us.
Here is a breakdown for the cost of living in Bali per month (for those who want to live on a budget).
Accommodation – A nice room in a good area in Canggu, Seminyak, or Ubud will cost you around $450 per month (all utilities included).
Transport – Renting a motorbike or scooter costs around $60 per month, depending on your negotiation skills.
Food – Eating out at a fancy restaurant will set you back $10 per meal while eating at a local warung will set you back only $4. If you want to cook your own meals, you could spend even less.
Fun & activities – If you want to explore more of the island and visit waterfalls & other tourist attractions, keep in mind that most probably you'll have to pay entrance fees. It will probably cost you around $60 per month. To that, add at least another $140 for drinks if you like partying.
Miscellaneous – Put aside around $100 for unplanned spending.
6. Final thoughts
Living in Bali as a digital nomad was fabulous! I know that some people say that Bali is not what it used to be. It may be not. Places change over time and it's ok.
For me, Bali will always be that place where I'll find my peace and where I'll feel free. Living in Bali is great and I'm sure that you'll love it!
If you have any specific questions, don't hesitate to ask me in the comments section below.
May the travel bug bite you!
Disclosure: Please note that this post may contain affiliate links. If you make a purchase through these links, I will earn a small commission at no extra cost to you. I only recommend companies and products that I trust and the income goes to keeping this website running. Thanks!