Travelling full time seems to be the dream for every Millennial around the world. We're all being told that working 9 to 5 is something we have to escape from, that we should follow our dreams and get inspired by each travel quote we see. But there is something about this whole idea that I don't agree on.
Full-time travel is yet another full-time job, unless you're rich. While travelling full time means that you're location independent, it doesn't mean that you won't have to work. If you want to travel around the world for more than a few months, you'll have to do more than just sit on a beautiful beach in Thailand with a Mojito in your hand.
Full-time travel is about exploring the world while working your a** off to afford it. There, I've said it.
But how can you afford to travel full time in the first place?
Before getting to the part where you'll have to work day and night to afford your new lifestyle as a digital nomad, I want to share with you how you can get out of your comfort zone, quit your job, leave your friends and family behind and travel the world.
It doesn't sound that fancy anymore, does it?
Even though the goal is to escape the 9 to 5 job, the best way to save up money to travel full time is to have a full-time job. Having one will allow you to have a stable income and to save up money.
Also, you never know when the skills learned at your desk job will help you build your own successful business. I've worked in advertising before deciding to travel full time and it has made all the difference for me. I use the skills learned at my previous job to grow my blog. Isn't that awesome?
No time to read now? Pin it for later!
If you are wondering how to save up money, I'm going to share with you a few tips. Think about all the things you buy but don't actually need. That money could go into travel instead. It's just a matter of priorities.
If you make the decision today that your top priority is to save up money to travel the world for X months, you're gonna make it. Give up useless clothes, cook instead of eating at restaurants, and cut other expenses.
A good way to decide whether or not to buy something is to ask yourself the following questions: Will this thing be useful in my journey? Can I bring it with me in my carry on?
If the answer is no, let it go. You'll enjoy an extra day in Vietnam more than a new t-shirt.
Another good way to keep yourself motivated to spend less is to think about how many days you can travel with the money you spend on new clothes or eating out at restaurants. As a base, if you're planning on backpacking, you'll need about $25 per day.
So, let's do the math:
1 Zara t-shirt = one day of backpacking
1 meal in the city = one day and a half of backpacking
1 movie = one day of backpacking
1 pair of shoes = 5 days of backpacking
How many days of travel do you think you can save up for in one week?
From full-time job to full-time travel
If you thought that saving up the money was the hardest part, think again.
The transition from your comfort zone where you are surrounded by family and friends to moving at the other end of the world is the hardest part. There are many things you'll have to give up when travelling full time. I'll list below just a few of them.
1. Friends & family
This is probably the hardest part. Since we were little, we've spent our whole lives surrounded by family. We all have childhood friends, friends who've been there unconditionally. Having somebody to rely on is incredible and probably one of the best feelings in the world but are you ready to give it up?
Traveling full time means that you'll be away from your loved ones, somewhere around the globe where if something happens, nobody can come and rescue you. You are on your own. You'll have to learn to live on your own and face everything.
But let's look on the bright side – you'll grow a lot! Being on the road will be the most valuable lesson in your entire life, trust me!
2. You'll have to give up on things
Think about all your clothes, shoes and bags. Now forget about them.
Being location independent is all about minimalism and most of the times less is more. Once you give up on 80% of your stuff, you'll feel free.
Picking daily outfits can be a burden when you have a wardrobe full of clothes. When travelling full time, things are much easier. Believe it or not, having just a backpack or a suitcase makes things much easier.
A good lesson I've learned while being on the road is to not get attached to things and I recommend you do the same.
3. Exit your comfort zone
New food, new people and new situations to deal with will wait for you at every corner. Full-time travel is about growing as a person while facing new challenges.
Be prepared to change your diet and eat weird food. You won't find many tasty hamburgers in the heart of China or between the temples of Bagan. Every country has its traditional food and love it or not, you'll have to adapt to it.
Be prepared to face the unknown.
It's time to pack your stuff
If after everything I've told you, you still want to roam the world, you'll have to read about the ultimate full time-travel packing list.
I've been on the road for the past year. After all this time, the content of my backpack has suffered major changes. I've learned to declutter and pack efficiently and I want to share how I did it with you. Below are a few must have items that will help you save tons of space while traveling full time.
Let the journey begin!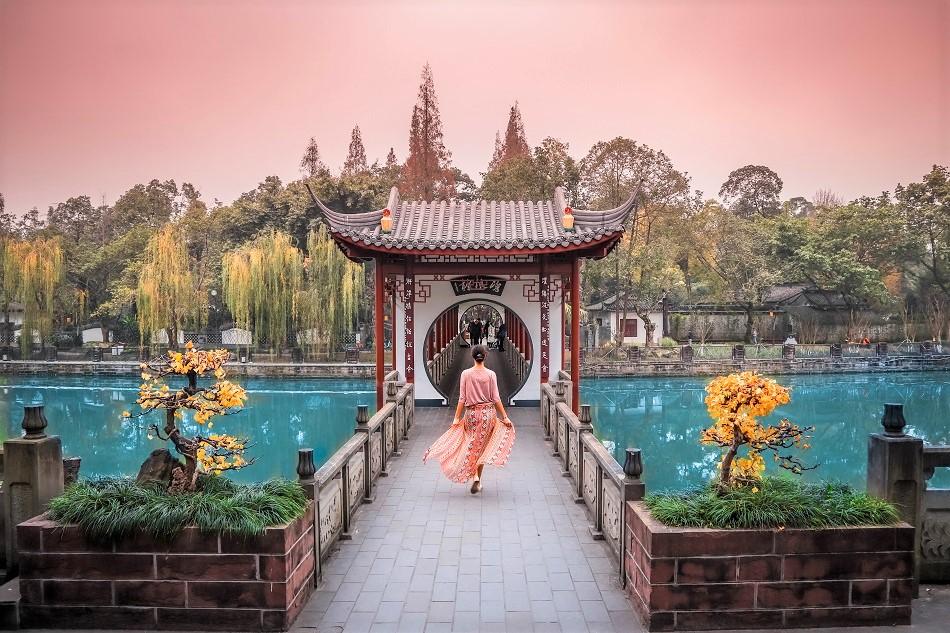 Now it's time to talk about the journey itself.
By now probably all your friends think you're crazy and they're not to blame. Society pushes us to have a stable job, buy a house and have kids. In their eyes, you're the misfit. They don't understand your desire to explore the world, to challenge yourself. You'll become "the crazy friend" but they will still love you.
Once you'll get on that plane, you'll feel the whole world crushing beneath your feet but once you reach your destination a whole new world will open up to you.
If you took the decision to travel full time, you probably have some savings. They might be enough for a few months of travel or even one year. The question is what will happen afterward, after the money is gone?
Making money while traveling full time
There are basically 2 options: you'll want to go back home, at a stable job and lifestyle or you'll just want to travel more.
Trust me, there is nothing wrong with wanting to go back home. Changing accommodation every three days and sleeping on buses is not for everyone. There is nothing wrong with wanting to have a stable lifestyle.
On the other hand, if you plan to travel more, you have to take action and put in the work.
1. Content creation
Most travelers choose to become content creators (vloggers, bloggers, Instagrammers). Being a successful content creator can bring you enough money to continue your full-time travel journey but there is a catch.
There is no such thing as overnight success.
Even though you'll come across courses about "how to become an influencer in 5 easy steps", don't even bother to read them. If you really know that this is what you want – to become a digital nomad – you'll have to start working on it from the moment you leave home.
Open a YouTube account, start a blog or an Instagram page (you can read more about blogging vs social media here). Start creating content, take photos or videos and when you have spare time, write blogs or edit videos.
Growing a blog or any other channel takes A LOT of time. It takes months, if not years of dedication to make a good, stable income from content creation.
2. Freelancing
Another option to make money is to become a freelancer.
There are many freelancing jobs such as being a freelance writer, web designer or programmer and the best part is that you can work remotely. This means that you can continue to travel while making an income.
Some websites where you can offer your services are Upwork, Freelancer or Guru.
Whether you choose to become a content creator or a freelancer, the thing is that you're going to have to work. Trust me, working and traveling at the same time is not as easy as it seems.
If you're wondering how I do it, this is how my schedule usually looks like. I travel non-stop for a few months and I create content along the way. I take photos, research about the best places to visit and try to discover new places which are off the beaten path. After all this travel, I take a break for another few months in Canggu, Bali.
And now comes the hard part. I work all day, every day at catching up with my content. I write tirelessly on my blog and I love it. For me, my blog is my little baby and I love seeing it grow.
I think it all comes down to passion. You might be passionate about traveling, but let me ask you one question – Would you work your a** off to afford it?
Final thoughts
I know that there are many posts and articles on the internet where everybody only speaks about the pretty face of full-time travel and as a digital nomad myself, I felt the need to share with you the truth, step by step.
My intention is not to discourage you to follow your dream. Instead, I want you to have a down-to-earth image about what travelling full time really means. Yes, it's challenging and hard but at the same time, it's the most rewarding and fulfilling experience in the world!
It takes a lot of courage, tons of determination and a will of steel to transform full time travelling into a lifestyle.
May the travel bug bite you!
Disclosure: Please note that this post may contain affiliate links. If you make a purchase through these links, I will earn a small commission at no extra cost to you. I only recommend companies and products that I trust and the income goes to keeping this website running. Thanks!