If you're thinking about moving to Bali, you're in the right place. I'm going to tell you how to find the best long-term accommodation in Bali.
There are many factors to take into consideration, and after living in Bali for 8 months I'm going to share with you my strategies for finding affordable long-term rentals in Bali.
1. The best locations to live in Bali as a digital nomad
There are 3 locations in Bali, popular with digital nomads – Canggu, Seminyak, and Ubud. These 3 areas are preferred by foreigners from around the world because here you can find all the infrastructure that you need for a comfortable stay.
There are plenty of shops, countless markets, a plethora of restaurants, awesome night-life, and more. Here are a few reasons why people prefer to search for long-term accommodation here.
No time to read now? Pin it for later!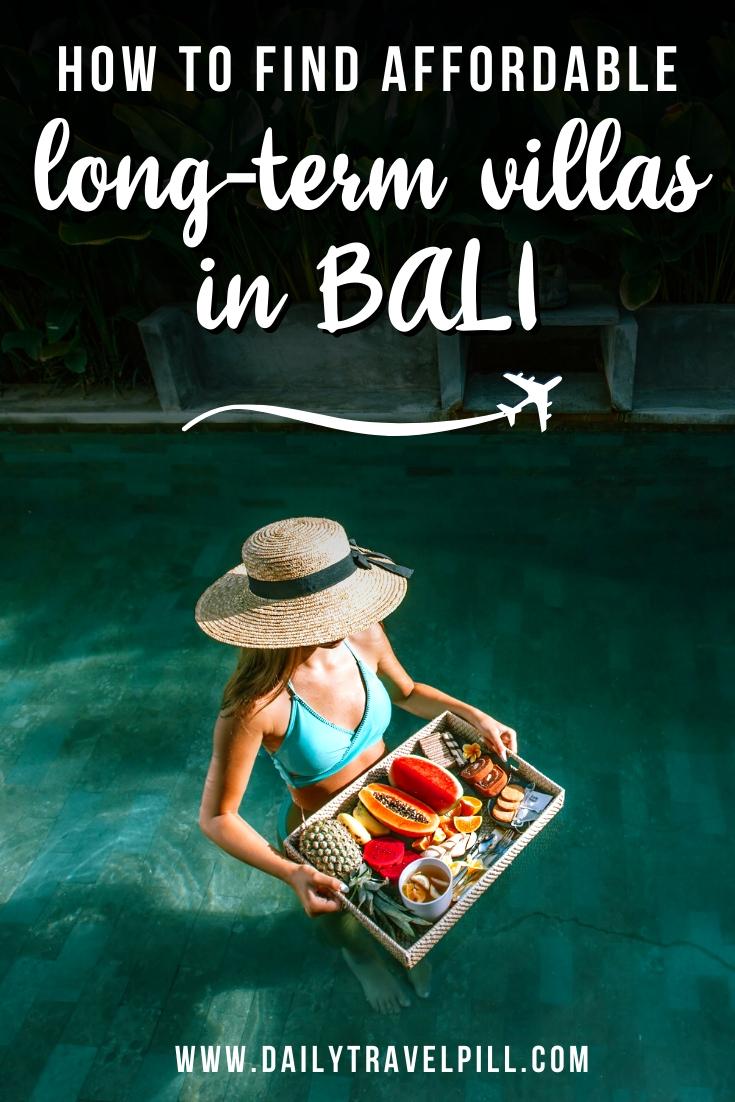 #1 Lots of co-working spaces to choose from
If you feel more productive in a co-working environment, you'll be happy to find out that there are tens, if not hundreds of co-working spaces to choose from. Some have private pools, others offer weekly parties. You'll just have to choose the one that fits your needs!
#2 The internet works great
Bali is heaven on earth for those who work remotely. The internet speed is great on most of the island. If you're not into co-working spaces, you can easily find accommodation with a good internet connection.
#3 The food is delicious
No matter which one you choose as your home base – Canggu, Seminyak, or Ubud – you'll find plenty of awesome restaurants. The food scene in Bali is insane. You'll find anything from Thai food to Western dishes.
Good to know – If you'd like to be close to the sea, I suggest choosing Canggu or Seminyak. I personally like Canggu more because it's more chilled and there aren't so many tourists compared to Seminyak.
-> To read more about the pros & cons of living in Bali, click here
2. How to find long-term accommodation in Bali
The best advice I could give you is – never book a villa for long-term in Bali without seeing it in person. You might be tempted to book online a villa for a few months but don't!
When you're looking for a place to spend a few months, it's best to see it in person before making a decision. This way, you can check the internet speed, see how spacious the rooms really are, see if you're satisfied with the amenities.
The first step before arriving in Bali would be to find temporary accommodation (2 or 3 nights) in the area where you're planning to move to. You can book a room online, on Booking.com, or any other website.
After arriving in Bali, you can start searching for your perfect future home. Here's how to do it. You can either search for long-term rentals on Facebook groups, on Booking.com/ Airbnb, or go door to door.
I'll talk more about each of these options below.
#1 Search for long-term accommodation in Bali on Facebook groups
You can start your research on this Facebook Group. Post your budget, the area where you'd like to live, and you'll start getting offers.
After choosing your favorites, talk to the owners, and plan a meeting. Never agree to book a place without seeing it first. I can't even stress how important this is.
More niche Facebook groups:
#2 Search for Bali villas to rent on Booking.com or Airbnb
You can use these platforms as a starting point for finding a villa to rent in Bali. Search for villas in the area where you'd like to live in, according to your budget, and make a list with your favorites.
After that, search for your favorites on Google Maps and go directly to these villas to talk to the owners. You must take into consideration that not all owners can be found at their villas 24/7 so be persistent.
If you really like a place, go back until you'll find the owner. If there are other people who stay at those villas, ask them for a phone number.
#3 Go from door to door
If you want to rent a house in Bali for the long term, you can go from door to door and search for the perfect match. Decide on which area you'd like to live in, rent a motorbike for a few days, and start asking around.
When I first searched for long-term accommodation in Bali, I knew I wanted to live in Canggu, somewhere near Berawa Street. So I took my motorbike and went from door to door, asking for vacancies and prices.
The advantage of this strategy is that you can also see how the villa looks and decide if you like it on the spot.
3. How much it costs to rent a villa in Bali – per month
The prices start at around $250-$300 per month and they can go up to $1000. Usually, all utilities are included in the monthly rent but make sure to ask first.
In general, if you're on a budget, you can easily find a long-term room to rent for about $300. However, don't expect to have a pool or be located close to the center. Most accommodations at this price are pretty basic.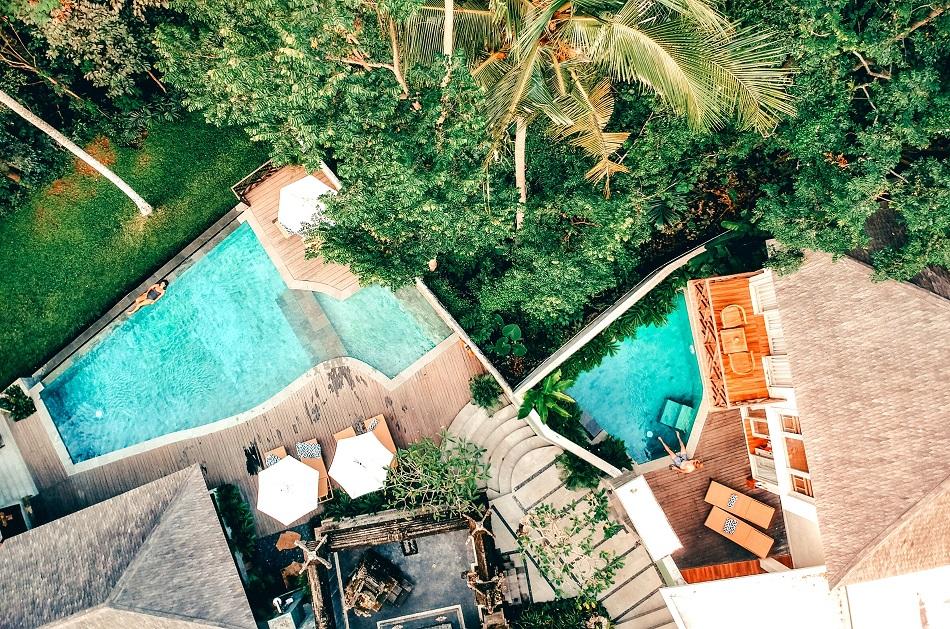 For $400 – $500 you can find a nice, spacious room in a shared villa in a good area. Most of the villas have shared pools so that's a plus.
If you're looking for something more luxurious, expect to pay over $600. I'm talking about villas with fewer rooms and more privacy.
If you'd like to rent a private villa for long-term in Bali, it cat set you back around $800. However, you'll have the entire place to yourself and you won't have to worry about nosy neighbors.
4. Things to keep in mind when looking for a villa in Bali
Here is a list of things to look out for when searching for your accommodation.
#1 Good internet speed
The first thing you'll want to do when visiting a potential accommodation is to check for internet speed. Download this app (for Android and iOS), connect to the villa's WiFi, and see how fast the internet is. You should aim for at least 30 Mb/ s for download speed and 20 Mb/ sec for upload speed.
#2 Nearby supermarkets and restaurants
Make sure to check if there are at least some restaurants and supermarkets nearby. You don't want to have to drive for 10 minutes to buy a bottle of water.
#3 Is it a noisy area?
Check if there are any construction sites nearby. See if you can hear any roosters. Btw, roosters are the worst. They will wake you up each morning at 4 am.
#4 Find out what's included in the price
Make sure that the utilities are included in the price. Also, some of the villas offer free water so make sure to ask about that. Another thing you should ask about is the cleaning process. Some villas offer daily cleaning while others offer weekly cleaning.
5. Final thoughts
Bali is a great place to move to for digital nomads and not only. It's relatively easy to find a long-term villa or room for rent and it's affordable too.
If you have any questions, don't hesitate to ask me in the comments section below.
May the travel bug bite you!
Disclosure: Please note that this post may contain affiliate links. If you make a purchase through these links, I will earn a small commission at no extra cost to you. I only recommend companies and products that I trust and the income goes to keeping this website running. Thanks!