Even though I haven't been to many Greek islands, Thassos is a place very close to my heart. With stunning beaches, great food and a laid-back vibe, Thassos is the perfect destination for those who want a relaxing vacation, away from super-touristy spots like Santorini or Mykonos.
I had the chance to visit Thassos for almost a week and out of all the beaches that I visited, Marble Beach stole my heart. Tucked away between trees in a small gulf, the Marble Beach in Thassos also known as Saliara Beach is a must-see.
If you're planning to visit this beautiful beach in Thassos, I'm here to tell you everything you need to know about it. Let's start with a few words about the island itself.
1. A few words about Thassos
The northernmost island in Greece, Thassos is a beautiful island located about 20 km away from Kavala. The main industry in Thassos is tourism but the island also has important resources of marble and olive trees.
There are plenty of incredible beaches on this island such as Paradise Beach, Golden Sand Beach and Saliara Beach aka Marble Beach. Another impressive natural wonder on this island is Giola Lagoon.
This small natural pool carved in rock communicates with the sea through a small opening. Locals and tourists gather here for cliff jumping and swimming.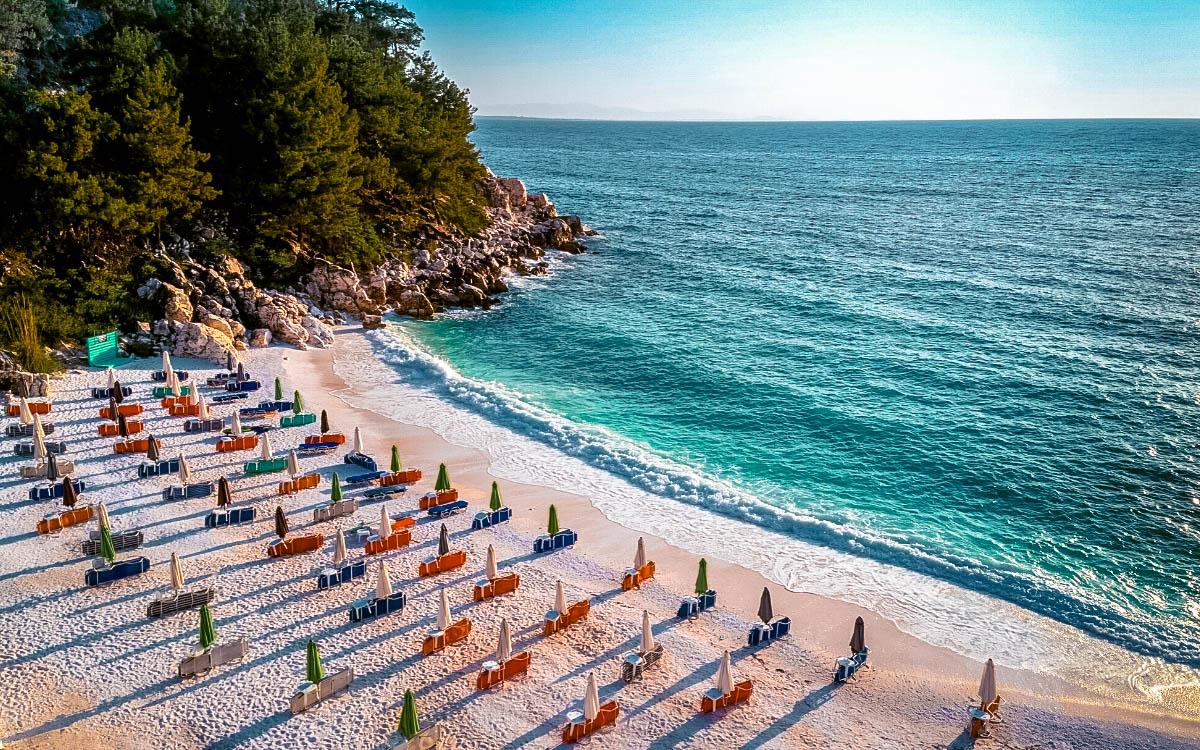 2. What to expect at Marble Beach
Located in a small bay, in front of a marble quarry, this beach used to be unknown to tourists. However, in recent years it got more and more popular and now there's even a beach bar with sundbeds and umbrellas.
The entire beach is covered in medium-sized white pebbles. It's pretty painful to walk on them so make sure to bring some sturdy slippers or water shoes with you.
The beach itself is quite small but the good news is that there is a beach bar serving drinks and snacks. However, if you're on a budget you might want to bring your own snacks and drinks since the ones at the bar are pretty expensive. For a coffee expect to pay 4 euros while a beer costs 5 euros. A bag of chips is 3.5 euros.
The water is crystal-clear, perfect for swimming. Sometimes the waves get pretty big so make sure to be careful. The water gets deep quickly. Just a few steps and you're in deep water which is not ideal for families with kids.
Before deciding to visit Marble Beach, you should know that the marble stones you'll find there have been artificially placed on the beach. However, the effect they create is pretty amazing. The entire beach is shining in the light of the sun.
No time to read now? Pin it for later!
Visit Porto Vathy Beach too
500 meters away from Marble Beach is Porto Vathy Beach. It's much quieter and a bit bigger compared with its most famous twin. You can park your car at Marble Beach and walk to Porto Vathy or vice versa.
You'll also find a nice beach bar here and you can also rent sunbeds and umbrellas for 15-20 euros, depending on their position on the beach. If you want to lay your towel on the sand, there is plenty of space to do so.
This is also a white marble beach and the advantage is that there are a few pine trees right on the beach to keep you away from the sun. The water is great for swimming so definitely consider visiting it when in the area.
3. Marble Beach entry fees & other fees
There is no entry fee to visit Marble Beach but you'll have to pay a few euros for sunbeds and umbrellas. Renting two sunbeds for the day with an umbrella costs 12 euros.
You can also choose to sit on your own towel but I have to warn you that there is not much free space left. That's why I recommend arriving at Marble Beach early in the morning but more about this below.
4. When to visit Marble Beach
If you really want to have the beach to yourself and avoid the crowds, I recommend getting there early in the morning, maybe somewhere around 8 am. In the evening all the sunbeds will be occupied, especially during the touristy season (July – September).
Also, Marble Beach is the perfect place to watch the sunrise. Watch how the sun rises from the sea, reflecting into the blue water. It's pretty spectacular!
If you have the chance, I recommend visiting Thassos in June or October when the temperatures are still pretty high but there are not that many tourists.
5. How to get to Marble Beach, Thassos
Well, now comes the hard part. After I've convinced you to visit this beautiful beach it's time to tell you that getting to it is not that easy.
From Limenas it takes around 20 minutes to get to the Marble Beach (8 km) but you'll have to drive on a dirt road. There's no way to avoid this dirt road and it's a pretty challenging drive even for an experienced driver.
Also, be prepared to get your car dirty. After this trip, it will be covered in white marble dust.
You can park your car right behind the Marble Beach. There is a big parking lot but if you arrive late in the afternoon it might be full. If there are no more parking spots, head to Porto Vathy Beach and you'll certainly find a parking spot there.
6. Where to stay in Thassos
Thassos is quite a big island and choosing a hotel or guest house in a good area is very important. I searched for the best accommodation and here are my recommendations.
Budget – Apartment Vana Limenaria – good location, clean rooms, private bathroom, friendly staff
Mid-budget – La Pierre – good location, spacious and modern rooms, good amenities, beautiful terrace
Luxury – Ilio Mare Hotel – excellent location, beautiful pool, luxurious rooms, excellent service, breakfast included
7. Final thoughts
Some say that Marble Beach is a true corner of paradise, others are not so excited about it. I say that it's worth visiting. The marble and turquoise water are just some of the reasons why you should add this beach to your itinerary.
I loved it and if I'll ever go back to Thassos, I'll visit it again. If you have any questions about Saliara Beach, let me know in the comments section below.
May the travel bug bite you!
Disclosure: Please note that this post may contain affiliate links. If you make a purchase through these links, I will earn a small commission at no extra cost to you. I only recommend companies and products that I trust and the income goes to keeping this website running. Thanks!