Every time I think about my trip to Iceland I feel like booking another plane ticket to go back. There's something special about this island. With countless volcanoes, stunning waterfalls and breathtaking glaciers, Iceland should be on any traveler's bucket list.
Fact – Iceland's glaciers are melting. Every year, Iceland loses approximately 40 square kilometers of ice because of global warming.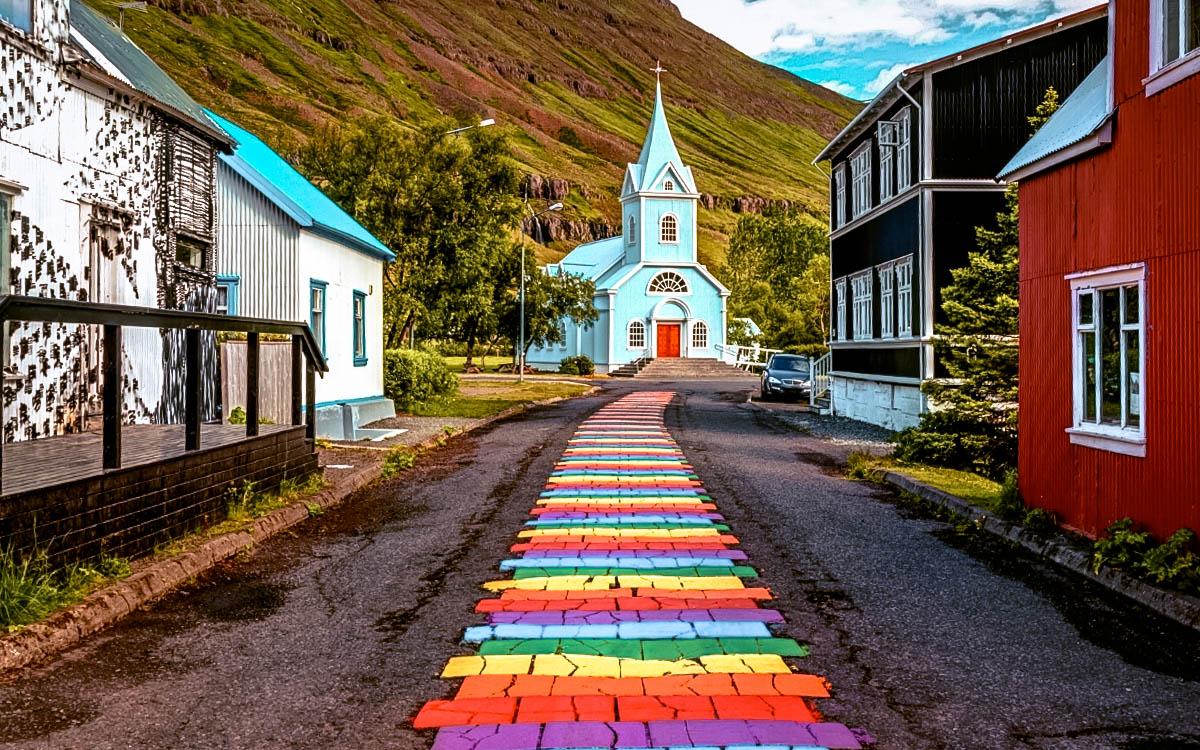 If you're planning a road trip through Iceland, you'll come across some pretty incredible places. You need to stop at the black sand beach Vik, the Jokulsarlon Lagoon and the insta-famous Rainbow Street in Seydisfjordur.
In this travel guide, I'll share everything you need to know about this famous colorful street in Iceland. Let's start with a bit of info about the city of Seydisfjordur.
1. Seydisfjordur – what to expect
Take a small detour from the ring road, drive for about thirty minutes and you'll arrive at a small town called Seydisfjordur. Not many tourists get here which is kinda cool because you'll get the chance to explore this place without bumping into hundreds of people.
Seydisfjordur is home to less than 700 residents but there is a strong art culture here. Apart from the picturesque Blue Church, here you'll find colorful houses and delicious fish dishes.
However, this small town's most iconic landmark is the colorful Rainbow Street that leads to the Blue Church.
-> Check out these 20 amazing tips & tricks about Iceland
2. About the Seydisfjordur Rainbow Street
The Rainbow Road is located in this town's liveliest area, surrounded by local shops and restaurants and leading to this famous Blue Church in Iceland. You'll probably find a few tourists here taking pictures but nothing to worry about.
The Rainbow Street is a sign of support for the local LGBTQ community. It all started in 2014 when Snorri, a local of Seydisfjordur, couldn't make it to the Pride Parade in Reykjavik. Instead, he gathered a few friends and organized his own small parade in Seydisfjordur.
The next year, with the local authorities' support, more people joined them and, in 2016, more than 200 people took part in the Seydisfjordur Pride Parade.
No time to read now? Pin it for later!
Due to its colors and location, this Rainbow Street in Iceland now attracts tourists from all around the world to Seydisfjordur. With the Blue Church and a majestic mountain in the background, this is the perfect spot for a few photos.
The church was originally located in another place, near the village, but in 1920 it was moved to its current location. The church is open to visitors in the summer (June – August).
3. Other things to do in Seydisfjordur
Located near the Seydisfjordur Information Center, the Fancy Sheep Restaurant is the best place in town for those who love burgers. Take a break for a few minutes and recharge your batteries with a delicious meal. They even have vegetarian options!
While in this village, stop for half an hour at Skaftell Visual Art Center (closed on Mondays and Tuesdays). It's a small place but there are plenty of interesting art pieces to admire.
After that, stop at the Technical Museum of East Iceland to admire old tools and equipment. Take a peek into Seydisfjordur's daily life between 1880 and 1950.
If you have more time to spend in the area and decide to sleep a few nights here, I recommend doing some hikes. You can hike to the Tvisongur Sound Sculpture, to Brimnes or other popular sites.
If you're looking for unique souvenirs, head to Blodberg. This shop is located right on Rainbow Road and you can recognise it due to the graffiti covering it. The shop sells unique Icelandic products and is open daily from 9 am until 6 pm.
4. How to get to Seydisfjordur
You have two options to get to Seydisfjordur. You can take a cruise around Iceland that stops here or visit this colorful Icelandic village by car or campervan.
Most probably, you'll arrive here by car. After leaving the Ring Road, you'll first pass by the beautiful Gufufoss (Gufu Waterfall). Stop here for a few minutes and admire this incredible waterfall.
-> Read everything about driving in Iceland during winter
From Gufufoss you'll have to drive a few more kilometres and you'll arrive in Seydisfjordur. This village is easily accessible by car and the road to it is in good condition.
Good to know – from Reykjavik, it's an 8-hour drive to Seydisfjordur without stops (662 km)
5. Where to sleep
If you're planning a road trip around Iceland and you want to stop for a few nights in this picturesque town, I'm here to help you. I've handpicked the best hotels in town for every budget.
Also, in case these hotels are booked, you can choose to stay in Egilsstaðir, a town located 30 minutes away from Seydisfjordur.
Best hotels in Seydisfjordur
Budget – Post Hostel – good location, comfortable beds, clean rooms, laundry services, good facilities
Mid-Range – Vid Lonid Guesthouse – spacious and clean rooms, private bathroom, good location, friendly staff
Luxury – Seydisfjordur Apartment – modern and spacious apartment, well-equipped, clean and comfortable, good location, perfect for families
6. Final thoughts
Iceland is full of photogenic places and the Rainbow Road in Seydisfjordur is one of them. If you're doing a Ring Road road trip, it would be a shame not to stop in Iceland's Artist Town at least for a few minutes and enjoy this unique place.
If you have any questions, don't hesitate to ask me in the comments section below. May the travel bug bite you!
Disclosure: Please note that this post may contain affiliate links. If you make a purchase through these links, I will earn a small commission at no extra cost to you. I only recommend companies and products that I trust and the income goes to keeping this website running. Thanks!