For a small country like Denmark with a population of only 5.9 million people, there seems to be quite a lot of weird stuff going on up there. Good news, it's mostly good weird stuff!
Although the Vikings and their exploits are mainly what the Danish are known for, after digging a little deeper into their history, their everyday lives and culture, I was pleasantly surprised to find so many other oddities and unique feats achieved by them.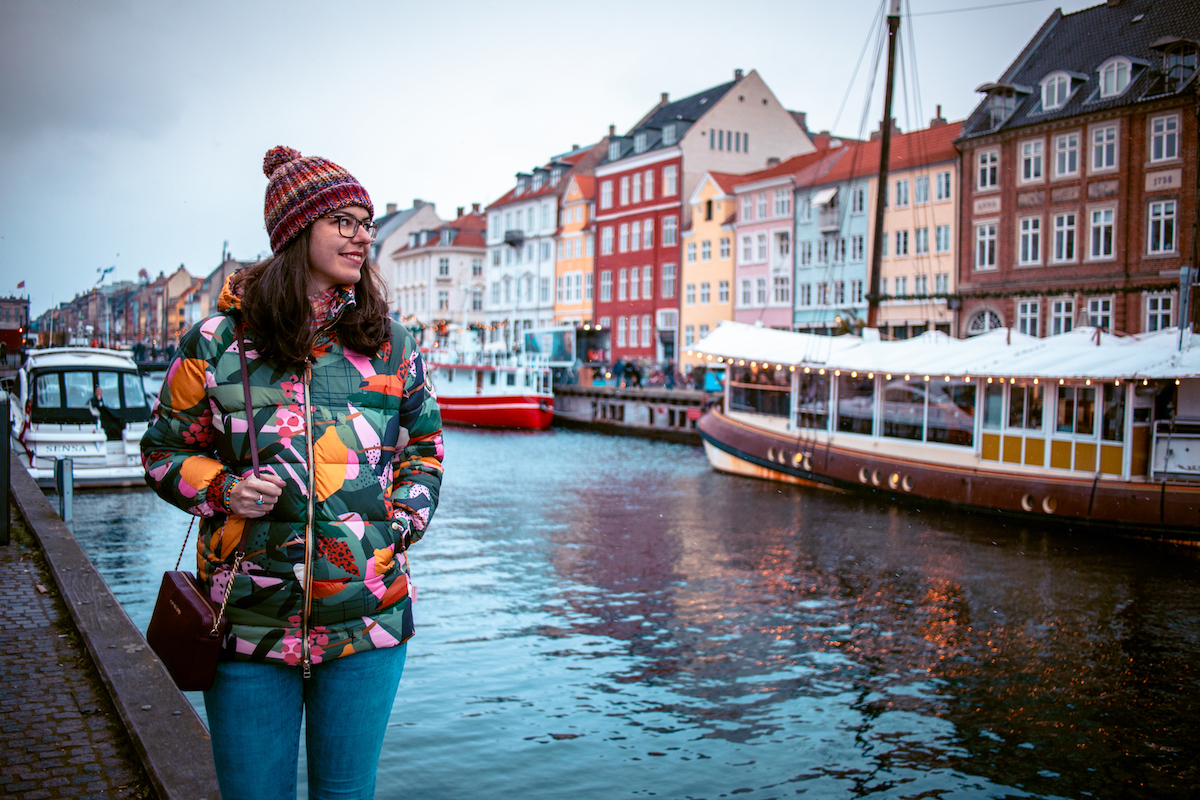 Below are just a few crazy things that the Danish are famous for. Quite an impressive collection for such a small country! Btw, have I mentioned that Denmark is one of my favorite destinations? Such a unique culture and vibe!
Are you planning to visit Denmark in winter? Check out this article to see which are the top 20 things to do in this incredible country during winter.
Things Denmark is known for
20. In Copenhagen there are more bikes than cars
No matter the weather, come hell or high-water, you'll find bicycles of all shapes, sizes and styles on the streets of Copenhagen. Racing bikes, off-road bikes, children's bikes and cargo bikes. Every Danish home has one…or more. During peak traffic, there are more traffic jams on the 400 kilometers of cycling lanes and paths, than on the roads.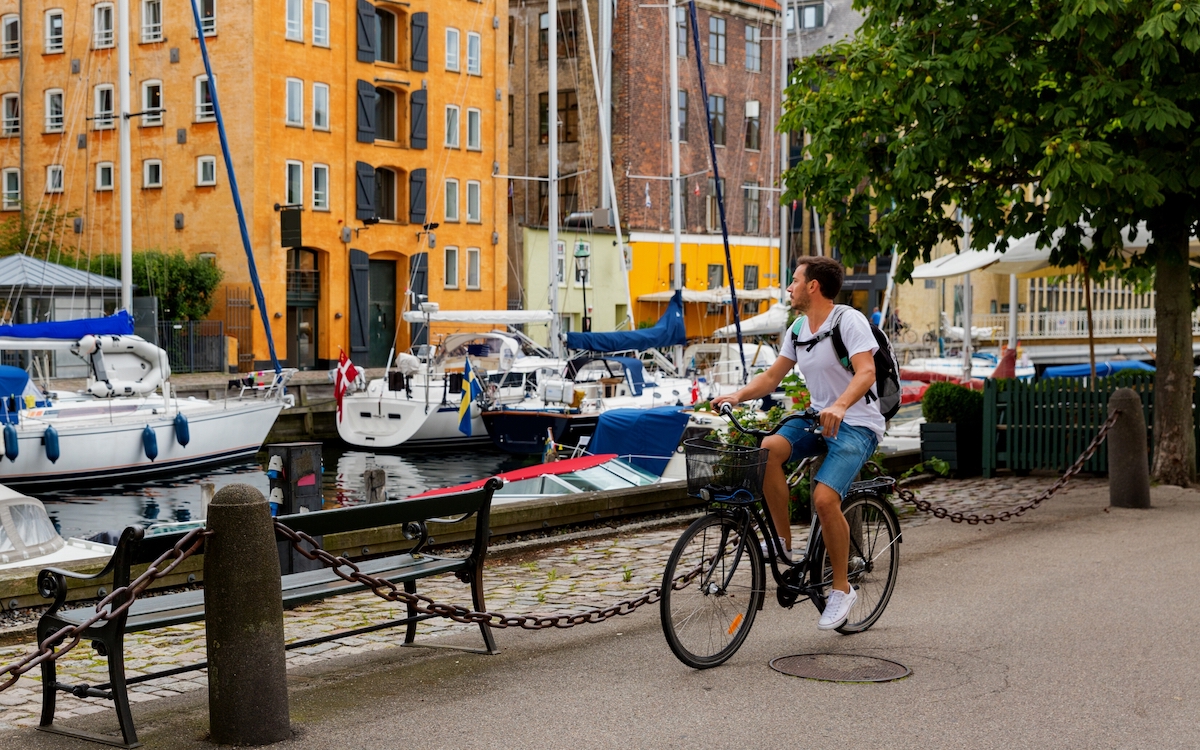 Aiming to be the world's first carbon-neutral city by 2025, Copenhagen's 700 000 bicycles outnumber its cars by five to one, reducing its carbon footprint by over 20 000 tons of CO2 each year. Quite amazing, righ?
Pro recommendation – Take a guided tour on a bike and discover Copenhagen! It's a great way to see the top attractions in the city.
Tip – Take extra-care when crossing the street. The bikes come out of nowhere. I almost got hit by one in Copenhagen!
19. Hygge is a world-wide phenomenon
Basically meaning the feeling of utter contentment by being in the company of someone close, hygge, (pronounced "hooga") is a worldwide phenomenon first mentioned in Danish history hundreds of years ago. It can be experienced by just being in the middle of a forest or in a cosy room with all the comforts, as long as you are sharing the moment with someone special in your life.
Hygge is certainly what Denmark is famous for, with all Danes possessing the ability to take a break from the pressures of life, wherever they are, and enjoy simple pleasures with family and close friends. The best place to witness it is in any café, bar or restaurant anywhere in the country. There is even an organised tour for those who want do discover the true meaning of hygge.
The feeling of hygge is engrained on the faces of people hanging with each other over a beer, a cup of hot chocolate or a simple meal. You can learn more about hygge in Denmark and apply the principles to your own life back home.
18. Denmark is the first country to recognise same-sex marriages
Although Denmark only legalised same-sex marriages in 2012, being the 11th country in the world to do that, it was the first country to recognise and register same sex marriages in 1989.
This provided gay couples the same legal rights and benefits as all other married couples. Denmark is one of the most popular countries among gay couples, many of them moving here from less-accepting countries.
17. Lego was invented in Denmark and there is even a Lego theme-park (Legoland)
Do you like Lego as much as I do? The Lego Company first introduced their famous plastic building blocks to their wooden toy lines in the late 1940s, before opening the Legoland Amusement Park alongside the original factory in the town of Billund, some 20 years later.
Today this company continues to create a range of toys loved by children around the world. The theme park has also grown substantially attracting millions of visitors each year.
It's the biggest attraction in Denmark outside of Copenhagen, consisting of world famous landmarks and famous children's characters, made entirely out of Lego bricks. Legoland rides and rollercoasters entertain children and adults in every way imaginable.
16. Denmark has the oldest Monarchy in Europe
One of the historical things Denmark is known for, is that it has the oldest monarchy in Europe. King Hugelik is thought to have been the first king of Denmark, dating back to the 8th century during the early Viking Age.
Despite its turbulent history, Denmark's monarchy remained resilient and strong to this day. Denmark has been ruled by 82 year old Queen Margrethe II since 1972 and is the longest serving living head of state. Her 54 year old son, Crown Prince Frederik, will be the next in line.
15. The First .jpeg was created in Denmark
Although .jpeg was officially developed in 1992 by a joint photographic group, which included IBM, Mitsubishi and Canon, the first .jpeg compression image was created in Copenhagen on the 18th of June 1987.
This allowed the capturing, storing and sending of digital images across the net, and was a far quicker option than what was available during that era.
14. Denmark has the oldest flag in the world
And now, here's one of those interesting facts about Denmark that not many people know. Dating back to 1219, the Danish flag, known as the "Danneborg", meaning "Danish cloth", is the oldest flag in the world. Its current design with the white Scandinavian cross on a red background was however, only adopted in 1625 and has remained the country's symbol ever since.
Other flags that feature amongst the oldest in the world, are Scotland, Albania, Austria and Latvia! Who would ever know that?
13. Google Maps was invented by a Danish Engineer
Initially designed as a computer program by two Danish brothers, Lars and Jens Ellstrup Rasmussen, Google Maps was acquired by Google in 2004 and finally transformed into the app so many of us depend entirely upon today.
Initially used as route planner to help us find our way, it has over time, evolved with countless new features (detailed images of other planets, 3D street images and even helping motorists detect speed traps and avoid traffic fines). Here's to the Danish!
12. Denmark has a rich Viking history
Although Norway and Sweden are also synonymous with the legendary and powerful Vikings, the Danish Vikings are the most feared ones, responsible for invading England. These Norse warriors and seasoned sailors, are also now believed to have reached the shores of Nova Scotia and North America in their mighty ships.
Initially believing in ancient Gods, like Odin and his wife, Goddess Frigg, Thor, God of Thunder and Tyr, God of War, they later accepted Christianity and calmed down considerably, settling in England, Scotland, France and Iceland.
Today many monuments, ancient wooden ships, artefacts and museums in Denmark stand as proud reminders of their rich Viking history.
11. There are more pigs than humans in Denmark
With the number of pigs being more than double than the 5.9 million people living in Denmark, it's no wonder that pork features so prominently on Danish cuisines. They say the reason for this, are the ultra-modern and high-tech farms, allowing pigs to breed in alarming numbers.
When visiting Denmark, apart from their delicious pastries, you just gotta have Stegt flæsk, one of Denmark's national dishes. It's an ancient traditional dish of crispy pork served with potatoes and a rich parsley sauce.
10. Denmark is home to the two oldest theme-parks in the world
Surprisingly, Denmark is famous for having the two oldest theme parks in the world, and both are in and around Copenhagen. Located a few kms north of the city, Bakken is the world's oldest theme park, dating back to 1583. It has 32 nostalgic rides and about 70 other attractions to keep the whole family entertained for the entire day. Entry is free but a multi-ride ticket will set you back a mere 299 DKK (€40).
The other theme park that Denmark is famous for, is the world famous Tivoli Gardens, situated in downtown Copenhagen (one of the places you shouldn't miss) . This is Scandinavia's most visited park. The 1914 wooden rollercoaster is the star of the park.
The gardens and food stalls surrounding Tivoli are to die for. I had so much fun in Tivoli Gardens. My favorite ride was The Star Flyer. Don't miss it!
Pro tip – to avoid waiting in a queue, book your tickets online!
9. Denmark is home to some of world's most famous furniture designers
It's hard to believe that such a small country has over 400 world-class furniture designers sending billions of dollars' worth of high-end furniture across the world each year. This ancient craft of producing elegant furniture from resilient woods such as walnut, teak and oak, has been passed on from generation to generation.
Danish furniture designing flourished during and after WW2, inspiring and influencing modern designers to produce high quality furniture to this day and will probably continue well into the future. Even though the Danish furniture is pretty incredible, prices are incredible too. Don't worry, window shopping is still a thing!
8. Danes love hot-dogs
Danes do not just like hot dogs – they go crazy for hot dogs! It's their No 1 fast food. Now that's something you never knew…admit it! Once you taste one, you'll understand why.
In Copenhagen you'll never have trouble finding a hot dog cart – they are virtually on every street corner. With dozens of varieties to choose from with a ton of toppings and sauces, you'll be spoilt for choice. Danish sausages are either grilled, boiled or smoked and seasoned with a variety of spices like cardamom, nutmeg and allspice.
You cannot leave Denmark without trying their traditional pork Rød Pøise, meaning "Red sausage", which is surprisingly boiled instead of grilled, but looks and tastes delicious. Trust me, it's incredible!
7. In Copenhagen there is a Guinness World Records Museum
Located in the Østrgade district in the centre of Copenhagen is another iconic attraction that Demark is famous for – The Guinness World Record Museum. With a replica of the world's tallest man standing at the entrance, you just can't miss it. In fact, the tall statue was the reason why I decided to visit this museum. I'm pretty tall myself at 1.90 meters.
All the world's most incredible, absurd and grotesque records, will have you spell bound for hours on end. All of humanity's milestones, wonders of the animal kingdom and all the world's most fascinating achievements are there. Good luck trying to drag the kids away from this place!
Ever wondered whether the Guinness World Record Book is somehow related to the world famous brew? Check that one for yourselves! Interesting story.
6. Copenhagen is home to one of the most famous statues – The Little Mermaid
Without doubt, one of the things Denmark is known for, is the statue of the Little Mermaid. Based on the fairy tale by Denmark's famous writer, Hans Christian Andersen, the 1.25 metre statue made of bronze and granite, sits gracefully alongside Copenhagen's harbour at Langelinie Pier.
It's one of Denmark's most photographed landmarks.I have to admit, I expected it to be bigger. When I first glanced the statue through the tens of people taking picture of it, I was a bit disappointed.
The Little Mermaid was a gift to Copenhagen from a local brewer and was unveiled in 1913. In 2003 the little mermaid was vandalised, in what was believed to be a protest against the Iraqi war. She had been removed from her base and found peacefully floating in the harbour. She has continued to be harassed by protesters for political reasons, but has so far survived the onslaught.
5. Hans Christian Andersen was born in Denmark
Most of us can remember reading bedtime stories in our early years, and being thrilled by Thumbelina, The Ugly Duckling, The One-Legged Tin Soldier, The Little Mermaid and The Emperor's New Clothes. All these stories with such deep messages, came from the incredible mind of Danish writer, Hans Christian Andersen. Born in Odense in 1805 he died in Copenhagen, aged 70, leaving his mark upon the earth.
Statues of this famous writer stand in Central Park, New York, California, Bratislava, Sydney and of course right here in Copenhagen and Odense, where an entire museum is dedicated in his honour. Many of his famous fairy tales have been turned into blockbuster films earning hundreds of millions of dollars, and continue to entertain young children till today.
Perhaps this wonderful fairy tale writer, will also be remembered by one of his many famous quotes: "Life itself is the most wonderful fairy tale" .What a gift to humanity this man has given us!
4. Greenland and the Faroe Islands are actually part of the Kingdom of Denmark
And here's another of those interesting facts about the Danish culture that you may not have known about.
Thanks to the adventurous spirit of their ancestors, the Vikings, who sailed to and settled there over 1000 years ago, both Greenland and the Faroe Islands, fall under the Kingdom of Denmark today. This has come about through the numerous treaties signed between numerous European Countries through the centuries.
The Vikings were not however, the first people to live there, as traces of earlier settlements dating back to 2500 BC, have been discovered. The Faroe Islands are a group of 18 small volcanic islands, while Greenland is the world's largest island. Each "country" holds a population of just over 50 000 people.
3. The oldest cinema still in use is in Korsør, Denmark
You'd be forgiven if you thought that the world's oldest cinema would be in Ney York, London or somewhere as glitzy and as glamorous. But who would have thought that it would instead be here, in the tiny coastal town of Korsør, in Denmark about 110 kilometers southwest of Copenhagen? This is one of those facts about Denmark not many people know about.
The cinema was opened on 30 January 1907 at the Hotel Korsør, but was moved to another location the following year, from where it held its first screening on 7 August 1908. The Korsør Cinema Theatre has recently been beautifully renovated, but managed to retain its nostalgic ambience. Today it is run by a group of volunteers, and is a popular cultural meeting point for the locals.
2. There are 28 Michelin Star Restaurants in Denmark
Denmark lies 12th on the list of the countries with the highest number of Michelin Star restaurants in the world, despite a population of under six million people. With no less than 28 Michelin Star restaurants spread across the country, fine diners and food connoisseurs are spoilt for choice in Denmark. Keep in mind, you have to make a reservation at least a few weeks in advance to catch a free table at these places.
The "New Nordic Cuisine" features predominantly in most of these highly upmarket establishments, breathing new life into the Scandinavian food scene with its delectable range of fresh produce. Whether it's seafood, meat or vegetarian dishes, you're after, they are all turned into works of arts by their skilled chefs.
Most of these restaurants are however found in big cities, like Copenhagen, Aarhus, Odense and Vejle. Here are some of the most famous restaurants: Alchemist, Alouette, AOC and Domestic.
1. Denmark is among the top countries in the world when it comes to antidepressants use (interesting, since it was once named the happiest country)
Now here is another one of these fun facts about Denmark that perhaps we shall never really know how it actually works!
The Danish are known for being amongst the happiest people in the world, but we do not know, if it's because of, or despite of being amongst the top users of antidepressants in the world. Now there's something for the statisticians to check out for us.
Good news however, is that the Danish "hygge" seems to be winning the battle, as consumption of "happy pills' has decreased over the last 10 years. Other top antidepressant pill poppers in the world, are Iceland (most surprising), the UK, Portugal and Sweden.
Where to stay in Copenhagen
If you're planning to stay a few days in Denmark's capital city, I've got you covered. I've been looking for the best hotels in the city, for the best prices and here are my recommendations:
Budget – Next House Copenhagen – small yet comfortable rooms, good location, friendly staff, it has a nice gym
Mid-Range – NH Collection Copenhagen – spacious and modern rooms, excellent amenities, good location, beautiful views, amazing restaurant
Luxury – Manon Les Suites Guldsmeden – stunning pool, spacious suites with all the amenities you need for a comfortable stay, excellent location, an oasis in the middle of the city
Conclusion
What is Denmark famous for? Well, there are some incredible records and facts about this country that would amaze anyone!
I hope I have managed to keep you entertained with these 20 fun facts about Denmark. Denmark is one of the most beautiful countries that I've visited. It has such a unique charm and culture, unlike many other European countries.
If you have any questions, don't hesitate to ask me in the comments section below. May the travel bug bite you!
Disclosure: Please note that this post may contain affiliate links. If you make a purchase through these links, I will earn a small commission at no extra cost to you. I only recommend companies and products that I trust and the income goes to keeping this website running. Thanks!