Let's face it, most people don't like to travel in the heart of winter, but although Denmark is an all-year round destination, there are so many different sights and experiences that can only be enjoyed during winter. When else can you skate on a frozen lake other than winter?
Yes it will be cold, but as the song says, "let it snow, let it snow." I visited Denmark in December and I loved it! Less tourists, better prices, lots of activities to do!
There is history, culture, splendid outdoor scenery and some unusual activities you'll find nowhere else in the world. Winter in Denmark will also reveal the true meaning of "hygge", the Danish "secret weapon" that makes them one of the happiest people in the world.
Below I'll list a few winter destinations in Denmark to inspire you to visit this beautiful Nordic country and see its delights for yourself.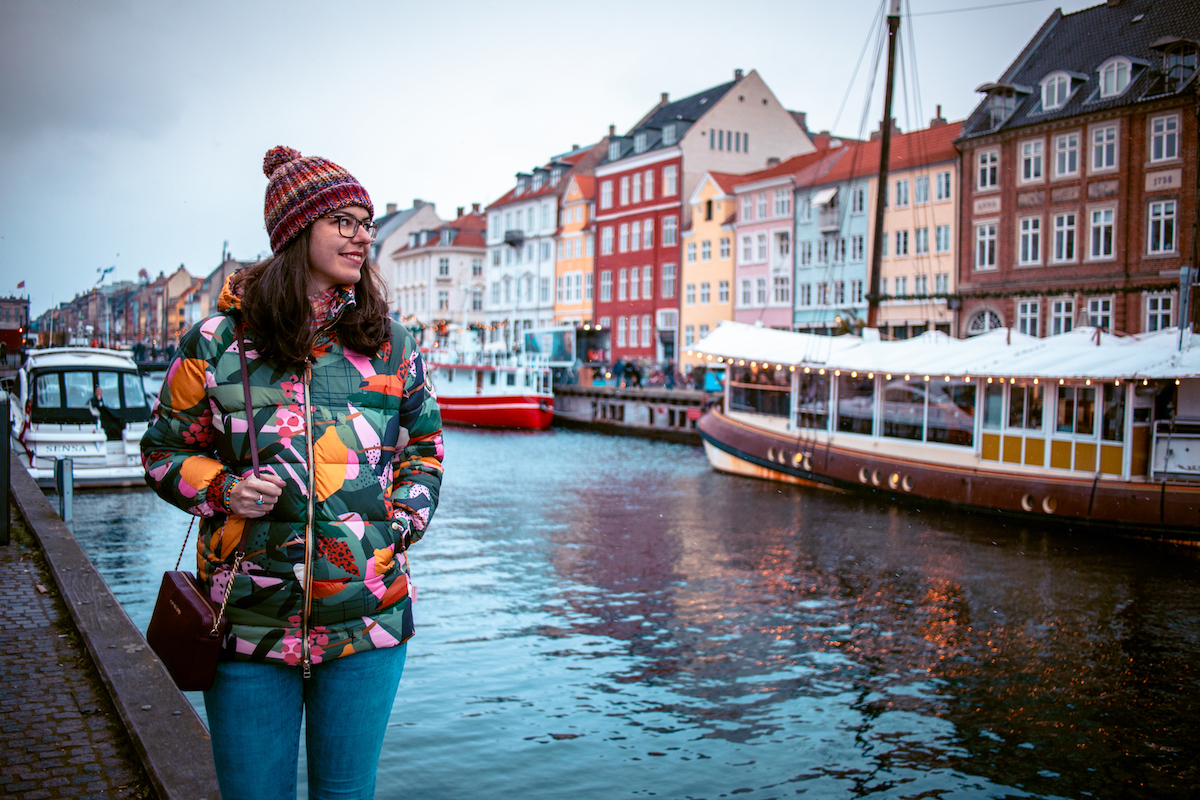 1. Denmark winter travel tips
Firstly, you need to dress accordingly. If you really feel the cold, consider getting some body warmers. They will make your trips to the outdoors, more enjoyable. But really, you don't need to stress too much about the weather. A decent coat, scarf, booties and gloves, and you're good to go.
Being surrounded by sea, Denmark winters are a little milder than other Northern European countries. But don't worry, this guide includes plenty of indoor activities if you want to avoid the cold. Another advantage of visiting Denmark in winter, is that accommodation is far cheaper.
If you're only planning to visit Copenhagen in winter, make sure to buy a city card. It includes free entrance to many museums, as well as free access to public transport.
2. Weather and temperatures in winter – what to expect
Expect long nights! A night during December lasts about 17 hours, with the sun rising at 8.30 am and setting around 3 pm. This means that you'll have less time to explore and discover new attractions. Therefore, make sure to plan accordingly!
The average temperatures in winter hover around 0 – 2 °C (32°F), but strong winds often send the mercury plummeting well below freezing. Rain and snowfalls are common between November and April.
3. Twenty things to do in Denmark in winter
Here are some incredible places and activities that will inspire you for your winter vacation to Denmark. Whether you're a history buff, you like adventure or you're into museum, I've got you covered!
20. Experience the Copenhagen Light Festival
Between the 4th and 27th of February each year, the cold and gloomy Nordic darkness and city skyline, are transformed into a celebration of light as the Copenhagen Light Festival switches on its festive magic. Buildings, bridges, canals, monuments and public squares in the city centre and harbour light up in a blaze of colour and laser displays.
Now in its 5th year, the Copenhagen Light Festival keeps getting better each year. Best experienced on foot, bicycle or from a boat, this is one of the best things to do in Copenhagen in winter. What a wonderful way for a romantic couple or family to spend a few hours rambling through the streets, witnessing this historic city like never before.
There is no entrance fee and lights are switched on at 5 pm until 10.30 pm every night.
19. Visit the snow-covered Kronborg Castle
Situated in Helsingor, less than an hour drive from Copenhagen, Kronborg Castle has all the elements of medieval Renaissance-style grandeur. Strategically built overlooking the narrowest stretch of water between Denmark and Sweden, this magnificent 16th century castle has served as a mighty fortress, royal palace, and a symbol of power and wealth throughout its history.
It's also the setting that inspired Shakespeare to write arguably his most famous play of the Danish Prince, Hamlet. The impressive royal chambers, banquet halls, courtyard and Lutheran Chapel, are packed with historical artefacts and monuments, stunning paintings and tapestries, costumes and lavish furnishings, reflecting the history and lifestyles of the castle's residents.
The towers offer breathtaking views of the complex, as well as the sea and Swedish coastline in the distance. The beach and view outside the castle walls offer spectacular scenery all year round. However, during winter, when the castle is covered in snow, everything becomes truly magical. A sight not to be missed whenever visiting Denmark during winter. Psst, this is one of the most beautiful castles in Europe!
Opening Hours: Daily 10 am – 5 pm
Entrance fee: 145 DKK (€20) for adults and 135 (€18) DKK for students
18. Go ice-skating
While numerous ice-rinks operate all year round in Denmark around major malls, nothing compares with the authentic sensation of skating in naturally formed outdoor arenas in the heart of winter. And there is no shortage of those in Copenhagen or Denmark.
When winter temperatures plummet, lakes and ponds freeze over, drawing avid skaters out of their warm homes for a few weeks of fun on their frozen solid surfaces. Signs are posted by the local municipalities declaring which venues are safe. Many public squares are converted to ice-rinks during the winter months in Copenhagen and the smaller cities, some of which are also used for ice hockey and ice disco.
Ice skating is one of the most popular winter activities in Denmark. I visited Denmark in December and there were plenty of ice-skating rinks to choose from!
One of the best rinks in Copenhagen is Frederiksberg Runddel in the city centre (free entrance). Broens Ice-Rink also in the centre of town is used for ice-hockey and disco (entry fee: 20 DKK – €3)
Located in the centre of Aarhus on the Jutland Peninsula, the Aarhus Skating Hall is a popular venue for skaters and disco dancers.
Entrance fee: Adults – 55 DKK, Children – 30-35 DKK, Disco dancers – 70 DKK.
You can bring your own skates but you can also hire a pair from most venues. To avoid collisions, please skate anti-clockwise. For millennials, who only know digital time, "Good luck".
17. Experience the hygge atmosphere at one of the local restaurants in the country.
Pronounced "hooga", the easiest way of explaining it is to take some time out of your rat race and chill out over a hearty meal with a few good friends and family.
In a cold, dark and damp winter climate such as Denmark's, there is nowhere better to experience the warm atmosphere of hygge, than in a local cosy restaurant, surrounded by good people. Just go in one and you'll see it for yourself at every table. But be careful, hygge is extremely contagious.
Whether you're into fine dining or looking for a snug corner in a burger-joint to enjoy a little hygge, Denmark has it all. Here are a few cozy restaurants:
O12 – A cosy oasis in the heart of Copenhagen, serving authentic Danish cuisine, great wines and tons of free hygge. It was my favorite eatery when I visited Copenhagen. Stunning place with an amazing menu and great vibes!
Oluf Bagers Gaard – Situated in the heart of Odense on Funen Island, this peaceful restaurant offers a typical Nordic menu in historic surroundings. Meals vary from a posh 9-course, each course a work of art, to plain sandwiches and everything in between. A real favourite for locals and visitors.
Frederikshøj – If you don't mind breaking the bank, head to this place in Oddervej Street in Aarhus, for a luxurious feast of Michelin Star Danish flavours, you won't forget for a while and where hygge comes loaded on each plate. Interesting fact – Denmark has 28 Michelin star restaurants.
16. Spend an exciting day at Tivoli Gardens
Situated in downtown Copenhagen, Tivoli Gardens is Scandinavia's most visited theme park and my favorite place in the entire country. Best known for its 1914 wooden rollercoaster, it has inspired Walt Disney for his own theme parks. Jam-packed with incredible rides to thrill children and adults alike, this theme-park is a must-visit when visiting Denmark in winter.
The magnificent gardens and food stalls, have something for everyone. If you're up to it, try the Vertigo ride, which will hurtle you upside down at 100 kph!
At night, the entire park is lit up, creating a truly magical atmosphere and if you're lucky to be there during Christmas…Wow! Don't you dare miss it. Your winter holiday in Denmark is not complete whitout a stop at Tivoli.
I visited Tivoli Gardens in December and it was my favorite experience! The Christmas Market was incredible and the atmosphere… simply wow!
Opening Hours: 11 am – 10 pm (varies with day and season)
Entrance fees: click here . Pro tip – make sure to book your tickets online, to avoid the queues.
15. Visit the Viking Museum in Aarhus
Although not big, this cute and informative museum offers incredible insights into the Viking life. Situated underground in the centre of the city, the Viking Museum in Aarhus holds many displays of Viking artefacts on the very same spot they were excavated.
Exhibitions include posters, sound pictures, a TV showing a Viking attack on Aarhus, and a detailed model of the city over 1200 years ago. Perhaps not great for small children as there is a lot of written stuff to read. Otherwise, truly fascinating. This museum should be on you're itinerary if your planning a trip to Denmark in winter!
Entry fee: Adults 30 DKK, Children under 18 – Free
14. Visit the incredible Lego House in Billund
Moving southwest to the town of Billund, I come across the incredible Lego House. One of the best things to do in Denmark in winter is to visit this museum. By the way, did you know that lego was invented in Denmark? It's one of my favorite facts about this country!
At Lego House you'll find numerous collections and colourful displays of virtually everything you can think of, with many interactive features to amuse and excite everyone. Let the kids run wild in the different colour zones.
The terrace on top of Lego House offers various playgrounds, with a sunken submarine and camel swing. The Mini Chef Restaurant requires you to build your own food and is served by a Lego robot.
Opening Hours: 10 am to 7 pm but varies with each day.
Entrance fee: Varies from 199-299 DKK. Best to book online.
13. Spend the day at Ribe Town
If you're looking for a change of pace, head southwest to the quaint and picturesque town of Ribe, close to the west coast on the Jutland Peninsula. It's one of the most beautiful towns in Europe! Despite its violent past filled with conflict and witchcraft, this 1300 year-old town, has kept its medieval charm, making it one of the most peaceful places to visit in Denmark in winter.
Beautiful old buildings, half-timber houses and the impressive Ribe Cathedral make a picture-perfect setting as you wander along the cobblestones streets lined with cute shops and cafes. Ribe is also a stone's throw from the Wadden Sea National Park, a wonderful stretch of coast for a day's hiking, cycling or driving through.
From there you could also take a trip to the nearby Mandø Island on a tractor-bus at low tide, and be back before the tide turns. A most unique experience.
12. Swim in the frozen water at Winter Swimming Festival
If you want to add something crazy to your winter vacation in Denmark, head for the northernmost beaches of the country for an invigorating dip in the frozen waters of Skagen. If you don't have a swimsuit, that's alright too, as most swimmers go buck naked.
Every January, thousands of local bathers gather for four days on Sønderstrand, a beach near Grenen, for the Annual Skagen Winter Swimming Festival. Finish it off with a hot sauna, a steaming cup of cocoa, or something stronger and a few laughs with your fellow icebreaker nut cases.
A great experience for those who're searching for a little adventure.
11. Get warm and play board games at Bastard Café
For another unique experience, but a little more comfy, go to the unique Bastard Café in central Copenhagen. It's a great place to soak in some Danish hygge, while playing board games with friends and enjoying local eats and drinks.
With 3800 board games to choose from and a well-priced menu, its one of the city's most popular haunts for locals. While 100 board games are offered free, the rest come with small fee.
10. Experience the hippie lifestyle in Freetown Christiania, Copenhagen
Situated in the centre of the city, on the island of Amager in Copenhagen, Christiana is a controversial neighbourhood with a complex history. The architecture, colourful wall murals and open park are popular tourist destinations. You can choose to go to one of the hippie restaurants or just explore the place on foot.
Personally, I loved walking along the colorful streets of Christian and discovering unique pieces of art while the daily life of locals unfolded in front of my eyes. Such a unique experience!
Christiania is considered to be a town inside a city, with its own set of rules and regulations. During winter, the contrast between the colorful buildings and the snow is to die for!
9. Get warm in a hot tub and sauna
While in most parts of the world, saunas and hot tubs are found in gyms, spas and homes of the super wealthy, that's not the case in the Nordic countries. Here it's a way of life, so when in Denmark in winter, do as the Danes do. But to do it authentically, you need to combine the sauna with an ice-cold shower. Although there is no scientific evidence that this is actually good for you, it works for the Danes. Maybe it's in their Viking genes.
There are tons of saunas and hot tubs all over Denmark, but for a truly authentic sauna and tub session with stunning harbour views, head to Copenhot on Copenhagen's docks. Bookings are essential, and please shower before you arrive.
8. Visit two countries in one day
While visiting Denmark in winter, why not take the opportunity to visit two countries in one day, by taking a guided tour across the Øresund to Sweden and back to Copenhagen? Your trip starts by being driven to Helsingor where you visit Kronborg Castle, before sailing across the sea to Sweden and driven down to the historic city of Lund. After visiting the famous cathedral and exploring the city, you continue to Malmö, before crossing the famous Øresund Bridge and back to Copenhagen.
There will be plenty of time to explore the city streets and do some shopping too. Check this guided tour out!
7. Experience a world of colour at ARoS – Aarhus Art Museum
Situated in central Aarhus, this massive art museum is one of the largest art museums in northern Europe, drawing over a million visitors each year. Whether from the exterior, or interior this building is a work of art all on its own. It's the perfect place to visit during winter in Denmark, if you want to warm up and admire stunning art.
Ever-changing exhibitions from the 19th century with an emphasis on modern art, are beautifully displayed, with each floor offering a unique experience. The giant "boy statue" and the Rainbow Circle on the top floor are simply superb, offering stunning 360° views of the city sprawled below. Bursting with unusual paintings, installations and statues, there is something for everyone. Whoever said that modern art is boring?
Opening hours: Weekdays – 10 am – 9 pm, Weekends 10 am – 5 pm
Entrance Fee: Adults 160 DKK, students 130 DKK, children under 18 – Free
6. Go Skiing
You cannot visit Denmark in winter without going skiing. Although Denmark is pretty flat, the Danes have created several artificial hills and slopes to satisfy the needs of skiing nuts…even in summer. In winter, however, it's best when natural snow creates authentic skiing conditions. Two popular ski resorts are Copenhill in the heart of Copenhagen and Hedeland a few kms out of town.
Copenhill has a vertical drop of 85 metres and is quite unique, being on top of a waste management plant. It also offers free hiking trails, a children's park, a ski shop and great views, although mostly industrial.
Entrance Fee: Skiers 150 DKK per hour, Hikers – Free
Hedeland ski resort has a snow park and the longest slope in Denmark (280 metres) with a vertical drop of 35 metres, served by 3 lifts. Food and drinks can be purchased from the clubhouse, or you can bring your own. You can enjoy some amazing views of the lake and stadium, from the top of the slope.
Entranece Fee: Adults 100 DKK, children 50 DKK
5. Visit the Viking Ship Museum at Roskilde
A few kilometers west of Copenhagen, in the city of Roskilde, you can find the Viking Museum, located on the harbour edge. Their sound, light and digital exhibitions transport you back in time, giving you an insight of Viking life over 100 years ago.
A special exhibition of 5 original Viking ships dating back to the 11th century, excavated from the Roskilde Fjord tell the story of Viking maritime culture. A hands-on workshop illustrates their ancient boatbuilding skills. The "Climb Aboard" exhibition gives a dramatic presentation of life on the open seas on these historic vessels. You could also sail on one of their replicas for a unique experience.
If you're visiting Denmark in winter, and you'd like to learn more about Vikings, this is the place to be!
Opening Hours: Daily 10 am – 4 pm
Entrance fee: Adults from 125 DKK, students from 80 DKK, family from 230 DKK
4. Explore the beautiful Odense
Situated around 170 kilometers west of Copenhagen, Odense is the third largest city in Denmark and the largest on the island of Funen. One of the most picturesque towns in Europe!
Being one of the oldest cities in the country, Odense is the home of the famous fairy tale writer, Hans Christian Andersen. Walking down its charming cobblestone streets, you'll come across some of his characters, like Thumbelina, the one-legged tin soldier and even Hans Christian himself relaxing on a bench.
The Hans Christian House, in which the kids will do their nut, the harbour, the magnificent gothic cathedral and countless old buildings, breathe a certain medieval aura into this quaint but also modern town. It's the perfect destination for those looking for places to see during winter in Denmark.
If you're spending a few days here, Egeskov Castle, a few kilometers out of town is another site you should not miss. This 16th century moat castle is one of the most picturesque castles in Europe.
3. Explore Superkilen Park
Situated in the Nørrebro neighbourhood in Copenhagen, Superkilen Park is a public park like you've never seen. It's divided into Red, Black and Green sections, each having its own theme. The end result is an urban garden with a jumbled up collection of the most unusual objects from around the world.
It's a great place to hang out, have a picnic, cycle or roller-skate and play amongst the various objects and buildings. Interesting sights are the black octopus slide from Japan, Morocco fountains, benches from Brazil and a black bull from Spain. In between all this weird stuff, are numerous cafes with music and people playing sports, games and other activities.
Such an unusual public space, but intriguing and oh so photogenic. It's one of those winter destinations in Denmark you shouldn't miss!
2. Visit Frederiksborg Castle
Spread across three islets and surrounded by Lake Slotsøen in the town of Hillerød, 40 minutes north of Copenhagen, Frederiksborg Castle is amongst the most beautiful castles in Europe. Originally built during the 16th century, it has been destroyed and rebuilt several times to the Renaissance style we see today. Your winter vacantion to Denmark wouldn't be complete without a stop to this castle!
As imposing as it is from the outside, the opulence of the interior, will blow your mind. Every room is lavishly decorated and furnished, reflecting the lifestyles of its owners. The chapel is a masterpiece all on its own containing historical treasures including a 17th century organ and an altar made of gold, silver and ebony.
And then we have the gardens! Oh my! Acres and acres of beautiful symmetrically designed gardens filled with ponds, fountains and monuments.
Stunning during the summer, it takes an eerie mystical mood on a dark and cloudy winter's day. Certainly one of the best places to visit in Denmark in winter.
Opening hours: November – March: 11 am – 3 pm April – October: 10 am – 5 pm
Entrance fee: Adults 90 DKK
1. Visit some incredible Christmas Markets
While most markets in Denmark operate during the warmer summer months, nothing captivates the Christmas spirit, quite like the Christmas themed markets that pop up all over the country during this festive period.
Antiques, high-end furniture, knitwear, books, unusual gifts and low-priced knick-knacks, are on offer from the beautifully decorated stalls, while the tantalising aromas of Danish Christmas delicacies, permeate through the crisp winter air.
Below are just a handful of incredible Christmas Markets, you should not miss while you're in Denmark in winter.
Tivoli Gardens Christmas Market, Copenhagen
Kongens Nytorv, Copenhagen
Nyhavn Christmas Market, Copenhagen
Odense Christmas Market, Odense
Far from the madding crowds of urban Denmark, the tiny island of Ærø holds a most unique Christmas market, like no other in the world. Celebrating Christmas in the old-fashioned way, many events and markets take place, with the Elves Parade lasting several days.
On 23 December each year, horse-drawn sleighs tour the streets of Søby on the northern end of the island, while elves offer gifts and biscuits to whoever is lucky to be there. Kids will go wild here and some adults too! The perfect destination for any winter holiday in Denmark!
4. Where to stay in Copenhagen
Denmark is known for being one of the most expensive countries in Europe. When it comes to accommodation, it's no different. Don't expect to find dirt-cheap hotels. However, when it comes to amenities and comfort, the Dutch hotels are some of the best.
Here are a few accommodation options in Copenhagen, for those looking for a good-value-for-money place.
Budget – Next House Copenhagen – small yet comfortable rooms, good location, friendly staff, it has a nice gym
Mid-Range – NH Collection Copenhagen – spacious and modern rooms, excellent amenities, good location, beautiful views, amazing restaurant
Luxury – Manon Les Suites Guldsmeden – stunning pool, spacious suites with all the amenities you need for a comfortable stay, excellent location, an oasis in the middle of the city
5. Transport in Denmark during winter
Denmark has a most efficient transport system, making travel between cities easy. Trains and buses run between even the remotest places, while the metro and bikes, make it unnecessary to drive a car in Copenhagen.
Buses
If you want to avoid riding a bike, buses are a pretty good option. Keep in mind that if you want to pay cash for a bus ride, you can pay directly at the driver (no change provided).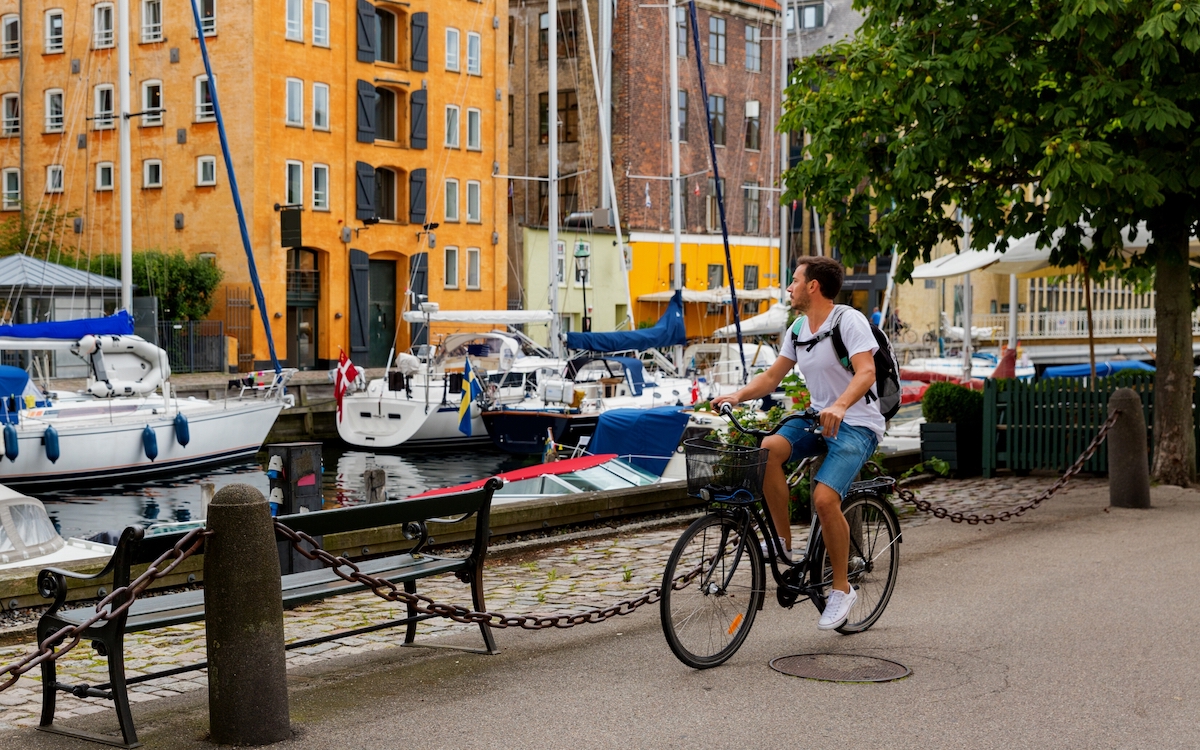 Bikes
Many tourists choose to rent cars to get around while most Danes, cycle everywhere. Did you know that there are more bikes than cars in Denmark? This is one of the many interesting facts about this country!
If you choose to rent a bike, make sure to check out these biking rules. They'll keep you safe while exploring the beauties of Denmark. Also, keep in mind that you can take your bike on trains or the subaway, but you'll have to pay extra for it. Also, on subways there is a time interval when you can't take your bike (Mondays to Fridays, 7:00-9:00 and 15:30-17:30).
Trains
When traveling between cities, trains are a good option. They're fast and reliable. To book your tickets, check the DSB website. Keep in mind that an adult can take up to two kids under 12 years for free on a train.
Visiting Malmo, Sweden is very easy by train. The ride takes 40 minutes and there are many daily trains to choose from.
City Card
A Copenhagen Card allows you to use rail, metro, buses and harbour buses within the capital and several other cities outside Copenhagen. It also includes free entrance to more than 80 museums and attractions and is valid for 1, 2, 3, 4 or 5 days.
6. Conclusion
As you've gathered by now, there are tons of reasons to visit Denmark in winter. You can try swimming in the freezing water, playing board games in a hygge cafe, or visiting one of the Christmas market. One thing is sure – if you're planning a winter trip to Denmark, you won't get bored.
Let me know in the comments section below which of these activities is your favorite. May the travel bug bite you!
Disclosure: Please note that this post may contain affiliate links. If you make a purchase through these links, I will earn a small commission at no extra cost to you. I only recommend companies and products that I trust and the income goes to keeping this website running. Thanks!