For such a small city, Ghent certainly packs a lot of incredible sights. I found Ghent to be a very walkable and compact city, with most of its charms and attractions within short walking distances, located in the centre of the city.
The historic city centre is a car-free zone, and people walk or cycle everywhere. The cobblestone streets are pretty spectacular, with historic buildings scattered all over the place. Ghent is definitely one of the most beautiful cities in Europe.
Tip: To get around the city, I recommend purchasing a CityCard, which offers free rides and discounted access to various tourist sites and bike rental shops. It costs €38 for a 48 hour pass and €44 for 72 hours hour pass and can be purchased online.
If you're wondering what to do in Ghent, I've got you covered. Here are some of the top things to do in Ghent. I'm 100% convinced you'll not be disappointed.
Tip: If you have the time, don't forget to add Brugge on your itinerary. You can see the main attractions in this incredible city in just one day. Here's a one-day itinerary for you!
Best things to do in Ghent
20. Cross St. Michael's Bridge
By far one of the best free things to in Ghent is to cross the majestic St Michael's Bridge. Spanning across the Leie River in the heart of the city, this cobblestone-paved, stone bridge captures the charming medieval beauty of Ghent in every direction you look. It also captured my heart.
Picturesque buildings line the riverside quays while tourist boats cruise along the river with the grand Gothic St. Michael's Church to the south and the imposing Gravensteen Castle in the distance to the north. A towering bronze sculpture of the Archangel Michael slaying the dragon is perched high on a streetlamp cramming more drama to this setting.
As night falls and the lights turn on, Ghent's beauty is mirrored on the canal, making it one of the most magical places to visit in Ghent. One of my favorite sights in the city. I felt like I was in a painting.
Surrounded by historical buildings and monuments, St. Michael's Bridge is the only spot from where you can capture all three of Ghent's famous towers in one frame.
19. Take a boat tour and admire the city
A most idyllic way of seeing the historic city centre is by taking a boat tour through its canals and waterways. I was lucky to have had a knowledgeable guide who gave us a brief history of each building we passed by.
Passing by many landmarks, fascinating buildings and stunning canals, we were captivated throughout the 50-minute trip, with the ominous-looking Gravensteen Castle taking my breath away. It's only from this angle that you get a true sense of its size.
I chose the standard boat tour which costs around €10 (you can book your tickets online), but there are several other options costing up to €75 per person which include a three-course dinner and drink. My tip would be choosing a clear day and taking an open boat.
Taking a boat tour at twilight and seeing the city lit up in all its glory, must be one of the most romantic things to do in Ghent.
18. Take a walk on Graslei and Korenlei
Lying opposite each other along the Leie River, what once were parts of a medieval port, Graslei and Korenlei quays have become major tourist hotspots among all the must-see places in Ghent. Strolling along the cobblestone quayside alongside water surrounded by ancient picturesque buildings with beautiful architecture, I felt like I had been transported back to the Middle-Ages.
Both quays are lined with cafes, restaurants and outdoor terraces, perfect to sit and relax sharing a snack, a leisurely coffee or a refreshing drink. Boats glide back and forth along the water, while tourists take lots of pictures.
For me, the entire stretch between St Michael's Bridge and Grasburg Bridge was the most photogenic part of Ghent. Views from either bridge allow you to capture both quays in a single frame. This is definitely the place to be for photographers and instagrammers.
17. Visit Saint Bavo's Cathedral
Also known as Sint-Baaf's Cathedral, this stunning 13th century Gothic cathedral is a mere half kilometre from St Michael's Bridge and a must-visit for all history and architecture enthusiasts. The architecture, both inside and out is nothing less than breathtaking, and is packed with magnificent artworks, sculptures and priceless religious relics.
It's most famous treasure is of course the Ghent Altarpiece, arguably Jan and Hubert van Eyck's finest masterpiece. Painted in 1432, it has survived being burned and stolen by the Nazis, only to be retrieved after WW2. Standing over 4 metres tall and weighing over a ton, it's a sight to behold.
The highlight for me was the augmented reality tour that took me back through the cathedral's tumultuous history as if I was living in the Middle Ages. This is one of the must-see Ghent tourist attractions.
The entrance fee to this Ghent gem is free, but it costs €12.50 to view the Altarpiece. The augmented reality tour costs €16.
16. Admire The Castle of Gerald the Devil
Almost next door to the cathedral and alongside the canal, the Castle of Gerald the Devil is worth seeing, although it was not opened during my visit. Apparently it often isn't open to the public, which is a real pity as I have heard that the crypt deep below is absolutely stunning and views from the towers are epic.
Built in the 13th century it has all the elements of a Gothic-style military fort with high stone walls, conical towers, pointed arch windows and battlements. Over the centuries it has been used as a defensive fort, a gathering place for knights, a monastery, prison, fire station and an asylum. Despite its sinister name, I was relieved to learn that no devil had ever lived here. Make sure to check it out, it's one of the top tourist attractions in Ghent.
15. Have a delicious meal in Patershol neighbourhood
Among the numerous Ghent tourist attractions, the tiny Patershol neighbourhood is a gorgeous place to wander around and it's also the culinary heart of the city. Preserving its medieval charm, the narrow cobblestone streets are lined with old houses converted into specialist shops, galleries and countless bars, cafes and restaurants, serving mouth-watering local and international delights.
Parked bicycles and people ambling aimlessly through the car-less streets, add a sense of serenity to this already peaceful and beautiful side of town. A must-visit for any foodie. Don't forget to try some of the beers! There are more than 300 active breweries in Belgium at the moment.
Here are some of my favorite restaurants in the area:
't Klaverblad – for those looking for an authentic experience and local cuisine
Gado Gado – do you want something more exotic? Try this Indonesian restaurant!
Aroy Aroy – Thai food is always a good idea!
14. Visit Gravensteen Castle
Situated along the banks of Leie River, Gravensteen Castle stands proudly high above the city, as a stark reminder of Ghent's tumultuous past. Built in the 12th century on a site of a previous castle, its massive walls with 24 towers, portcullis gates and surrounding moat, must have been an intimidating sight for any enemy of the Flanders Counts.
I loved the brilliant audio-guide, seeing various medieval armour, weaponry and castle architecture, but I could have given the torture chamber a miss. Fascinating but gruesome. The views from the top were absolutely magnificent. Definitely one of the places to visit in Ghent!
This castle has seen its fair share of wars throughout its history, with the latest "battle" being fought in 1949, when students revolted against a new beer tax. Storming the castle they locked the only guard in a cupboard, lowered the portcullis gate and pelted the police with rotten fruit from the battlements.
Not your brave knights in armour, blood-flowing crusade, but a worthy cause nevertheless.
An audio tour cost around €13 with other options also available.
13. Climb the Ghent Belfry Tower
There's nowhere better to admire 360° views of the old city than from the Ghent Belfry Tower. Standing 91 metres tall, it is the tallest belfry in Belgium. Built in the 14th century it is one of the points of interest in Ghent, with a fine museum showcasing its history through the various displays. These include sculptures, bells, the rotating carillon and of course the massive copper dragon.
Climbing the spiral stone staircase was a little chaotic continually bumping into people, but there is also the lift available. The views from the top were the highlight of my visit and worth every sore muscle in my legs. I would however not recommend the trip for people with mobility problems or small children.
The entrance fee was around €11 and would highly recommend booking online well in advance to avoid the long queues especially in high season and weekends.
12. Visit the Fine Arts Museum
Situated on the south-eastern fringe of Citadel Park, Ghent's Fine Art Museum is another must-visit for all lovers of art and culture. Established in 1798, before Belgium as we know it today even existed, it is the country's oldest museum. It houses tens of thousands of paintings and sculptures dating as far back from the Middle Ages to the 20th century, including numerous priceless Renaissance masterpieces.
I would have liked to have visited their studios where experts carry out restorations to many artworks, including seven panels of the famous Ghent Altarpiece by the van Eyck brothers.
Entry fee was €13 and worth every cent.
11. Take a day trip to Bruges
With about 90 daily trains running to Bruges from Ghent, and affordable prices – €10, taking a day trip to Bruges is a no-brainer. Dubbed as the "Venice of the North", Bruges did not disappoint. Gorgeous canal walks, classic bridges, cobblestone streets, stunning medieval architecture, churches, museums and tons of eateries, drinking holes and of course delicious Belgian chocolate.
Here's a list of some incredible photography places in town, I'm sure you'll love them. The beauty of Bruges is that everything is within easy walking distance.
The 83 metre Belfry in the city centre is a good starting point for any itinerary, offering spectacular views of the city. The Grote Markt beneath is a beautiful public square surrounded by old architecture and eating joints. Really gorgeous, but could also be a bit of a tourist trap with their prices. The side streets were my favourite, with beautiful architecture and colourful buildings keeping my camera clicking non-stop.
10. Party in Overpoort
If you're in the mood to let your hair down and eat, drink and party all night, Overpoort Street is waiting for you. Situated to the east of Citadel Park, Overpoort is the heart of Ghent's student district, with its streets packed wall-to-wall with entertainment venues, cafes, bars, restaurants and night clubs to keep tens of thousands students thoroughly entertained. Thursday nights are "student's nights" and things can get a little hectic.
Whatever food you may desire is found here, from kebab and pita joints, sushi, pizzas, and tons of local delights, I had never heard of. Just walk down the street and let your stomach decide. This is one of my favorite tourist attractions in Ghent.
9. Indulge in local delicacies at Great Butcher's Hall (Groot Vleeshuis)
What once was a butcher's hall and Ghent's central meat market during medieval times, is today a thriving tourist attraction, housing a wide range of eating and drinking joints and the perfect place to indulge in all the local delicacies. There are outdoor and indoor seating eateries that also provide heating for the cold winter months.
Situated along the river just below Gravensteen Castle, this gigantic Gothic-styled stone and timber-framed hall is a wonderful place to wander around looking for souvenirs, admiring the speciality shops and letting your taste buds do the rest. Hearty meal, a quick snack, or some unique Belgian beer or a yummy Belgian chocolate treat, it's all right here.
Just come hungry.
Interesting info: The roof of Butcher's Hall was designed to resemble an upside-down ship.
8. Snap a photo at Graffiti Street
Just a few blocks behind the Vleeshuis, a narrow alleyway called Werrengadenstraat, now known as Graffiti Street provides an unexpected change from the medieval ambience of the city. Every square inch of wall in the entire street is covered with colourful street art, making it an instagrammers' hotspot.
Even if you're not an art lover, you cannot but be fascinated, awe-struck and even amused at the colourful murals that keep changing day by day. Despite there being many people taking photos, I did manage to snap some captivating images. I admit it was not on my list of places to see in Ghent, but having stumbled upon this little gem, I highly recommend checking it out.
7. Admire St. Nicholas' Church
There's no way I was going to miss visiting the unique St. Nicholas Church, and neither should you. It's absolutely magnificent and one of the places to see in Ghent that will steal your heart. Its 73 metre tower is part of the three towers that define Ghent's skyline. The exterior is filled with elaborate carvings and is made of a blue-grey stone giving it its unique colour.
Built during the 13th century to replace an earlier church, its design is known as Scheldt Gothic. It's defined by its tall tower not being above the entrance but above the centre of the building, making it even more unique. The interior is filled with stunning artworks, religious paintings, statues and stain glass windows with a magnificent altar and a historic organ built the mid-19th century.
6. Rent a bike and explore the city
Ghent is one of the most bike-friendly cities in Europe, and with the historic city centre being a car-free zone, Ghent sightseeing on two wheels makes perfect sense. Most of the best tourist attractions in Ghent also happen to be in the old town, making life even easier.
For as little as €13 per day you can hire a bike from virtually everywhere. Having a Ghent CityCard, I was also pleased to discover I was entitled to one day's free bicycle hire.
Although I preferred cycling on my own, at my own pace, there are numerous guided bike tours available, taking away the hassle of plotting your own routes, and learning about the city's road rules and cycle etiquette.
5. Try one of the 1500 beer types produced in Belgium
Just as serious as the French are in wine-making, Belgians take the art of beer making to equal extremes with over 1500 beer types available, and the list keeps on growing. Belgium is known as the Beer Capital of Europe for good reason. Before you get stuck in, keep in mind that Belgium's beers are a lot stronger (up to 12 % alcohol content) than the 4-6% mass-produced brands we may be used to.
From the palest and lightest ales, to the most potent high-octane blends with brand names like "Duvel" (Devil), "Lucifer" "Satan" and "Delirium Tremens", and everything in between, you'll be spoilt for choice. Whether you want bitter, sweet, spicy, fruity, floral, or a combination of all of the above, for beer lovers, in Ghent, the oyster is your world…aagh, you know what I mean.
Here are some of the best beer types in Belgium!
4. Enjoy the Friday Market Vrijdagmarkt
Just two blocks up from Graffiti Street and alongside the river, a sort of flea market takes place every Friday morning in a large public square with a huge statue in the middle called Vrijdagmarkt. Keeping the tradition alive for close to 1000 years, it is a wonderful spot to wander from stall to stall shopping for unusual collectible goods and clothing, as well as fresh seafood and produce at reasonable prices.
The square is lined with various restaurants with outdoor seating, perfect to enjoy a snack, a coffee or a meal. One of my favorite things to do in Ghent!
3. Try the Ghent Noses (Gentse neus or Cuberdon)
Although Ghent is famous for its medieval architectural beauty, nobody can claim to have really visited this city without savouring a Ghent Nose. Available at virtually every food market, sweet shop or street vendor, this local delicacy is a small, jelly-type sweet, shaped like a human nose. Others say it's shaped like a "young nun's belly button" or a priest's hat. I have seen plenty types of priest's hats, but can't really vouch about the belly button theory.
This little local sweet is no children's matter, having caused a street brawl leading to a legal lawsuit between two "nose" vendors each claiming they made the best Ghent Noses. It later emerged that they were both selling the same thing.
2. Spend a few nights in Hotel 1898 The Post
If you want to spoil your partner to a few nights of luxury, a stay at Hotel 1898 The Post, may just be one of the best things to do in Ghent. Situated in the old post office building, a stone's throw from St Nicholas Church in the heart of the old town, it is perfectly placed within walking distance to all the main city attractions.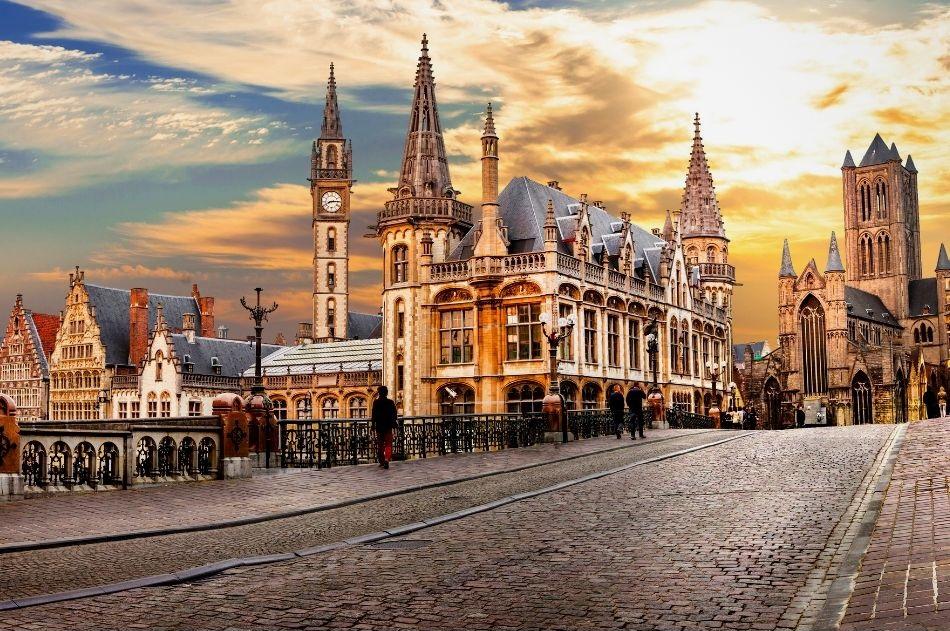 Each of its 38 rooms ooze elegance and style, while lavishly furnished with antique furniture reflecting the city's medieval surrounds, and also providing all the modern amenities anyone could ever want. Also, the hotel is one of the top 500 hotels in the world!
1. Take a day trip to Bruxelles
With Brussels being just over an hour's drive or train ride away, taking a day trip to the capital is tempting. The only problem I had, was that there was so much to see and enjoy in Belgium's capital city that I wanted to stay longer.
The Grand-Place in the city centre could have kept me there for the whole day. This massive cobblestone square is surrounded by stunning medieval architecture of the guild houses, museum and city hall. The rest of the city centre is packed with equally beautiful streets filled with magnificent churches, museums and historical landmarks.
I also recommend a short visit to the Atomium, one of the most impressive buildings I've ever seen. You can even climb to the top for some breathtaking views.
Where to stay in Ghent
If you're looking for good-value-for-money accommodation options, I've got you covered. Here are my top recommendations for Ghent!
Budget – Ibis Centrum – good location, clean rooms, modern design, good facilities
Mid Budget – Hotel Onderbergen – great location, clean & spacious rooms, great facilities, friendly staff
Luxury – Pillows Grand Hotel – excellent location, luxurious and spacious rooms, great restaurant
Conclusion
Expecting only to find medieval architecture, beer and chocolates, I was pleasantly surprised to find that this city had so much more to offer. There are so many must-visit places in Ghent, that it's hard to choose which one to see! As you can guess from my post, beautiful scenery followed me virtually wherever I went, with each place leaving me with the desire to come back, learn more and experience it all over again.
May the travel bug bite you!
Disclosure: Please note that this post may contain affiliate links. If you make a purchase through these links, I will earn a small commission at no extra cost to you. I only recommend companies and products that I trust and the income goes to keeping this website running. Thanks!