Varna is a beautiful Bulgarian city, with a lot to offer in terms of tourist attractions. It's located by the seaside and it has a fascinating history and a modern vibe. I had the chance to explore it for a few days and I was amazed by the variety of attractions in and near Varna.
From historical sites to beautiful beaches, shopping streets and fascinating museums, Varna is a city that deserves to be on your itinerary when visiting Bulgaria.
In this post, I'll share with you all the things to do in Varna. I've included tourist attractions inside the city, as well as a few attractions located just a short drive away. Varna is a diverse destination and I'm sure that you'll love it as much as I did!
1. How much time to spend in Varna?
You could easily spend a week in Varna region. You can put aside about 2 days for the city. Then, you can spend the rest of the time exploring the beautiful beach resorts located nearby, such as Golden Sands and Albena. You can also plan a half-day at the Aquahouse spa and another half-day to visit the Petrified Forest.
I know that most people think that Varna is yet another city, without too much to offer, but let me tell you that this place is incredible! Let's see which are the top tourist attractions in Varna.
2. Top things to do in Varna
2.1 Archaeological Museum
The first exhibition in the Archaeological Museum of Varna took place in 1906. Nowadays, the museum is home to an impressive collection of artefacts, out of which some of the most important are the gold objects discovered in Varna Necropolis.
These objects are believed to be some of the oldest man-made gold objects in the world! Apart from these, at this museum you'll find objects from the prehistoric, Thracian, Ancient Greek and Ancient Roman periods.
Entrance fee – 10 lv for adults, 2 lv for children
Opening hours – 10 am to 5 pm (Monday closed)
2.2 Dormition of the Mother of God Cathedral
This is the largest cathedral in Varna and the third largest in Bulgaria, after Cathedral of St. Alexander Nevsky in Sofia and St. Dimitar in Vidin. This Orthodox cathedral was opened in 1886 and nowadays, it's one of the most important religious buildings in Bulgaria.
I loved the cathedral's architecture and interior. The interior walls are decorated in Orthodox style, with lots of colorful paintings and stained glass. It's one of the places to see in Varna, no matter how much time you're planning to spend in the city.
2.3 The Clock Tower
Just across the street from the cathedral and near the Tourist Infomation Center is the Clock Tower of Varna. Originally used by firemen to watch over the city, the Clock Tower was destroyed and rebuilt in 1888.
The tower is 24 meters high and for the next 10 years the tower was still used by firemen until 1898. Nowadays, the Clock Tower in Varna can be admired from the outside and it deserves a visit, especially if you're planning to visit the cathedral across the street.
2.4 Varna Opera
Also known as the Varna Theatre, this iconic red building is part of the Philharmonic Society of Varna. Located just a short walk away from the Clock Tower, Varna Opera deserves a visit.
Even if you don't go to one of the shows held here, the building's architecture is incredible and this place is worth a visit. The opera is located near a famous shopping street in Varna. Therefore, you can take advantage and buy a few souvenirs.
2.5 Architects' Club Restaurant
With a wooden exterior with carved details, this Ottoman house is nowadays a restaurant. If you're hungry and you're looking for some local dishes, head to Club of Architect for a delicious meal. This historical building has a nice vibe and it's located close to the city center.
2.6 Knyaz Boris Shopping Street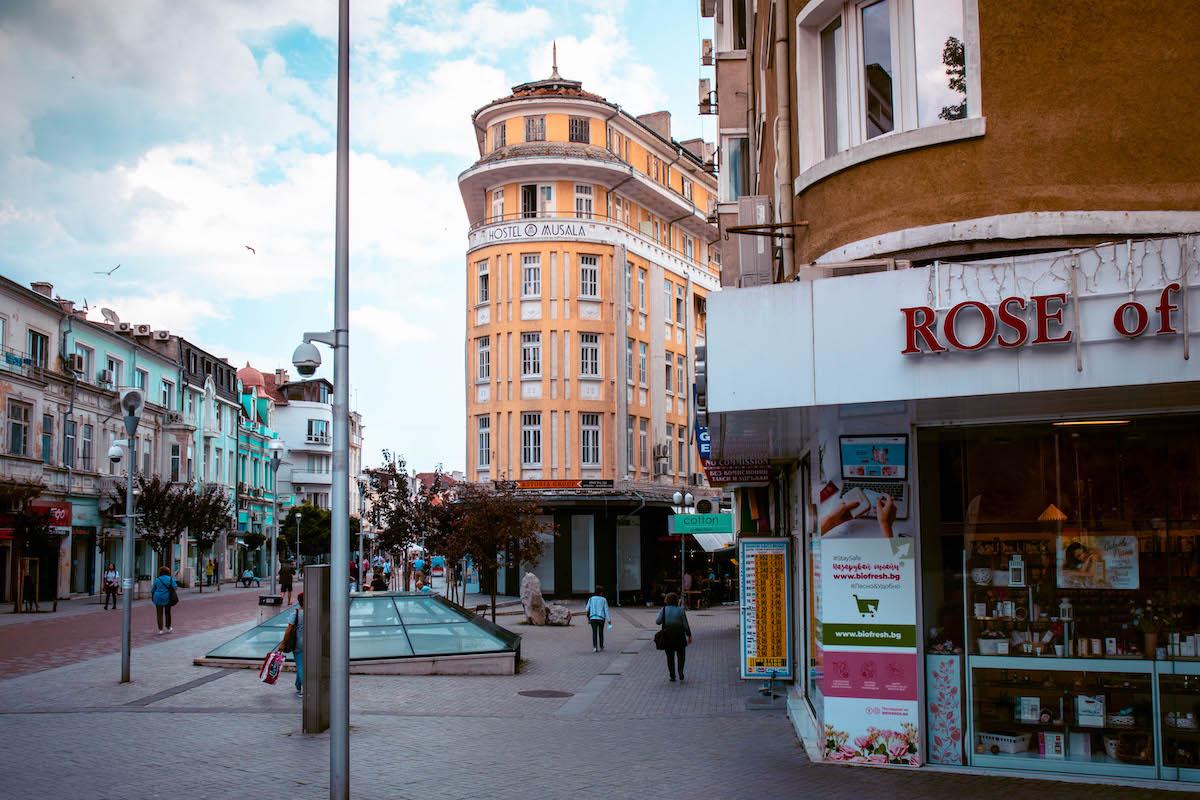 One of the best places in Varna for buying souvenirs is the Knyaz Boris Boulevard. Here you'll find lots of shops with local products. One of my favorite shops is Biofresh, a local cosmetics brand that sells awesome products with rose extract and diamond powder.
2.7 The Roman Baths
One of the places to see in Varna is the Roman Baths or Roman Thermae. Built in the 2nd century, these are some of the biggest Roman thermae in Europe and the biggest ones in the Balkans.
They're located in the heart of Varna and even if they have an impressive history, nowadays the thermae are surrounded by modern buildings. It takes about half an hour to explore them and I recommend visiting them in the evening, when they're lit up.
Entrance fee – 5 lv for adults, 2 lv for children
Opening hours – June to September from 9 am to 5 pm (Monday closed). October to May from 10 am to 5 pm (Sunday and Monday closed)
2.8 The Naval Museum
If you're passionate about ships and history, a visit to the Maritime Museum in Varna is a must. Here you can see a beautiful collection of anchors, torpedoes, maritime flags, all kinds of naval devices and much more.
Entrance fee – Adults 5 lv, children 2 lv
Opening hours – April to October from 10 am to 6 pm (Mondays closed). November to March from 9.30 am to 5.30 pm (Sundays and Mondays closed)
2.9 Mr. Baba Ship Restaurant
After visiting some of the Varna tourist attractions, you need to rest for a bit and enjoy a delicious meal. I recommend stopping at Mr. Baba, an excellent restaurant located right on the beach inside a beautiful ship.
The prices are affordable and the food is simply delicious; not to mention the views. You can choose between different types of salads, steaks and side dishes.
2.10 Primorski Swimming Pool
While looking for the best places to see in Varna, I recommend stopping by Primorski Swimming Pool. It's located right near the beach and the swimming pool is newly renovated.
2.11 The Sea Garden
The Sea Garden is one of the top places to see in Varna. It's a huge park that stretches along the coast and, at any time of the day, is full of locals taking a walk, running or relaxing.
There are plenty of interesting attractions in the Sea Garden, such as the Naval Museum, Varna Aquarium, an Astronomical Tower, a zoo and a dolphinarium. For those looking for a bit of fun, there is also a casino, a summer theatre and an amusement park.
2.12 Euxinograd Palace
Most tourists visiting Bulgaria stop for a few hours at the famous Balchik Palace. However, few know about the beautiful Euxinograd Palace, located just 7 km away from Varna.
To visit the palace you have to book an appointment by writing an email. Euxinograd was built in the late 19th century as a royal summer palace. Nowadays, the palace is used for formal meetings. I had the chance to explore its gardens and beach-front terraces and I think that Euxinograd deserves to be on any traveler's itinerary when in Bulgaria.
2.13 Aquahouse Thermal & Beach
Enjoy the healing power of mineral water at Aquahouse Thermal & Beach. I spent a few hours here, enjoying the beautiful pools with warm water and admiring the views towards the sea.
The complex has a restaurant, a spa, an executive spa and many other amenities meant to make you feel relaxed and refreshed.
Entrance fee – starting with 25 lv per person for the entire day
Opening hours – 8.30 am to 8.30 pm
2.14 Saints Constantin and Helene Monastery
Just a short walk away from the Aquahouse is the beautiful Saints Constantin and Helene Monastery. What makes this place unique is a holy spring located in the altar, the only one of this kind in the world.
The monastery is beautiful yet small so don't plan too much time to visit it. 20 minutes are more than enough to admire it and visit its interior.
2.15 The Historical Park
Go back in time and experience the history at the Historical Park. Here you'll find reconstructions of archaeological sites and buildings dating from Neolith, Romans, Proto-Bulgarians, Slavs and many others.
It's the perfect place to learn more about history and see how people used to live in different time periods. When we arrived, we were greeted with a delicious meal made from organic ingredients and then we explored the park which is huge.
During the year, various events take place here, such as medieval festivals, archery tournaments and many others.
Entrance fee – 30 lv for adults, 15 lv for children
Opening hours – 10 am to 6 pm
2.16 The Petrified Forest
Also known as the Stone Forest, these naturally-formed stone structures are located 20 km away from Varna. Some of the stone pillars reach 10 meters, but there are also many other smaller ones, forming a fascinating landscape.
I absolutely loved this place, but unfortunately it was raining when I visited so I didn't manage to take many photos. The natural park is covered in sand and from time to time stone pillars rise from the ground. An interesting fact is that these pillars are empty inside.
Entrance fee – 3 lv for adults, 2 lv for children
Opening hours – May to September from 10 am to 5 pm (Monday and Tuesday closed). October to April from 10 am to 5 pm (Saturday and Sunday closed).
2.17 Aladzha Monastery
This is one of the places to see near Varna – a medieval Orthodox cave monastery complex, dedicated to the Holy Trinity. To get to the monastery you'll have to climb some stairs. You'll first reach the prayer room and after that you can continue your journey to the chambers and tombs.
Aladzha Monastery is a unique places and right at the entrance there is a small museum where you can read more about this place and its history. I liked it a lot and I recommend putting aside about one hour to visit it.
Entrance fee – 5 lv for adults, 2 lv for children
Opening hours – May to October from 9 am to 5 pm. November to April from 9 am to 5 pm (Monday and Tuesday closed).
2.18 Golden Sands
You can't visit Varna without going to the beach. There are many beach resorts near Varna, but one of my favorites is Golden Sands. The resort stretches along the seashore and it has a beautiful, wide beach with crystal-clear water.
In the center of the resort you'll find a casino and a small amusement park. I recommend walking from one end of the resort to the other. Along the way you'll find souvenir shops and excellent restaurants.
2.19 Albena
Albena is another beautiful beach resort located close to Varna. What makes this place unique is that the entire resort is owned by the same person. There are 39 hotels catering to different budgets, but they're all owned by the same man.
2.20 The Retro Museum
Would you like to know how people lived between 1944 and 1989 during socialism? Plan a few hours for the Retro Museum in Varna. Here you'll find cosmetics, household items, and old cars.
The museum is located in the biggest mall in Varna – Grand Mall.
Entrance fee – 15 lv for adults
Opening hours – January to March from 10 am to 9 pm. April to December from 10 am to 10 pm.
2.21 Take a cruise
One of the best activities you can do in Varna is to take a cruise. You'll sail on the sea for a little over an hour and you'll drink champagne while admiring the views.
Honestly, it was one of the highlights of my trip to Varna and I recommend this activity to anyone visiting this city. You'll have a great time and the views are spectacular!
3. Where to stay
I recommend staying in Golden Sands. It's a beautiful beach resort, located 15 km away from Varna. There are many hotels with different facilities to choose from, but here are my favorites, for every budget.
Budget – Palm Beach Hotel – good location, view towards the sea, all inclusive, friendly staff, clean rooms
Mid-Range – Arghist Partez Hotel – amazing pools, all inclusive, good location, great amenities, modern and spacious rooms
Luxury – International Hotel – beautiful infinity pool, amazing views, modern and luxurious rooms, excellent amenities, casino
4. Final thoughts
If you were wondering "What to do in Varna?" I hope I gave you a few ideas. Varna is a beautiful city and it has a lot to offer in terms of tourist attractions.
I recommend spending at least 2 days in this city. Don't forget to also visit the nearby beach resorts! If you have any questions, don't hesitate to ask me in the comments section below.
May the travel bug bite you!
Pin it for later!
Disclosure: Please note that this post may contain affiliate links. If you make a purchase through these links, I will earn a small commission at no extra cost to you. I only recommend companies and products that I trust and the income goes to keeping this website running. Thanks!