When visiting Egypt or any other Muslim country in the Middle East, you need to be conscious of the weather and religious and cultural customs. Adopting a Western dress code, may not always be acceptable.
For men, dressing according to Egypt's dress code may not be much of a problem, but Egyptian women's clothing differs considerably to Western standards.
To complicate things even more, dress codes vary according to different regions and places in Egypt. For instance, entering a mosque, requires a certain dress code for both men and women. Beaches also have different dress codes, depending on the type of beach (public or private).
When traveling to Egypt, you have to do a little planning when it comes to your packing list. Knowing what to bring with you and how to dress in Egypt can save you a lot of unwanted attention.
In this article, I'll talk in detail about the dress code in Egypt. You'll find here everything you need to know, plus a few incredibly useful tips and tricks. A good starting point would be to check out what the locals wear.
1. What do locals wear in Egypt?
What do local women wear in Egypt?
The traditional clothing for women in Egypt is the "abaya" or "jilbab," a long, loose-fitting garment that covers the entire body except for the hands, feet, and face. The abaya is usually made of light, flowing fabric, such as cotton or silk, and is often decorated with intricate embroidery or beadwork.
In addition to the abaya, many Egyptian women wear a headscarf or hijab to cover their hair and neck. The style and color of the hijab may vary depending on personal preference and regional customs. Some women also wear a "niqab," a veil that covers the face, leaving only the eyes visible.
It's important to note that traditional clothing may vary depending on the region, and modern fashion trends have influenced the way many women in Egypt dress.
Do women wear makeup in Egypt?
Yes, women in Egypt wear makeup, but the amount and type of makeup worn can vary depending on the individual's preference and the occasion.
For everyday wear, it's common to see women wearing minimal makeup, such as foundation, mascara, and lipstick. However, women may wear heavier makeup for special occasions like weddings or parties, including bold eye shadow, eyeliner, and false eyelashes.
It's worth noting that in more conservative or traditional areas, some women may choose not to wear makeup or wear minimal makeup as a sign of modesty. Ultimately, deciding to wear makeup is up to the individual woman and her personal preferences.
What do local men wear in Egypt?
The traditional clothing for men in Egypt is the "galabeya" or "jellabiya" which is a long, loose-fitting garment made of cotton or linen. It typically has long sleeves and reaches down to the ankles. The galabeya is often worn with a "tarboush" or "taqiyah". A tarboush is a type of hat made of red felt or wool.
A "kufi" or "taqiyah", is a round, brimless cap that is often made of cotton or wool. Some men also wear a "shawl" or "keffiyeh" over their shoulders, a rectangular piece of cloth folded and draped over the head and shoulders.
It's worth noting that modern fashion trends have influenced the way many Egyptian men dress, and traditional clothing may not be worn as frequently as it once was.
2. What to wear in Egypt – for women
If you are a woman, it's important to dress conservatively out of respect for the local customs and culture. It's best to avoid wearing revealing or tight-fitting clothing, such as shorts, tank tops, or mini-skirts and respect the Egyptian dress code.
Instead, you can opt for loose-fitting clothing that covers your arms and legs, such as long-sleeved shirts, maxi dresses or skirts, and pants. Wearing a headscarf or hijab is not mandatory, but it's recommended to cover your hair and neck as a sign of respect when entering religious places.
Displaying elbows may raise a few eyebrows at times, but is generally accepted. You can choose to play it safe by sticking to three quarter sleeve shirts and blouses that also cover your shoulders and chest.
Avoid wearing any clothing that accentuates your curves and also keep away from any provocative patterns and see-through fabrics.
You can also bring a lightweight scarf or shawl with you to cover your shoulders or wrap around yourself when needed, especially when visiting religious sites or conservative areas. Comfortable walking shoes are also important, as many tourist sites in Egypt involve a lot of walking.
In the seaside resorts and cruise boats, the Egypt dress code is more relaxed, but bear in mind that there will also be locals, staff and other Muslim tourists around.
Overall, the key is to dress modestly and respect the local customs and traditions.
Wearing of makeup is acceptable in Egypt, but think twice before applying as it really gets hot when you're galavanting around in the sun. Egypt, particularly in the south, is hot all year round.
3. Weather in Egypt and what to pack
Apart from cultural and religious customs, you would also have to take into account the weather when deciding what to pack for Egypt. Temperatures in Egypt remain over 30° C from April until November, often reaching 40°C or higher around July and August. The highest temperatures are in the southern part of Egypt, starting from Luxor down to Aswan.
Winters are a little cooler, and the nights can get chilly, particularly in the open desert, with the mercury dropping below 10°C. I recommend bringing something warm if you're visiting Egypt during the winter.
If you're planning to attend the famous Sound and Light show at the Pyramids of Giza or Luxor, bring some warm clothes. These show take places after it gets dark and the temperatures drop dramatically.
Here is a list of clothing items to pack when visiting Egypt:
Capris or long pants. Light coloured breathable fabrics like cotton or linen are highly recommended.
Jeans, if visiting in the cooler months.
Shirts, T-shirts and three quarter sleeve blouses that cover your chest and shoulders. Again, soft light cotton fabrics are best.
A windproof and waterproof jacket for windy or rainy days.
A kimono or kaftan dress for walking around hotels, cruise boats and in resort areas.
A hat for that brutal desert sun
A scarf that can double up as a head scarf when required.
Shawl that you can quickly wrap over your shoulders if needed.
A fancy outfit, for that special dinner, fancy resort or Nile cruise boat.
Footwear should include sandals and sneakers that are light, breathable and comfortable.
Don't forget the socks. Avoid all-cotton socks because they retain moisture and can cause blisters.
Sunscreen. High factor and plenty of it, and a few sticks of lip balm.
Sunglasses. Don't go anywhere without them!
Midi or long skirts
4. Do women need to cover their heads in Egypt?
The short answer would be "no". As a tourist you don't have to cover your head, unless entering a mosque. It would be best to carry a pocket head scarf wherever you go and slip it on whenever it's required.
If you're blonde, wearing a headscarf will help you avoid any unwanted attention. You'll thank me for that!
5. What to wear in Egypt – for men
The Egypt dress code for men is easier to follow for tourists. I recommend wearing long trousers for the evenings and shorts during during the day (don't choose those extremely short shorts that guys wore in the 1970s).
Also, make sure to bring plenty of T-shirts and short sleeve shirts as you'll be mostly living in them. Once again, choose light colours and breathable fabrics.
Footwear should always include comfortable sandals or sneakers and a good pair of hiking shoes if you're planning to trek. A hat or a bandana will save your life during the heat waves.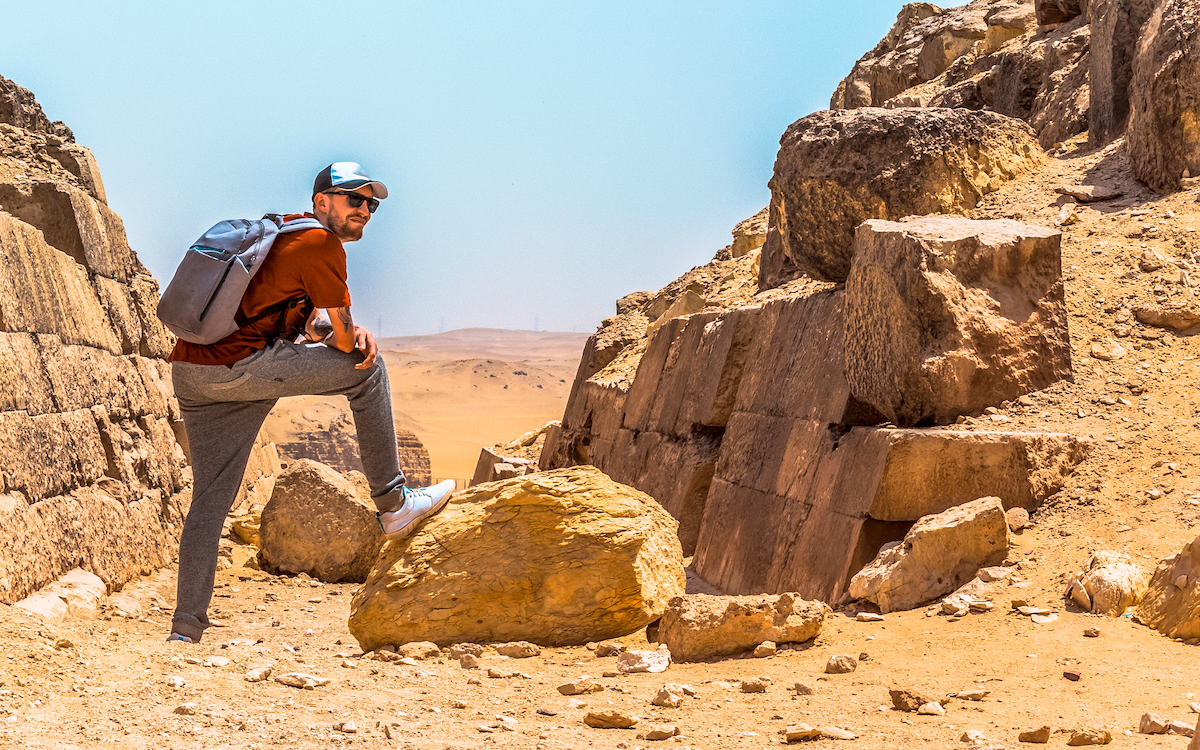 6. How to dress when visiting a mosque in Egypt
Although tourists are not required to follow strict Muslim codes, men and women are required to show respect and not dress provocatively. It's worth remembering to avoid visiting mosques on public holidays and during prayer times, as they do get crowded during these times.
As a woman, here's what to wear in Egypt when entering a mosque.
Midi or long dresses
Long or midi skirts
Long trousers
Long-sleeved shirts or blouses that cover your shoulders and chest.
Head scarf
Sandals or sneakers. You'll be required to take them off when entering the praying areas.
Men have it easier. As a man, you can wear a simple pair of long pants and a long sleeved shirt and that's it. Avoid provocative patterns or slogans on your shirts, and you'll be fine. Comfortable slip-on sneakers are recommended as you'll have to remove them when entering the praying areas.
7. What to wear to the pyramids in Egypt
When visiting the pyramids at Giza or any other ancient monuments, temples and tomb sites, dressing comfortably should be your top priority. You'll spend most of the day trudging across rocks and sand in the open desert under the most treacherous sun.
During summer months, the heat becomes unbearable, so come prepared. Before leaving your hotel room, plaster yourselves with a high factor sunscreen and take the widest hat hat you can find.
I recommend wearing long pants. They will protect your skin from the sun. For the ladies, loose fitting dresses and airy shirts and blouses are perfect. Choose light colours that reflect the sun's rays instead of dark light-absorbing colours.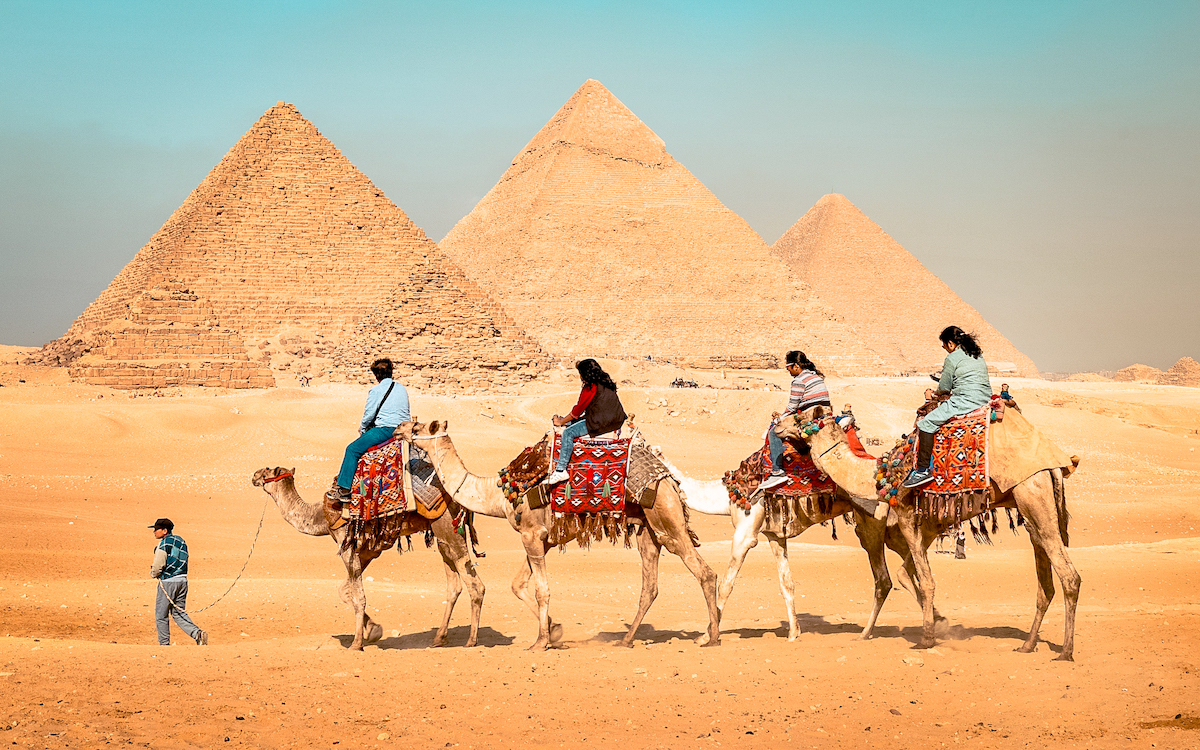 There's no need however, to look drab wearing baggy shapeless clothes. With a little planning, you can still look amazing for that special selfie under the pyramid or in front of the famous Sphinx.
Good to know: Avoid wearing flashy jewellery in order to avoid attracting unwanted attention.
Footwear could be either comfortable hiking shoes or sneakers. Shoes should be made of breathable material, and be closed-toe. High heels are a definite no-no for girls.
Perhaps not clothes related, but pack a good few bottles of water in your backpack, because you'll be spending most of the day, walking amongst ancient temples, entering tombs, taking pictures and listening to lectures from the guides in oppressive heat. Dehydration and heatstroke in Egypt, particularly during the scorching summer months, is common and can easily spoil your holiday for a few days at the very least.
8. Going to the beach in Egypt – what to wear
When people think about Egypt, they imagine pyramids, sand and mummies, but this country also has hundreds of miles of excellent beaches and resorts scattered along the Mediterranean coastline, and of course, the Red Sea.
Hurghada is one of the most popular beach resorts in the country. I visited it for one week and let me tell you, it's amazing! Besides snorkeling all day, you can also visit Luxor! Here's a list of the best things to do in Hurghada. Make sure to visit Eden Island, it's a real piece of paradise and one of the best places for snorkeling in Hurghada.
The Egypt beach dress code inside resorts and on public beaches differs. There are public and private beaches, each with an unwritten dress code.
Good to know – local women go to public beaches fully dressed, even when entering the water.
When going to a public beach, make sure to cover your chest, shoulders and knees. It's not recommended to wear a swimming suit. On private beaches however, women can wear swimming suites. You can wear a two-piece bikini, but I recommend wearing full swimsuits. For guys, wearing shorts is ok on both public and private beaches.
For women, when it comes to clothing for beaches in Egypt, I recommend always bringing a caftan with you. This way, you can easily cover yourself if needed be.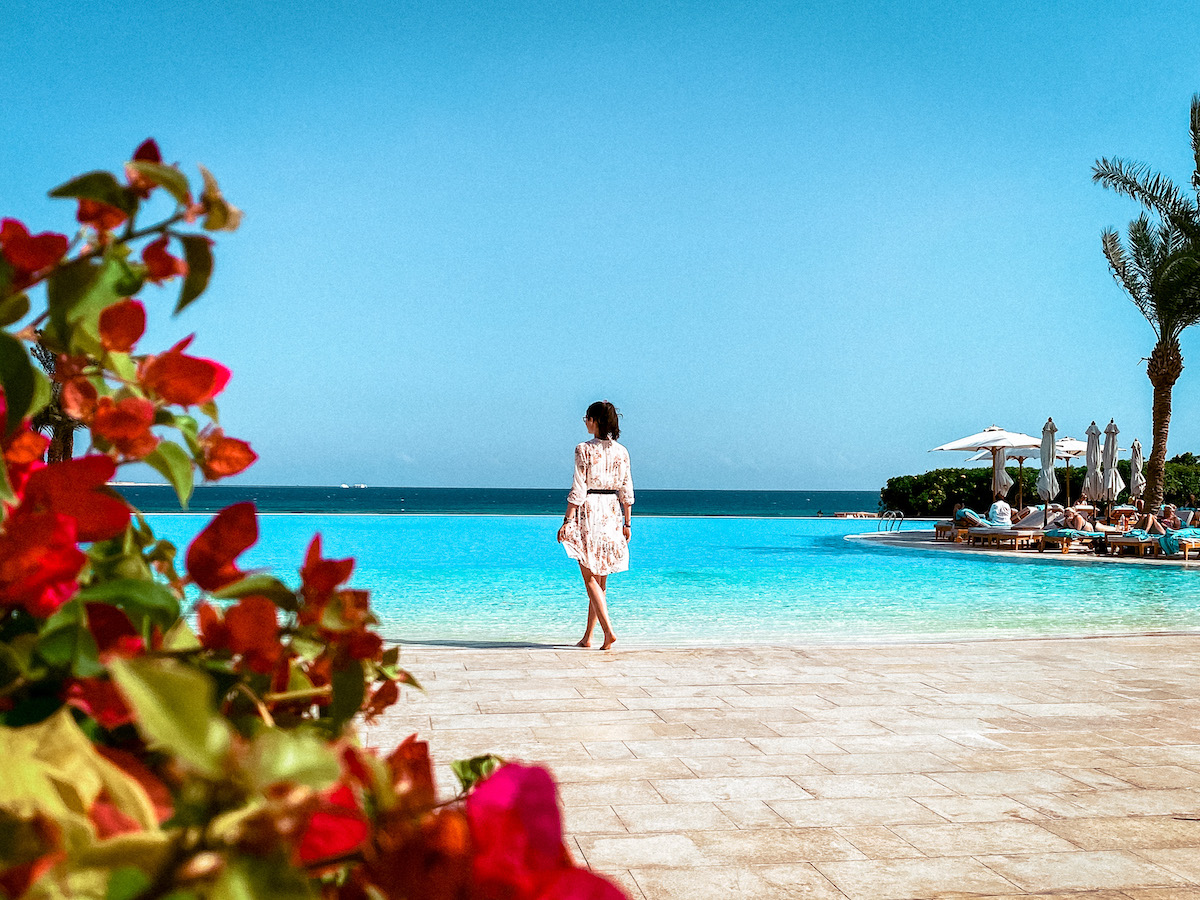 Conclusion
Even though Egypt is more progressive than many other Muslim countries, there are always certain "unwritten" rules that all Western tourists need to be aware of and comply with. It's very important to respect the local culture when traveling to a foreign country. There are many clothing items you can wear in Egypt as a tourist, without sacrificing fasion.
If you were wondering what clothes to wear in Egypt, I hope this article has helped you! If you have any questions, don't hesitate to ask me in the comments section below. May the travel bug bite you!
Disclosure: Please note that this post may contain affiliate links. If you make a purchase through these links, I will earn a small commission at no extra cost to you. I only recommend companies and products that I trust and the income goes to keeping this website running. Thanks!