The Batu Caves is an important icon in Kuala Lumpur, along with the Petronas Towers and a must see attraction for many tourists. The cave is one of the most important Hindu shrines outside India and it is dedicated to Lord Murugan. The statue of Lord Murugan cannot pass unnoticed as it is the central point of Batu Caves – the huge golden statue situated at the entrance of the main cave.
->While in Kuala Lumpur, make sure to also visit the incredible Thean Hou Temple.
Read below to find out everything you need to know about how to get to Batu Caves, Kuala Lumpur.
Are you looking for more amazing places to visit in Malaysia? Check out these recommendations.
1. The best time to visit Batu Caves
I would definitely recommend visiting Batu Caves as early as possible. We took the train at about 7.30 am and we arrived at 8 am. There were few tourists in the area and we had enough time to enjoy the place and take lots of photos.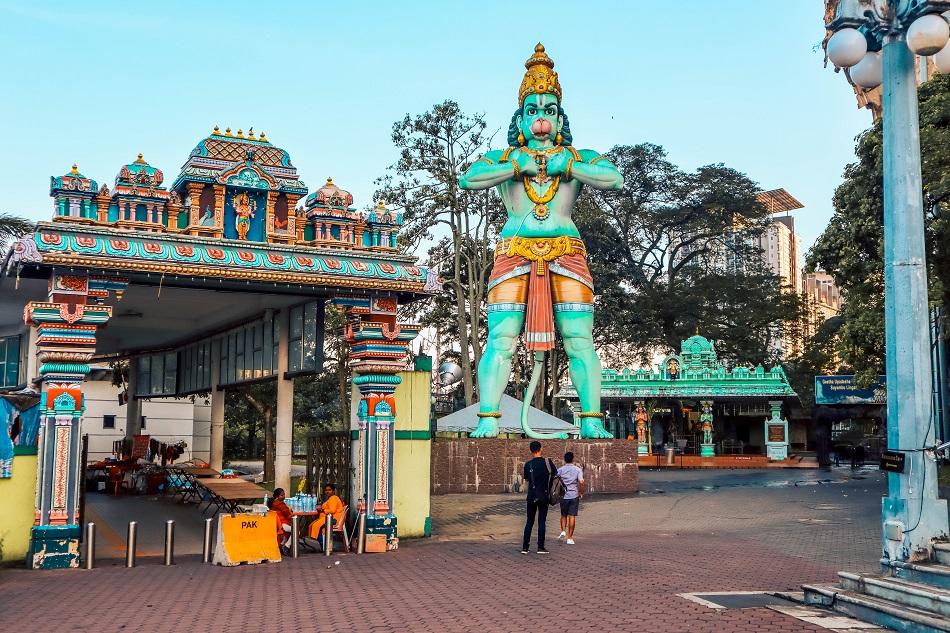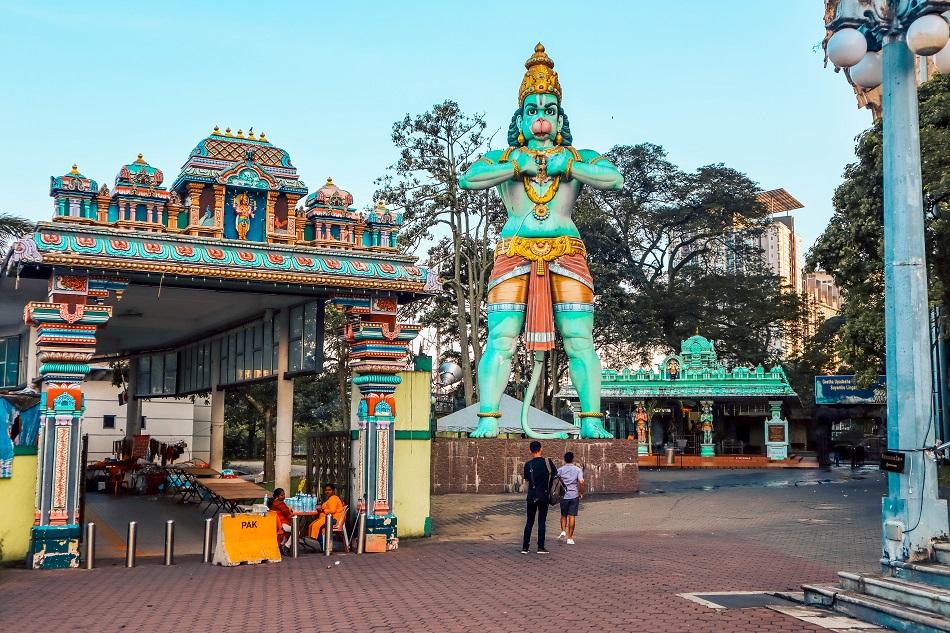 When we left, at about 9.30 am the buses filled with tourists started to arrive and the place got pretty busy.
Note: If you want to visit the Dark Cave, keep in mind that it opens only at 10 am.
2. Kuala Lumpur to Batu Caves train
The easiest option is to get to Batu Caves by train. It is also the most budget friendly one since the price for a one way train ticket to Batu Caves is only 2.6 MYR. The trains leave from KL Sentral every half an hour and the ride takes about 26 minutes.
The first train from Kuala Lumpur Sentral to Batu Caves leaves at 6.45 am while the last train departs at 11.24 pm.
Good to know – You can save up a lot of money with this TravelPass with unlimited train rides in and around Kuala Lumpur (including transfer from the airport). Check it out!
Kuala Lumpur airport to Batu Caves
If you are having a layover in Kuala Lumpur and are wondering what to visit, then Batu Caves is a good option since the connections are good. The first thing you will have to do is take the KLIA Ekspres train to KL Sentral. The ride will take about 26 minutes and the price is 55 MYR for one way.
There is also a KLIA Transit train which stops in every station along the way. Make sure to take the KLIA Ekspres as this is the only direct train to KL Sentral. Read below for next steps once you get to KL Sentral.
Are you visiting Kuala Lumpur for only one day? Check out my full itinerary here with all the must see attractions.
Kuala Lumpur Sentral to Batu Caves
Once you get to the KL Central Station things get easy. I'll list all the steps below:
Buy your ticket

You can buy your ticket for 'Batu Caves railway station' from one of the many machines situated in the KL Sentral main hall or use this awesome pass with unlimited train rides. Go to one of the machines, press English and then start typing the name of your destination – Batu Caves. Choose the destination by touching the screen, select the number of tickets and then click on 'cash'.

Make sure to have small currency on you (up to 20 MYR) as the machine does not accept larger banknotes. If you want to change your money into smaller banknotes, go to one of the shops or to the ticket counter.

The machine will give you a plastic coin which you will have to validate before entering the Komuter.

Head to KTM Komuter


Once you have your ticket aka plastic coin, head to KTM Komuter by following the signs. Make sure to check the platform on the screens above the entrance to the Komuter and validate the coin. Keep it until you reach Batu Caves – you will have to validate it again when exiting the Komuter.

After heading to the platform, take a seat and wait for the train. There will be digital screens which will show at what time the train will arrive.

Ladies only carriages

If you are traveling by train for the first time in Malaysia, be aware that there are ladies only carriages. They have pink stickers on them as shown in the pictures above. In these carriages, only women are allowed.

Arrive at Batu Caves

Once you will arrive at Batu Caves, exit the Komuter by validating your coin and head towards the big golden statue.
3. Kuala Lumpur to Batu Caves tour
The last option to get from Kuala Lumpur to Batu Caves is by an organized tour. If you are looking for a hustle-free experience, then a guided tour is what you need. There are many tours to choose from, and many of them can be booked online.
Below are a few options:
4. Kuala Lumpur to Batu Caves bus
There is a daily bus leaving from the Bukit Bintang Kiosk in Kuala Lumpur. There are two buses, one at 10 am and one at 2 pm. You can book your round-trip ticket here for the Batu Caves bus.
The buses back to Kuala Lumpur leave at 12 pm and 4 pm.
5. Kuala Lumpur to Batu Caves taxi
Although, I recommend taking the train, another option to get to Batu Caves is by taxi. The easiest way to book a taxi in Kuala Lumpur is through Grab app. Just install the app on your phone, set the pick up location and the destination and the app will tell you how much it costs.
Usually, a ride to Batu Caves from Kuala Lumpur costs around 25 MYR which is not that expensive considering that the Batu Caves distance from Kuala Lumpur is 14 km.
6. Things to know before visiting Batu Caves
The Batu Caves entrance fee is free. However, there are a few smaller caves nearby which can be visited. The fee for visiting these caves is between 5 and 10 MYR.
Dress respectfully. Similar to most temples in Southeast Asia, you are not allowed inside if you are wearing short pants or short skirts. The best option is to bring a large scarf with you and tie it around your waist when entering the temple. If you don't have a scarf, you can rent one at the entrance of Batu Caves for 5 MYR.
Don't bring food with you. There are many monkeys at Batu Caves and if they notice that you have food with you, they can get pretty aggressive. Also, make sure to not look directly into monkeys' eyes as this is perceived as a sign of attack.
7. Where to stay in Kuala Lumpur
I've searched for the best hotels in Kuala Lumpur and below are my recommendations:
Luxury – W Kuala Lumpur – pool towards the Petronas Towers, beautiful and spacious rooms, excellent staff & location
Mid Budget – Kuala Lumpur Journal Hotel – excellent location, spacious & clean rooms, awesome pool
Budget – Kitez Hotel – excellent location, modern design, friendly staff
Out of all the transport options from Kuala Lumpur to Batu Caves, I would definitely recommend taking the train as it a reliable and cheap option or choosing a guided tour. Depending on your needs, you can also take a taxi. No matter what means of transport you choose, the Batu Caves temple is extremely impressive and beautiful. I am sure you will have a great time.
May the travel bug bite you!
More about Malaysia:
Pin it for later!
Disclosure: Please note that this post may contain affiliate links. If you make a purchase through these links, I will earn a small commission at no extra cost to you. I only recommend companies and products that I trust and the income goes to keeping this website running. Thanks!