Situated in the southwest corner of Jordan, barely an hour's drive from Aqaba and 100 km from Petra, Wadi Rum has got to be one of this kingdom's must-see sights. The natural and rugged beauty of Wadi Rum is the reason why visitors are drawn here by the thousands each year. It is one of the most popular tourist destinations in Jordan, second only to the spectacular and enigmatic wonders of Petra.
Wadi Rum is a vast expanse of remote desert with blood red sand valleys and steep dunes, deep canyons and caves, and towering mountains, all sculptured by nature over millions of years. This almost unearthly terrain, also known as The Valley of the Moon, has been the setting of numerous sci-fi films, including The Martian, Star Wars the Rise of Skywalker, and the 1962 historical epic, Lawrence of Arabia.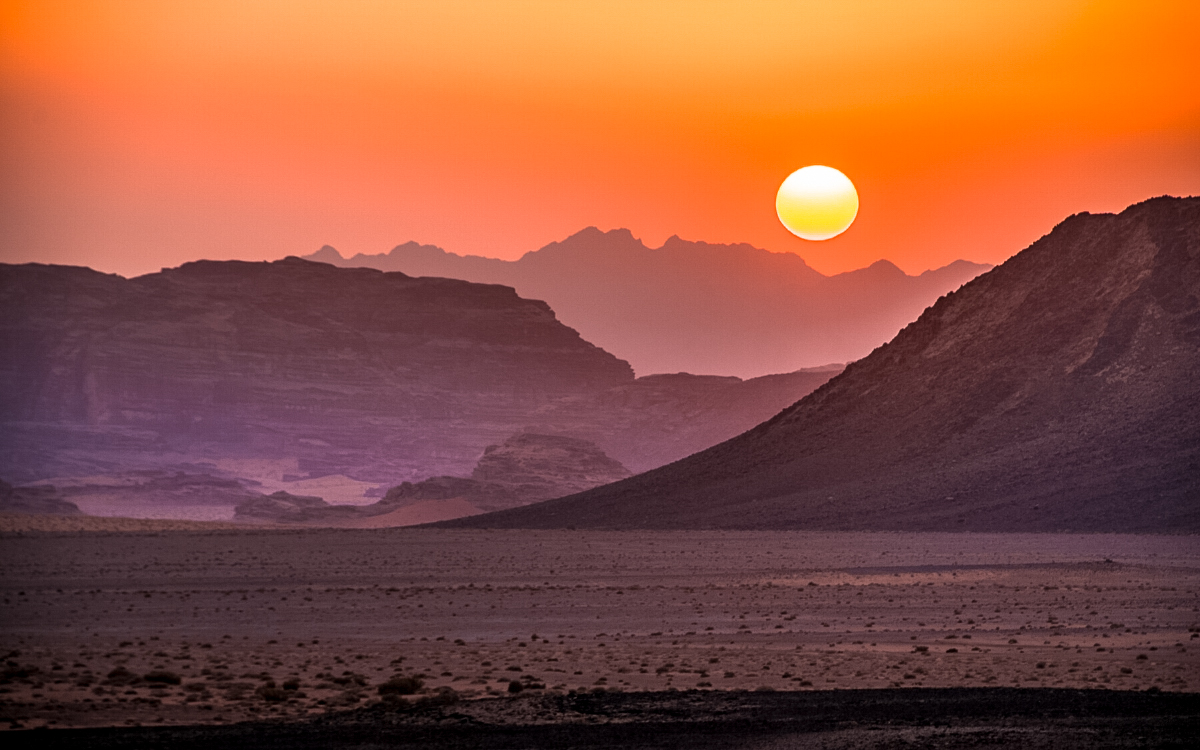 Appreciating this dramatic landscape and experiencing the authentic nomad lifestyle, is made possible by the numerous desert camps dotted in and around the reserve. They have been established and run by the local Bedouins, who know the area very well. Here's a list of the best camps in Wadi Rum!
They provide excursions into the desert, on foot or in jeeps to various historical and natural locations, allowing visitors to enjoy the breathtaking beauty of this stunningly beautiful land.
At sunset, nature switches in its own Photoshop program, transforming this already beautiful landscape into a blaze of reds, golds and purples, drawing avid photographers from across the world, to capture that one special moment in time.
If you're looking for the best sunset locations in Wadi Rum, you're in the right place! In this article you'll find out everything you need to know about admiring an incredible sunset in Wadi Rum!
1. Why watching the sunset in Wadi Rum is a must?
Watching the sunset in Wadi Rum is one of the most memorable and unique experiences you can experience in Jordan. Nothing we write here can do a sunset in Wadi Rum true justice. You just have to see it for yoursef.
During the golden hour, the setting sun releases its rich warm colours throwing fascinating hues, intriguing shadows and dramatic patterns across the sky. The sky is mostly cloudless in Wadi Rum, but when there are a few clouds floating around, the scenery becomes even more dramatic.
As a spectacle, there is nothing on this earth quite like a sunset in Wadi Rum!
2. Sunset Hours in Wadi Rum
Like most things in life, timing is everything. To truly appreciate the entire spectacle and for photographers to capture as many images as possible, it's critical to arrive at your chosen location at least 45 minutes before that frantic golden hour begins.
This will also give photographers time to set up their equipment, camera settings and study the terrain in order to plan the shoot. Should the location become crowded, at least you get to pick the best spot.
Rule of thumb for sunset and sunrise photography, is to arrive first and leave last. Some of the most dramatic silhouette pictures are usually shot after the sun has set and everybody else has left.
Sunset hours at Wadi Rum are as follows:
Winter (November to February): 16.30 to 17.30
Spring (March to May): 17.30 to 19.30
Summer (June to August): 19.00 to 19.30
Autumn (September, October): 17.00 to 19.00
3. How to see the sunset in Wadi Rum
To give yourself the best chance to enjoy a sunset in Wadi Rum, plan for at least a two days stay, to ensure you have clear conditions. As with any desert environment, a slight wind can create dusty and hazy conditions, spoiling the scenery and your photos. Here are a few accommodation options to help you plan your trip!
Option a – climb the nearest rock
You could see the sunset from almost any place, but there are numerous Wadi Rum sunset spots, from where the sunset is even more spectacular. Depending where exactly you're staying, the best place to see the sunset in Wadi Rum, would be to head for the nearest hill or rock formation that is west-facing. As most campsites and lodges are tucked away behind some rocky outcrop for protection against the wind, you would not need to go too far.
Enjoying a sunset in Wadi Rum is not just about looking at the sun. Look around you to see how the rich shades and colours of the setting sun, warm the already red and rugged terrain of sand and stone, turning the entire desert wilderness into a golden, breathtaking spectacle. It's as if the landscape has been set on fire. The higher you can get to, the more dramatic the scenery.
Option b – go on a hot-air ballon trip!
The vastness of this desert and its true beauty can best be appreciated from the air. I totally recommend going aboard a hot-air balloon! Catching the sunset or sunrise in Wadi Rum from a hot-air balloon is the ultimate experience. For more info, prices, or bookings, click here.
Option c – go on a sunset tour in Wadi Rum!
No matter which camp you're staying in, they all offer guided tours to all the historical and natural landmarks, including sunset viewing tours. Booking a Wadi Rum sunset tour is possibly your best option, taking you directly to the best sunset viewing points, and taking out the hassle of setting out in the desert on your own.
For example, Arabian Nights organises sunset and sunrise tours. For sunset tours in Wadi Rum, prices start at around 10 JOD per person.
4. Best places to watch the sunset in Wadi Rum
Here are some of the most popular places to watch the sunset in Wadi Rum. Keep in mind that most jeep tours take the tourists to these spots, so they might get crowded.
Um Sabatah
One of the most popular sunset places in Wadi Rum is Um Sabatah, a tall rocky outcrop, which is located about 12 km south of the Wadi Rum Village. Lying on the edge of the red sand it offers fantastic views of the red sand and rocky terrain during sunsets. 
Um Mugur Mountain
Just a little further southeast from Um Sabatah lies Um Mugur Mountain. This section is another great sunset viewing spot where the sand turns vivid shades of pink.
Burdah Rock Bridge
Another not-to-be-missed spot is the Burdah Rock Bridge, located about 15 km southeast of the village. Accessible by jeep, this fascinating rock formation, with its deep hidden canyons is the highest natural rock bridge in Wadi Rum. If you can ascend to the top, you'll be rewarded with numerous vantage points giving you panoramic views of the sunset, and 360 degrees views of the desert.
This spot is a magnet for professional photographers. Capturing a shot from high above, with a human or preferably, a camel, somewhere in the distance below, will give the photo a true sense of scale of this wild but beautiful landscape.
The Seven Pillars of Wisdom
About eight kilometres north of the village is another Wadi Rum sunset location and historical landmark, known as The Seven Pillars of Wisdom.
Named by the local tour guides, in honour of the famous book by T. E. Lawrence, Lawrence of Arabia, this impressive rocky outcrop offers stunning views of the desert, and during sunset, the entire rock is bathed in the warm red glow of the sun and is a sight to behold.
5. Where to stay in Wadi Rum
There are many camps in Wadi Rum, starting from very basic tents and ending with luxurious Martian tents. Here are a few options, perfect for those seeking good value for money camp.
Budget – Moon City Camp – basic but clean room, friendly staff, authentic experience
Mid-Range – Rum Angel – spacious rooms, beautiful view, breakfast included, good facilities
Luxury – Bubble Luxotel – unique experience in a bubble apartment, luxurious rooms with excellent amenities, jacuzzi, breakfast and dinner are included
6. Final thoughts
Whether it is the breathtaking beauty, the historical landmarks, the ancient petroglyphs or the unique and vast Mars-like landscape that draws visitors to Wadi Rum, the one thing that they all enjoy at the end of each day is its magnificent sunsets.
Each day in Wadi Rum ends with a festival of colours lasting over an hour, until the sun finally sinks into the horizon. But the show may not be over yet. It's now time to light a fire, have a cup of tea and prepare for the next show. It's now the turn of the moon, the Milky Way and the shooting stars to come out to put in their sparkling show for the night.
At Wadi Rum, the spectacle never stops. Oh, by the way, sunrises are just as spectacular as the sunsets in Wadi Rum.
May the travel bug bite you!
Pin it for later!
Disclosure: Please note that this post may contain affiliate links. If you make a purchase through these links, I will earn a small commission at no extra cost to you. I only recommend companies and products that I trust and the income goes to keeping this website running. Thanks!