Overlooked in past years, Iceland has suddenly become a favourite hotspot for tourists, drawn here each year by the breathtaking scenery. Unspoilt nature at its finest.
While there are a multitude of fascinating sites in and around the capital, Reykjavik, many visitors prefer to head out to the more isolated sections of the island, seeking some of the less visited jewels Iceland has to offer. One of those jewels, is Stokksnes Beach.
If you're planning to visit this incredible beach, I've got you covered. Here is everything you need to know when planning a visit to Stokksnes Beach, Iceland.
1. Stokksnes Beach Location
Stokksnes Beach is located 460 kilometres from Reykjavik and 16 km from the small and charming fishing town of Höfn, on the southeast coast of Iceland.
One of the most important tourist attractions near Stokksnes Beach is Jökulsárlón Glacier Lagoon, an incredible glacial lagoon with thousands of icebergs floating above it. If you visit Jökulsárlón, make sure to visit Diamond Beach too! It's just one hour away from Stokksnes, by car!
There are also some incredible waterfalls close to Stokksnes. Check them out here!
2. How to get to Stokksnes Beach
Stokksnes Beach is accessible by road, although flights from Reykjavik to the nearby town of Höfn are available when the weather is good. Most visitors get to Stokksnes by car or bus.
The trip from Reykjavik taking approximately 6 hours by car and about 8 hours by bus. The disadvantage of going by bus or plane, is that you will have to catch a taxi from Höfn to Stokksnes, unless you're on an organised bus tour.
The road from Reykjavik to Höfn is in excellent condition. If you're planning to visit Stokksnes Beach during winter, make sure to read more about driving in Iceland in winter. This guide is full of useful tips and tricks!
Coming from the capital, take Route 1 on the Ring Road. After reaching Route 99, which is the turn off to Höfn, continue for another 6 kilometres and turn right onto an unmarked gravel road, just before reaching the Almannaskard Tunnel. If you have gone into the tunnel, you have gone too far.
Follow the gravel road for about 5 more kilometres until you reach the Viking Cafe and car park. This land is privately owned and an entry fee of 900 ISK (about $7) is charged by the owners to maintain the road. You can pay by card. The entry fee gives you access to the beach, the Stokksnes lighthouse and the Viking Village.
You can also spend the night at Viking Cafe, the views here are insane!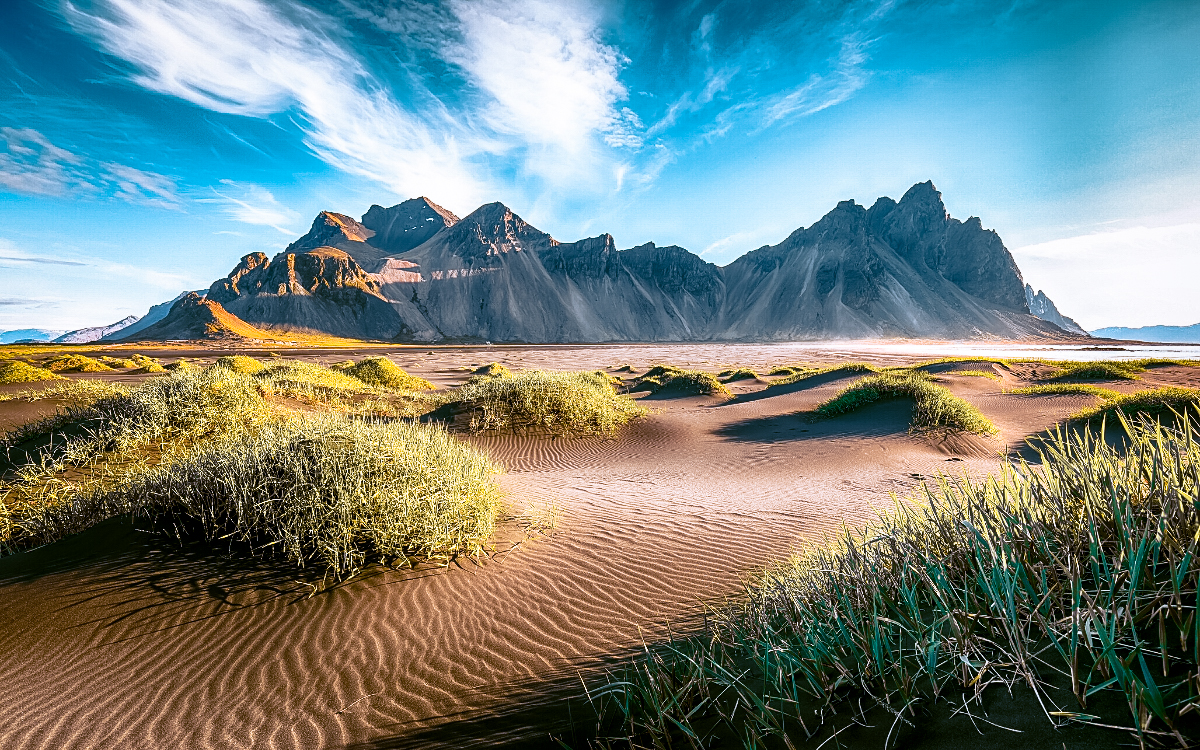 3. What to expect at Stokksnes Beach
The dramatic Vestrahorn Mountain towering above the Atlantic Ocean is enough to attract visitors and avid photographers each year, to this remote and desolate corner of Iceland, hundreds of kilometres from anywhere. Stokksnes Peninsula is one of those places that you'll remember for life!
The two distinctive peaks of the mountain have earned Vestrahorn the nickname of "Batman Mountain", giving it a rather enigmatic look. The shoreline below consists of fascinating black lava sand dunes, which are constantly being reshaped by the powerful surge of the ocean and the strong winds that often lash this coast. On a lucky day, you may spot a seal or two lazing on this long beach.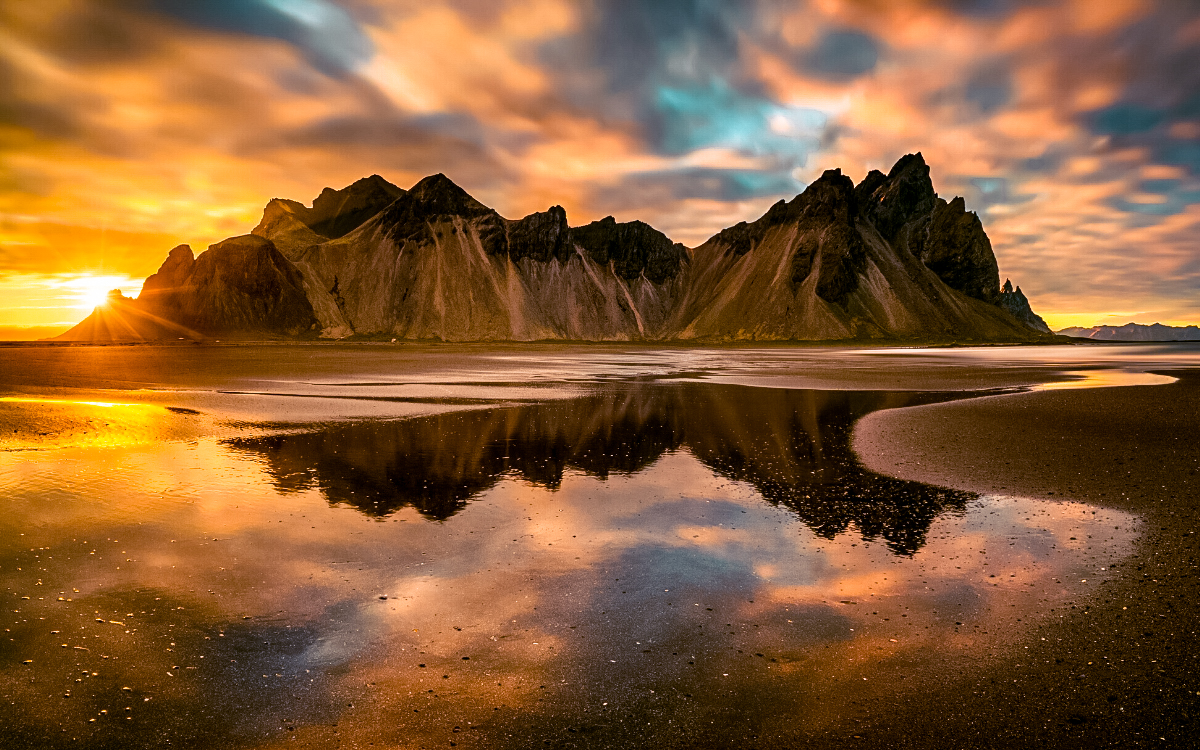 Putting all these natural features together, makes Stokksnes Beach one of the most photographed and beautiful beaches in Iceland. A desolate and rugged shoreline with a pitch-black sandy beach stretches for over 2 kilometres. The imposing Vestrahorn Mountain is soaring almost vertically 450 metres skyward behind the beach, creating a breathtaking view.
The rocky outcrop to the right of the beach has a lighthouse, an abandoned WW2 army base and an old NATO Radar site.
4. Things to do at Stokksnes Beach
There are tons of stuff to see and do at Stokksnes beach, but swimming is not one of them. In fact don't go anywhere near the water. The Iceland shoreline can be quite treacherous and is known for its sneaker waves. These waves seem to come out of nowhere, sweeping unsuspecting people into the sea, even on a calm day. And it's pretty darn cold too.
When planning your trip to Iceland, make sure to check out this article. You'll learn some of the most important travel tips you need to know when visiting this incredible country.
Visit the Viking Film Set
A short dirt road from the Viking Cafe to your left will lead you to an abandoned Viking film set. This set was built in 2010 for a Viking movie that was never shot, but was left to attract curious visitors. The abandoned buildings are open and make for some interesting photography.
Admire the Stokksnes Lighthouse and Radar Station
Continuing along the dirt road from the café will lead you to the high rocks upon which sits the Stokksnes Lighthouse. This lighthouse was built in 1922 and was part of the Allied Army base during WW2. In 1958 the original 15 metre structure was raised to 19 metres, and is now warning ships with red green and white flashes every 30 seconds.
Not spectacular by any means, but you could easily spend hours here, admiring and photographing the powerful waves crashing onto the rocky shore around it.
Behind the lighthouse is the Radar Station. It was once part of the Allied WW2 army base and was later used by NATO to monitor Soviet air activity during the Cold War. Today it's used to monitor commercial air traffic.
Enjoy the Hiking Trails
There is a great hiking trail close by, without you having to travel too far. Just before the tunnel, a small track on the left of the road, will lead you up to a view site which offers panoramic views of the countryside spread down below.
There are a few more hiking trails to explore, taking you to various sites, all offering beautiful views from different vantage points. Keep your eyes peeled on the water as you may be lucky enough to spot some seals or whales cruising by. Trail information can be obtained at the Viking Café, as well as some seriously delicious hot chocolate.
Take spectacular photographs
Most people come here to admire and photograph this unique landscape, with each season throwing in its own magic. There are many angles and beautiful compositions to be shot here, so let your imagination run wild. It's actually impossible to take a bad photo here!
A sweeping shot across the beach, close to the ground at low tide is a most popular shot, with the wet sand reflecting a mirror image of the mountain in the background. Similar reflective shots can also be taken from the gravel road, looking across the lagoon sprawled at the foot of the mountain. Another great angle is from far back behind the dunes, with the green grass contrasting the black sand.
Fantastic aerial pictures can be shot using drones. If you're flying below 120 metres, you don't need a permit. Just ensure you have enough battery power as you may be flying in some strong winds. You can check out the latest drone regulations on this site.
A few basic photographic tips
It's best to check on the weather first,. It can be extremely unpredictable, to ensure the mountain is not covered in clouds.
It's usually quite windy, so a sturdy tripod will be most useful.
If hand-held, crank up your ISO a little to minimise shake.
A wide angle lens and ND filter are must-haves.
Sunrises and sunsets, with a few clouds in the sky above the mountain, make breathtaking compositions.
The scenery changes its mood constantly throughout the day, so have patience.
In winter, the snow covered mountain provides a contrasting background to the black beach and blue sky and even more beautiful reflection on the wet sand.
Being in such a remote location means no light pollution, making Stokksnes Beach one of the best spots to photograph the Northern Lights. Best times would be from late autumn through the winter to early spring, when the night skies are extra dark and the dancing Aurora Borealis is more visible.
5. Where to Stay at Stokksnes Beach
Being in such a remote part of the island and having come so far, you may want to stay a few days to truly appreciate the beauty of this place. The obvious choice would be to stay in one of the many hotels and guesthouses in Höfn, a mere 20 – 30 minutes' drive away.
Here are my recommendations for accommodation in Höfn:
Budget – Hofn Guesthouse – basic, clean rooms with shared bathrooms, good location, well-equipped kitchen
Mid-Range – Vikingcafe – excellent location with insane views, spacious and clean rooms, friendly staff, breakfast is included
Luxury – Aurora Cabins – spacious studio with mountain view, private kitchen, excellent amenities, beautiful terrace
If you're in a campervan, you can also stay at the campsite on the foot of the Vestrahorn Mountain right at Stokksnes Beach. It's very basic, but kitchen, bathroom and toilet facilities are available. This will also give you the opportunity to take some sunset and sunrise pics of the mountain, a time when the natural light is at its best.
6. Other interesting sites near Stokksnes Beach
On your way from Reykjavik to Stokksnes Beach, you'll pass by some incredible waterfalls. I've compiled a list of the most beautiful Icelandic waterfalls that will help you discover some pretty amazing falls.
Since you have come from so far, you might as well stop and see some other scenic spots near Stokksnes. Jökulsárlón Glacier Lagoon and Diamond Beach, instantly comes to mind. You probably have seen it having passed it on your way to Stokksnes.
This lagoon is Iceland's deepest lake (250 metres) and is full of icebergs all year round, Apart from providing beautiful scenery, the icebergs make comfy resting spots for the hundreds of seals that hang out here. Walk towards the channel to Diamond Beach, and view the bits of washed up icebergs. littering the black beach like sparkling diamonds.
Not far from Jökulsárlón is Skaftafell Nature Reserve, which offers even more splendid scenery filled with glaciers, volcanoes, towering mountains, cascading waterfalls, black sand deserts and stunning geological rock formations.
7. Conclusion
I hope you have found this article interesting and useful for your trip. Maybe it has sparked off a desire to visit this stunningly beautiful spot, stuck in the middle of the Atlantic Ocean.
You just cannot go to Iceland without visiting the beautiful Stokksnes Beach.
You just can't.
May the travel bug bite you!
Disclosure: Please note that this post may contain affiliate links. If you make a purchase through these links, I will earn a small commission at no extra cost to you. I only recommend companies and products that I trust and the income goes to keeping this website running. Thanks!