I'm not saying this because I was born here, but Brasov is definitely the most beautiful city in Romania. Located in the heart of the Carpathian Mountains, Brasov is one of the top tourist destinations in the country.
Tourists flock here to enjoy the nature and to explore Brasov's old town. As Brasov doesn't have an airport, most of the tourists will arrive in Bucharest and from there, they will have to make their way to Brasov.
If you are wondering how to get from Bucharest to Brasov, you are in the right place. In this comprehensive guide I will share with you all the transport options, with prices. Depending on your budget and preferences, you can choose the most suitable transport option for your needs.
1. Bucharest to Brasov distance
There are only 170 kilometers dividing Bucharest from Brasov. However, due to the lack of a proper highway or fast trains, the journey will take at least 2.5 hours no matter which transportation option you choose.
-> Looking for the best hotels in Brasov? Check out my recommendations!
But let's look at the bright side! Romania is a beautiful country and on your way from Bucharest to Brasov you will pass by beautiful small villages, charming valleys and tall mountains. Traveling from Bucharest to Brasov is a great way to catch a glimpse of the Romanian countryside and scenery.
If you have a few days to spare in Bucharest, make sure to check out this article and find out which are the best things to do in the capital of Romania.
No time to read now? Pin it for later!
2. Bucharest to Brasov by train
Quick update for summer/ autumn 2019 – BOOK YOUR TICKETS IN ADVANCE. The government has recently decided to reduce the number of wagons per train and the seats sell out quickly. Make your reservation online at cfrcalatori.ro
Probably the most comfortable way to get to Brasov is by train. In order to take the train, you will have to go to the Bucharest North Railway Station. You can buy the tickets directly from the station. You don't need to buy online tickets unless you're travelling during a big local holiday like Christmas or Easter.
-> 35 Reasons why you shouldn't visit Romania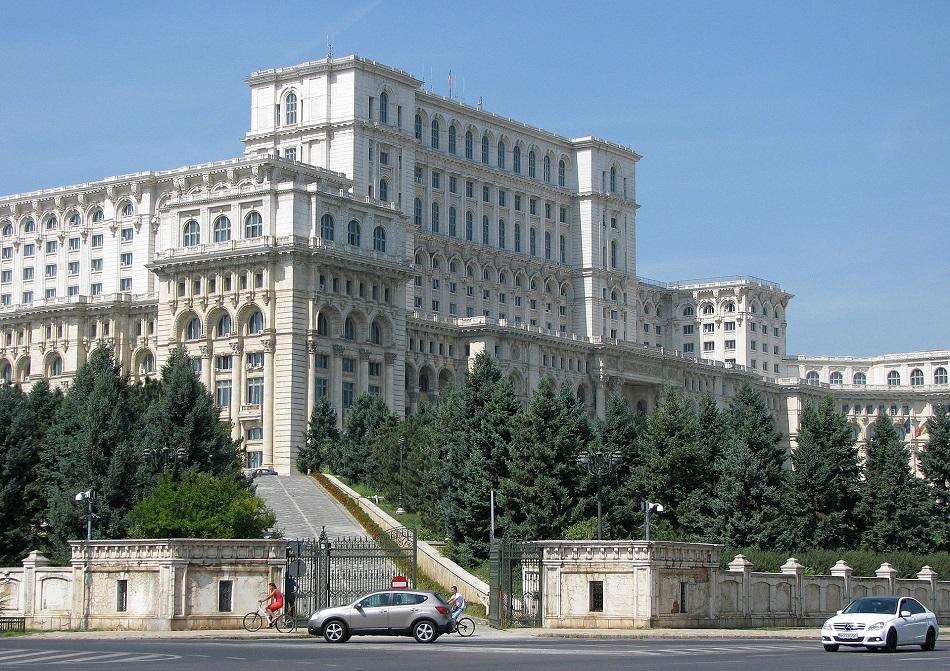 If you want to check the timetable for the Bucharest-Brasov train, you will have to visit the cfrcalatori.ro webpage. I will walk you through the steps:
at "Departure" enter Bucuresti Nord
at "Destination" enter Brasov
set the date when you want to travel and click "search"
you will be redirected to another page where you will have to introduce a security code and then click "search routes" again
now you will get to the page where you can see all the trains available for the date you introduced
there are 3 types of trains in Romania:

R – the slowest and the cheapest one – I don't recommend this option
IR – the fast option – choose this option
IRN – night trains which have sleeping wagons
Choose the most convenient train for you and make sure to be at the railway station with at least one hour before departure time. Buy the tickets directly from the railway station.
Although it sounds a bit complicated, it's not. If you like to be spontaneous, you can also head directly to the railway station and take the first train to Brasov. There are many trains per day which means that you won't have to wait for a long time before catching one.
Insider tip: Ask for a seat on the left side of the train, at the window. When you get close to Sinaia, make sure to look outside the window – you'll see the beautiful Carpathian Mountains.
Bucharest to Brasov train price
The IR train usually costs around 50 RON ($14) but it's best to check the price on cfrcalatori.ro (use the steps mentioned above).
Trains in Romania
Usually the trains on the route Bucharest-Brasov are never late. However, it's not unusual for trains to be delayed in Romania so don't get angry if you'll have to wait an extra half an hour. Go at a local store and buy some Romanian pretzels – they are delicious. Also, inside the Bucharest North Railway Station you will find a McDonalds and a KFC, just in case you are hungry.
Most of the trains are in good condition. They are clean and comfortable.
3. Bucharest to Brasov by bus
Another option to travel from Bucharest to Brasov is by bus.
If you get carsick easily, DO NOT choose this option. Once you get in between the mountains, the road is very curvy for about 45 minutes.
-> Is Romania safe to visit? Find out the answer here.
As a foreigner, trying to find a bus from Bucharest to Brasov is a nightmare. I am Romanian and as I'm writing this post, I tried to search for information in English and guess what, there is non available! Ugh. Even the big websites like rome2rio will redirect you to local websites, where all the information is in Romanian.
I am ashamed to say this but it's practically impossible to book a bus ticket from Bucharest to Brasov as a foreigner.
Therefore, what I would recommend is to ask somebody at your hotel reception or a fellow Romanian to call one of the following bus companies and make the booking for you. You can try and call too but I am not sure that the employees from these bus companies speak English.
Note: if you dial from an international SIM card, you will have to add the prefix +40 in front of the above numbers.
Important! Although booking a seat in a local bus is nearly impossible, I've found an international website where you can book your seat in a minivan. Click here to see more details.
Bucharest to Brasov bus price
The buses usually cost the same as the train – around $14 or 50 RON.
If you have to choose between bus and train, go for the train. During my university years, I commuted almost weekly between Brasov and Bucharest by train. Taking the train is reliable and definitely more comfortable than traveling by bus.
Important to know: if you choose to travel by bus or car make sure to avoid at all costs the weekends or national holidays. The traffic gets really bad between Comarnic and Predeal and you will end up spending 6 hours or more between Bucharest and Brasov.
4. Bucharest to Brasov by guided tour
If you want take a day trip to Brasov from Bucharest, the best option is to book a guided tour. Taking the train or the bus would be too much of a hustle for only one day. With a guided tour, you won't have to worry about transport at all!
I've searched for the best tours from Bucharest and here are my recommendations:
5. Bucharest to Brasov by car
Renting a car in Romania is easy. If during your trip to Brasov you also want to visit the Bran Castle or Rasnov Citadel, then you should definitely rent a car as there is no public transport available to get there.
I recommend using a big provider such as autoeurope.com to search for the most suitable car for you.
In Romania you will have to drive on the right side of the street.
6. Where to stay in Bucharest and Brasov
I've searched for the best hotels in Bucharest for every budget. Here are my recommendations:
Budget – The Embassy Nord – good location, modern design, very clean
Mid Budget – Hotel Lido – spacious and modern rooms, excellent location, friendly staff, excellent services
Luxury – Grand Hotel Continental – city center, a piece of Bucharest's history, excellent service, beautiful & very clean rooms
If you are looking for accommodation in Brasov, I've got you covered. Here are the best hotels in Brasov:
Budget – Tampa Residence – good location, modern design, friendly staff
Mid Budget – Quiboo – excellent location – historic city center, beautiful design, spacious rooms
Luxury – Villa Prato – beautiful decor, very clean, excellent location, friendly staff, breakfast included
Conclusion
If I were a tourist in Romania, trying to get from Bucharest to Brasov, I would definitely choose the train. You can buy your tickets directly from the train station, it's reliable and comfortable and one of the fastest transportation options.
I will say it again: AVOID AT ALL COSTS traveling by car or bus during the weekend (Friday evening, Saturday morning or Sunday) as you will end up stuck in traffic for at least 6 hours.
May the travel bug bite you!
Disclosure: Please note that this post may contain affiliate links. If you make a purchase through these links, I will earn a small commission at no extra cost to you. I only recommend companies and products that I trust and the income goes to keeping this website running. Thanks!