When we talk about the Netherlands, the first city that comes to our mind is Amsterdam. Of course, Amsterdam is amazing and there's a lot to discover but it's also packed with tourists. If you really want to experience the Dutch culture, you'll have to visit one of the smaller cities.
Situated just 15 minutes away from Amsterdam by train, Haarlem is the perfect choice if you're looking for a beautiful, quiet city with a lot to offer. One day in Haarlem is more than enough to explore it and trust me, you'll fall in love with it.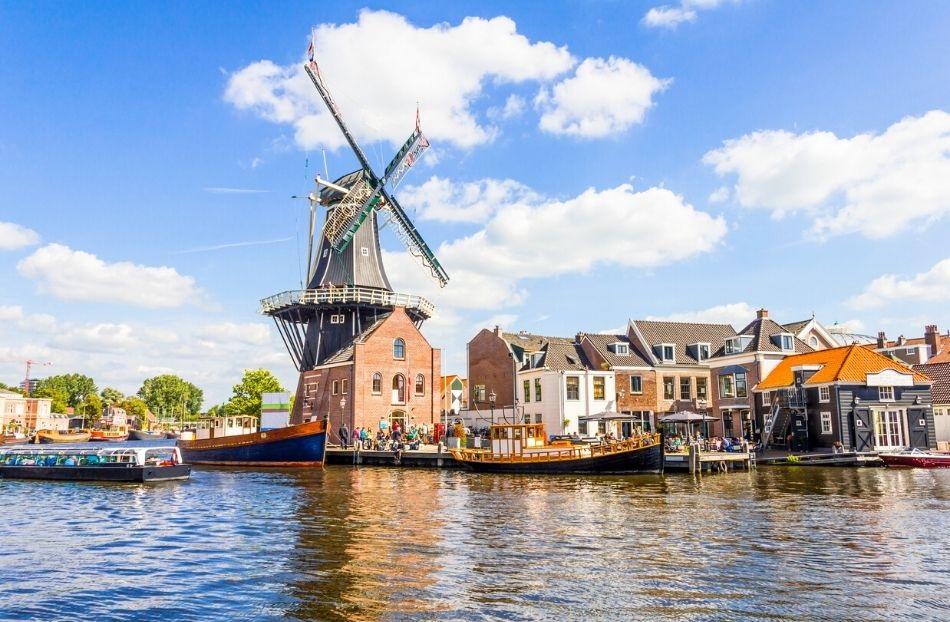 Another beautiful Dutch city that can be visited as a day trip from Amsterdam is Giethoorn, also known as the city with no roads. Read more about it here. Also, make sure to check out the beautiful Muiderslot Castle!
1. Is Haarlem worth visiting?
Even now, when I think about Haarlem city I just can't help to also think about that weird dance called Harlem Shake that took the internet by storm a couple of years ago. Haarlem and the Harlem Shake are not related in any way. Now that we've cleared things up, let's talk about serious stuff.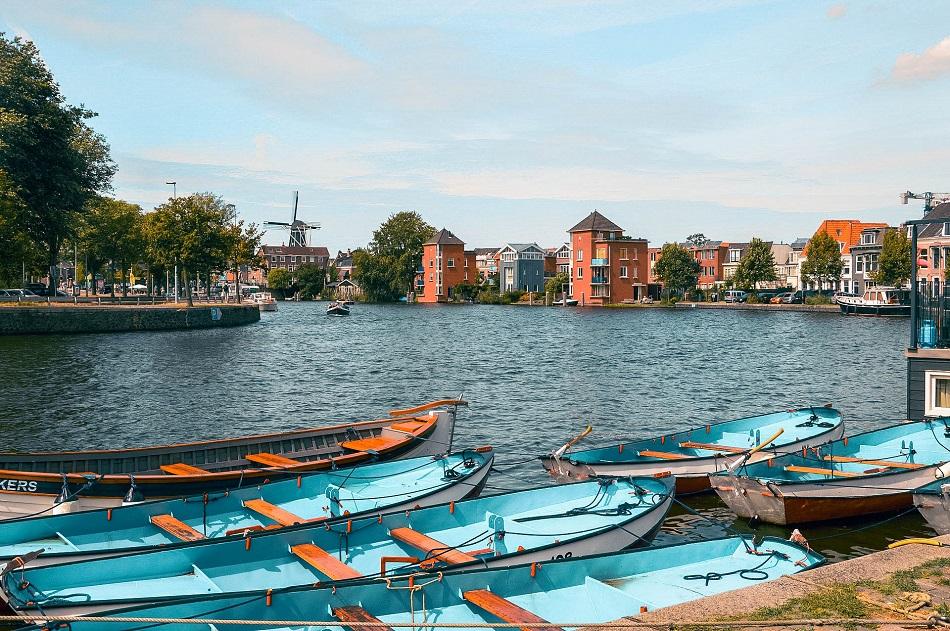 Haarlem is the capital of the North Holland province and is situated on the river Spaarne. It has been the historical center of tulip bulb-growing, hence its nickname – "Flower City".
Beer brewing was an important industry in Haarlem. An interesting fact is that the water for beer was taken directly from the city's canals until the 16th century.
With beautiful streets, winding canals, countless shops, and lots of museums, a day trip from Amsterdam to Haarlem is certainly worth it. You'll escape the chaos of Amsterdam and enjoy a relaxing day in a city with a lot of history and beautiful architecture.
No time to read now? Pin it for later!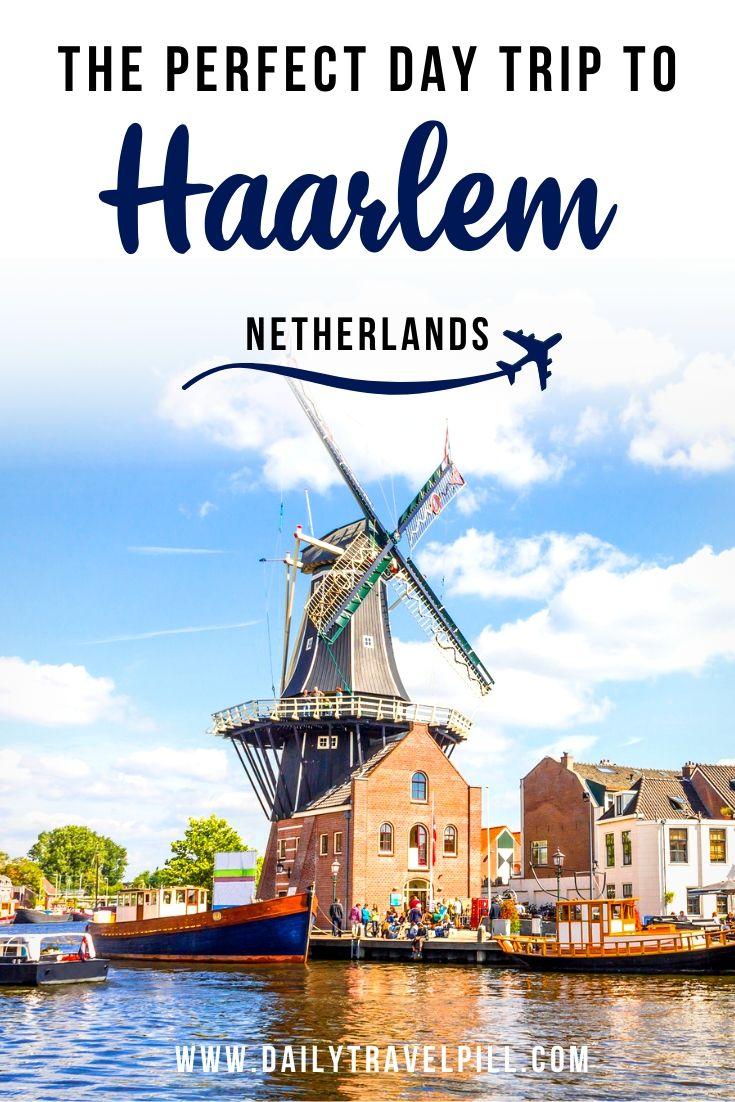 2. Interesting facts about Haarlem
Before sharing with you my Haarlem itinerary, here are some interesting facts about this city. It's important to know a few things about the places you're about to visit.
The famous New York City neighborhood Harlem was named after Haarlem.
Haarlem is more than 750 years old
Haarlem is home to the oldest museum in the Netherlands – the Teylers Museum
The city is famous for its beer and in 1620 there were more than 100 breweries
3. Things to do in Haarlem in one day
Haarlem is the typical Dutch city with gingerbread-like houses, narrow canals, and countless bridges. If you are planning a day trip to Haarlem, here are the things you shouldn't miss.
Good to know – this self-walking itinerary of Haarlem is perfect for those who want to explore the city at their own pace.
#1 Grote Markt & Grote Kerk
One of the top things to do in Haarlem is to visit the Grote Markt. This is the historical heart of the city and one of the most important tourist attractions.
Grote Mark hosts many festivals, concerts, and local markets. Also, here you will find cute cafes and many souvenirs shops. I loved Grote Markt's Dutch character and the fact that unlike Amsterdam, it was not busy at all!
Towering over Grote Markt is Grote Kerk. This cathedral dates back to the 14th century and its Gothic architecture can't pass unnoticed. For just 2.5 euros you can also go inside the cathedral and admire its impressive organ with more than 5000 pipes (Note: this organ was played by Mozart). If you are lucky enough, you can even catch an organ performance (only during summer).
#2 Visit Teylers Museum
Located in a beautiful area on the banks of Spaarne River, Teylers Museum is home to many important works of art. Here you'll find art pieces by Michelangelo and Rembrandt, just to name a few.
Make sure to check out the museum's website since most of the time you can find interesting temporary exhibits.
#3 Gravestenenbrug Bridge
This 17th century wooden bridge over the Spaarne River is one of Haarlem's landmarks. This is one of the typical Dutch bascule bridges and if you haven't seen one yet in Amsterdam, you'll have to check out the Gravestenenbrug Bridge.
#4 It's time for shopping!
Almost all the Dutch houses in Haarlem city center have small boutique shops, bakeries, and antique shops on the ground floor. However, the most famous streets for shopping are Grote Houtstraat, the Barteljorisstraat, and the Zijlstraat. If you are looking for souvenirs for your loved ones or just want to go window-shopping, Haarlem is the perfect choice.
A good thing to know is that Haarlem is considered to be the best shopping city in the Netherlands and it won many awards for its shopping streets. Here you can find both international and local brands, selling a wide range of products. If you're a fashionista, I recommend going to Zijlstraat.
Shopping in Haarlem is definitely fun and one of the best things to do in the city.
#5 Molen de Adriaan
A day trip from Amsterdam to Haarlem would never be complete without a visit to Molen de Adriaan. This beautiful Dutch windmill is one of the best things to see in Haarlem. Although it's just a reconstruction (the original one burnt down in 1932), it still has its charm. For 3.5 euros you can climb to the top and admire the views over Haarlem.
Also, don't forget to cross the river to take some photos!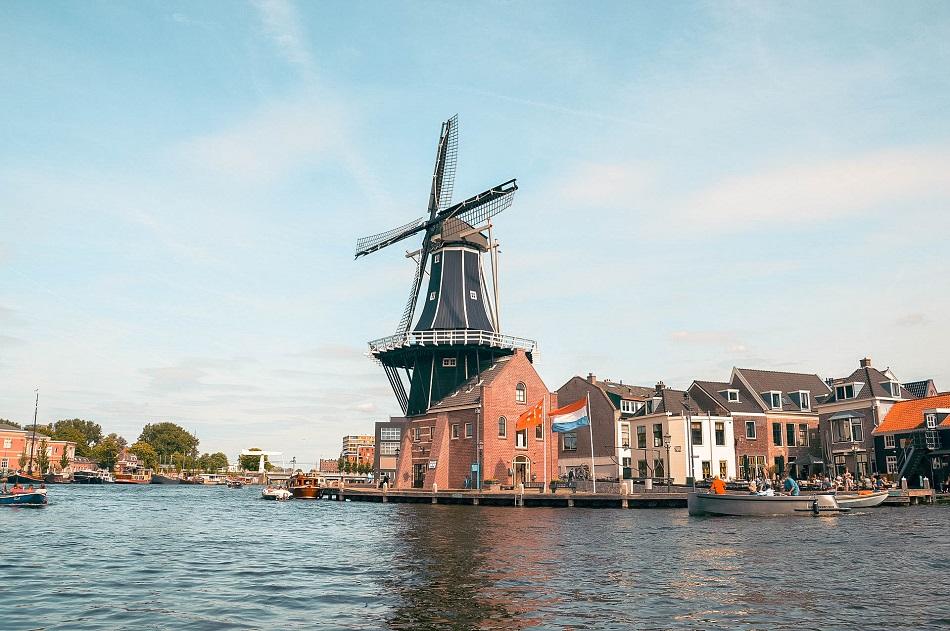 #6 Take a canal cruise
Head to Club Spaarne and rent a boat for one hour for just 25 euros. You can pilot it yourself! Just follow the map and enjoy a different perspective over Haarlem.
A canal cruise in Haarlem is a fun activity and you'll create some unforgettable memories while admiring the views. If you prefer a guided tour, book a canal cruise tour and simply relax while the boat will take you to different corners of the city.
#7 Discover Haarlem's hidden courtyards
Haarlem is well known for its hofjes. These houses with enclosed courtyards were built for poor, unmarried or widowed women. There are 21 main public hofjes in Haarlem but finding them can be a challenge since most are well hidden behind closed doors.
In order to make things easier for you, I'll name a few popular hofjes (you'll just have to search them on Google Maps): Hofje van Noblet, Teylers Hofje and Hofje van Bakenes. You'll have to find the other 18 on your own (challenge accepted?).
You can find more information about hofjes here.
#8 Cathedral of St Bavo
One of my favorite tourist attractions in Haarlem is the Cathedral of St Bavo. Its Neo-baroque architecture with countless round-shaped towers is awe-inspiring. A visit to this cathedral is the perfect way to end your Haarlem day trip but not before the next activity.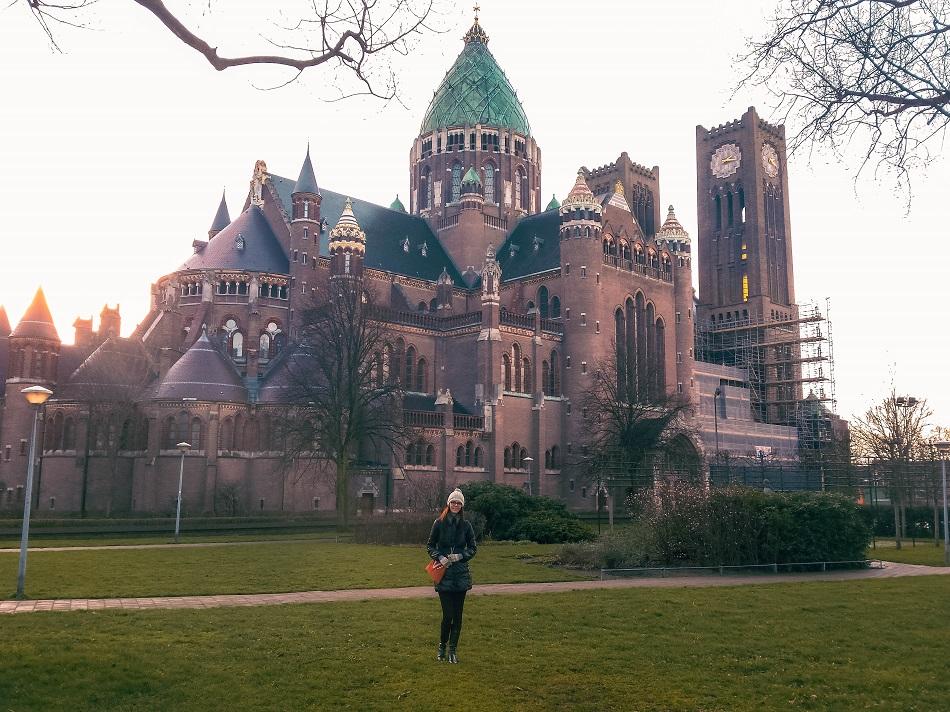 #9 Taste some local beer
We've talked a lot about places to visit in Haarlem but you can't skip this last activity. I'm sure you'll enjoy it. As I've already told you, Haarlem is well known for its beer so let's go and try some!
For an authentic experience go to Jopen Brewery and try one of the traditional beers. This brewery is beautifully decorated and the whole experience is unforgettable!
4. Restaurants you have to try in Haarlem
I know that my Haarlem itinerary is quite packed but you'll have enough time to enjoy a delicious meal. I know you'll be hungry after exploring the city so here are my recommendations for the best restaurants to try in Haarlem.
Located near the city center, Spaarne 66 has a menu full of delicious international food but with a twist. If you're craving pizza, head to Nolita Pizzabar (right near Spaarne 66) and taste their delicious pizzas or order an Italian plate of prosciutto and cheese.
With incredible views, Frisk aan het Spaarne is the best place in town if you want to have some fish. All their dishes are delicious. For dessert, you can try their pancakes.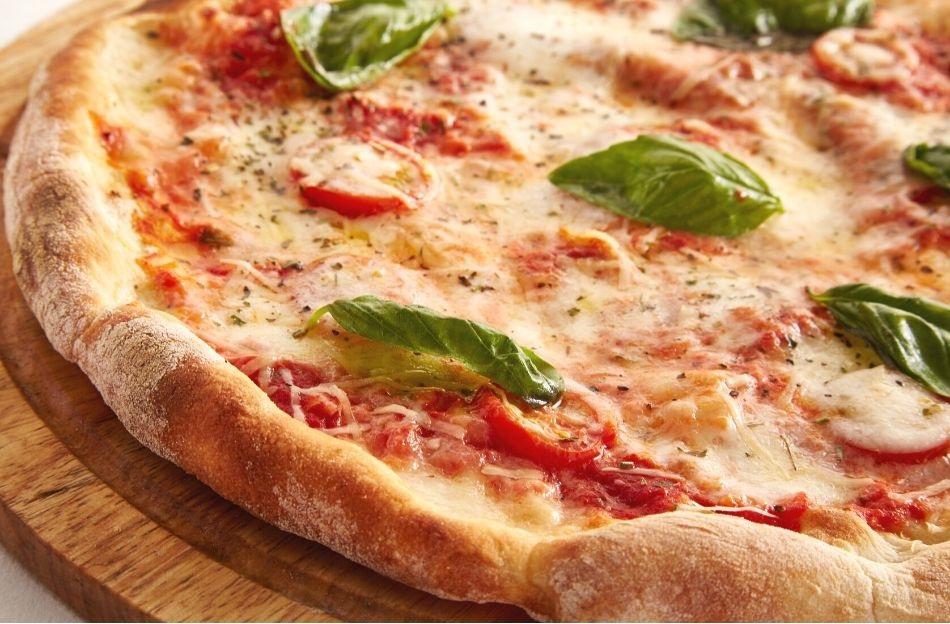 5. The best time to visit Haarlem
The best time to visit Haarlem is during summer. We all know that the weather in the Netherlands is rainy most of the time, especially during autumn, winter, and spring. However, don't let yourself get discouraged by the weather.
Haarlem is beautiful year-round. Even if it rains, just bring your umbrella and explore the city; it's still better than the hotel room.
6. How to get around Haarlem
This is a small city. You can walk pretty much anywhere. If you want to follow my recommendations about the must-see places in Haarlem, you should definitely walk. You'll discover cute, narrow streets with beautiful shops and you'll have the time to admire the city's architecture.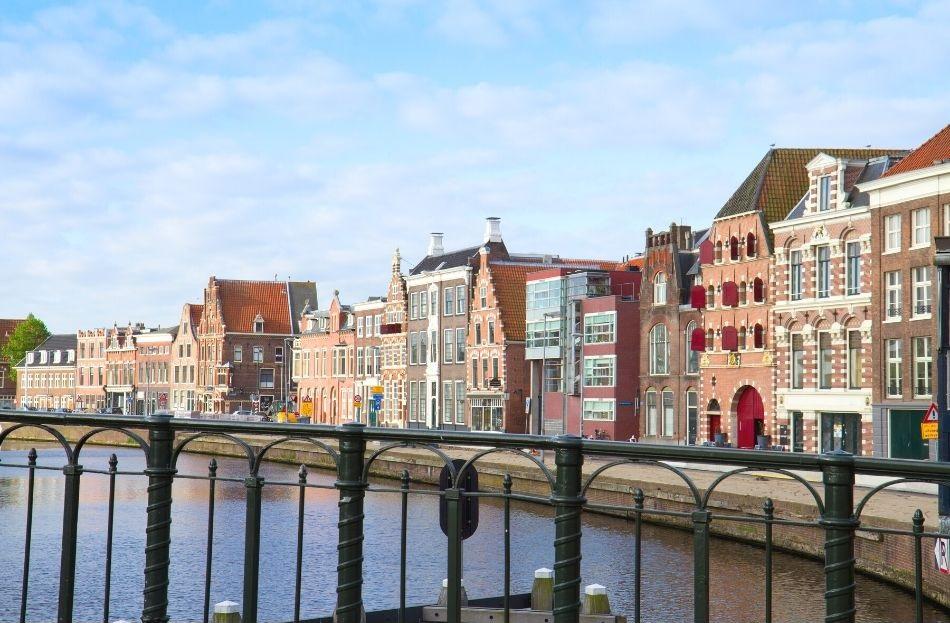 7. How to get from Amsterdam to Haarlem
Amsterdam to Haarlem by train
Taking the train from Amsterdam to Haarlem is the best choice. The ride will take only about 15 minutes and tickets cost €5.60 one-way or €11.20 round trip. You can use 9292.nl to check out the trains' schedule.
There are many trains per day between Amsterdam and Haarlem so I don't recommend buying tickets in advance unless you're travelling during a national holiday.
Amsterdam to Haarlem by bicycle
If you're feeling adventurous and you're in good shape, you can also bike to Haarlem (22 kilometers). You can easily rent a bicycle from Amsterdam – the trip will take about one hour and a half each way.
If you decide to bike to Haarlem, make sure to check out the weather forecast beforehand. The Netherlands is quite notorious for its changing weather.
Amsterdam To Haarlem by guided tour
For a hustle-free experience, you can book a guided tour. It's going to be more expensive, but you won't have to worry about creating your own itinerary or transport. This Haarlem city tour includes a stop to the main tourist attractions in the city and a canal cruise.
8. Where to stay in Amsterdam
Amsterdam is a big city with lots of options in terms of accommodation. I've been searching for the best hotels for every budget. Here are my recommendations:
Budget – Holy Dove Bed & Breakfast – clean rooms, friendly owners, included breakfast, quiet area
Mid Budget – Citizen M Hotel – good location, modern and clean rooms, great amenities, city view
Luxury – Hotel V Nesplein – excellent location, spacious and modern rooms, beautiful design, excellent amenities, great restaurant
If you are planning to visit Haarlem in one day, I hope that this itinerary was helpful. Haarlem is a city with a lot to offer and with many places to discover. Make sure to bring your camera. I'm sure you'll take lots of photos!
If you have any questions, let me know in the comments section below.
May the travel bug bite you!
Disclosure: Please note that this post may contain affiliate links. If you make a purchase through these links, I will earn a small commission at no extra cost to you. I only recommend companies and products that I trust and the income goes to keeping this website running. Thanks!