Also named the Venice of the North or the Dutch city with no roads, Giethoorn is situated in the heart of the Netherlands. More and more people start to visit this small city due to its raw beauty and uniqueness. After all, you won't find that many cities with no roads around the world!
If you are planning a day trip from Amsterdam to Giethoorn, you are in the right place. Visiting Giethoorn in one day is a great idea since the city is rather small, perfect for a relaxing day.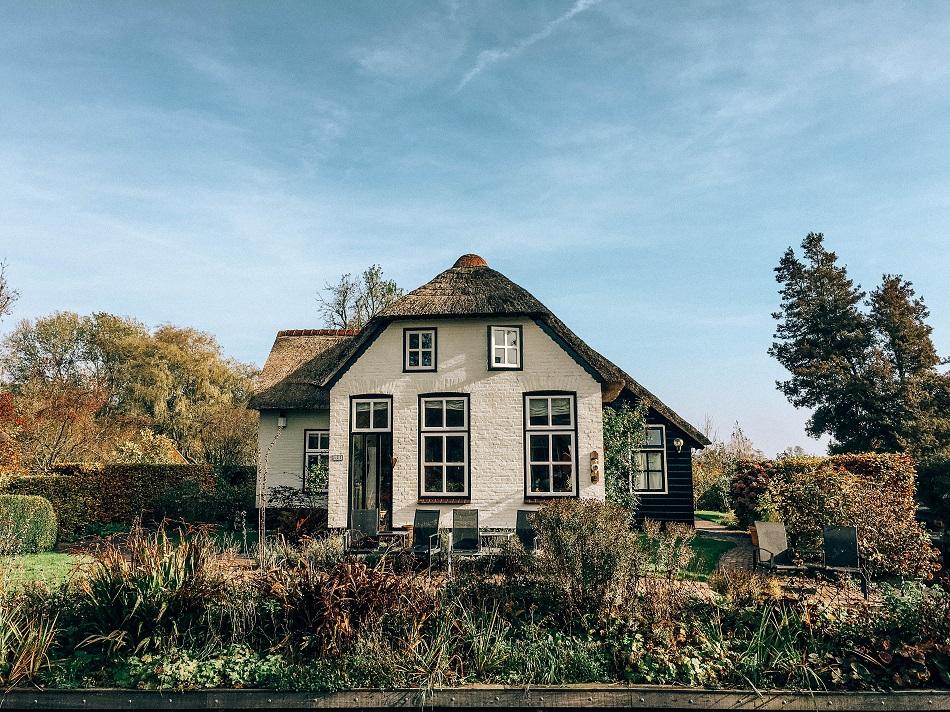 Also, if you're looking for other day trips from Amsterdam, I recommend visiting the beautiful Haarlem or the fascinating Muiderslot Castle. There are so many beautiful places in the Netherlands!
1. Amsterdam – Giethoorn transport
If you're wondering how to get to Giethoorn from Amsterdam, I'll go into details about every transport option.
Amsterdam to Giethoorn – train
If you are planning to take the train from Amsterdam to Giethoorn, keep in mind that you'll most likely need to transfer trains. The best way to check out the route is to visit 9292.nl. You'll have to take the train from Amsterdam Central Station to Steenwijk.
After arriving in Steenwijk, buy bus tickets directly from the train station to the Dominee Hylkemaweg stop. You'll have to take the bus no 70 and the ticket costs €4. From here you'll have to walk 10 more minutes and you'll be in Giethoorn.
In my opinion, taking the train to Giethoorn is the most time consuming and complicated option since you'll have to change several trains and take one bus. However, I'll talk about other convenient options below.
No time to read now? Pin it for later!
Amsterdam to Giethoorn – bus
There is no direct, public bus from Amsterdam to Giethroorn. If you wish to travel by bus, the only option you have is to take a tour.
Amsterdam to Giethoorn – tour
Another option to get to Giethoorn is by tour. Although this option is a bit more expensive, it is also hustle-free. A bus will pick you up from Amsterdam and take you directly to Giethoorn. Check out available tours here.
Amsterdam to Giethoorn – rent a car
In my opinion, renting a car is the best option, especially if you are 2 or more people. For example, if you choose to rent a car for one day it will only cost around 50 euros. Renting a car gives you more flexibility and you can visit other attractions such as De Haar Castle.
2. Is Giethoorn worth visiting?
Unlike Venice which is quite big and packed with tourists, Giethoorn is smaller, cuter and not yet touched by mass tourism. With gingerbread-like houses, colorful flowers and small canals packed with boats, you'll feel a part of a fairy tale! Just bring your Cinderella dress with you and you're all set!
It's no wonder why Giethoorn is also called the Venice of the North. The city's population is only 2,600 people. I can't even imagine what's like to live in such a unique, picturesque village.
-> Book your tour from Amsterdam to Giethoorn here
Here, every home can be accessed mainly by boat. Some of the houses do have bridges but not all of them. Most of the locals have small businesses opened in their own houses such as museums, handicrafts shops, and restaurants. Don't hesitate to stop by and buy some souvenirs or eat some traditional Dutch food (tip: try the bitterballen).
So, is Giethoorn worth visiting? My answer is: definitely yes! Visiting Giethoorn from Amsterdam is quite easy and worth it.
3. The best time to visit Giethoorn
The best time to visit Giethoorn is during the summer (June, July, August). These are the months when it doesn't rain often and when all the flowers will be blooming. However, you can visit this city year-round.
Even though there won't be any flowers, visiting during the autumn or winter has its own charm. Plus, there won't be that many tourists so you'll have the place for yourself.
No matter when you choose to visit Giethoorn, make sure to check the weather forecast a few days in advance. The rain can ruin your trip.
4. Things to do in Giethoorn in one day
If you've already explored enough of Amsterdam, a day trip to Giethoorn is a great idea! This city will feel like a breath of fresh air after all the hustle and bustle from Amsterdam. One Day in Giethoorn will relax and re-energize you!
Rent a boat for a romantic ride
One of the top tourist attractions in Giethoorn is renting a boat. There is no better way to explore the Venice of the North other than taking a boat ride through its canals. You can either choose to rent a boat by yourself or take a guided tour around the city.
Buy handcrafted souvenirs
There are many shops with beautiful handicraft items which could be the perfect souvenirs for the loved ones back home. I love these types of shops because buying from them brings a small contribution to the local community.
Visit Museum de Oude Aarde
Here you can find a beautiful collection of gemstones and minerals and the entrance fee is just 3.50 euros. At the exit, you can even buy gemstones as souvenirs.
Visit Museum Giethoorn 't Olde Maat Uus
I totally recommend this as you will have the opportunity to see what a traditional Dutch farmhouse looked like. The entrance here is 4 euros.
There aren't many things you can do in Giethoorn since the main attraction is the town itself. Just take a walk and explore this picturesque town and don't hesitate to take lots of photos!
-> Book your tour from Amsterdam to Giethoorn here
5. Tips and tricks for visiting Giethoorn
Here are a few things you need to know before visiting Giethoorn:
If you want to avoid the crowds, make sure to arrive early in the morning. Tourists tend to arrive around mid-day.
Bring your camera with you. Trust me, you'll want to take lots of photos.
If you don't want to spend money on food, bring some snacks and sandwiches with you.
Don't enter the private courtyards since people are actually living in these beautiful houses. Respect their privacy.
6. Where to stay in Amsterdam
Amsterdam is a big city with lots of accommodation options. I've been searching for the best hotels, for each budget and these are my recommendations:
Budget – Holy Dove Bed & Breakfast – clean rooms, friendly owners, included breakfast, quiet area
Mid Budget – Citizen M Hotel – good location, modern and clean rooms, great amenities, city view
Luxury – Hotel V Nesplein – excellent location, spacious and modern rooms, beautiful design, excellent amenities, great restaurant
If you're planning a Giethoorn day trip from Amsterdam, I hope that you've found this guide useful. I loved exploring this picturesque city and I will definitely go back sometime soon.
If you have any questions, let me know in the comments section below.
May the travel bug bite you!
Disclosure: Please note that this post may contain affiliate links. If you make a purchase through these links, I will earn a small commission at no extra cost to you. I only recommend companies and products that I trust and the income goes to keeping this website running. Thanks!