In Malay language, Sentosa means 'peace and tranquility' and this is exactly what we found at W Singapore Hotel. Situated on Sentosa Island and isolated from the hustle and bustle of Singapore, the hotel is an oasis with lush plants, an amazing swimming pool and extra-comfortable rooms – the perfect place for a staycation.
After three long months of continuous travel, we were looking for a quiet, relaxing place in Singapore to recharge our batteries and we were happy to make this hotel our home for a few days. I will break down below the reasons why I loved my staycation at W Singapore Sentosa Cove Hotel below.
While in Singapore, don't forget to visit the beautiful Haji Lane Street. With lots of awesome restaurants, street art, and shops, Haji Lane is the perfect place for a relaxing evening.
1. Accessibility
Situated in an exclusive area of Singapore – Sentosa Island, the hotel is easily accessible by both taxi and public transport (from Vivo City you can take one of the shuttle buses that goes directly to the hotel. Check the schedule here). Also, the hotel is located near the main attractions of Sentosa Island: Universal Studios theme park, Adventure Cove Water Park and S.E.A. Aquarium.
-> AWESOME things to do in Singapore:
Feel the adrenaline rush at Universal Studios Singapore – click here
Visit the famous Gardens by the Bay – click here
Learn about the marine life at the S.E.A Aquarium – click here
2. Reception & Staff
One of the things that really stands out at the W Singapore Hotel is the design. The warm colors and round shapes combined with a modern look make the place pop and the reception is not an exception. The staff was really helpful in telling us all the details about our stay and the check in process went smoothly.
What I absolutely loved at the W Singapore Hotel was the whatever-whenever service. Yes, that's right! You can ask for whatever you want, whenever you want as long as it is legal. For example, I wanted some balloons to shoot some amazing photos at the hotel and the staff made sure to honor my request. The whatever-whenever service was an amazing experience and it added a personal touch to our stay.
No time to read now? Pin it for later!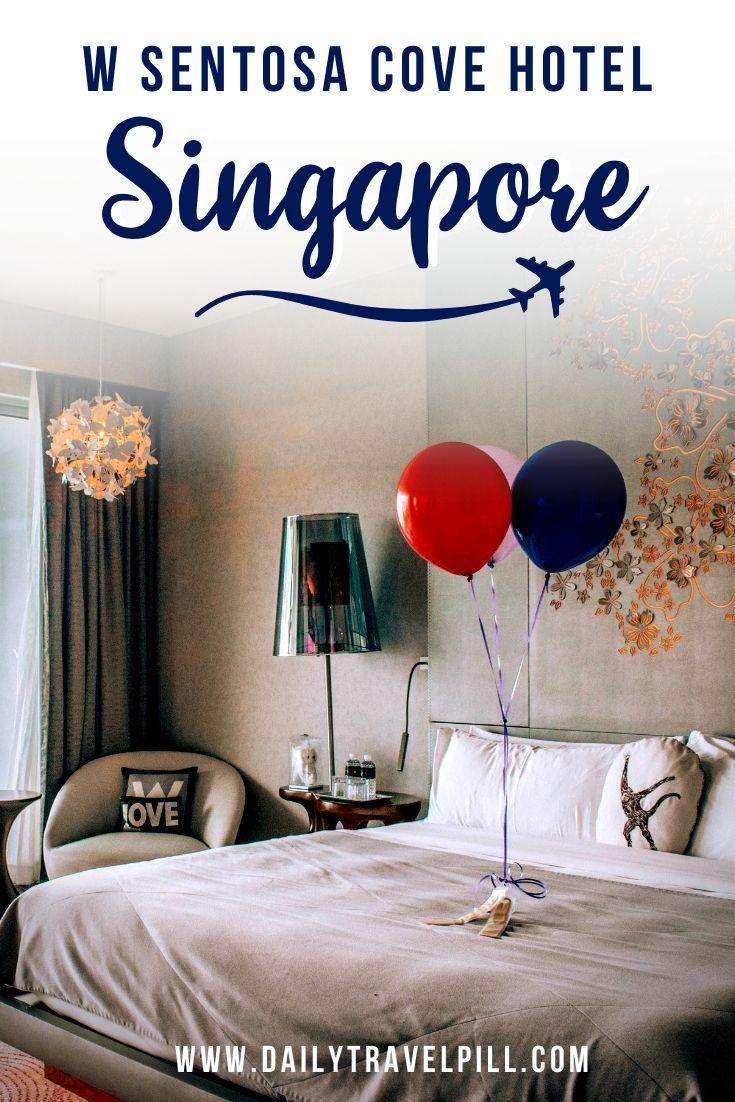 3. Our Fabulous Room
I am a strong believer that the W Singapore Hotel rooms are designed to make you stay inside – this is what makes them perfect for a staycation. How can you leave the hotel room when you have a Bose surround sound system, a super-comfy bed that will make you feel like floating and a balcony with an amazing view of the WET Pool and the South China Sea?
If that was not enough to convince you, add a mini-bar with sweets and the ingredients necessary for the W Mix Cocktail, great Wi-Fi, TV and a spacious bathroom that connects with the room. Oh, and have I mentioned that you can listen to music in the bathroom?
As the name of our room suggests, the view from the balcony was fabulous! I loved chilling on the sofa while watching the sunset. Also, I loved that the room and the bathroom had everything to make me feel like home: iron, electric kettle and beauty products from Bliss Spa.
4. Restaurant
The W Singapore Sentosa Cove Hotel experience would not be complete without an indulging experience at the Kitchen Table. With an open buffet for both breakfast and dinner, you can choose from a wide selection of dishes.
What I loved about the buffet was that there were many cuisines to choose from: sushi, salad, noodle, Indian, international and my favorite part – dessert. The food was delicious and the service impeccable.
-> AWESOME things to do in Singapore:
Feel the adrenaline rush at Universal Studios Singapore – click here
Visit the famous Gardens by the Bay – click here
Learn about the marine life at the S.E.A Aquarium – click here
5. The WET Pool and Bar
There's nothing that I love more than chilling by the pool on a hot day. Relaxing on a sunbed while sipping from a cocktail from the WET Bar was my favorite activity during my stay at the W Singapore Hotel.
6. Other facilities
FIT Fitness
The food is great at W Singapore Sentosa Cove Hotel but after all those delicious macaroons and chocolate cakes, I needed to get back in shape. FIT Fitness is the perfect place to train your muscles. Open 24/7, the gym is equipped with state-of-the-art machines and weights but the best part is that you can always ask for the help of a professional trainer.
AWAY Spa
A well deserved AWAY Spa treatment is the perfect remedy for sore muscles! You can take some moments to relax and re-energize with a massage or the signature AWAY Body Treat.
WOOBAR
After a day of pampering and indulgence, I loved spending my evening at the WOOBAR – great for socializing and drinking a cocktail while listening to some great music.
7. Book now!
If you are looking for a wonderful hotel for your staycation in Singapore, do not hesitate to check out the W Singapore Sentosa Cove Hotel. Here you will find an oasis of relaxation where you can pamper yourself.
If you would like to book your room, click here.
May the travel bug bite you!
Disclaimer: I was welcomed at W Singapore Sentosa Cove Hotel as a guest. As always, all opinions are my own and they reflect my true, unbiased experience. This post contains affiliate links, at no extra cost to you.
Disclosure: Please note that this post may contain affiliate links. If you make a purchase through these links, I will earn a small commission at no extra cost to you. I only recommend companies and products that I trust and the income goes to keeping this website running. Thanks!